Chicago Cubs:

Henry Blanco
November, 22, 2014
Nov 22
12:43
PM CT

By Jesse Rogers
ESPNChicago.com
Archive
CHICAGO -- The
Chicago Cubs
hired former catcher
Henry Blanco
as their Quality Assurance Coach, replacing Jose Castro who bolted for the
Atlanta Braves
earlier this offseason, the team announced Saturday.
Blanco's return means there's one less potential job opening for former Cub Dave Martinez. Martinez was eliminated for consideration for the managerial position in Tampa Bay on Friday and a source close to the situation said it was doubtful he would join the Cubs as Joe Maddon's bench coach, the same position he held with the Rays.
The Cubs have been in a tricky spot with their coaching staff since hiring Maddon to replace Rick Renteria at the end of October. At the time, they had already hired two new hitting coaches as well as a new first base coach and said all others on the staff were returning, including bench coach Brandon Hyde. Traditionally, a manager gets to choose at least a few people to join his coaching staff, but with the timing of Maddon's hiring, he's not going to be able to overhaul things. Recently, he indicated he was fine with that.
"They've done the heavy lifting," Maddon said. "Now I get to jump in."
Blanco, 43, played for the Cubs from 2005-2008 and was part of two division winning teams in '07 and '08. Most recently, he was part of the
Arizona Diamondbacks
coaching staff.
He could turn into a key hiring as his personality will lend itself to the Cubs' young players. Additionally, he's bi-lingual, which was a major concern last offseason as the Cubs wanted coaches who could speak to and relate with their young core of Latin-American players. Renteria was able to do that, but with his firing, the Cubs could have been lacking that piece to the coaching puzzle. Blanco will also undoubtedly help
Welington Castillo
as he's the incumbent starter behind the plate after the team missed on free agent
Russell Martin
. Castillo is still growing in both the offensive and defensive parts of his game.
Cubs add exhibition games:
The Cubs will take on the
Oakland Athletics
on March 13 and 14 in Las Vegas, the team announced Friday. Traditionally, the Cubs have played in Las Vegas every March with a split squad staying behind for Cactus League games in Arizona. Game times for the contests against the Athletics will be announced at a later date.
July, 27, 2014
Jul 27
7:11
PM CT

By Doug Padilla
ESPNChicago.com
Archive
COOPERSTOWN, N.Y. -- Just like he carved up opponents from 60 feet, 6 inches away, Greg Maddux moved through his Hall of Fame speech Sunday with deft precision.
There was family to thank, teammates and coaches he appreciated and a few people who were key to his development at a young age. He showed love and respect to his wife Kathy for holding down the fort at home. He explained why his Hall of Fame plaque won't have a logo on the cap since he was unable to choose between the
Chicago Cubs
and
Atlanta Braves
.
[+] Enlarge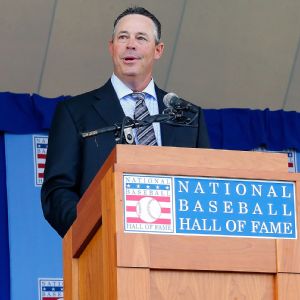 Jim McIsaac/Getty ImagesGreg Maddux's Hall of Fame speech was short and sweet, done with precision, which was similiar to his approach to pitching during his career.
He even sprinkled his own deadpan humor into the proceedings, talking about flatulence, how he was mistaken for the batboy before his first major league game, and how he spent much of his time with the Braves watching John Smoltz's hairline recede.
Appropriately at the head of the rotation among Hall of Fame inductees, it took less than five minutes for Maddux to mix in a little potty humor during what he called the first speech of his life.
"My brother, Mike, led by example," he said about his sibling who is also the pitching coach of the
Texas Rangers
. "Everything I was about to do on and off the field, he had already done. I was very fortunate to have a brother that I could learn from. He even taught me a little bit about science. It has to do with a little methane and a lighter, and I still get a huge kick out of it today. That's funny, huh? OK."
In his more serious moments, Maddux expressed appreciation to the four franchises for which he pitched, focusing most on the Cubs and Braves, obviously. He ended his career with the
San Diego Padres
and
Los Angeles Dodgers
.
"With the Cubs, I had the opportunity to play with Andre Dawson, Rick Sutcliffe, Ryne Sandberg and two fine catchers, Damon Berryhill and Joe Girardi," he said. "The city of Chicago and the Cub fans were awesome, maybe the best in baseball."
The comment managed to bring out some groans from a large contingent of Atlanta fans in the crowd estimated to be 48,000 strong. He made up for it seconds later when talking about his free-agent move from Chicago to Atlanta.
"I picked Atlanta because I finally wanted to get a World Series ring and start a family," he said. "All right, sorry, Chicago, but yeah."
Maddux eventually did get that ring in 1995, with his career bringing him back to Chicago in 2004.
"I love Chicago so much," Maddux said. "The first time I played there, that I was very grateful that Gary Hughes and Jim Hendry brought me back over to Chicago. That would give me a second chance to win there, and maybe retire where it all started, but I wouldn't be a Cub if I couldn't handle a little heartache and we missed the postseason by one game my first year back.
"I was thankful I got a chance to play for Dusty Baker and work with Larry Rothschild. I enjoyed throwing most of my games to Henry Blanco and Michael Barrett, and again, it was even funnier when they would get hit in the face [with foul tips]."
For a first speech, Maddux handled the moment with aplomb. He didn't have to explain why he will go in to the Hall of Fame without picking the Braves over the Cubs or the Cubs over the Braves. He did anyway.
"People ask me why I have no Hall of Fame plaque, no logo, or why my Hall of Fame plaque has no logo," he said. "I spent 12 years in Chicago, 11 in Atlanta and both places are very special to me. Without experiences in both cities, I would not be standing here today."