Chicago Cubs:

James McDonald
March, 13, 2014
Mar 13
2:04
AM CT
PEORIA, Ariz. -- Veteran
Seattle Mariners
pitcher
Randy Wolf
had no idea who
Chicago Cubs
prospect Javier Baez was before he gave up a long home run to him Wednesday night in Seattle's 8-7 extra-inning victory over the Cubs.
Wolf knows him now.
Baez belted a 2-2 pitch deep into the left-field grass, just missing the scoreboard in the process. It was hit well more than 400 foot and brought teammates -- and opponents -- to their feet.
"I've never seen anything like him," Cubs first baseman
Mike Olt
said. "But I'm used to it by now. He's in my batting practice group every day."
It was Baez's third home run of the spring, tying him for the team lead with Olt, who homered twice in the game.
Baez's bat speed often is compared to former slugger
Gary Sheffield
. Wolf understands the comparison.
"The distance on the home run was comparable," he deadpanned.
Despite Baez's success this spring, he's still slated to start the year at Triple-A Iowa. The Cubs haven't wavered from that plan.
McDonald's outing:
James McDonald
was happy to just get back to competing, even though his stat line wasn't impressive on Wednesday. McDonald walked five and hit a batter in 2 2/3 innings while giving up two runs.
"It's not always going to be 1-2-3, 1-2-3," he said after his night was done. "That's what you eventually want. One thing I can control is my effort and the way I competed."
At this point McDonald is probably a long shot to make the starting rotation if
Jake Arrieta
isn't ready by Opening Day.
Russell pitches:
Lefty reliever
James Russell
made his spring debut after a bout of dead arm to open camp. He admits it could be tied to his heavy workload in the past, but he's feeling fine after throwing an inning on Wednesday. He did give up a home run to left-handed hitter
Brad Miller
.
"The arm is good," Russell said. "One mistake. Made some good pitches. Felt great."
Renteria replay challenge:
The Cubs'
Ryan Kalish
was called out on a close play at first base in the fourth inning, so Cubs manager Rick Renteria asked for a video replay, his first of the spring. The ruling was upheld. But replays showed the umpires still might have got the call wrong.
Day off:
The Cubs have their lone day off of the spring on Thursday, and Renteria is asking his team to get away from baseball for a day.
"I probably shouldn't have to say it, but some of those guys are going to want to be around it," he said. "We're pushing them a lot. They need a break."
Renteria will probably report to work himself, because pitchers
Jason Hammel
and Eric Jokisch will pitch against Cubs minor leaguers to stay on schedule.
The quote
"Something that involves animals. Try to go to the zoo. I think I'll go to the aquarium. Just walk around. I'm a big people watcher." -- Cubs pitcher
Carlos Villanueva
on what he'll do on his day off.
February, 28, 2014
Feb 28
6:34
PM CT
TEMPE, Ariz. -- The
Chicago Cubs
lost 15-3 to the
Los Angeles Angels
in their first road game of the spring:
The good:
Kris Bryant homered in his first at-bat of the spring after Albert Almora doubled before him. Those two prospects lived up to the hype for one day. Bryant's long ball came after a long at-bat, during which he fouled off several pitches before hitting a slider out to dead center field on a 3-2 count.
Darwin Barney
went 2-for-2 with a home run, as well.
Mike Trout
hit a grand slam for the Angels.
The bad:
Pitchers
Chris Rusin
and
James McDonald
struggled in their second innings of work, as both are vying for a starting spot in case teammate
Jake Arrieta
can't start the season on time. Rusin said his mechanics got away from him in a four-run second inning for the Angels, and McDonald had the trainer worried about fatigue during a nine-run fourth inning. He was eventually pulled. In fact, the Cubs had to make two pitching changes that inning, as
Jonathan Sanchez
was ineffective, as well. Combined, Rusin and McDonald gave up 10 runs, eight hits and four walks.
What's next:
The Cubs are scheduled to play two games Saturday, but rain in the forecast could cause problems.
Travis Wood
will make his spring debut against the
San Francisco Giants
in Mesa, and
Edwin Jackson
takes the mound at night against the
Arizona Diamondbacks
. If rain washes out the games, the Cubs will "shift to the cages," according to manager Rick Renteria. The team has indoor pitching mounds so pitchers can get some work in as well. The Cubs are 0-2 in Cactus League play so far.
Notes:
Arrieta continues to throw off flat ground, "extending his distances," Renteria said. There is no timetable for his return to the mound as he recovers from shoulder stiffness. ...
Mike Olt
has been experiencing some shoulder soreness, so he hasn't been playing third base in games yet. Renteria said it's normal stiffness for some guys early in spring training but nothing serious. Olt will DH and play first base until ready.
Quotable
"There's lightning in that bat. It'll be nice to put our eyes on him in the game." -- Renteria, on top prospect Javier Baez before his first start
"I want to repeat what I'm doing up there. That's the goal. It's Day 1. There's a long spring ahead." -- Barney, after homering in his second at-bat Friday
February, 24, 2014
Feb 24
4:12
PM CT
MESA, Ariz. --
Chicago Cubs
manager Rick Renteria announced his initial pitching rotation for Cactus League games following Thursday's opener against the
Arizona Diamondbacks
.
Jeff Samardzija
will take the mound that day as the Cubs open their new spring stadium.
[+] Enlarge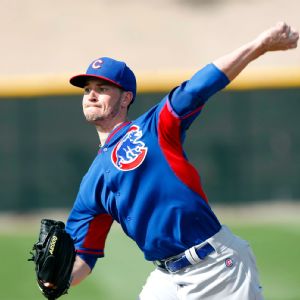 AP Photo/Rick ScuteriChris Rusin will get the second start of spring on Friday against the Angels.
Then lefty
Chris Rusin
will pitch Friday against the
Los Angeles Angels
while
Travis Wood
takes on San Francisco in a matinee game on Saturday.
Edwin Jackson
throws in the nightcap against the Diamondbacks. Jason Hamel makes his Cubs debut on Sunday when he faces the
Kansas City Royals
.
Renteria hasn't committed to an Opening Day starter yet, and although Rusin gets a start the first week of spring play, there's no indication he has the inside track to be in the rotation if
Jake Arrieta
isn't ready to pitch in April. Rusin, along with
James McDonald
and
Carlos Villanueva
, will be vying for that role if Arrieta isn't fully recovered from the shoulder stiffness he experienced over the winter.
Intrasquad on Wednesday:
Before starting the long Cactus League schedule, the Cubs will play each other in their new stadium on Wednesday afternoon. Minor league pitchers Eric Jokisch and Kyle Hendricks are slated to start the game, which is open to the public.
The Cubs say stadium access will begin at 12:30 p.m. local time, with first pitch about 1 p.m. The game will last six innings.
New collision rule:
The Cubs are still digesting the new collision rules at home plate between the catcher and baserunner, though they've been working with it in mind on things like positioning and sweep tags. Some still don't know how they feel about the rule changes.
The new MLB rule bans most home plate collisions but leaves open an exception if the catcher has the ball and is blocking the runner's direct path to home plate.
"It's been around the game for a long time," spring invitee
Eli Whiteside
said of collisions at home plate. "You don't want to see anyone get hurt. I don't know. It's a tough call either way."
Whiteside was on the bench when
San Francisco Giants
star catcher
Buster Posey
broke his leg in a home plate collision in 2011. In fact, Whiteside replaced Posey in the lineup when he left the game. Since then there's been a movement to change the rule.
"It's a gray area," Whiteside said of the new rules. "It's tough to hold your ground and play the ball at the same time."
The bottom line is catchers can't block the plate without the ball and runners are encouraged to slide and avoid contact. But Whiteside wonders if that gray area could cause problems.
"Even if it's a bad throw and there's no play at the plate, you have to play the ball so the batter doesn't advance on the throw," he said of contact possibly occurring anyway. "We'll see how it plays out, I guess."
February, 21, 2014
Feb 21
3:45
PM CT
MESA, Ariz. --
Jeff Samardzija
is in line to start the
Chicago Cubs
' Cactus League opener against the
Arizona Diamondbacks
on Feb. 27 at their new spring stadium, manager Rick Renteria said on Friday.
[+] Enlarge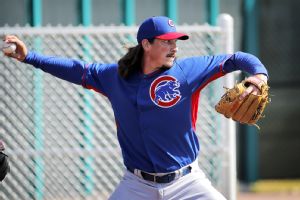 AP Photo/Matt YorkJeff Samardzija is expected to get the call in the Cubs' Cactus League opener.
Samardzija started the Cubs' season opener last year, but Renteria hasn't announced his March 31 starter against the
Pittsburgh Pirates
. He says the entire rotation could come down to who is ready.
"Depends how it ends up panning out in terms of their prep," Renteria said. "If it happens to match up better for us one way or another obviously we'll want to do something like that but we'll see how it all falls into place in terms of conditioning of their time here."
Renteria did not announce the spring rotation after Samardzija.
Schierholtz sent home:
Outfielders
Nate Schierholtz
and
Junior Lake
collided during outfield drills on Friday, ending Schierholtz's day early.
"They were both calling for it," Renteria said. "Junior may have gotten him on the backside. You're talking about two strong men."
Renteria said Schierholtz was checked out by the training staff and should be fine, although he was sent home early.
McDonald more ready than ever:
Former Pirates pitcher
James McDonald
is trying to win a starting spot after signing with the Cubs late in the offseason.
"It's a good opportunity and they had interest in me," McDonald said. "I came out here right after the season and started working out."
The right-hander started only six games last season because of shoulder problems.
"Last year opened my eyes up," he said. "I wasn't prepared the way I should have been. Wasn't as strong as I should have been. Started right away this offseason. Last year was good for me. It opened my eyes up. This is the most prepared I am in spring."
McDonald is 32-30 with a 4.20 ERA over the course of six years with Los Angeles and Pittsburgh.
• Pitcher
Jake Arrieta
will play long toss on Saturday as he recovers from shoulder stiffness he experienced during the offseason. He says he could throw off a mound in his next throwing session.
• Javier Baez belted a long home run to center field that hit a car parked just outside the park during batting practice on Friday. Baez is known for putting a show during BP, something he did last spring as well.
February, 13, 2014
Feb 13
2:55
PM CT
MESA, Ariz. --
Chicago Cubs
starter
Jake Arrieta
will start his spring training late due to shoulder tightness he experienced over the winter, the team announced on Thursday.
Arrieta, 27, was acquired from the
Baltimore Orioles
last season and is slotted as the Cubs No. 4 or 5 starter.
"He's feeling good right now," general manager Jed Hoyer said. "We re-started his throwing program. He's going to be a little bit late into camp as far as throwing bullpens and getting into games."
New manager Rick Renteria wasn't optimistic for an April readiness for Arrieta.
"We're going to be cautious with him," he said. "We wouldn't expect that he would start the season with us.
February, 12, 2014
Feb 12
2:30
PM CT
MESA, Ariz. --
Chicago Cubs
pitchers
Brooks Raley
and
Brett Marshall
have been picked up off of waivers by the
Minnesota Twins
and
Cincinnati Reds
, respectively, the team announced on Tuesday.
Both players were on the 40-man roster so their losses pave the way for the Cubs to sign pitchers
Jason Hammel
and
James McDonald
. Both have been rumored to be joining the Cubs for some time.
Raley, 25, was 1-2 with a 7.04 ERA in parts of two seasons with the Cubs while Marshall moves on after the Cubs claimed him in December.
Hammel and McDonald are expected to be with the Cubs when spring training workouts begin on Friday.