Chicago Cubs:

Jamie Quirk
September, 28, 2013
9/28/13
3:21
PM CT

By Jesse Rogers
ESPNChicago.com
Archive
ST. LOUIS – With
Chicago Cubs
manager Dale Sveum's short-term fate to be determined Monday, what does that mean for his coaching staff? Even if Sveum is dismissed, it's highly doubtful the Cubs would get rid of his entire staff.
Handicapping the coaches from the outside looking in can be a difficult task. They do the bulk of their work behind closed doors, in the form of video and of course communicating with – as well as teaching -- the players. They aren't subjected to twice-a-day media scrums like the manager, and their success or failure with players can't always be measured in numbers.
Still, there are some things that become obvious in terms of the value of a coach, especially with the task of developing a young core.
Here's a look at the status of some on Sveum's staff:
Chris Bosio, Pitching coach
Considering the Cubs keep trading his pitchers, he might be the hardest to judge. But by all accounts he's done an admirable job.
Travis Wood
would be the poster child for a success story. Bosio has gotten him to work all sides of the plate and not be afraid to throw any pitch at any time.
Jeff Samardzija
still has room to grow but hasn't embarrassed his pitching coach in any manner. And it would be hard to point to Bosio for the failures on the staff. Former pitcher
Shawn Camp
's struggles could not have come as a shock, considering his age and mileage on his arm.
Carlos Marmol
was on the decline before Bosio appeared on the scene.
Kyuji Fujikawa
got injured before Bosio could have much effect on him. There are enough positives -- and few provable negatives -- to think Bosio could return even if Sveum doesn't.
March, 16, 2013
3/16/13
7:08
PM CT

By Jesse Rogers
ESPNChicago.com
Archive
MESA, Ariz. -- On a day when
Chicago Cubs
manager Dale Sveum reiterated to reporters in Las Vegas that a couple of his top prospects would be heading to minor league camp on Monday, some 310 miles away one of them was putting on a show.
The Cubs' top pick of 2011, Javier Baez, crushed two balls out to left field in the Cubs 8-3 victory over the
Kansas City Royals
here at Hohokam Park. He also hit two out on Friday -- including the walk off game winner -- against the Japanese team from the WBC.
"I mean two days in a row?" Baez said after Saturday's performance. "That's amazing. Great feeling."
Baez is said to have a "cockiness" about him. But in front of reporters he's humble. On Saturday he couldn't help but smile after what he had accomplished over the two days. The second home run on Saturday left the park completely.
"It's unbelievable," teammate
Alfonso Soriano
said. "Two home runs yesterday, two more today. Bombs. It's very impressive."
Soriano also homered, but Cubs fans have seen that many times before. Soriano will soon be the past. Baez is the future. The four home runs came over the course of seven pitches. Three came on three pitches.
"I just like hitting the first fastball I see," Baez explained. "Sometimes I miss it, sometimes I hit it far."
This is all leading to the moment when Baez is sent to the minors -- more than likely Class A-Daytona. Is that the way it should be for a 101-loss team? The brightest prospect in camp gets sent all the way down the minor league ladder?
"There's no rush," split-squad manager Jamie Quirk said after the game. "Some guys are special. His talents will take him as quickly as he needs to be, but there is no rush.
"Obviously that's why he was drafted where he was, and hopefully he keeps doing what he's doing. He's pretty special."
General manager Jed Hoyer and team president Theo Epstein have never wavered. Baez and other top prospects, like
Jorge Soler
, need seasoning. And plenty of it. It's hard to argue with that notion.
No one knows if Baez is ready, but perhaps only harm can come by rushing him. If he is capable of playing in the big leagues now, he certainly will be in a year or whenever they deem him ready. The Cubs aren't winning a World Series this year with or without Baez so, arguing he's "needed" doesn't hold water.
"My goal was to show them I can play the game every day and I came to play every day," Baez said.
He had a slow start to camp -- even Sveum mentioned his need to learn -- but over the past few weeks his talent and instincts have been obvious.
His legend grew some on Friday, when he predicted he would end the game against Japan as he did breaking a 5-5 tie with a long ball.
"We had a bet, but whatever," Baez said downplaying the moment.
When it was pointed out he won, he smiled again.
"Yeah I did," he said.
September, 7, 2012
9/07/12
8:15
PM CT
PITTSBURGH – A day after the Chicago Cubs and Washington Nationals had their on-field dust up, manager Dale Sveum wasn't exactly embracing the root of the issue.
[+] Enlarge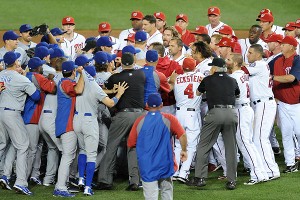 Chuck Myers/MCT via Getty ImagesSome of the Cubs took offense to some of the Nationals' decisions with a big lead on Thursday night.
The teams emptied the dugouts twice Thursday in Washington, D.C., the first coming when bench coach Jamie Quirk shouted at Nationals' third-base coach Bo Porter. Quirk's issues were apparently about the National's aggressive style of play in the fifth inning while the Cubs trailed by five runs.
Not only did the Nationals steal two bases in the inning, but Jayson Werth also swung at a 3-0 pitch from Cubs rookie pitcher Lendy Castillo. That was when Quirk gave Porter a piece of his mind and was eventually ejected for it.
Sveum, though, didn't exactly see eye-to-eye with Quirk.
"I didn't have any problem with it," Sveum said of the Nationals' play. "It was the fifth inning. It was as if they were up 5-0 in the fifth inning. I don't expect my team to stop playing in the fifth inning. There is a time when you stop. I mean a five-run lead, to me, I didn't have any problem with anything they did."
So was Quirk out of line?
"You have to talk to Jamie about that," Quirk said. "But me personally I don't want my guys to stop playing at that time."
Quirk wasn't talking for the second consecutive day. He said he might eventually talk about it but he wants to save his first words on the subject for the league office if somebody calls.
Sveum was asked if he expects bad blood to continue with the Nationals next season.
"There is no bad blood going forward even though there might be or something," Sveum said. "It was a strange occurrence how it all happened. ... There were certain things that happened but as far as bad blood … if it's a constant thing, that's when you talk about bad blood all the time. It was one quick incident, everything settled down and it was fine after that."
Cubs players were in unison on the field when the confrontation with the Nationals started, but like Sveum, not all saw an issue with what Washington was doing during the game.
"That's a professional team," Jeff Samardzija said. "They played great against us and they didn't show us up. They didn't do anything out of the norm and they came to play and they did their work and we need to learn from that and how you expect to gout playing every day and what you expect to happen in the end."
Veteran David DeJesus, though, liked the moxie the Cubs showed in fighting back and not losing pride despite getting pummeled all week on the scoreboard.
"It would just be like letting down," DeJesus said. "It would be like, 'Here you go you guys, you just won this game so why don't you stomp all over us.' I think that's part of being a team. We've been with each other since February so letting things like that slide, we don't believe in that. When we come together like this, hopefully this can grow into something and understand we have each other's backs."
Sveum did believe that by collectively puffing out their chests, no matter the cause of the dispute, tends to have unifying effects.
"Yeah I've seen it happen before," Sveum said. "It usually works for the better. You don't want thinks like that to happen but it's part of the game and it sometimes happens. Usually in 162 games something like that will happen. It's just the way competition is. A lot of times in my career usually it has been a rallying cry for the team and the team starts to play better."
As for any criticism the Cubs were getting for instigating Thursday's problems, Sveum wasn't going to concern himself about it.
"Whatever happens in something like that, whoever gets criticized it doesn't matter," Sveum said. "The fact of the matter is that it just happened so somebody is going to get criticized no matter what. That's just how life is and that's the way the media is. Whatever happens, it's part of the game. That's how it is and you move on. Today is a whole other day."
September, 6, 2012
9/06/12
9:13
PM CT
CHICAGO – The Cubs aren't winning much these days but they are starting to show some fire anyway.
The ejection of Cubs manager Dale Sveum on Wednesday was only the appetizer for some fireworks Thursday and at all started with the quietest guy in the Cubs dugout, bench coach Jamie Quirk.
With Steve Clevenger over at the Cubs dugout to swap out a faulty catcher's glove, Quirk and Nationals third-base coach Bo Porter appeared to have some long-distance words.
The issue could have possibly stemmed from the fact that the red-hot Nationals stole two bases in the fifth inning with a 7-2 lead.
Porter approached the Cubs' dugout leading both benches and both bullpens to clear. No punches were thrown, though. Quirk was ejected but Porter was not.
With the first pitch of the sixth inning, rookie Lendy Castillo appeared to throw at the Nationals' Bryce Harper. Benches cleared again with no punches thrown.
But as order was nearly restored, tensions flared up again and the two teams met up on the infield with some aggressive pushing going on at best. The Nationals' Michael Morse didn't seem to care for being pushed by Clevenger.
Clevenger broke away from the skirmish, but returned and appeared to reach out toward Ian Desmond before Desmond was pulled away. Desmond and Danny Espinosa stole bases in the fifth inning.
After the sixth-inning skirmish Clevenger and Manny Corpas of the Cubs were ejected. The Nationals' Michael Gonzalez was also ejected.
After appearing to throw at Harper, Castillo came back to strike out the rookie phenom looking on a breaking ball. Castillo was removed by Sveum after giving up a single to Ryan Zimmerman and was greeted warmly in the dugout as he came off the field.
May, 23, 2012
5/23/12
7:44
PM CT
HOUSTON – Cubs bench coach Jamie Quirk is back in the manager saddle again, he just might not get as much attention this time.
Quirk was managing Wednesday while Dale Sveum attended the high-school graduation of his son in Arizona, five days after he took over midgame when Sveum was ejected.
That game on Friday turned out to be Kerry Wood's farewell and Quirk found himself right in the middle of the moment.
The plan was simple: Get Wood in one last game in a spot he is normally used and afterward the right-hander would walk off into the sunset. If it didn't happen Friday then fine, but it was expected to happen soon.
It did happen Friday, though, and Quirk ended up doing a little improvising. He first thought he would use Wood for consecutive right-handed batters. But then he also though that since the pitcher's spot was due up sixth after that half inning he might even let Wood get those two outs and go back for more the next inning.
Then came Wood's three-pitch strikeout to the White Sox's
Dayan Viciedo
, with the final strike coming on Wood's patented curveball, and a new plan was hatched.
"The right-hander was up who had real poor numbers against left-handed pitching and we had (James) Russell ready so I just went out and said, 'Let's do it right now," Quirk said. "It was fun. I was excited that I got to be the guy. I was definitely not about me by any means but it was fun to be the guy."
Quirk said he did have one regret.
"When I went to take him out he handed me the ball," Quirk said. "We got the ball for him but I wish I would have said, 'No, you take the ball on in.' I didn't think about that at the time but it worked out well."
Through all the drama, Quirk was careful not to lose sight what was also important.
"We still had a ballgame," Quirk said. "I knew I wasn't hurting our chances to win by bringing in Russell to face the right-hander because the right-hander did not hit lefties well. So I wasn't putting the game in jeopardy. It was still a one-run game. I didn't want to do that. If it was in jeopardy I would have him face the other right-hander and gone on with the other plan. It was just right to do it at that time."
May, 23, 2012
5/23/12
6:43
PM CT
HOUSTON – As it turns out, the new guy follows the same line of thinking as the other new guy.
Jamie Quirk, who is the Cubs acting manager for the night as Dale Sveum attends the high-school graduation of his son, used the same lineup against a left-handed starter as the regular manager did the previous night.
Despite the season-long struggles of the right-handed dominated lineup, Quirk went with it again. It's nearly identical to the lineup that scored just one run Tuesday night as the Cubs dropped their eighth consecutive game.
"We talked about the lineups going in to the series and then we sat on it last night for a couple of hours and talked," Quirk said. "But it was all set. Of course something could change but last night we decided that the two lefties, you get your right-handed batters some at-bats."
The only lineup change is that
Koyie Hill
is behind the plate instead of
Blake Lalli
, otherwise things are similar to Tuesday, aside from the pitcher.
It means that
Tony Campana
,
Bryan LaHair
and
Ian Stewart
all begin the game on the bench for the second consecutive day.
Starlin Castro
, who struck out four times Tuesday is back in the No. 3 spot.
"It was a good chance to get (Jeff) Baker, (Joe) Mather and Reed (Johnson) some well deserved at-bats," Quirk said.
The Cubs' lineup Wednesday against Astros left-hander Wandy Rodrigiez:
David DeJesus
, RF
Johnson, CF
Castro, SS
Alfonso Soriano
, LF
Mather, 3B
Baker, 1B
Darwin Barney
, 2B
Hill, C
Jeff Samardzija
, P
December, 16, 2011
12/16/11
10:38
AM CT
By ESPNChicago.com
ESPNChicago.com

November, 29, 2011
11/29/11
2:11
PM CT
By ESPNChicago.com
ESPNChicago.com

The Chicago Cubs haven't made a free-agency splash yet, but they are filling out the coaching staff.
Astros bullpen coach Jamie Quirk confirmed to Fox Sports in Houston that he will be named the Cubs new bench coach.
"I'm excited. I wasn't anticipating it," Quirk said, according to the TV station. "It was too good to turn down. I wanted to get back to the bench and get more involved. They've got new ownership and a new general manager and they're kind of like the Astros are, lot of changes going on and it's kind of exciting to see what's going to happen."
Read the entire story.