Chicago Cubs:

Jay Jackson

March, 26, 2012
3/26/12
6:20
PM CT
The
Chicago Cubs
tried to put together a late rally on Monday but fell just short in a 3-2 split-squad defeat to the
Arizona Diamondbacks
at Scottsdale, Ariz.

The good:
Blake DeWitt
and
Ian Stewart
broke through against Arizona ace
Ian Kennedy
in the seventh inning with back-to-back doubles for a run. For DeWitt, his two hits keep alive his quest for a roster spot. Stewart is trying to get into a groove with a just over a week remaining in spring training after missing time with a tight quadriceps muscle.
The bad:
David DeJesus
remains one of the few Cubs players to not get hot for at least a short stretch this spring. He went 0-for-3 Monday, but there is no shame in that against Kennedy. He did coax a walk. But his batting average has dropped to .182 and there are just eight games remaining for the projected leadoff hitter to get on track before Opening Day.
Beyond the box score:
Despite taking the loss, Jay Jackson continues to show that he can be effective if the Cubs need some help from a right-hander this season. Jackson, who will start the season at Triple-A Iowa, gave up three runs and seven hits over four innings against a solid Diamondbacks' lineup. He has a 2.77 ERA in Cactus League play.
Up next:
Cubs right-hander
Matt Garza
(2-2, 5.84) will pitch opposite
Cincinnati Reds
right-hander
Mat Latos
(2-0, 1.93) in a 3 p.m. CST start from Goodyear.
March, 19, 2012
3/19/12
6:41
PM CT
PEORIA, Ariz. -- The
Chicago Cubs
took a huge early lead Monday, watched it disappear and then erupted again in a 12-7 victory over the
Seattle Mariners
.


The good:
In only three entire games this spring had the Cubs scored more than they did in the first inning Monday. They sent 12 batters to the plate, knocking out Mariners starter
Jason Vargas
before their outburst was over.
Darwin Barney
had two hits in the inning after returning from a weekend off because of a strain in his left side.
The bad:
Travis Wood
said after his last outing that it was time to get it going. It didn't happen. After back-to-back home runs in the third inning the Mariners had matched the Cubs' seven-run first inning. Wood's seven earned runs Monday gave him 14 allowed (13 earned) in three spring outings. He also gave up six runs in an intrasquad game not counted in that total.
Outside the box:
Jay Jackson's solid spring continued with four scoreless innings in relief of Wood. The right-hander, who spent the last two full seasons at Triple-A Iowa, has given up just one earned run in three Cactus League outings and one intrasquad appearance. He remains alive for possibly a long-man spot in the bullpen and his chances only increase if
Jeff Samardzija
earns a spot in the rotation.
Up next:
In Mesa, Cubs right-hander
Ryan Dempster
(1-1, 4.15) will face off against Rangers right-hander
Neftali Feliz
(0-1, 7.20). In Phoenix, Cubs right-hander
Rodrigo Lopez
(0-0, 2.57) will face off against A's right-hander
Brandon McCarthy
(0-0, 4.70). Both games Tuesday are set for a 3 p.m. CST start.
March, 3, 2012
3/03/12
6:10
PM CT
MESA, Ariz. -- Saturday's
Chicago Cubs
intrasquad game was notable for the performance of the Jackson 2.
Pitcher Jay Jackson pitched three perfect innings while Brett Jackson hit a home run for the second consecutive day. Both were playing for the White Team. The game was called after six innings in a 3-3 tie.
In his fifth season in the Cubs organization, Jay Jackson has a golden opportunity to make an impression on a new manager (Dale Sveum) and pitching coach (Chris Bosio). Saturday was his first chance to show that his 8-14 record and 5.34 ERA at Triple-A Iowa last season wasn't representative of what he can do.
"I feel like I know I can help this ballclub any way they need me to," Jay Jackson said. "Whatever they want me to do I will be more than willing to do it. This is just my second year (in big-league camp) so I feel a little more comfortable this year. I'm not going to think too much about it."
Brett Jackson's road appears set with a trip to Iowa in his near future, but if he continues to deliver on his potential like he is doing it won't be an easy decision.
"I've said it before, the things I can control are what I do every day," Brett Jackson said. "I'm not going to make the team right now, today, but every day is a piece to that puzzle and I will keep working until that day comes. And when that day comes I will keep working there."
Joe Mather
had a three-run home run for the White Team.
March, 15, 2011
3/15/11
12:08
PM CT
MESA, Ariz. -- The
Chicago Cubs
sent 18 players to minor league camp, including third baseman Josh Vitters, outfielder Brett Jackson, pitchers Chris Carpenter, Jay Jackson and Trey McNutt, reducing the roster to 40.
Thirteen non-roster invitees were assigned to minor league camp: Carpenter, Jackson and McNutt; left-handed pitcher Scott Rice; catchers Steve Clevenger and Chris Robinson; infielders
Bryan LaHair
, Marquez Smith and Vitters; and outfielders Jim Adduci, Jackson, Lou Montanez and
Brad Snyder
.
Pitchers
Robert Coello
and
Thomas Diamond
were optioned to Triple-A Iowa and Alberto Cabrera, Rafael Dolis, Kyle Smit were optioned to Double-A Tennessee.
The Cubs' spring roster of 40 players consists of 20 pitchers (three non-roster invitees), four catchers, 10 infielders (four non-roster invitees) and six outfielders (one non-roster invitee).
The Cubs will have to cut their roster down to 25 by April 1.
February, 13, 2011
2/13/11
4:27
PM CT
MESA, Ariz. --
Chicago Cubs
general manager Jim Hendry and manager Mike Quade understand that getting off to a quick start in 2011 will be the key to staying competitive in the suddenly resurgent National League Central.
Hendry, who has two years remaining on his contract, knows that having a subpar 2011 season could impact his job status, and he understands the pressure to win.
[+] Enlarge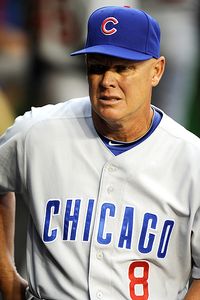 Mitchell Layton/Getty ImagesMike Quade is excited to get his first camp as a big-league manager underway.
"You guys have known me a long time. I don't think I treat [each season] any differently coming off of a postseason or a bad year like last year," Hendry said Sunday as pitchers and catchers reported to camp. "I tried to focus all winter on how we ended [2010] which was very good; seeing the young guys get better, seeing the veteran guys respond well to Mike. [I then went about] about the business of adding the guys we did."
Entering his ninth year as general manager, Hendry added pitcher
Matt Garza
in a trade with the
Tampa Bay Rays
and signed free agents
Kerry Wood
and
Carlos Pena
. Somehow Hendry was able to get all three for a total of $10.4 million against his 2011 payroll (Pena's contract is paid over three seasons).
"We didn't have a ton of payroll flexibility in the offseason. Understandably so," said Hendry, whose payroll was cut somewhere around 10 percent by ownership in 2011. "It was a lot of work for the guys upstairs [in management]. [Assistant GM] Randy [Bush] was great. Our scouting meetings were tremendous early in the process. You hope it all works out, the plan that we had in mind and the pieces that we needed. We thought we did the best we could."
Quade is excited about his first camp as a big-league manager. Still, he understands the pressure at this level.
"You can't underestimate the challenge of winning a division," Quade said. "I don't even look at that as pressure. I just look at it as one heck of a challenge. If I get everything I'm supposed to out of this club then you believe things will work out."
Quade signed a two-year, $2 million contract after posting a 24-13 mark as interim manager following the retirement of Lou Piniella.
A good part of the Cubs' and Quade's success will depend on the pitching staff which was a strength in the last third of the season. A big part of that was success of
Carlos Zambrano
, who finished the season with an 8-0 mark in his last 11 starts.
[+] Enlarge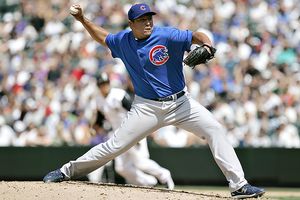 AP Photo/Barry GutierrezThe Cubs' Carlos Zambrano returned to his ace form at the end of the season.
"What's that Rush song? 'Freeze That Moment,' " Quade said of what he is expecting out of Zambrano. "He was real good in a lot of different ways. Yeah, I would take that finish for six weeks and take it for six months and book it. That's an ongoing thing for Zambrano and his development as an older guy, learning what he has to do as an older pitcher. We all have to make adjustments as we get older."
Quade will have the challenge of trying to find pitchers to fit in the fourth and fifth rotation spots along with Zambrano,
Ryan Dempster
and Garza. The choices are plentiful; the quality of those choices remains to be seen.
Quade refused to pick out an Opening Day starter on his first day of camp in Mesa. He said at the Cubs Convention in January that whoever started that day was the ace of the staff.
Hendry must now sit back and watch the season unfold. However, unlike in the past, the Cubs have minor-league player options available. Center fielder Brett Jackson could be this season's version of
Starlin Castro
. Jackson, a first-round pick of the 2009 draft, made great strides in 2010, showing power and speed as he combined for 12 home runs and 30 stolen bases in stops at Single-A Daytona and Double-A Tennessee.
Pitching in the minors appears to be a strength as well. Trey McNutt, Jay Jackson and Chris Carpenter could all be major league contributors before the season ends.
Quade is Hendry's fourth and most likely last manager he has hired since taking over as GM midway through the 2002. Hendry has raised the bar in Cubs Nation, winning three divisions in eight seasons, a feat no Cubs executive has ever done.
A slow start could put a crimp in Quade's ability to handle a still veteran club and have a major effect on the team's future as far as who leads the front office.
May, 27, 2010
5/27/10
2:26
PM CT
The Carlos Zambrano situation has taken on a life of its own. Zambrano will pitch in one of the three games in Pittsburgh next week. Speculation as to which pitcher will be removed from the rotation has run rampant in media circles this week.


Left-hander Tom Gorzelanny had a sub-standard outing Wednesday. That result had many speculating that he will be moved to the bullpen. If that is the case, a left-handed pitcher will have to be sent to the minors or traded. Manager Lou Piniella is not going to have a functional bullpen with four left-handed relievers.


Two of the Cubs' outstanding young pitchers, right-handers Jay Jackson and Andrew Cashner, have just switched roles at Triple-A Iowa. Cashner, who had been starting, is going to the bullpen. While Jackson, who has been a reliever, will go back into the rotation.


Both pitchers are being prepared for possible call-ups. Cashner has the more electric fastball. Jackson is a bit more accomplished with three solid pitches.


The organization is confident both will be solid relievers who Piniella can trust, once they're moved to the majors.


The fear with Piniella is that if a young pitcher walks a few guys, that he won't use him again. That, of course, is an exaggeration, but the Cubs manager does insist on Strike 1, Strike 2, from his pitchers.


In the case of Gorzelanny, he hasn't done anything to deserve a demotion. But someone will have to have a different role, at least for a short period of time.


"It's a need, it's a change of assignment," Piniella said. "Just because someone is going to be taken out of the rotation, doesn't mean he can't help this team in the bullpen.


"Our bullpen can use all the help we can get. "


Don't discount Cashner and Jackson ending up on the major-league staff this summer. For now, barring a trade, one of them will soon be in the bullpen, maybe as early as next week.