April, 5, 2012
4/05/12
1:26
PM CT

By Doug Padilla
ESPNChicago.com
Archive
CHICAGO -- The
Chicago Cubs
made their final roster official not long before game time Thursday with the biggest news being that they lost a highly regarded left-handed pitcher in the process.
In an effort to clear spots on the 40-man roster, the Cubs ended up seeing left-hander
John Gaub
get claimed off waivers by the
Tampa Bay Rays
. Another spot was cleared on the 40-man by putting right-hander
Marcos Mateo
on the 60-day disabled list with ulnar neuritis.
As expected, the Cubs selected the contracts of right-hander
Shawn Camp
and utility men
Blake DeWitt
and
Joe Mather
.
Tony Campana
and
Casey Coleman
were optioned to Triple-A Iowa.
The Cubs did not announce anything with
Rodrigo Lopez
, who did not make the Opening Day roster. Lopez is expected to be placed on the roster over the weekend. To make room for the long man a position player figures to be on the way out.
February, 22, 2012
2/22/12
3:50
PM CT

By Doug Padilla
ESPNChicago.com
Archive
MESA, Ariz. -- Left-handed reliever
John Gaub
, who has been out since spring training began because of back spasms, is expected to take part in his first workout Thursday.
Chicago Cubs
manager Dale Sveum said Gaub will definitely take part in the team's bunting contest and will probably just go through a light workout. He likely won't start participating in a full bullpen session until later in the week.
Gaub, who started having back spasms after lifting weights, is among a group left-handers in a battle for what appears to be two spots in the bullpen for lefties.
Trever Miller
and
James Russell
appear to be the favorites in that battle with Gaub,
Scott Maine
and even
Jeff Beliveau
vying for a role.
February, 14, 2012
2/14/12
10:03
AM CT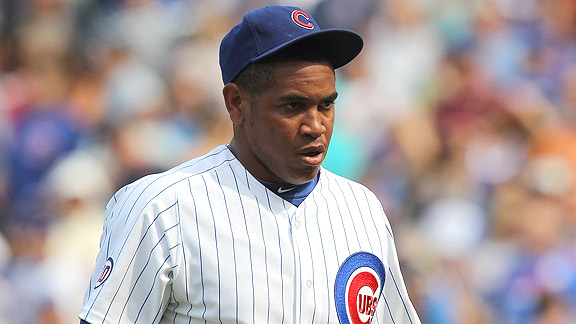 Jonathan Daniel/Getty ImagesCarlos Marmol tied for the major-league lead with 10 blown saves last season.
With pitchers and catchers reporting to Mesa, Ariz., on Saturday, Bruce Levine previews the Cubs roster by position this week.
The
Chicago Cubs
' bullpen was a strength of the 2011 team. But gone from the mix is lefthander
Sean Marshall
, who was one of baseball's best set–up men the past two seasons. The back of the pen will be a question mark with the loss of Marshall and the uncertain status of
Carlos Marmol
's arm strength. The pen will really have to tighten up if
Jeff Samardzija
goes into the rotation.
1. Carlos Marmol, RHP:
He must bounce back with a better season and fewer blown saves. The 29-year-old right-hander had 10 blown saves in 2011, tied for the most in the majors. Marmol also has been baseball's most overused bullpen arm with 27 back-to-back outings last season, by far the most in all of baseball. Since 2008, Marmol has the most appearances of any pitcher, a foolish number when you consider that for two and a half of those four years he was a closer. Marmol told ESPNChicago.com that he has lost 10 pounds since last October. Expect a rebound if manager Dale Sveum and pitching coach Chris Bosio watch how they use him.
[+] Enlarge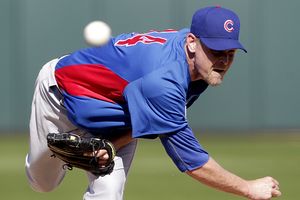 AP Photo/Lenny IgnelziKerry Wood posted a 3.35 ERA with 21 holds in 55 appearances last season.
2. Kerry Wood, RHP:
The setup man can still get quality hitters out, but like Marmol he needs to be protected from overuse. Wood was up too many times in 2011 without coming into a game. The Cubs icon has recovered from offseason knee surgery, and 50 innings should be his max this season.
3. John Gaub, LHP:
He will get a shot as the team's main set-up man along with Wood. Gaub fanned 75 batters in 55 innings at Triple-A Iowa in 2011. Finding a power arm from the left side was a pleasant surprise for the new Cubs brass.
4. James Russell, LHP:
The lefthander learned how to pitch at this level through trial and error last season. Russell, who started five games for the Cubs last season, will set up Marmol if Gaub falters.
5. Manny Corpas, RHP:
He will get a chance to regain his form this spring. A closer for the Rockies in 2007, Corpas, 29, has been throwing hard since sitting out 2011 following arm surgery. He could set up or close if anyone gets hurt.
6. Andy Sonnanstine, RHP:
The former Tampa Ray has had experience as a starter and reliever. He will be available in either role.
7. Chris Carpenter, RHP:
He can hit 100 mph with his fastball and could be the sleeper in the Cubs bullpen this season. Carpenter pitched in 10 games for the Cubs in 2011 before going back to Triple-A. He impressed scouts in the Arizona Fall League.
The rest of the bullpen will depend on which pitchers make the rotation. Samardzija goes back to a setup role if he is not part of the rotation.
Randy Wells
and
Casey Coleman
might also go to the bullpen if they don't crack the rotation.
Chris Volstad
is a part of the same mix as the rest of this group.
Scott Maine
is a situation lefty who could squeeze his way on the 25-man roster.
September, 17, 2011
9/17/11
5:59
PM CT
By Sahadev Sharma
ESPNChicago.com
Archive
While the
Chicago Cubs
have been much maligned for their inability to develop quality starting pitchers, they've built a solid relief corps through their minor league system. A few of those arms were on display in Saturday's 2-1 win over the
Houston Astros
at Wrigley Field as
James Russell
and
Sean Marshall
helped shut down the Astros to preserve the victory.
The Cubs bullpen currently features nine arms, seven of which were brought up through the Cubs system. Only veterans
John Grabow
and
Ramon Ortiz
didn't spend the majority of their careers with the organization.
Neither Grabow nor Ortiz is expected to return next season and it's possible the Cubs will replace them with internal candidates like the recently recalled
John Gaub
or the soon-to-be-called-up Rafael Dolis.
After being acquired in a trade for
Mark DeRosa
, Gaub had an outstanding 2009 season, recording a combined 80 strikeouts in 60 innings for Double-A Tennesee and Triple-A Iowa . One scout who watched him that season called him the best lefty relief prospect in the game. Gaub struggled mightily in Iowa in 2010 (his BB/9 jumped from 5.0 to 8.3), but bounced back with a strong 2011 campaign and looks to once again have a bright future in the big leagues as more than just a one-out lefty.
Dolis is a power pitcher and while hopes are high for him, he's going to have to improve upon his 4.3 BB/9 if he's going to be a relied on arm out of the bullpen.
The good news for both pitchers is that with the likes of Marshall and
Jeff Samardzija
around, Dolis and Gaub hopefully won't be pressed into high pressure situations too soon.
Samardzija and Marshall, both of whom struggled when originally used as starters at the major league level, have thrived in their current roles. Marshall, who picked up the save on Saturday, has struck out 75 and walked only 17 in his 72 innings of work this season, becoming one of the best lefty set-up men in all of baseball. Samardzija is finally starting to live up to the high expectations that were heaped upon him when he was first drafted in 2006. He's struck out 86 in 85 1/3 innings and while his 48 walks on the season are a tad high, it's an area that he's improved as the season has gone on.
Other arms that could help bolster the bullpen in the coming years include Jeff Beliveau (who, along with hot prospect Brett Jackson, will play for Team USA in the Pan-Am Games this spring),
Chris Carpenter
, and even further down the pipeline, Aaron Kurcz and Kevin Rhoderick.
It's possible that
Kerry Wood
may not be re-upped for next season and Samardzija may fill a rotation spot. If that happens, at least young reliever will have to step up. Unless acquiring a dominant closer, it's unwise to give high-paying long-term deals to a reliever; they rarely seem to work out. The Cubs have been bitten numerous times in the recent past by this strategy, with
Bob Howry
,
Scott Eyre
and, most recently, John Grabow, none of whom lived up to the multi-year deals they signed.
Of course, the main objective for a minor league system is to provide high-end starting pitching talent. Unfortunately, the Cubs have been unable to accomplish that recently, and once-highly-thought-of starters Jay Jackson and Trey McNutt are both having disappointing seasons. Jackson seems to have lost the velocity that scouts once raved about, but finished his season strong, compiling a 2.95 ERA with 32 strikeouts and only 11 walks in his last 7 starts.
Injuries have also played a big part in the Cubs' attempt to develop starting pitchers. McNutt was hampered by blister issues and bruised ribs for much of the year and likely deserves a pass on his subpar 2011.
Andrew Cashner
looked brilliant in his one start with the Cubs this season (one earned run in 5 1/3 innings) before exiting with shoulder pain. After a long rehab, Cashner is finally back and pitching out of the bullpen, but there is hope he'll be a big part of next season's starting rotation.
Even breakout prospect Robert Whitenack, who had a 1.73 ERA with 47 strikeouts and 14 walks in 11 starts at two levels in the minors, had his season cut short by Tommy John surgery.
While the starting pitching situation is hardly ideal, the Cubs have been able to effectively build a bullpen. With more promising arms on the horizon, the Cubs should only have to spend lightly on undervalued veteran bullpen arms. That way they'll be able put their resources where they're most needed, -- acquiring starting pitching, quality defenders and offensive players with the ability to get on base.
September, 6, 2011
9/06/11
3:51
PM CT
By ESPNChicago.com
ESPNChicago.com

CHICAGO -- The
Chicago Cubs
recalled left-handed pitcher John Gaub, infielder
DJ LeMahieu
and outfielder Lou Montanez from Triple-A Iowa on Tuesday.
The 26-year-old Gaub, who was acquired in the
Mark DeRosa
trade with the
Cleveland Indians
in 2008, 26, went 4-4 with seven saves and a 3.42 in 50 relief appearances for Iowa this season. He struck out 75 batters in 55 1/3 innings pitched and limited opponents to a .209 batting average.
LeMahieu, 23, was recalled for the second time this season. He hit .243 in 23 games with the Cubs earlier this season. He started the season at Double-A Tennessee where he batted .358 with two home runs and 27 RBIs in 50 games. He finished the season at Triple-A Iowa, batting .286 with three home runs and 23 RBIs in 58 games.
Montanez, 29, joins the Cubs for the second time this season. He batted .239 in 25 games for the Cubs from May 24-July 2. He batted .321 with seven home runs and 69 RBIs in 92 games at Triple-A Iowa.
All three players are available to play against the
Cincinnati Reds
on Tuesday night.
September, 5, 2011
9/05/11
2:56
PM CT
CHICAGO – The Chicago Cubs on Monday activated right-handed pitcher Andrew Cashner from the 60-day disabled list.
[+] Enlarge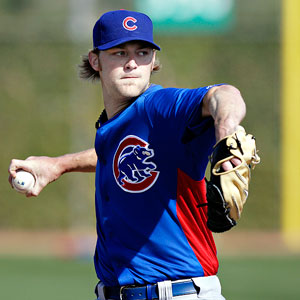 AP Photo/Paul ConnorsAndrew Cashner made just one start this season before getting injured.
Cashner is expected to be in uniform Tuesday, but he is unlikely to pitch until Wednesday at the earliest. He has been throwing every third day as part of his rehab.
Cashner was placed on the DL on April 8 (retroactive to April 6) with a right rotator cuff strain. He re-aggravated the injury while rehabbing in mid-May. He is expected to stay in the bullpen for the remainder of this season.
Cashner's activation could be one of many roster moves the team makes in the coming days.
Infielder D.J. Lemahieu and relief pitcher John Gaub are expected to be called up Tuesday from Triple-A Iowa. After that, the team likely will wait until the end of the Double-A playoffs before promoting two players on the Tennessee Smokies. Right-handed pitcher Rafael Dolis and catcher Steve Clevenger are on track to get promoted after the conclusion of those playoffs. Clevenger must be added to the roster before he is eligible to play in the major leagues.
Cashner's coming off the DL and Celvenger's eventual addition will max out the Cubs' 40-man roster. With that, the team may consider designating players currently on the 40-man roster for assignment.
One player who will not be ascending to the 40-man roster is outfielder Brett Jackson. Rated as the organization's top prospect, the Cubs have decided to keep Jackson in the minors for the remainder of this season. The team also canceled Jackson's Arizona Fall League slot. The young outfielder will instead play with Team USA in the Pan Am Games this fall.


A few other names who are unlikely to see the 40-man roster: pitcher Scott Maine, catcher Wellington Castillo and pitcher Chris Carpenter. All were candidates for call-ups, if not for injuries.
On Sunday, Sept. 11, a roster spot will have to be opened for Carlos Zambrano's return to the active roster. Zambrano will be coming off the disqualified list after 30 days. He will not re-join the team, however.
March, 20, 2010
3/20/10
7:57
PM CT
Chicago Cubs
manager Lou Piniella made it official on Saturday -- rookie right-hander
Justin Berg
has made the pitching staff to start the 2010 season. Piniella said there's still a battle for the last bullpen spot between left-handers John Gaub, James Russell and Marcos Mateo, as well as right-hander
Mike Parisi
.
[+] Enlarge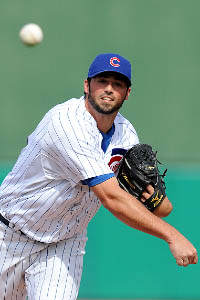 Lisa Blumenfeld/Getty ImagesCubs manager Lou Piniella said Justin Berg will be on the team's Opening Day roster.
Parisi was a Rule 5 acquisition. If he doesn't make the team, he has to be offered back to the
St. Louis Cardinals
for the waiver price.
Fuld vs. Colvin:
The Cubs are leaning toward keeping a defensive outfield specialist for their Opening Day roster. It appears it will come down to a battle between
Sam Fuld
and
Tyler Colvin
.
Colvin has been the team's hottest hitter this spring, however, there's some in the organization that aren't convinced he can handle center field for any extended period of time.
Fuld is a wizard at handling all three outfield positions and also adds a little more speed to the bench if he makes the team.
Millar vs. Tracy:
Veterans
Kevin Millar
and
Chad Tracy
are both trying to make the 25-man roster. For Piniella and his staff, it's a difficult choice to make. Piniella was asked if both could possibly make the team.
"It's hard," Piniella said. "I'm not saying it's not possible. We like both players a lot. There's a lot to say about contributions and leadership from your veterans."
The rotation:
Piniella and pitching coach Larry Rothschild have mapped out an Opening Day plan where the starters will get three starts apiece in April. After that, the Cubs are hoping that rehabbing left-hander
Ted Lilly
will be able to return to the rotation.
The leaders for the fourth and fifth spots appear to be left-hander
Tom Gorzelanny
and righty
Carlos Silva
. Piniella said he'll make a decision on the rotation by March 24.