October, 25, 2013
Oct 25
12:33
PM CT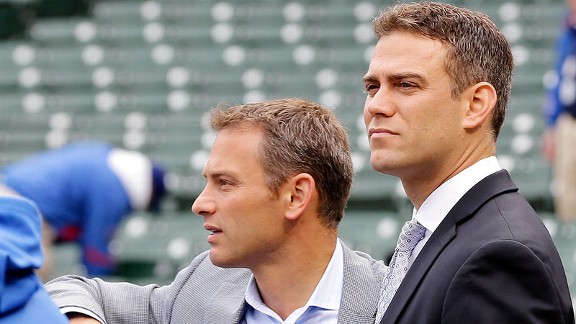 AP Photo/Nam Y. HuhJed Hoyer and Theo Epstein have led a complete overhaul of the Cubs that is starting to show progress.
This World Series is a tough watch for a
Chicago Cubs
fan. The rival
St. Louis Cardinals
continue to show off why they're the most respected organization in the game, while Cubs president Theo Epstein and general manager Jed Hoyer's former team, the
Boston Red Sox
, is still reaping some rewards from the duo's time in Boston.
Cubs fans must be wondering when that magic is going to start to take place at Wrigley Field.
It's a valid question, and it's become obvious the fan base is split on this issue. Some believe better days are around the corner, while others simply answer that question with "never." If you don't believe better days are ahead for the Cubs then you aren't paying attention or you're just paying attention to their win/loss record. Or maybe you're worried about the managerial search, which hasn't produced any big-name candidates.
I just returned from watching Cubs prospects in the Arizona Fall League, and what I saw in Arizona is more important than whoever they hire to manage.
I saw two prospects, Kris Bryant and Albert Almora, who most baseball observers believe are special. And yes, it's only fall baseball, but would you rather have Cubs prospects prospering wherever they're playing or struggling? Anyway, analyzing two players is too small-picture right now.
You may disagree with their entire rebuilding strategy -- that's another argument -- but if you're on board then you should be very pleased with 2013. Forget the record 50 home losses. Forget the putrid play for long stretches. Forget the record number of players they used on their roster for the second consecutive season. It's all by design.