Chicago Cubs:

Larry Rothschild
July, 27, 2014
7/27/14
7:11
PM CT

By Doug Padilla
ESPNChicago.com
Archive
COOPERSTOWN, N.Y. -- Just like he carved up opponents from 60 feet, 6 inches away, Greg Maddux moved through his Hall of Fame speech Sunday with deft precision.
There was family to thank, teammates and coaches he appreciated and a few people who were key to his development at a young age. He showed love and respect to his wife Kathy for holding down the fort at home. He explained why his Hall of Fame plaque won't have a logo on the cap since he was unable to choose between the
Chicago Cubs
and
Atlanta Braves
.
[+] Enlarge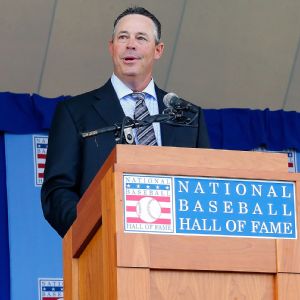 Jim McIsaac/Getty ImagesGreg Maddux's Hall of Fame speech was short and sweet, done with precision, which was similiar to his approach to pitching during his career.
He even sprinkled his own deadpan humor into the proceedings, talking about flatulence, how he was mistaken for the batboy before his first major league game, and how he spent much of his time with the Braves watching John Smoltz's hairline recede.
Appropriately at the head of the rotation among Hall of Fame inductees, it took less than five minutes for Maddux to mix in a little potty humor during what he called the first speech of his life.
"My brother, Mike, led by example," he said about his sibling who is also the pitching coach of the
Texas Rangers
. "Everything I was about to do on and off the field, he had already done. I was very fortunate to have a brother that I could learn from. He even taught me a little bit about science. It has to do with a little methane and a lighter, and I still get a huge kick out of it today. That's funny, huh? OK."
In his more serious moments, Maddux expressed appreciation to the four franchises for which he pitched, focusing most on the Cubs and Braves, obviously. He ended his career with the
San Diego Padres
and
Los Angeles Dodgers
.
"With the Cubs, I had the opportunity to play with Andre Dawson, Rick Sutcliffe, Ryne Sandberg and two fine catchers, Damon Berryhill and Joe Girardi," he said. "The city of Chicago and the Cub fans were awesome, maybe the best in baseball."
The comment managed to bring out some groans from a large contingent of Atlanta fans in the crowd estimated to be 48,000 strong. He made up for it seconds later when talking about his free-agent move from Chicago to Atlanta.
"I picked Atlanta because I finally wanted to get a World Series ring and start a family," he said. "All right, sorry, Chicago, but yeah."
Maddux eventually did get that ring in 1995, with his career bringing him back to Chicago in 2004.
"I love Chicago so much," Maddux said. "The first time I played there, that I was very grateful that Gary Hughes and Jim Hendry brought me back over to Chicago. That would give me a second chance to win there, and maybe retire where it all started, but I wouldn't be a Cub if I couldn't handle a little heartache and we missed the postseason by one game my first year back.
"I was thankful I got a chance to play for Dusty Baker and work with Larry Rothschild. I enjoyed throwing most of my games to Henry Blanco and Michael Barrett, and again, it was even funnier when they would get hit in the face [with foul tips]."
For a first speech, Maddux handled the moment with aplomb. He didn't have to explain why he will go in to the Hall of Fame without picking the Braves over the Cubs or the Cubs over the Braves. He did anyway.
"People ask me why I have no Hall of Fame plaque, no logo, or why my Hall of Fame plaque has no logo," he said. "I spent 12 years in Chicago, 11 in Atlanta and both places are very special to me. Without experiences in both cities, I would not be standing here today."
June, 17, 2011
6/17/11
3:12
PM CT
CHICAGO -- Former
Chicago Cubs
pitching coach Larry Rothschild will always call Chicago, and in some ways Wrigley Field, his home. But most people will remember his time in Chicago as the pitching coach for
Mark Prior
,
Kerry Wood
and
Carlos Zambrano
.
Rothschild was Zambrano's first pitching coach when Zambrano began his big-league career in 2002. And Rothschild was there when Zambrano came back last August from his anger management sessions and put up an 8-0 record in 11 starts to end the season.
"I thought he just started pitching more and just used all of his weapons he had at his disposal," said Rothschild, who returned to Wrigley Field on Friday as pitching coach of the
New York Yankees
. "He got away from overthrowing his pitches, and he had a great knack of pitching to his stuff on a given day."
The Yankees, who have had scouts looking at Zambrano over the past month, are missing pitchers
Bartolo Colon
,
Phil Hughes
,
Joba Chamberlain
and
Rafael Soriano
. New York ownership knows the team will have to add pitching if they are going to stay in the AL East race with the
Boston Red Sox
.
Rotchschild said Zambrano has evolved as a pitcher.
"The difference in Carlos now is that if he has power in a given day he will use it," Rothschild said. "If he doesn't, he has found a different way to get hitters out. Now he is a pitcher who has tremendous movement and can get people out with his second, third and fourth pitches."
I asked Rothschild if he saw a different Zambrano when he came back from his therapy sessions in August.
"A lot came to him at a young age. That's not easy for anybody, no matter who you are or what kind of person you are," Rothschild said. "To me he has always been a good person to work with from a coach's point of view. So you saw the stuff and the comments he made but from my point of view he always did his work, he always listened to me, and he always really tried to get better. As a coach, that's what you look for. We had a relationship for nine years, and we worked together for a long time."
If you read between the lines of Rothschild quotes, you can see that he still has an affinity for Zambrano and would most likely welcome him to the Yankees if a move was made. Rothschild is not allowed to talk about his or the team's interest in another player. That's tampering, and it carries a heavy fine. But if Yankees general manager Brian Cashman asks Rothschild if he can work with Zambrano again, the answer would most likely be yes.
Although the Yankees are in need of starting pitching, they might be more apt to go after a left-handed starter due to all the outstanding left-handed hitting in their division, particularly on the Boston Red Sox. But Zambrano would be a nice addition to the Yankees.
Yankees manager and former Cub Joe Girardi caught Zambrano early in his career.
"He was a very young kid with electric stuff," Girardi said. "He was learning how to pitch, but I always had a good relationship with Z."
Maybe Girardi and Rothschild will be able to re-kindle the relationship with Zambrano before the trade deadline on July 31.
November, 19, 2010
11/19/10
6:06
PM CT
[+] Enlarge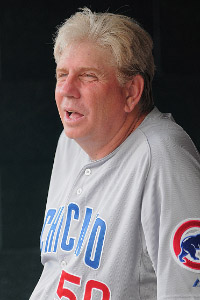 Mark Cunningham/MLB Photos/Getty ImagesPitching coach Larry Rothschild said it was a bittersweet decision to leave the Cubs for the Yankees.
Pitching coach Larry Rothschild is now a
New York Yankees
employee after signing a three-year deal for close to $2 million to be the team's pitching coach.
According to a major-league source, Rothschild, who would have made $500,000 with the Cubs in 2011, will make close to $650,000 this coming season in New York. Rothschild approached Cubs general manager Jim Hendry two weeks ago and conversed with him about the vacancy with the Yankees after the team let go of pitching coach Dave Eiland.
Hendry mulled it over, and in deference to Rothschild called the Yankees and gave general manager Brian Cashman permission to talk to Rothschild.
Rothschild, who lived in Tampa, had no problems with the Cubs. However, six weeks at home in the Tampa area during spring training with his young children was the most enticing thing for the Homewood-Flossmoor native.
According to a major league source, the Cubs will stay within their organization to replace Rothschild for the Cubs' pitching coach position. Top candidates will include minor-league pitching coordinator Mark Riggins, Cubs bullpen coach Lester Strode, Triple-A pitching coach Mark Mason and Double-A pitching coach Dennis Lewallyn.
Although there is no clear favorite at this time, Riggins is highly thought of throughout baseball and may have a slight edge with his 26 years of coaching experience. Rothschild's time in Chicago was spent working for five managers, including Don Baylor, Bruce Kim, Dusty Baker, Lou Piniella and the team's present manager, Mike Quade.
Rothschild was the first manager of the Tampa Bay Devil Rays and had success throughout his coaching career, which included major-league stops in Cincinnati and Florida.
"It's a bittersweet feeling leaving the Cubs for the Yankees job," Rothschild said. "I've made so many close friends in the Cubs organization, and everyone from Jim Hendry and ownership on down has treated me so well that it's hard to say goodbye. But this is a great opportunity for me and my family."
Rothschild struggled over the last nine years not having his family close by during spring training. The last two springs he went over two months without seeing them. The 56-year old began his coaching career in 1986 after a playing career that included a brief stop in the major leagues. Rothschild was the bullpen coach for the 1990 World Champion Reds and the pitching coach for the 1997 World Champion
Florida Marlins
, before being named the manager in Tampa in the fall of 1997.
November, 19, 2010
11/19/10
4:31
PM CT
In a surprise announcement, the New York Yankees hired Larry Rothschild, the Chicago Cubs pitching coach for the past nine seasons, to succeed Dave Eiland as pitching coach.
Read the entire story.
October, 19, 2010
10/19/10
6:30
PM CT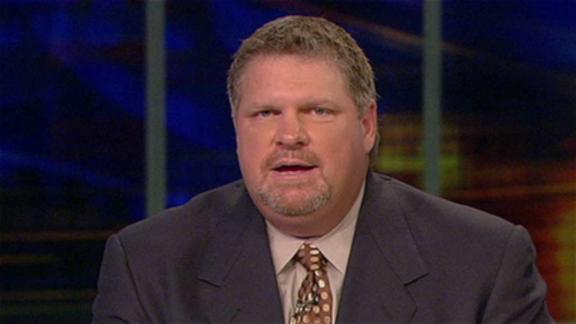 CHICAGO -- Mike Quade was torn between picking up a phone call from Cubs GM Jim Hendry and finishing cleaning the crab he caught during his Sunday fishing trip.
"You make a decision," Quade said. "Who's going to get these crabs? How quick can I pick up a suit and pack and get to Chicago to see if we can't work something out."
After spending part of the day Monday at Jim Hendry's house, the Cubs and Quade indeed worked out a deal that will pay Quade a total of $1.8-$2 million spread over the next two years to manage the Cubs, according to a major league source. The Cubs and Quade have a vesting option for 2013 based on performance -- it includes games won and playoff appearances among other factors. The Cubs were paying $3 million more per year to Lou Piniella.
Hendry's call to Quade on Sunday instructed him to get to Chicago, meet with him on Monday and to stay away from his regular apartment while preparing to be named the team's manager on Tuesday.
After winning 24 of the 37 games he managed in the final weeks of the 2010 season, Quade gave a short recipe for players he'll manage living in his world of work and discipline.
"You rarely don't know what I'm thinking," Quade said. "That doesn't mean you're going to like it, and it doesn't mean that things will always work in my favor. But at least you'll know where I'm coming from. Whether it's athletes or just people, handling people is the most important thing. If [players] can't handle that, then I'm not right for them or vice-versa."
Quade and the front office will sit down Wednesday to talk about next year's coaching staff and other personnel moves.
This much is known: Pitching coach Larry Rothschild will be back in his role for at least one more year, hitting coach Rudy Jarmillo has two years left on his deal, and bullpen coach Lester Strode will be back as well, according to a major league source.
First-base coach Bob Dernier, third-base Ivan de Jesus as well as bench coach Alan Trammell's fate will be discussed in the meeting. Trammell most likely will leave the Cubs to become bench coach for the
Arizona Diamondbacks
, which are managed by Trammell's former teammate Kirk Gibson. Gibson was on Trammel's staff when he managed the
Detroit Tigers
.
Washington Nationals
third-base coach Pat Listach may end up as either the bench coach or the third-base coach for Quade. Listach was a minor league manager for the Cubs before he left the organization to coach in Washington.
On a bigger, broader subject, Quade was asked if he'll ignore the ghost of 102 years of the Cubs not winning a World Series.
"I'm going to," Quade said. "But I've lived here, and I was raised here. I get it. You're totally aware of it. But it's not going to do us any good at all as a ballclub or me as a manager or me as a person, to have that anywhere near my thoughts on a daily basis."
Amazingly, the reverse has happened on the city's North Side. The "Gone Fishing" sign has come down and the back-to-work sign is up for Quade and the Cubs organization.
October, 11, 2010
10/11/10
1:24
PM CT
CHICAGO --
Chicago Cubs
pitching coach Larry Rothschild informed the team on Monday that he is picking up his option to return for the 2011 season, according to a major league source.
Read the entire story
.
October, 3, 2010
10/03/10
6:39
PM CT
HOUSTON --
Chicago Cubs
bench coach Alan Trammel may return to the Cubs' coaching staff in 2011.
Another possibility is Trammel could join Kirk Gibson on the
Arizona Diamondbacks
' staff. Major league sources told ESPNChicago.com that Gibson would like his former teammate from the 1984 World Champion Tigers to join him as he prepares for his first full season as Arizona's manager. The Diamondbacks are expected to name Gibson as their next manager on Monday.
Trammel had a 10-minute conversation with Cubs general manager Jim Hendry before Saturday's game in Houston, discussing the dynamics of Hendry's pursuit of a new manager and Trammel's pursuit of gainful employment in 2011.
Trammel has also coached for the
San Diego Padres
, where he worked for general manager Kevin Towers. Towers was named the Diamondbacks general manager two weeks ago.
Pitching coach Larry Rothschild has an option for 2011 on a contract that pays him in excess of $400,000 a year.
Rothschild, the Cubs pitching coach since 2002, has worked with five managers during his tenure with the team (Don Baylor, Bruce Kimm, Dusty Baker, Lou Piniella and Mike Quade). Rothschild, a Homewood-Flossmoor native, has one of the best reputations in the game as a pitching coach. With many manager changes expected this offseason, he would be highly-sought by other teams if he decides not to return to the Cubs.
March, 20, 2010
3/20/10
7:57
PM CT
Chicago Cubs
manager Lou Piniella made it official on Saturday -- rookie right-hander
Justin Berg
has made the pitching staff to start the 2010 season. Piniella said there's still a battle for the last bullpen spot between left-handers John Gaub, James Russell and Marcos Mateo, as well as right-hander
Mike Parisi
.
[+] Enlarge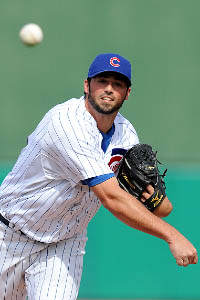 Lisa Blumenfeld/Getty ImagesCubs manager Lou Piniella said Justin Berg will be on the team's Opening Day roster.
Parisi was a Rule 5 acquisition. If he doesn't make the team, he has to be offered back to the
St. Louis Cardinals
for the waiver price.
Fuld vs. Colvin:
The Cubs are leaning toward keeping a defensive outfield specialist for their Opening Day roster. It appears it will come down to a battle between
Sam Fuld
and
Tyler Colvin
.
Colvin has been the team's hottest hitter this spring, however, there's some in the organization that aren't convinced he can handle center field for any extended period of time.
Fuld is a wizard at handling all three outfield positions and also adds a little more speed to the bench if he makes the team.
Millar vs. Tracy:
Veterans
Kevin Millar
and
Chad Tracy
are both trying to make the 25-man roster. For Piniella and his staff, it's a difficult choice to make. Piniella was asked if both could possibly make the team.
"It's hard," Piniella said. "I'm not saying it's not possible. We like both players a lot. There's a lot to say about contributions and leadership from your veterans."
The rotation:
Piniella and pitching coach Larry Rothschild have mapped out an Opening Day plan where the starters will get three starts apiece in April. After that, the Cubs are hoping that rehabbing left-hander
Ted Lilly
will be able to return to the rotation.
The leaders for the fourth and fifth spots appear to be left-hander
Tom Gorzelanny
and righty
Carlos Silva
. Piniella said he'll make a decision on the rotation by March 24.