Chicago Cubs:

Manny Ramirez
September, 30, 2014
Sep 30
3:49
PM CT
CHICAGO -- If former slugger
Manny Ramirez
officially retires, the
Chicago Cubs
could have an opening for him as a coach on their major league staff.
Ramirez, 42, was a player-coach for the Triple-A Iowa Cubs this season and garnered positive reviews from the front office.
[+] Enlarge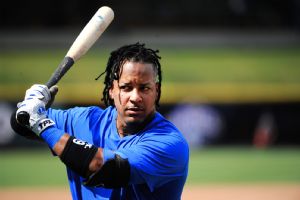 Brendan Maloney/USA TODAY SportsIowa Cubs player-coach Manny Ramirez "has not decided to retire as of yet," says Theo Epstein.
"Manny has not decided to retire as of yet," Cubs president Theo Epstein said Tuesday. "He did an outstanding job for the organization this year and we're going to continue to stay in touch depending on what he wants to do in his career."
The Cubs dismissed their assistant hitting coach, Mike Brumley, on Tuesday. Epstein wouldn't comment on the possibility of Ramirez joining the major league Cubs in that role.
"I want to see if he continues to play or not before I answer that question," he said.
During his time at Triple-A, Ramirez wasn't sure what he wanted to do after this season, either. He did indicate that he enjoyed coaching.
"When you help somebody and see them grow up and maybe down the road you're going to be in your house and say, 'Wow, I worked with this kid. Look at him now. He's doing it.' I think that's great satisfaction," Ramirez said.
By all accounts, Ramirez was helpful with the Cubs' core of young players.
"He's teaching me what to look for ahead of time from a pitcher," 21-year-old second baseman
Javier Baez
said earlier this season. "He knows how they are going to pitch me."
July, 7, 2014
Jul 7
11:07
PM CT
ESPNChicago.com Cubs beat reporter Jesse Rogers is following the Iowa Cubs this week as they take on the Omaha Storm Chasers. He reports on several of the Cubs' top prospects and their player-coach, Manny Ramirez.
OMAHA, Nebraska – If you're still thinking the
Manny Ramirez
-to-Triple-A experiment is some sort of gimmick, you need to see Ramirez after two eight-hour bus rides in three days. The luxury of the major leagues -- with its chartered flights and five-star hotels -- is a distant memory. And he's just fine with it.
"I know how to enjoy myself when I have a lot, and I know how to enjoy myself when I have less," Ramirez said before the Iowa Cubs played the Omaha Storm Chasers on Monday after an all-night trip from Oklahoma City.
Ramirez has settled into his new gig as part-time player and full-time coach for Triple-A Iowa, and all he wants to do –- he says –- is have a positive effect.
[+] Enlarge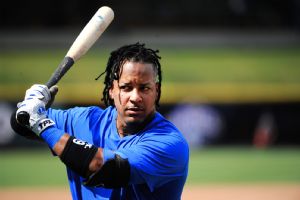 Brendan Maloney/USA TODAY SportsIowa Cubs player-coach Manny Ramirez has just as much praise for his prodigies as they do for him.
"When you help somebody and see them grow up and maybe down the road you're going to be in your house and say, 'Wow, I worked with this kid. Look at him now. He's doing it.' -- I think that's great satisfaction," Ramirez said.
So is he helping? You won't find a player or coach with the Iowa Cubs who says he isn't. A tangible example came in a game against Colorado Springs, when third base slugger Kris Bryant was getting ready to hit.
"[Manny] knew what the pitcher wanted to do," Bryant recalled. "He told me to look for a two-seamer middle away on the first pitch. It's exactly what he threw, and I singled to right. It was cool to see results right after what he told me."
It's exactly what Theo Epstein envisioned when he hired Ramirez, much to the surprise of everyone in the baseball world, including Ramirez himself.
"It was a big surprise for me and my family," Ramirez said. "He was honest. 'We're not going to have playing time for you or a spot in the big leagues, but if you want to come and help out, you can.'"
More than anything, the Cubs are hoping Ramirez's work ethic rubs off. Iowa manager Marty Pevey says the hitter with 555 career home runs is at the ballpark by 11 a.m. for night games. His routine involves plenty of swings and sometimes just watching pitches from a machine, be it 100 mph or offspeed stuff.
"Every swing he takes in the cage has a purpose behind it," Bryant said. "It's cool to see how he goes about it."
Ramirez has just as much praise for his prodigies as they do for him. He says Bryant reminds him of former player
Richie Sexson
-- at least in stature. He says Baez has more power at 21 years old than he or even
Alex Rodriguez
did.
"I've been telling him to go up the middle," Ramirez said. "He's only 21. He's starting to figure it out. And Bryant? Oh my god. He's unbelievable. He's a classy guy."
After taking a moment to recall the name -- after all, he's only been with the Iowa Cubs a short while -- Ramirez says Arismendy Alcantara is going to be a "special player."
Ramirez cites former players such as Dave Winfield and Robbie Alomar for helping him when he was coming up. Now he's doing the same for the Cubs' prospects.
"I think it's a blessing to have someone with more experiences than you go about his business," Ramirez said. "I've been telling them to watch the pitcher during the game, the situation in the game. Men on base, the count. They're not going to pitch everyone the same, but you have to be ready and have a plan."
Ramirez has shown he has at least some life left in his bat; he's hit a home run and collected five hits in 19 at-bats. That's not bad for a 42-year-old who just wants to be "one of the guys."
"It feels great to have him here," Baez said. "We learn a lot from him. He wants to be another player -- no different. That's how he is. He's been a nice guy just trying to help everybody."
Bryant added: "He's here really early to the park, in the cage working with us. He wants to be treated like everyone else."
Ramirez has implored the players to stay away from the performance-enhancing drugs that got him in trouble -- or anything else that might trigger a positive drug test.
"Don't take anything that is over the counter," he said. "There are consequences. They are all professional. They know the testing is more painful [intense] than before."
Will they listen? Will it help if they do? Only time will tell, but one thing is certain after those long, infamous, minor league bus rides: Ramirez is here to help and be one of the guys, above all else.
"Man, I'm just like a kid here," he said. "They don't care about [his status]. We just joke around all day. I enjoy every day, on the bus or at the stadium. That's what I do."
June, 30, 2014
Jun 30
7:31
PM CT
By T.J. Rushing
Special to ESPNChicago.com
Archive
DES MOINES, Iowa — Although he was raised in Las Vegas, current Iowa Cubs third baseman Kris Bryant grew up a
Boston Red Sox
fan.
Now, with the recent arrival of Red Sox great
Manny Ramirez
at the
Chicago Cubs
' Triple-A affiliate as a player-coach, Bryant has a hero to hang with.
"When he was coming into Colorado for the first game [with Iowa], I looked up his career highlights on YouTube, and there's so many good memories of him," said Bryant, who has put up eye-popping numbers of his own this year in the minor leagues. "I grew up watching the Red Sox -- they were my favorite team -- and to watch him in the World Series and all the good and the bad times with him, it's just been great."
When Ramirez was with the Red Sox from 2001 to 2008, Bryant was between the ages of 9 and 16.
"It's just surreal, you don't really grow up thinking that you're going to play with a guy like Manny Ramirez, but it's been really cool so far," said Bryant, noting he and Ramirez are actually similar hitters.
"I had a lot of favorite players growing up, but he was definitely one that I liked to watch," the 22-year-old said. "He was a right-handed hitter, I'm a right-handed hitter, and he hits for a lot power, and that's kind of my game too. He was definitely a guy I grew up watching."
May, 27, 2014
May 27
8:43
PM CT

Chicago Cubs
third baseman
Mike Olt
talks to ESPNChicago's Jesse Rogers about playing alongside
Manny Ramirez
last season for the
Texas Rangers
Triple-A club.


Click here for more audio from ESPN Chicago
.
May, 26, 2014
May 26
3:09
PM CT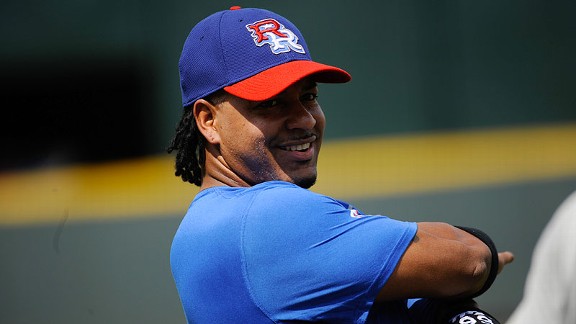 Brendan Maloney/USA TODAY Sports Manny Ramirez helped Mike Olt while the two were at Triple-A Round Rock.
SAN FRANCISCO -- The best response to the
Chicago Cubs
signing
Manny Ramirez
to be a player/coach for their Triple-A Iowa team may have come from the man he's meant to mentor the most: top prospect Javier Baez.
"He's a great hitter, and we'll see what happens," Baez told the Des Moines Register.
It's hard to argue with the wait-and-see approach considering the move is so outside the box in the first place. How can anyone have a definitive opinion on something like this within 24 hours of the announcement? Have you spent a lot of time wondering if Ramirez would be a good coach or not? More important, we have to see this version of Ramirez, not the one that brought controversy with him wherever he went.
Until recently at least.
"We really didn't know what to expect," Cubs third baseman
Mike Olt
, who experienced playing with Ramirez while at Triple-A Round Rock, said Monday before the Cubs played the Giants. "The first day he got (to Texas) he was really interacting with everybody."
May, 25, 2014
May 25
8:54
PM CT
SAN FRANCISCO -- The
Chicago Cubs
front office often talks about doing the little things on a day-to-day basis to get "healthier" as an organization. Big or little, that's what the move to bring in
Manny Ramirez
is all about. He'll report to Triple-A Iowa as a player-coach with an emphasis on helping hitters like top prospect Javier Baez.
"Manny is not only one of the best hitters of all time, he is also a dedicated student of hitting and has proven to be a gifted teacher with younger teammates who have worked with him in the batting cage," president of baseball operations Theo Epstein said in a statement on Sunday, when the signing was announced.
If Ramirez's knowledge makes Baez, and others, just a little bit better, then that's what matters. The Cubs are in a building mode, and Ramirez is just another brick for the foundation -- albeit as a coach, not a player. With his .312 career batting average and 555 home runs, he might just be able to help others with the hardest thing in sports -- hitting a baseball.
"[Baez] has a tremendous opportunity to pick [Ramirez's] brain, see how he dealt with the expectations, performance anxiety, how he prepared. … Not only Javy, but all of our players on that club. What a great opportunity for those guys to learn from him," Cubs scouting director Jason McLeod told ESPNChicago.com.
Where's the downside? No one knows what Ramirez is like as a true teacher, but knowing the Cubs front office, this signing isn't actually as big a shocker as you might think. Epstein and general manager Jed Hoyer often talk about Ramirez's hitting exploits -- whether that be on the big stage of the regular season and playoffs, in spring training or even just during batting practice. In fact, his hitting displays are probably not unlike Baez when he's putting on a show, though Ramirez was a complete hitter, not just a slugger. Hoyer, in particular, often talks about Ramirez in 2004 and 2005 as two of the great seasons he's ever seen. It sounds like Epstein agrees.
"Behind the scenes, he has always been a tireless worker who is very serious about the craft of hitting," Epstein said.
McLeod told ESPNChicago.com that Ramirez "is a dedicated student of hitting, and his preparation was incredible."
January, 12, 2012
1/12/12
12:02
PM CT
By ESPNChicago.com
ESPNChicago.com

November, 23, 2010
11/23/10
10:28
AM CT

By Bruce Levine
ESPNChicago.com
Archive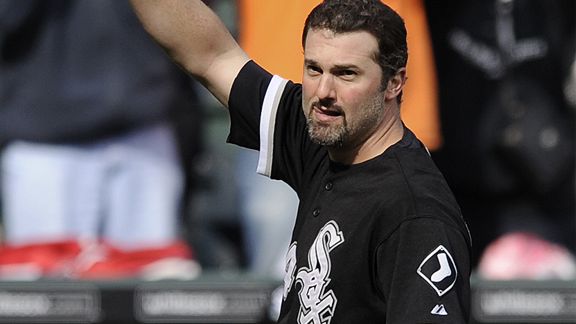 AP Photo/Paul BeatyLook for the White Sox to offer Paul Konerko arbitration by the end of Tuesday.
By the end of business Tuesday, the
Chicago Cubs
and
Chicago White Sox
must decide whether to offer arbitration to their eligible free agents.
For the Sox, that list includes
Paul Konerko
,
A.J. Pierzynski
,
J.J. Putz
and
Manny Ramirez
.
The Cubs only have one free agent in
Xavier Nady
.
Here's the scorecard for the Sox today: I look for them to offer arbitration to Konerko and Putz, and not offer to Pierzynski and Ramirez.
The Cubs will not offer arbitration to Nady. He has no ranking, therefore there would not be compensation.
The system works this way: if the Sox offer arbitration to Pierzynski, and he signs elsewhere, because he's a Type-A free agent, the team that signs him would give up a No. 1 pick from the June draft of 2011 if they're ranked in the top 15 record-wise from June 10. If the team signing Pierzynski ranks 15-30 by record, that team only surrenders a No. 2 pick and the Sox would receive a third-round pick from the MLB draft not impacting the signing team.
The Sox would also be on the hook for a guaranteed year to Pierzynski if he decides to accept arbitration. The Sox would have to pay him between $6-$7 million in 2011.
The White Sox most likely will not offer arbitration to Pierzynski, although the Sox would miss out on compensation if he signs elsewhere. It gives Pierzynski a better chance to sign with another team.
In the case of Konerko, the Sox most likely will offer arbitration. Konerko is a Type-A free agent. He made $12 million in 2010. If he would accept arbitration from the White Sox, his arbitration number would come in between $14-$15 million in 2011.
According to sources, the Sox also will offer Putz arbitration on Tuesday. He made $3.125 million last season, and Chicago would be tickled if he decided to take arbitration and sign a one-year deal. Putz is a Type-B free agent, meaning no compensation would be forthcoming from the signing club.
The Sox will not offer arbitration to Ramirez, who made $20 million in 2010.
Players offered arbitration must respond by Nov. 30. Teams must offer their own players under contract arbitration by Dec. 2.
Because of a rule change three years ago, teams are still allowed to sign their own arbitration-eligible free agents even if they don't offer them arbitration.
March, 18, 2010
3/18/10
6:40
PM CT

By Bruce Levine
ESPNChicago.com
Archive
A
Manny Ramirez
home run was not about to ruin
Ryan Dempster
's day as the
Chicago Cubs
starter threw 70 pitches over four innings of work against the
Los Angeles Dodgers
on Thursday.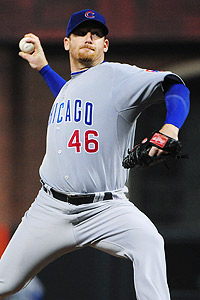 Kyle Terada/US PresswireRyan Dempster pitched four innings on Thursday, only giving up a home run to Manny Ramirez in the first inning.
"Good day, felt good, made some pitches to get out of a jam in the second. I threw the ball where I wanted to, other than the one walk," Dempster said.
As for the two-run home run surrendered to Ramirez in the first inning?
" He did what he's supposed to do with a middle-in fastball," Dempster said. "It was cool, it was fun, good for him. He's hit a few before."
Dempster should get three more spring training starts before facing the Braves April 7 in Atlanta. The Cubs starter was asked about his goals for the last two and a half weeks of spring training.
"Just work on getting my pitch count up," Dempster said. "I think that's what you want to do so you're comfortable when you get to that tiring stage -- when you get up near 100 pitches. I feel good. I feel ready for the season to start whenever."
Dempster, like many veteran players who have been through the baseball wars before, doesn't worry much about spring training numbers.
"I think too much is made of spring training statistics and too much about what goes on in spring training," Dempster said. "I think when you get to the last ten days of spring training, how you're throwing the ball, how the ball's coming out of your hand, how the guys are hitting the ball and how their body looks and feels -- those are the most important things -- more important than any stats."