July, 8, 2013
7/08/13
1:35
PM CT

By Jesse Rogers
ESPNChicago.com
Archive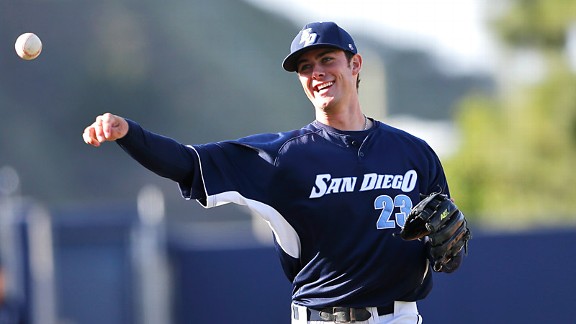 AP photo/Lenny IgnelziKris Bryant is likely to sign before Friday's deadline, but there's no movement now.
CHICAGO -- With a July 12 deadline approaching both sides of the negotiations with
Chicago Cubs
top draft pick Kris Bryant are hopeful a deal can be reached, but nothing is imminent.
"There's no update," Cubs general manager Jed Hoyer said Monday morning. "With four or five days left, we're confident we'll get it done. We'll make him an exceptionally fair offer. If Kris wants to be a Cub and be a professional baseball player I'm confident we'll get a deal done."
Bryant was the No. 2 overall choice in last month's amateur draft and is being advised by super-agent Scott Boras.
"There's a few questions marks they're trying to button up," a source close to Bryant said. "This has not been adversarial whatsoever."
The source claims things are in a "holding pattern" right now but expects movement before the Friday deadline to sign draft picks. Otherwise Bryant could return to San Diego for his senior season and re-enter the draft next summer. That's not likely to happen -- though it did with this year's top pick Mark Appel who was also represented by Boras when he returned to school after being drafted No. 8 in 2012.
"These things work themselves out," the source said.
Hoyer declined commenting on the negotiations but believes the July 12 deadline would help moved things along.
Bryant hit .329 with 31 home runs and 62 RBI this season for San Diego.
June, 6, 2013
6/06/13
9:41
PM CT

By Bruce Levine
ESPNChicago.com
Archive
CHICAGO -- Many will ask why a
Chicago Cubs
system void of pitching would take a position player with the second overall pick in the draft.
[+] Enlarge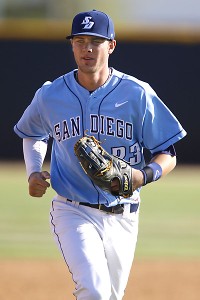 Larry Goren/Four Seam Images/AP ImagesThe Cubs will start Kris Bryant at third base but his future might be in the outfield.
The answer is easy: Cubs president Theo Epstein and Co. will take the best player available rather than draft for a need. That is why they chose University of San Diego third baseman Kris Bryant over hard-throwing right-handed pitcher Jonathan Gray on Thursday night.
With pitcher Mark Appel off the board after the
Houston Astros
selected him first overall, the Cubs were going to draft Bryant because they viewed him as the second-best player in the draft, according to a source familiar with the situation.
That's an approach that should be applauded. When former scouting director Tim Wilken was running the draft under former GM Jim Hendry, the Cubs did the same thing. For that reason they drafted a high school kid named Javier Baez out of Florida when many clubs had him as a second- or third-round pick.
The Cubs are not stockpiling position players. They are moving along on a five- to seven-year program. As much as the need for pitching is there, it is obvious Epstein's regime knows that getting a couple of pitchers and then throwing a bunch of money at a few free agents will not solve a long-term problem.
The angst that Cubs loyalists have gone through for the past six decades has nothing to do with building a base for the future. The Cubs were on the right track when GM Dallas Green and his group took over the operation in 1981. Five years after Green took over, a crop of talented young players began to flow through the system for the next 10 seasons.
Epstein, general manager Jed Hoyer and senior vice president of scouting and player development Jason McLeod will not tell you that it will take five seasons or more to build their club, but it will. Let them try to make their magic over a reasonable period of time.
No one will be complaining when Bryant and
Anthony Rizzo
are bashing back-to-back home runs for the next 10 years.
June, 5, 2013
6/05/13
1:58
PM CT
By ESPNChicago.com
ESPNChicago.com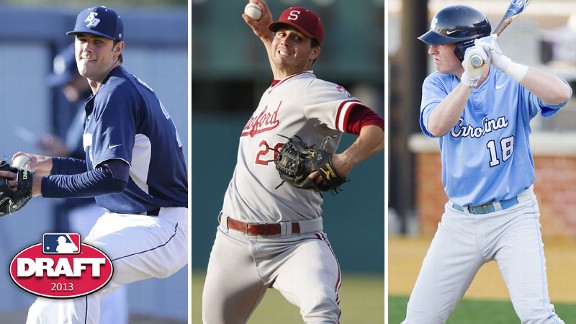 AP PhotosWith the second pick in the draft, should the Cubs go for a pitcher or a power-hitting third baseman?
There's much debate over who the
Chicago Cubs
should draft with the second overall pick on Thursday evening. With top third base prospects available as well as two high-caliber pitchers, our baseball beat reporters, Jesse Rogers and Bruce Levine, debate it out. Hitter or pitcher? They discuss:
JR:
Bruce,
in your blog post
, you say the Cubs should take one of the power-hitting third baseman in Kris Bryant or Colin Moran. I disagree with that notion. Like everyone, they need pitching, and by all accounts there are two at the top of the draft and then the rest. The Cubs shouldn't pass on Mark Appel of Stanford or Jonathan Gray of Oklahoma in favor of any hitter. It would be one thing if there were five to six pitchers whom talent evaluators could not agree on, but these two stand out. The Cubs have taken their share of position players with top picks recently, in addition to signing Cuban outfielder Jorge Soler. It's time to focus on a starter who can complement the arms they have. You can never have enough -- and with Appel or Gray you're getting a good one. I prefer Appel.

BL:
Jesse, the Cubs are doing just fine with the starting pitchers (other than
Edwin Jackson
) they have in the rotation right now. I agree with you that pitching is the team's No. 1 need. It's not like they can't take any pitching in the rest of the draft or sign international pitchers. Keep in mind that big-time power hitters are going to be at a premium with more stringent drug policies in the game. Who says Appel or Gray are the next Nolan Ryan? These two pitchers happen to be at the top of what may be a questionable group of potential impact pitchers this year. Bryant has power that will be hard to find in the next decade. Home run hitters who have outstanding plate discipline are a rare commodity. You can't pass on the next Mike Schmidt.
JR:
I'll use the same logic about Bryant. How do we know he's the next Schmidt? He's doing it in college just as Appel and Gray are. They are all risks but for every hitting prospect a team has they should have two pitchers of the same caliber. With power numbers decreasing, pitching is at even more of a premium. Even the
Detroit Tigers
, with sluggers
Prince Fielder
and Miguel Cabrera, are doing it with pitching more than anything else. And although the Cubs are competing this season with their rotation, it means nothing for next year and beyond. Adding more competition at the top end can only be a good thing.
BL:
Jesse, your logic says take a pitcher and that will be the cure for the Cubs future. In my baseball world you take the top impact player available. That is especially true when you are two to four years away from your plan to compete for the playoffs every season. Let's take a look at the last time the Cubs drafted as high as No. 2. They selected Southern California's
Mark Prior
, the best pitcher on paper in the 2001 draft. That pick looked brilliant until he flamed out in just three seasons. Guess who the Cubs passed on? A third baseman (at the time) named
Mark Teixeira
, who was selected fourth by the
Texas Rangers
. There is no sure-fire method to becoming the next great developmental organization. One truth is evident: The Cubs need a lot of help in all areas. Choosing one area over the other may not be a bad choice right now. That is especially true when they need help at many key positions.
June, 5, 2013
6/05/13
9:54
AM CT

By Bruce Levine
ESPNChicago.com
Archive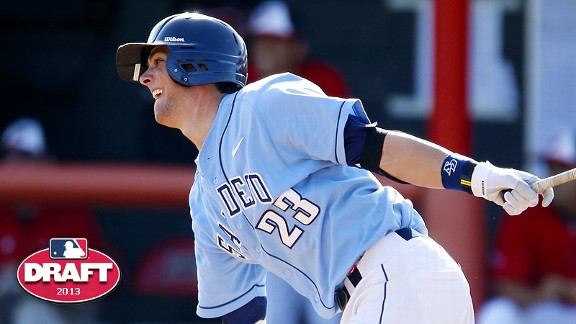 Larry Goren/Four Seam Images/AP ImagesIn a draft light on college bats, Kris Bryant is the best one.
Cubs Nation expects the organization to select the next
Mark Prior
or
Kerry Wood
with the second overall selection in the draft on Thursday. While it makes sense for pick a pitcher in an organization without many quality arms, other elements of the club are just as essential to fortify.

The two top arms in the draft belong to Mark Appel of Stanford and Jonathan Gray from the University of Oklahoma. Both right-handers have fastballs that register between 95-98 mph and also feature nasty breaking balls. The smart money has the
Houston Astros
, who pick first, taking one of the two and the Cubs going with the other power pitcher.
My take on the Cubs draft is a little different. Cubs president Theo Epstein will make the pick after weighing all the facts and figures. He will have pressure on him to take a stud starter, but the temptation to take a true power hitter in an era without big power guys may be too difficult to pass up.
The Cubs should take one of the two impact third baseman that figure to be top-10 picks.
University of San Diego third baseman Kris Bryant hit 31 home runs this season and appears to be under consideration by Houston as well.
"I believe that Kris Bryant may be the next Bob Horner or Mike Schmidt," said an American League talent evaluator. "He has real home run and extra-base potential as well as excellent plate discipline. He isn't a finished product at third base but he will be fine there with some hard work. The young man has a plus arm which is a big positive for a third baseman. To me he is the top player in the draft. The two top pitchers may be very good but this guy is the best tools guy coming out."
The other third baseman, Colin Moran out of the University of North Carolina, is
projected by ESPN's Keith Law
to go to the Astros with the first pick in his latest mock draft. Moran is the nephew of
B.J. Surhoff
, a former All Star and No. 1 overall pick in the 1985 draft. Moran projects as a more prototypical third baseman with less raw power than Bryant. Epstein and Co. have to like Moran's excellent plate discipline, also a strength for Bryant.
The Cubs could potentially have an All-Star infield of Bryant-Moran,
Starlin Castro
, Javier Baez and
Anthony Rizzo
. That's a group that could be together for five to seven years and contribute 100 home runs and 400 RBIs a season.
Impact pitchers are tough to come by and the Cubs' need for power arms is apparent. That said, teams should never draft for need at the top of the draft. When you have a chance to take the best player, you do it.
If Houston passes on Bryant, the Cubs should make the move.
June, 4, 2013
6/04/13
4:54
PM CT

By Jesse Rogers
ESPNChicago.com
Archive
CHICAGO -- Getting ready to make an organizational decision that will have impact for years to come, the
Chicago Cubs
have a big choice to make on Thursday night when they pick No. 2 overall in the draft.
[+] Enlarge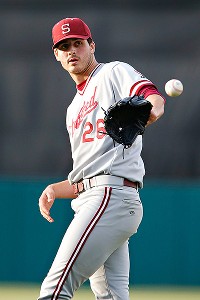 AP Photo/Larry GorenMark Appel was 10-4 with a 2.12 ERA in his senior season with Stanford.
By now you know the players who could be available, including two stud pitchers -- Mark Appel of Stanford and Jonathan Gray of Oklahoma. Appel might be the bigger name considering he's represented by Scott Boras and was drafted by the
Pittsburgh Pirates
eighth overall last year, before going back to Stanford for his senior season. By many accounts he got better.
"When he came back he was under a microscope every single time he went out (pitched)," Stanford associate head coach Dean Stotz said in a phone interview on Tuesday. "Every single time. And to perform what he did given that circumstance. You've got the 'it' factor for me."
It's the reason Stotz believes Appel would be a "perfect" fit for the Cubs considering the attention he would garner compared to Houston, which picks No. 1, even though that's where Appel grew up.
"I think he'd be a great fit, I really do," Stotz said of Chicago. "I think he would be on a fast track."
It's hard to know if the Cubs care about Appel being on a fast track, not with a total rebuild going on within the organization. But they must like his makeup and his numbers. Appel was 10-4 with a 2.12 ERA for the Cardinal. He struck out 130 in 106 innings his senior year after turning down $3.8 million from the Pirates last summer.
July, 13, 2012
7/13/12
8:32
PM CT

By Doug Padilla
ESPNChicago.com
Archive
CHICAGO -- The Chicago Cubs had a 3-hour, 40-minute rain delay Friday, but the news did actually get better.
[+] Enlarge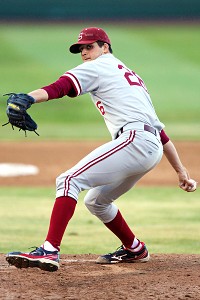 Larry Goren/Four Seam Images/AP ImagesThe Pirates were unable to sign Stanford's Mark Appel, could Pittsburgh's loss end up as the Cubs' gain?
Not only did they defeat the Arizona Diamondbacks to open the second half by riding the wave of two Alfonso Soriano home runs, they also found out that one of the best pitchers in this year's draft could end up falling into their hands next year.
At Friday's deadline, Stanford pitcher Mark Appel did not agree to a reported $3.8 million offer as the No. 8 overall selection by the Pittsburgh Pirates.
The offer was just under the $3.9 million the Cubs gave to No. 6 overall selection Albert Almora, a high-school outfielder out of Florida.
Appel will now return to Stanford for his senior season and many baseball analysts are saying that while it is early, Appel is currently projected to be the No. 1 pick next June.
The Pirates will now get an extra selection in next year's draft, but it's the Cubs who could end up with the well-regarded right-hander depending on how things work out the remainder of this season.
The Cubs did not start the second half with the worst record in baseball. That distinction belonged to the Houston Astros at 33-53. But the Cubs were just a half of a game better, tied with the San Diego Padres.
If the Cubs end up trading guys like Ryan Dempster and Matt Garza they could wind up with the No. 1 overall pick next season.
Early projections are that the 2013 draft class won't be better than the 2012 class, which was considered just average. Assuming that Appel continues to progress as a pitcher, he may end up being one of the rare standouts in that 2013 class.