Chicago Cubs:

Mark Buehrle
May, 25, 2013
5/25/13
2:51
PM CT
By Mark Schmetzer, Special to ESPNChicago.com
ESPNChicago.com

CINCINNATI -- The questions are often faced by many struggling teams. The
Chicago Cubs
are no different.
Do you stick with what you have, showing faith in your decisions and hoping the players start performing to the caliber you expected? Or do you bite the bullet, admit mistakes and make some changes? Is it some of both, and if so, who stays and who goes?
Even before Chicago lost 7-4 to the
Cincinnati Reds
on Friday in the first game of their three-game series at Great American Ball Park -- extending their losing streak to a season-high five games and dropping them a season-worst 11 games below .500 -- manager Dale Sveum admitted that the time might be coming to contemplate a shakeup.
"You're running up on a couple months away now, trying to put things together where you pull off some streaks and some winning months and winning weeks, to give yourself a chance to give yourself hope," he said. "There's no question about it, but we all know that if we don't, there could be changes."
What those would, could or should be is another matter. To many onlookers, one obvious change would be to the status of right-hander
Edwin Jackson
, who is 1-7 with a 6.11 ERA over 10 starts after signing a four-year, $52 million contract with the Cubs as a free agent. While the solution that's obvious to some is taking the 29-year-old Jackson out of the rotation for a while, that's a hard sell with so much money invested in him. Fifty-two million bucks buys a lot of rope.
"You've got a commitment there," Sveum said. "You've got to stick with the commitment and coach them and teach. It's not like he's a kid. He's a veteran player. Sometimes you just have to do it yourself. People play in the big leagues a long time. Sometimes you just have to do the things to get better yourself. We can coach and do a lot of things, but it still comes down to the individual making these adjustments to get over a hump and get through a slump."
Jackson will get plenty of opportunities to get back on track.
"It's a long season," Sveum said. "There's still another 20-plus starts there to fix this and get it going. You could look at some other big-time starters in baseball -- the [Mark] Buehrles in the world; there are some big boys out there struggling. That's why, in the long run, at the end of the year, hopefully that media guide doesn't lie."
Buehrle, the former
Chicago White Sox
right-hander, is 1-3 with a 5.90 ERA in 10 starts for the
Toronto Blue Jays
.
Getting through it:
Another player who will get a chance to work his way through a slump is first baseman
Anthony Rizzo
, who went into Saturday's game hitless in his past 22 at-bats.
The 23-year-old Rizzo, who started and batted third or fourth in every one of the Cubs' 47 games going into Saturday's matchup with the Reds, hit .390 with 10 doubles, four home runs and 16 RBIs over a 21-game span through May 18. Since then, he is hitless in five games, including going 0-for-5 on Friday.
"I guess you could call it different things, but there's an urgency there," Sveum said. "He's not taking walks. He's guessing. He has a lot more movement than he normally does at the plate."
The left-handed hitter said his approach hasn't changed since signing on May 13 his much-ballyhooed seven-year, $41 million contract.
"You'd think the game would be easier with the financial security, but it's amazing how your instincts stay the same," Rizzo said.
Sveum didn't seem inclined to give Rizzo a head-clearing day off.
"About the time you start to think about it, the guy gets hot," Sveum said. "He's one of our core players. He has to learn how to handle adversity."
Changing times:
To appreciate how baseball has changed, all anybody needs to do is stop by the visitors' clubhouse at Great American Ball Park.
Lined up in a neat row along the walls are cubicles set aside for these members of the Cubs' traveling party, as identified by the placards attached to the frame across the top: Interpreter, Video, Therapist, Therapist, Massage, Strength Coach, Assistant Trainer and Trainer.
October, 24, 2012
10/24/12
12:34
PM CT
The
Chicago Cubs
could add some big-name pitchers with big pay days still ahead of them.
[+] Enlarge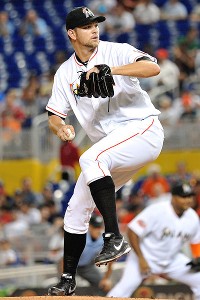 Steve Mitchell/US PresswireJosh Johnson will be a free agent after the 2013 season.
Cubs president of baseball operations Theo Epstein told beat reporters that the Cubs will add starting pitching to the mix in their pursuit to improve on a 101-loss season. The
Miami Marlins
are hoping to dump some of their high salary pitching contracts as part of their new approach going forward, according to major league sources.
Sources indicate that pitchers
Josh Johnson
and
Mark Buehrle
are on the trading block this offseason. Johnson's contract appears to fit into the Cubs' short-term plans. The 28-year-old pitcher has one year remaining on a long-term contract at $ 13.750 million for 2013. The Marlins will look for younger prospects and as much payroll relief they can get in each deal they make.
The Cubs have $50 million coming off their 2012 payroll commitments. It appears they will be willing to add contracts such as Johnson's due to the flexibility of his current status. He will be eligible for free agency after 2013.
Epstein and GM Jed Hoyer are looking for quality pitchers that they can either sign to long-term deals or flip before the July 31 trading deadline for other potential pitching prospects.
The sources indicated that the Marlins would approach the Cubs and other teams with the payroll flexibility to take on most of the money owed on the contracts for Buehrle and Johnson.
Johnson was 8-14 with a 3.81 ERA in 2012. The 6-foot-7 pitcher has a 56-37 lifetime record with a 3.15 ERA with the Marlins. His best season was 2009 when he went 15-5 with a 3.23 ERA in 33 starts.
Buehrle's contract is much more problematic than Johnson's. The former White Sox star has a back-loaded deal that pays him $11 million in 2013, $18 million in 2014 and $19 million in 2015. Buehrle will be 34 in March.

July, 19, 2012
7/19/12
3:39
PM CT
CHICAGO -- Here's a quick look at the Cubs' 4-2 victory over the
Miami Marlins
on Thursday:


HOW IT HAPPENED:
The Cubs beat former White Sox pitcher
Mark Buehrle
, who was making his return to Chicago after signing with the Marlins in the offseason. Buehrle gave up a leadoff home run to
Alfonso Soriano
in the fifth inning, and the Cubs put up three more in the frame with
Luis Valbuena
hitting a sacrifice fly and
Reed Johnson
driving in two with a two-out single.
Paul Maholm
, who has been overlooked in recent trade rumors, cruised through eight innings, allowing five hits and one earned run to go along with four strikeouts and one walk. Maholm has allowed three earned runs over his past three starts, all victories.
Carlos Marmol
worked the ninth for his 11th save.
WHAT IT MEANS:
The Cubs have won three straight series and 14 of their past 19 games … Going back to June 25, the Cubs are 5-0-1 in their last 6 series … Maholm is 4 -0 in his last five starts … Soriano's home run was his 150th as a Cub. He is only the 13th Cub to have at least 150 in team history.
OUTSIDE THE BOX:
The rumors continue to swirl around the Cubs as 12-15 scouts will follow the team to St. Louis to watch
Ryan Dempster
and
Matt Garza
pitch this weekend. Dempster said he has not been told about any imminent deal. ... Jorge Soler is scheduled to make his debut in the Arizona Fall League on Thursday night as the designated hitter for the club's Mesa affiliate.
UP NEXT:
Dempster (5-3 ,1.86), who is riding a 33-inning scoreless streak makes what could be his final start with the Cubs against the Cardinals'
Kyle Lohse
(9-2, 2.80) at 7:15 p.m. Friday.
July, 24, 2009
7/24/09
5:03
PM CT
The probability of throwing a perfect game is one out of 10,000 games played. If you do the math, you find out there have been 18 perfect games thrown in the 133-year history of the game.
After watching Mark Buehrle's day of perfection on Thursday, another member of the no-hitter fraternity, feels he can at least match Buehrle's number of no-hitters -- two.
"What Buehrle did was a great accomplishment," Cubs pitcher Carlos Zambrano said. "Twenty-seven up, 27 down; not just a no-hitter, but a perfect game. Very amazing."
I asked Zambrano if he thought throwing another no-hitter was possible for him.
"Why not?" the Cubs' right-hander said. "All you need are dreams, wishes and performance to get it done. Besides that, I've already done that once.
"Buehrle is one of the best pitchers in baseball because he keeps the hitters off-balance with breaking balls. Everything he throws has an angle on it."
I asked Zambrano about the Dewayne Wise defensive gem in the ninth inning to save the game.
"Behind every no-hitter and every perfect game, there is always a great catch," Zambrano said. "I think that comes with the package. The pitcher throws the game, but the eight other players make it happen for you."