Chicago Cubs:

Matt Thornton
June, 14, 2012
6/14/12
3:52
PM CT

By Bruce Levine
ESPNChicago.com
Archive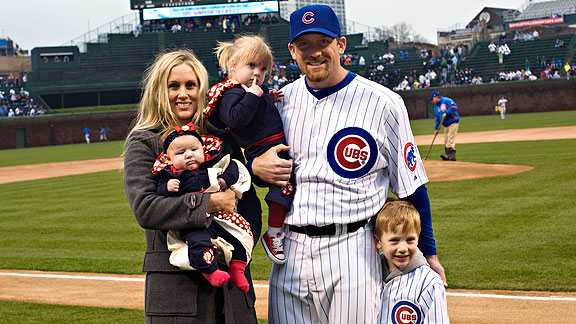 Dempster Family Foundation Ryan Dempster probably wouldn't mind the idea of staying in Chicago with his family.
The
Chicago Cubs
are working toward moving
Ryan Dempster
to a contender, and if that results in Dempster being able to stay in Chicago with the surprising White Sox, at least two South Siders would welcome him to the clubhouse.
And with three children all under the age of six, Dempster may like the idea of sticking around.
"Demp is a great, great guy and we would have fun talking some hockey together," Sox captain
Paul Konerko
said. "He is going to make any team he gets traded to a lot better. He is a big-time, front-line starter, but I have a feeling there will be a ton of suitors and for him, and some teams may go above and beyond what we can."
Cubs president Theo Epstein, who is looking to build for the future by acquiring young talent, had a conversation with the 35-year-old Dempster on Wednesday.
"We discussed a lot of things and obviously there are a lot of things being talked about," Dempster told ESPNChicago.com of the meeting that took place in the Wrigley Field grandstand before Wednesday's game against the
Detroit Tigers
. "We talked about being on the same page and trying to do what is best for our team."
With
Gavin Floyd
and
Philip Humber
struggling, White Sox GM Kenny Williams and his staff are looking for another starter and a third baseman. Chemistry is always a major issue when a club looks to add a player in midseason.
"I know Kenny, he is always looking to add on," Konerko said. "That said, there is a good vibe in our clubhouse with the guys we have, and how do you make a case for someone to be replaced?"
Dempster may be the type of pitcher that you make an exception for considering the clubhouse credibility he brings as well as a 2.31 ERA.
"If they are going to bring in an unselfish guy that will make our team better so be it," Sox reliever
Matt Thornton
said. "We trust our front office to do that and add talent at the same time.
"You know of Ryan through his reputation -- a great teammate an d a great pitcher as well as a good person. Whoever does get Ryan Dempster is going to be pretty happy with what he brings to that team."
The Cubs will not be shy in asking top pitching talent in return for the veteran pitcher, and it remains to be seen if the White Sox would consider moving any pitching off of their 25-man roster.
July, 14, 2010
7/14/10
12:31
AM CT

By Bruce Levine
ESPNChicago.com
Archive
ANAHEIM, Calif. -- It was a battle between two Chicago players that helped decide the outcome of the 81st All-Star Game on Tuesday night in Anaheim.
White Sox reliever
Matt Thornton
had the game situation in hand with two outs and men at first and third base with the Cubs
Marlon Byrd
up to bat in the seventh inning.
Byrd laid off of a 3-2 fastball that registered 98 mph, walking to set the stage for Braves catcher
Brian McCann
's bases-clearing three-run double, as the National League went on to a 3-1 victory.
[+] Enlarge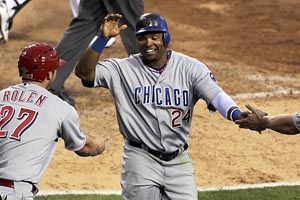 AP Photo/Greg BullCubs outfielder Marlon Byrd scored for the National League on Brian McCann's bases-clearing double in the seventh.
Byrd was asked if he was thinking fastball on that pitch.
"Automatic, automatic," Byrd said. "The whole thing for me was, 'could I lay off of it?' And I did. I did it at the right time tonight, and hopefully I can carry that over to the second half [for the Cubs]."
Byrd's at-bat was the key to the NL's three-run inning, and their first All-Star win since 1996. However, the Cubs outfielder's heads-up play in right field proved to be yet another play of the game when he forced Boston's
David Ortiz
at second base in the ninth inning. Toronto catcher
John Buck
flared a ball to right field and Byrd had to decide whether to go for the shoestring catch, or try to force the slow-running Ortiz with a throw.
"I didn't know what I was going to do until the ball started to come down," Byrd said. "Once it started to come down I made up my mind to let it drop, and to just try to spin and fire."
Byrd's perfect throw forced the slow-footed and confused Ortiz out at second base, setting up the final out of the game as
Ian Kinsler
flew out to
Chris Young
in centerfield. For the NL and Byrd, it was a magic moment.
"It's amazing. It's really amazing," Byrd said. "We broke the streak. They'll always talk about 2010 and the National League breaking the American League win streak.
All-Star MVP McCann talked about his double off of Thornton.
"He throws 97-98 mph from the left side," McCann said. " I faced him before. I got a pitch up in the zone and I was able to connect on it. It was a big moment for us."
Not every National League All-Star was firmly in Byrd's corner after the victory. Cincinnati's
Joey Votto
had a different take on Byrd's performance.
"I don't like the Cubs," Votto said. "And I'm not going to pat anybody with a Cubs uniform on the back. But because he made that really cool play, it turned out to be a really cool experience. I'm really glad we got the win today."
With the Reds in first place at the break, the irony would be that Byrd's at-bat and great throw may help Votto and his team end up with home-field advantage if Cincinnati makes it to the World Series.
July, 4, 2010
7/04/10
1:24
PM CT
By ESPNChicago.com
ESPNChicago.com

CHICAGO -- Chicago baseball produced at least two All-Stars as the White Sox's Matt Thornton and the Cubs' Marlon Byrd were named to their first teams as reserves on Sunday.


White Sox first baseman Paul Konerko will have to wait until Thursday to learn his fate as one of five players up for a fan vote for the final American League roster spot.

Read the entire story.