Chicago Cubs:

Micah Hoffpauir
August, 10, 2010
8/10/10
9:32
PM CT
SAN FRANCISCO -- The Cubs had to wait on the arrival of Welington Castillo and
Micah Hoffpauir
, who were selected from Triple-A Iowa to replace
Geovany Soto
and
Derrek Lee
on the roster.
Soto went on the disabled list with a sprained right shoulder and Lee was put on the bereavement list.
Castillo and Hoffpauir had difficulty with their airline connection and arrived at 6:15 p.m. local time, just an hour before the game was to begin.
Interim Cubs manager Alan Trammel inserted Hoffpauir in the three-hole, playing first base against two-time Cy Young Award winner
Tim Lincecum
.
"I wanted to put him in there," Trammel said. "If the flight would have landed like it should have been, it would have been easy. Take your fly balls, your ground balls and get your regular [batting practice] in there. But everybody's heard the stories about guys being called up at the last minute with no time to think about it. That's what we're doing."
Trammel said he talked to Lou Piniella on Tuesday and the Cubs manager plans to rejoin the team in St. Louis on Friday. Piniella and his family are working on finding proper caregivers for his 90-year-old mother, who has been in and out of the hospital in the last few weeks.
"He kind of laid down the law [about his mother's care]," Trammel said. "Lou's going to take care of her. It's been a tough go for Lou the last few weeks."
Lee's bereavement list status means that he's not allowed to play in a game for 72 hours. The plan right now is for Lee to travel to St. Louis with the team on Thursday night. Lee's grandfather has been seriously ill and the Cubs first baseman traveled up to Sacramento, Calif. to be with him.
Soto said that he had a cortisone shot in his right shoulder to relieve the pain from his shoulder sprain. Soto received the injection on Saturday and he said the pain was most apparent when he swings the bat, rather than throwing the baseball.
"Today is the third day after [the shot]. So a couple more days and I'll be ready," said Soto, who will not be eligible to come off the disabled list until August 23.
Trammel said in his pregame press gathering that it's obvious by the team's disappointing season so far that some players won't be back in 2011.
"When things are tough you have to keep pushing," Trammel said. "You can either quit or keep pushing. The first one isn't an option. We had a nice ballgame yesterday. I like the effort, but it's still a loss."
March, 23, 2010
3/23/10
3:57
PM CT
[+] Enlarge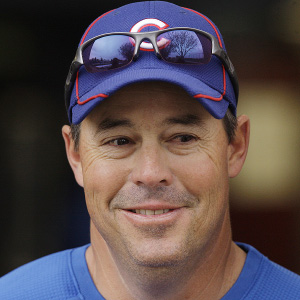 AP Photo/Ross D. FranklinCubs special assistant Greg Maddux has been "exactly what I wanted him to be," said general manager Jim Hendry.
Chicago Cubs
general manager Jim Hendry talked at length on Tuesday about the impact of special assistant
Greg Maddux
and his contribution during spring training.
"When Greg is on your team you're better," Hendry said. "He's exactly what I wanted him to be, and I have no doubt that he has helped a lot of people in this camp. He'd be the last guy to take any credit for that or talk about himself."
Hendry was pretty right-on about his commentary about Maddux. I asked the 355-game winner what spring training has been like for him.
"This has been a fun spring training, one I've enjoyed and learned a lot," Maddux said. "I enjoy being around the players and exchanging ideas. I hope to continue to keep learning at this level."
Hendry went on to talk about the impact Maddux has had during his first spring training as a front office executive.
"I'm thrilled he's here," Hendry said. "It's been a positive in every capacity. He's going to be capable of doing a lot of important jobs down the road, if he chooses. He's about as smart a player as we've ever seen."
Carlos Zambrano
,
Carlos Silva
,
Tom Gorzelanny
, and
Sean Marshall
are just a few of the pitchers who have given Maddux credit for technical and psychological support.
"He's the most successful non-promoting person I've ever met," Hendry said of Maddux.
Maddux will be with the Cubs' minor-league affiliates the first couple months of the season. He will also spend time with assistant general manager Randy Bush and super scout Gary Hughes, learning how to break down games from a scouting perspective. Maddux will also spend time with the Cubs' big-league team as well as have some flexibility to go back to Las Vegas and California for family time.
Hendry and manager Lou Piniella said the Cubs will trim the roster to around 30 players on Friday. At that time they are expected to also name their starting rotation and bullpen pitchers. A battle for the bench role will continue until late next week. The candidates include Chad Tracy, Micah Hoffpauir, Kevin Millar, Sam Fuld, Andres Blanco and Tyler Colvin. Fuld and Colvin are competing for the fifth outfield spot.- The Cubs had a front office and coaches meeting on Monday afternoon to go over roster moves and trade possibilities. Piniella said that the meeting lasted an hour and a half. Participants in the meeting were Piniella and his coaching staff along with Hendry, Bush, Hughes, Maddux and baseball administrator Chuck Wasserstrum. The Cubs usually have one or two of these meetings during spring training.
Xavier Nady will begin playing in the field over the next 10 days. The plan is for him to play in major- and minor-league games in the outfield and first base. Nady is still recovering from Tommy John surgery, replacing a ligament in his right arm for the second time in his career. The plan is for Nady not to overextend himself as far as throwing for now and in the near future. Nady will come out of games for defensive replacements in late game situations during the season in an attempt to prevent him from overthrowing as well as for the team to be able to protect one and two-run leads.
Piniella said Ted Lilly will pitch in his first minor-league game on March 27. The plan for now is for Lilly not to pitch in any Cactus League games. Lilly will continue to work on building his innings up in minor-league competition. His first outing he will be held to two innings pitched. Piniella said they are expecting Lilly back with the team some time in the second half of April.
February, 1, 2010
2/01/10
11:45
PM CT
The Cubs will announce later this week that they have signed veteran Kevin Millar to a minor-league contract.
Millar will have to try to beat out the like of Chad Tracy and Micah Hoffpauir for a backup role off of the North Siders' bench. The wily veteran plays third and first base and has some outfielder experience as well. One of Millar's best friends in baseball is Cubs pitcher Ryan Dempster. The two played together with the Florida Marlins.
Making the 25-man roster will be a challenge for the personable Millar. His best quality maybe the clubhouse presence that he brings to a team. Many of the players on the 2004 red sox credit Millar with keeping all-star outfielder Manny Ramirez loose during Boston's run when they won their first world series title in 86 years.
Millar is an above-average hitter against left-handed pitching, although his defensive skills and base running are below average. Millar was initially signed by Cubs scout Stan Zielinski to his first contract with the Marlins.
An announcement on Millar's minor-league deal with the Cubs could come within the next few days.
The Chicago Cubs and Chicago White Sox came up empty during this week's winter meetings in Indianapolis. Cubs general manager Jim Hendry probably led all baseball general managers in meetings.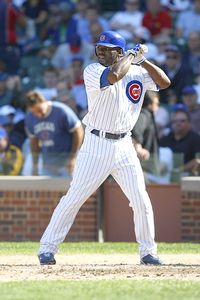 Scott Boehm/Getty Images
Despite leading all GMs in meetings, Jim Hendry was unable to move Milton Bradley during the winter meetings.
Those meetings included discussions with multiple teams in his quest to move outfielder Milton Bradley to a new town and also to start putting together his 2010 team.
The Cubs' roster for next season remains vacant of any new additions since season's end on Oct. 4. The Cubs GM talked to numerous representatives for center fielders such as Marlon Byrd, Scott Podsednik, Rick Ankiel and Mike Cameron, all free agents.
Hendry needs two outfielders, a middle infielder and at least one veteran bullpen guy to complete his team.
The Cubs' bench is vacant after trading Aaron Miles and Jake Fox to Oakland for minor-leaguers and reliever Jeff Gray. The bench currently consists of Andres Blanco, Micah Hoffpauir, Mike Fontenot, Jeff Baker and Koyie Hill. That's not exactly looking like the '27 Yankees. Only Baker and Hill are locks to make the 25-man roster on April 4, 2010.
Hendry must act soon on a deal with Tampa, moving Bradley for Pat Burrell. Burrell is owed $9.5 million for one year and Bradley is owed $21.5 for two. If the Cubs can get some relief in the first year of the trade, Hendry would have some flexibility to add to his team, even with a payroll locked in at $140 million.
The problem for Hendry is he has to be fiscally responsible for 2011, when Bradley's backloaded contract hits $13 million. The team will have more flexibility after next season due to the fact that Ted Lilly, Derrek Lee and possibly Aramis Ramirez will all be free agents.
The Rays' deal is still on the table for the Cubs, and it has been for at least six weeks.
In other news on the team, the Cubs will offer contracts to all of their players before Saturday's roster deadline, except rehabbing left-hander Neil Cotts, who will be offered a minor-league deal if he wants to continue to rehab with the Cubs.
Teams must tender contracts to all 40-man roster players by the deadline on Dec. 12.