Chicago Cubs:

Mike Brumley
October, 13, 2014
10/13/14
9:00
AM CT
CHICAGO -- After hiring his fourth hitting coach since he took charge of the
Chicago Cubs
, team president Theo Epstein joked last week that the job was like the "Spinal Tap drumming situation," but said he was hopeful to finally find consistency with former
Houston Astros
coach John Mallee.
Mallee comes to Chicago with a very good reputation around the league, and while the turnover with the Cubs hasn't been a good thing, the coaching staff makes a little more sense now than it did a couple of weeks ago.
Former first-base coach Eric Hinske will serve as Mallee's assistant, while former Cub Doug Dascenzo takes over as baserunning and outfield coach.
[+] Enlarge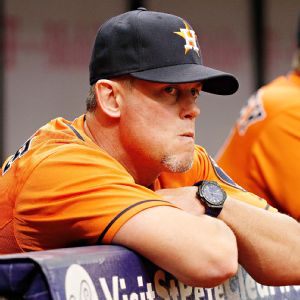 Kim Klement/USA TODAY SportsChicago native John Mallee takes over as Cubs hitting coach after Bill Mueller's resignation.
"As long as you end up with some consistency entering the next phase, the competitive phase, guys benefit from a few different perspectives and find their way," Epstein said. "I like where it ended up."
It makes sense for a true outfielder to teach outfield, and the fact that Dascenzo played at Wrigley Field can't hurt matters. There will be some nuances he can pass along to the young crop of players coming up. Hinske was learning that job on the fly -- and his best attribute as a player was his offense, anyway.
"He's in a more appropriate role and he's thrilled about it," Epstein said of Hinske.
Having just retired after 2013, Hinske connected with the players more easily than former assistant hitting coach Mike Brumley. Hitting coaches need to make that connection, and with Mallee being the newcomer, having a familiar face for the players can't be a bad thing. But it will be Mallee's job to help take Chicago's offense to another level. He did some good things both in Miami and Houston, but neither of those offenses was complete. Now he'll be asked to finish the job with the Cubs.
"John has a great reputation," Epstein said. "He's done the job and done it well."
Bill Mueller, who resigned last week as hitting coach, was a positive force for the players, and Mallee will need to have the same effect as the team tries to be better at getting on base. It's a tall task, but at least Mallee is coming on board at the same time the Cubs are promoting their top prospects. He'll have fresh eyes on all of them -- and if all goes well, he'll be around them for a long time.
"It's a little different mindset than it has been the last three years," Epstein said of the urgency to compete.
As for Dascenzo, the Cubs want to get more out of their running game, and he's expected to address those areas better than Hinske could have.
"He's very knowledgeable when it comes to teaching outfield defense and baserunning," Epstein said.
Hitting coaches tend to be a dime a dozen, so the consistency the Cubs have lacked can be as important as who they have in the position. Remember, Mueller quit. The Cubs weren't looking to replace him, but maybe it was the best thing to happen to the staff. That's how the Cubs are spinning it.
"I was little worried about how things would fit together," Epstein said. "But I couldn't be happier how it worked out."
October, 9, 2014
10/09/14
3:40
PM CT
CHICAGO -- The
Chicago Cubs
hired former
Houston Astros
hitting coach John Mallee to fill the same role for them after Bill Mueller quit earlier this week, the team announced on Thursday.
First base coach Eric Hinske will take over as the new assistant hitting coach and former Cub Doug Dascenzo takes Hinske's place as first base/outfield coach. Dascenzo was most recently a coach with the
Atlanta Braves
.
"It's a dream come true," Chicago native Mallee told reporters in Houston. "I grew up a Cubs fan and always dreamed of standing on the field and representing this amazing franchise.
"I have been in professional baseball as a player or coach for more than 20 years and have never had an opportunity to see my family during the season until now. Leaving the Houston Astros is the toughest decision I've ever had to make. Amazing owner, general manager, front office and beyond talented players. I wish my Houston family the best of luck and their future successes and hope they can understand and respect that I had to make the best decision for my family."
Mallee, 45, has been a big-league hitting coach since 2010, working for the
Miami Marlins
and then the Astros up until the end of this past season. He played two years in the majors for the
Philadelphia Phillies
in 1991-1992.
The Astros finished last in the American League with a .242 batting average but were third in home runs with 163. Astros second baseman
Jose Altuve
won the AL batting title with a .341 average along with 225 hits, tops in baseball. The Cubs ranked first in the majors in strikeouts and the Astros were second.
Dascenzo was drafted by the Cubs in 1985 and played for them from 1988-1992.
The Cubs announced all other coaches will return in their former roles. The team dismissed assistant hitting coach Mike Brumley the day after the season ended while Mueller quit a week later, opening the door for Mallee and Dascenzo.
October, 8, 2014
10/08/14
9:00
AM CT
ESPNChicago.com's Jesse Rogers takes a look at the biggest storylines facing the Chicago Cubs during the offseason.
A new offseason storyline emerged Tuesday when Chicago Cubs hitting coach Bill Mueller resigned from the team. This leaves the Cubs with two openings -- Mueller's position and an assistant.
There's no doubt these are important hires, but within reason. It's more important that the Cubs avoid hiring the wrong guy than to believe there's a magician out there who can transform their offense.
Remember, the Cubs offered Mueller his job back. Maybe they made it uncomfortable for him by dismissing assistant – and his good friend -- Mike Brumley, but they could have fired Mueller as well. As a player, Mueller had one of the highest career on-base percentages of any third baseman to play the game. He connected with players even if Brumley did not. But connecting, and doing things as a player, are a far cry from getting others to change who they are.
So where does that leave the Cubs? In search of their fourth hitting coach in the Theo Epstein regime. Getting an experienced one with a track record is probably the best way to go, given that they need to check this off their list for the next few years. If the coach can help reduce the strikeout totals while – more importantly – increasing the Cubs on-base percentage, all the better. Most important is setting the right atmosphere and tone for a fostering environment. And, of course, being a good listener is a key for any coach.
According to more than one veteran hitting coach, the job has gotten tougher over the years. Players aren't learning the fundamentals of hitting as they move up the ranks, while strikeout totals have skyrocketed. It's tough for some of the older coaches and ex-players to accept those mammoth strikeout numbers, and many believe organizations are making it easier on players by not demanding better approaches. Teams will tell you they would love to see more contact, but you can only work with what you have.
Manny Ramirez
would seem a perfect candidate for the No. 2 job. He has to want it and commit to it, both of which he did at Triple-A Iowa. Ramirez might be a cross between a coach who can help fix mechanical issues and a coach who is "one of the guys." Don't give him the spotlight of being the lead man, let him work under the radar – if that's possible with Ramirez. But first, he has to retire as a player.
The wrong hire for the No. 1 role is a guy who can't be the right combination of task master and encouraging nurturer. Although it's not the worst thing that a new coach has to learn tendencies all over again, having some consistency can only help.
The Cubs are starting to get serious about winning. Their next hire should reflect that.
August, 14, 2014
8/14/14
10:30
AM CT
CHICAGO -- On June 1,
Chicago Cubs
outfielder
Chris Coghlan
was hitting .139. On July 1, he was "up" to .206.
That's when things took off. Coghlan has been on a six-week tear, solidifying the leadoff role and left field as well as rejuvenating a career that got off to a promising start with a National League Rookie of the Year debut in 2009 with the then-
Florida Marlins
.
[+] Enlarge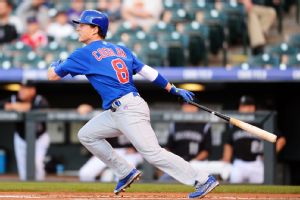 Ron Chenoy/USA TODAY SportsChris Coghlan is making the most of a second chance and could be a key veteran for the Cubs over the next few seasons.
"I came out here one off day with [assistant hitting coach] Mike Brumley and hit," Coghlan said Wednesday before going 3-for-4 in a 4-2 win over the
Milwaukee Brewers
at Wrigley Field. "I can't remember when, but it was around that time [early July]. We looked at some video and I just wasn't getting consistently to the same hitting slot as I should have. We made some changes on that and it's just carried over."
Coghlan is hitting .291 after a .376 July. His OPS (on-base plus slugging) has been off the charts. After Wednesday's game it's 1.033, tops in the National League and second in all of baseball since July 1.
"It's health and opportunity," Coghlan said. "I've had some freak stuff happen to me, which has hindered my career, but it's made me a better player and teammate so it's tough to say it was all a bad thing."
The mechanical change has resulted in a lot of hard-hit balls. That's all any player can ask for. And most of the time they've been falling in. According to ESPN Stats and Information, Coghlan is posting a career high 27.5 percent line-drive percentage. Since July 1, it's up to 31 percent. His hard-hit average in the same time, assessed by the Inside Edge Scouting service, is .276, second in the NL only behind
Paul Goldschmidt
of Arizona.
Has Coghlan proved enough to return in 2015? You better believe it. He's under team control for two more years after this one and the Cubs have already said they could use a few veterans as they transition to a younger group. At 29, Coghlan is no longer the prospect who batted .321 with a .390 OBP to win NL Rookie of the Year in 2009. He has had to fight his way back from some struggles that landed him in spring training as a non-roster invitee.
"When you're a prospect, they open the doors for you, and rightfully so. But when you're older it's just tough to get another shot," Coghlan said.
He waited his turn, starting the season at Triple-A Iowa.
Ryan Kalish
beat him out but didn't last long, and when
Junior Lake
's season started to tailspin, Coghlan got his chance.
"I don't hang my hat on anything," he said of the future. "I've played enough and done enough of the one-year thing and seen enough of non-tenders and stuff like that I can't think about it. The only time it comes up is when a reporter asks me. I've got to grind for five more weeks."
After a 2-for-17 mini-slump, he asked for more time with Brumley and hitting coach Bill Mueller. Well before Wednesday's game, he could be seen in the cage working on his game. He doubled and then singled in his first two at-bats. Later, he doubled again.
"About two months ago, we changed some things in his approach and that's made the difference for him," Mueller said. "He's very cognitive of his mechanics."
Everyone likes a comeback story and Coghlan is it for the Cubs.
"One hundred percent I like the swings I'm taking," he said. "I can only control my approach. I try to win each pitch and each at-bat. That doesn't mean I'll get a hit."
But it certainly has happened a lot more often since July.
November, 22, 2013
11/22/13
3:55
PM CT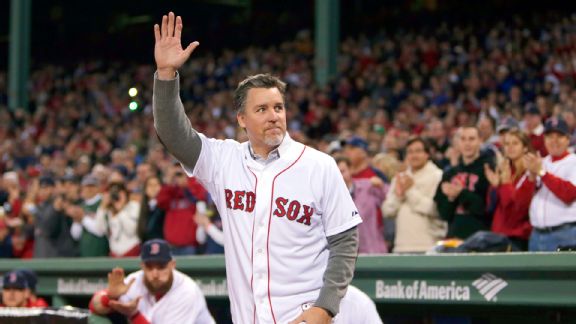 AP Photo/Charles KrupaBill Mueller's ability to get on base as a player is proven but can he teach it as a hitting coach?
CHICAGO -- Time will tell if the new
Chicago Cubs
coaching staff will lead the organization to better days, but on the surface, the collection of coaches under new manager Rick Renteria simply makes more sense than the previous staff under Dale Sveum.
At least on paper.
Three aspects of the hirings stand out, including hitting coach
Bill Mueller
, bench coach Brandon Hyde and the addition of another bilingual coach in Jose Castro.
Mueller has only a short time on his resume coaching players on a day-to-day basis, as he took over the interim hitting coach position with the
Los Angeles Dodgers
in 2007 before moving back to the front office. There really isn't a history of players to look at to determine his communication abilities. However, Mueller's career on-base percentage is an outstanding .373, and getting on base is a cornerstone of the Cubs' offense under this current regime.
Former hitting coaches James Rowson and Rob Deer didn't have that kind of success at the major league level, yet they did have more coaching experience. So the Cubs potentially traded experience for know-how, although assistant hitting coach Mike Brumley does have experience as a coach in the majors for several years. It's not a stretch to assume -- since Mueller knew the strike zone well as a player -- that he can impart that knowledge as a coach; this isn't a home run and strikeout guy such as Deer teaching players how to get on base. This is a guy who has done it. It makes sense.
Hyde makes sense being on the bench, as he's had a hand in overseeing some of the Cubs' top prospects. Many will be making their way to the big leagues, and with Hyde around, there's bound to be seamless communication between the dugout and front office where Hyde previously resided as the director of player development. Often a first-time manager will have a more experienced managerial type as a bench coach, but the Cubs probably aren't as interested in needing to max out every in-game scenario as much as they are in developing players with a winning attitude. That's the aspect of the job Renteria and Hyde bring.
As quality assurance coach, it simply means Castro is another coach on the field who will have a hand in many aspects of the team, not unlike Franklin Font and Mike Borzello. But the addition of Castro means three coaches will have bilingual capabilities, including the manager. Previously, only Font spoke Spanish. The Cubs have made no secret of the fact they need more of a Latin American presence -- or at least more Spanish-speaking coaches -- on the staff, as several key prospects are either Spanish-only speaking players or rely on it heavily.
The return of Chris Bosio as pitching coach comes as no surprise, as he did well with the staff he was given, especially the starters. Lester Strode's return as bullpen coach keeps at least one aspect of the Cubs consistent.
The changes -- all the way up to the manager -- undoubtedly were made to have a profound effect on the offense. Renteria's responsibilities to teach while keeping a positive clubhouse, along with Mueller's focus to get more guys on base, will go a long way in determining if the coaching moves made Friday were the right ones.