Chicago Cubs:

Mike Maddux
July, 27, 2014
Jul 27
7:11
PM CT

By Doug Padilla
ESPNChicago.com
Archive
COOPERSTOWN, N.Y. -- Just like he carved up opponents from 60 feet, 6 inches away, Greg Maddux moved through his Hall of Fame speech Sunday with deft precision.
There was family to thank, teammates and coaches he appreciated and a few people who were key to his development at a young age. He showed love and respect to his wife Kathy for holding down the fort at home. He explained why his Hall of Fame plaque won't have a logo on the cap since he was unable to choose between the
Chicago Cubs
and
Atlanta Braves
.
[+] Enlarge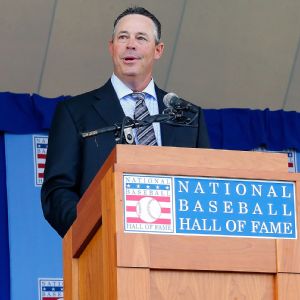 Jim McIsaac/Getty ImagesGreg Maddux's Hall of Fame speech was short and sweet, done with precision, which was similiar to his approach to pitching during his career.
He even sprinkled his own deadpan humor into the proceedings, talking about flatulence, how he was mistaken for the batboy before his first major league game, and how he spent much of his time with the Braves watching John Smoltz's hairline recede.
Appropriately at the head of the rotation among Hall of Fame inductees, it took less than five minutes for Maddux to mix in a little potty humor during what he called the first speech of his life.
"My brother, Mike, led by example," he said about his sibling who is also the pitching coach of the
Texas Rangers
. "Everything I was about to do on and off the field, he had already done. I was very fortunate to have a brother that I could learn from. He even taught me a little bit about science. It has to do with a little methane and a lighter, and I still get a huge kick out of it today. That's funny, huh? OK."
In his more serious moments, Maddux expressed appreciation to the four franchises for which he pitched, focusing most on the Cubs and Braves, obviously. He ended his career with the
San Diego Padres
and
Los Angeles Dodgers
.
"With the Cubs, I had the opportunity to play with Andre Dawson, Rick Sutcliffe, Ryne Sandberg and two fine catchers, Damon Berryhill and Joe Girardi," he said. "The city of Chicago and the Cub fans were awesome, maybe the best in baseball."
The comment managed to bring out some groans from a large contingent of Atlanta fans in the crowd estimated to be 48,000 strong. He made up for it seconds later when talking about his free-agent move from Chicago to Atlanta.
"I picked Atlanta because I finally wanted to get a World Series ring and start a family," he said. "All right, sorry, Chicago, but yeah."
Maddux eventually did get that ring in 1995, with his career bringing him back to Chicago in 2004.
"I love Chicago so much," Maddux said. "The first time I played there, that I was very grateful that Gary Hughes and Jim Hendry brought me back over to Chicago. That would give me a second chance to win there, and maybe retire where it all started, but I wouldn't be a Cub if I couldn't handle a little heartache and we missed the postseason by one game my first year back.
"I was thankful I got a chance to play for Dusty Baker and work with Larry Rothschild. I enjoyed throwing most of my games to Henry Blanco and Michael Barrett, and again, it was even funnier when they would get hit in the face [with foul tips]."
For a first speech, Maddux handled the moment with aplomb. He didn't have to explain why he will go in to the Hall of Fame without picking the Braves over the Cubs or the Cubs over the Braves. He did anyway.
"People ask me why I have no Hall of Fame plaque, no logo, or why my Hall of Fame plaque has no logo," he said. "I spent 12 years in Chicago, 11 in Atlanta and both places are very special to me. Without experiences in both cities, I would not be standing here today."
October, 23, 2013
10/23/13
8:31
PM CT

By Jesse Rogers
ESPNChicago.com
Archive
MESA, Ariz. -- As the
Chicago Cubs
take a break from their manager search -- at least publically -- for the World Series, there are at least four candidates waiting to hear if they will be hired.
The Cubs have divulged that
San Diego Padres
bench coach Rick Renteria,
Tampa Bay Rays
coach
Dave Martinez
, and former managers A.J. Hinch and Manny Acta have all interviewed.
[+] Enlarge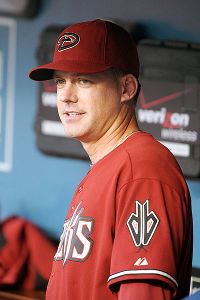 Kirby Lee/Image of Sport/USA TODAY SportsFormer Diamondbacks manager A.J. Hinch has interviewed for the Cubs' job, but some scouts say he wouldn't be an ideal candidate for what figures to be a young team.
Some reports have said
Texas Rangers
pitching coach Mike Maddux and
Boston Red Sox
coach Torey Lovullo will be contacted, but neither has been yet. Lovullo will have to wait until after the World Series to get a serious look. If there was interest in Maddux, he probably would have been contacted by now, so those reports out of Texas might be exaggerated.
So what of the four we know about?
If there is one thing scouts at the Arizona Fall League have in common, it's having an opinion -- on players and potential Cubs managerial candidates, for example. Most scouts have been in the game a long time, and even executives admit they are the lifeblood of baseball.
Multiple scouts said they agree that Hinch would not be the right man for the job. If the Cubs want an emphasis on communication with young players, then Hinch is the wrong guy, they say. In this case, throwing out his bad run as manager of the
Arizona Diamondbacks
in 2009-2010 would be a mistake. Some scouts say he didn't have a good team, but they also say he didn't do a good job communicating his message, something crucial to the Cubs' development.
Acta is well thought-of in the scouting world, but a few wondered if having little experience in a winning situation might come back to haunt him. He was "beat up" twice and "spit out" as one scout put it, amassing a career record of 372-518 managing the
Washington Nationals
and
Cleveland Indians
. Can he handle another year or two of losing without veering from the Cubs' plan?
Like many in baseball, scouts respect the way Tampa Bay has developed its organization and figure Martinez must have learned something positive from manager Joe Maddon. But particulars about Martinez's abilities to manage elicited the fewest opinions. The scouts just don't know.
As you might expect, Renteria was the consensus choice among many scouts as the right man for the job -- at least among the four the Cubs have interviewed so far. Going from bench coach in San Diego to manager of the Cubs is a huge leap in scrutiny and attention, but scouts say Renteria has the demeanor for it. They claim his teaching is top-notch and that he's simply a likeable guy. Does that mean players will want to play for him, or does it mean they'll try to take advantage of him? It can go either way.
The Cubs haven't said it officially, but the list of candidates seems to be expanding. After all, none of the four interviewed has been hired yet. They, and Cubs fans, will have to wait for the World Series to end before knowing who will lead the team going forward.
October, 1, 2013
10/01/13
8:00
PM CT

By Jesse Rogers
ESPNChicago.com
Archive
CHICAGO -- As the storylines start to unfold regarding the
Chicago Cubs
' managerial position, there's at least one thing we know about free-agent-to-be manager, Joe Girardi: The
New York Yankees
want him back. And, according to Yankees general manager Brian Cashman, Girardi might feel the same.
"Yeah, I think he likes it here," Cashman said in a news conference Tuesday. "If you're good at what you do, you'll have opportunities to stay. He's definitely going to have that. We're going to give him a real good reason to stay. He's earned that."
[+] Enlarge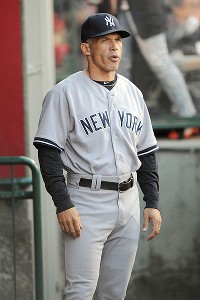 Kelvin Kuo/USA TODAY SportsJoe Girardi seems to be at the top of the Cubs' wish list for manager, but the Yankees are preparing to keep him in New York.
Cashman said he talked to Girardi on Monday over coffee and planned to meet with his agent, Chicagoan Steve Mandell, on Wednesday. Girardi is under contract with the Yankees until the end of this month, which means the Cubs would need permission from the Yankees to discuss their opening -- at least during October -- after firing Dale Sveum on Monday. Cashman was asked if the Cubs had called yet.
"Not able to say, but he is under contract and we have an interest in trying to keep him," he said. "Joe has been consistent since we've had him here."
But we've only heard from Cashman as Giardi hasn't spoken publicly since the season ended for the Yankees on Sunday. The Yankees understand their manager might be in high demand.
"I can't speak to other opportunities," Cashman said. "We can't control what other options may be out there. If you're good at what you do, people are going to have interest."
On Monday, Cubs president Theo Epstein said he would look "first and foremost" at people with managerial experience. If Girardi re-signs with the Yankees, Epstein's options turn to a manager under contract with a team -- which would take a trade to pry away -- or one who has been let go recently, like former Mariners skipper Eric Wedge. Or one who has been out of the managerial game for some time.
But Epstein didn't rule out a rookie manager again. In lieu of experience, the ideal candidate would have to show signs of being great leader, in whatever baseball capacity they've been involved. The Cubs undoubtedly gave some insight into this when they hired Sveum in the first place, before the 2012 season. They interviewed several other candidates.
Here's an update on where some of those names are now:
November, 16, 2011
11/16/11
7:42
PM CT
MILWAUKEE -- The Chicago Cubs are zeroing in on the hiring of their next manager, a major league source told ESPNChicago.com Wednesday.
Cubs executives Theo Epstein and Jed Hoyer met with Brewers hitting coach Dale Sveum on Tuesday night in Milwaukee. It's unclear if chairman Tom Ricketts attended the meeting – the team had said previously Ricketts would meet with the choice candidate before a hire was made.
The Boston Red Sox also met with Sveum on Wednesday afternoon
Sveum told Comcast SportsNet New England that he has not received an offer from either team.
"Nothing has been discussed beyond the interview process," he told CSN. "It's kind of a stalemate now. The process is finished; it's just the decision-making process now. We'll wait and see."
The Cubs made follow-up phone calls to all the candidates they interviewed on Wednesday – including Pete Mackanin, Sandy Alomar Jr., Mike Maddux and DeMarlo Hale.
In spite of perception, Sveum may not be the team's top candidate. Hoyer made a point of saying the reason the team met in person with Sveum was that he was in town to interview for the Boston job.
Former Red Sox manager Terry Fancona removed his name from consideration Wednesday after talking to Epstein.
The Cubs may pull the trigger on naming their next manager before the Red Sox. Boston GM Ben Cherington is on record as saying he is going to the Dominican Republic on Friday to scout free agent Yoennis Cespedes. He won't be returning to the country until early next week.
November, 11, 2011
11/11/11
8:31
PM CT
If the Chicago Cubs' managerial search were a golf tournament, you'd have to say the leaders are in the clubhouse with a round to go. The team's front office – led by president of baseball operations Theo Epstein and GM Jed Hoyer – completed its fourth interview in eight days on Friday. Cleveland Indians bench Sandy Alomar Jr. was the latest candidate to get consideration.
Hoyer said Friday afternoon that he's not sure if there will be any more interviews. He characterized the process as "going into the seventh inning." That comment came a day after Epstein told season-ticket holders that the hiring process was in the "sixth inning." If you believe both executives, the team is going to need a closer soon. Hoyer said follow-up conversations with candidates – both on the phone and in person – are likely to take place over the next week. At this point, no other interviews are setup.
The wildcard in the process remains former Red Sox manager Terry Francona. Major league sources have indicated Francona is close enough with Epstein to have two or three conversations a day if necessary about where he may stand in the process. Francona is also said to be a top candidate for the St. Louis Cardinals' opening, which he interviewed for this week.
Let's take a look at my managerial leader board. Please remember, this is for amusement purposes only.
[+] Enlarge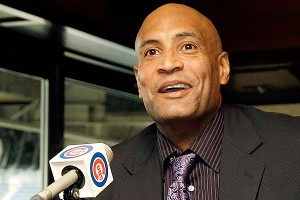 AP Photo/Nam Y. HuhSandy Alomar Jr. made a strong impression with Chicago media members on Friday.
1. Sandy Alomar Jr., Cleveland Indians bench coach:Look past his lack of experience as a bench coach or a third-base coach. A baseball lifer, Alomar has been training to be a manager since his father, Sandy Sr., began to teach him and brother Roberto the game 40 years ago. Alomar has enough coaching experience and instant credibility with players, having retired in 2007. The no-nonsense former catcher knows pitching – one of the front office's most sought-after attributes for the team's next manager. He can communicate with both American and Latin players. Alomar is a nice guy who can also be tough when he needs to get his point across.
1a. Mike Maddux, Texas Rangers pitching coach: The Cubs' front office loves the idea of a top pitching instructor managing their team. There's little question that Maddux fits that bill. Hoyer worked with manager Bud Black, a former pitching coach, in San Diego. So don't discount this type of process working with Maddux and the Cubs. The reason Maddux might be a bit behind Alomar was his heart-felt comment to the Cubs' brass, admitting he might hesitate to move his family from Texas after having uprooted them for previous jobs.
2. Pete Mackanin, Philadelphia Phillies bench coach: This outstanding baseball man has the most experience of the four baseball men the team has interviewed thus far. Mackanin has managed 100 games as an interim manager in both Pittsburgh and Cincinnati. His resume also includes the longest coaching career to offer among the group. At age 60, Mackanin is the oldest candidate, but he still could be an outstanding choice. He's also a candidate for the opening in Boston.
3. Dale Sveum, Milwaukee Brewers hitting coach: Sveum has one advantage over the other three candidates: his previous relationship with the Cubs' brass – he worked with Epstein and Hoyer for two seasons in Boston. Although it's only a small sample size, Sveum had a successful 12-game managing record in Milwaukee under extreme pressure. He came away a winner in 2008 with the Brewers. It's hard to judge his candidacy with just one news conference. However, he is highly thought of in both the Chicago and Boston camps.
If Epstein, Hoyer and team chairman Tom Ricketts can work their way through Francona's sudden departure in Boston, he may still end up being the favorite for the Cubs' opening. The GM meetings in Milwaukee this coming Monday and Tuesday will preclude either exec from doing much work on the manager search. Don't expect a conclusion to the process until the end of next week at the earliest.
November, 9, 2011
11/09/11
8:36
PM CT

By Jon Greenberg
ESPNChicago.com
Archive
CHICAGO -- Once again, the
Chicago Cubs
are doing it wrong.
Having reporters meet with managerial candidates in the tony PNC Club is no way to simulate how the would-be skippers might deal with the Cub Experience.
While I'm sure the game simulations behind closed doors and long interviews are taxing, they have nothing on the real suffering that tests every manager who dons the blue pinstripes.
Read the entire column
.
November, 9, 2011
11/09/11
5:17
PM CT
CHICAGO -- Mike Maddux's interview with the Chicago media was an A-plus. His time spent with Cubs officials was the same, and he may be the favorite to be the
Chicago Cubs
' next manager.
That is if he and his family say yes.
[+] Enlarge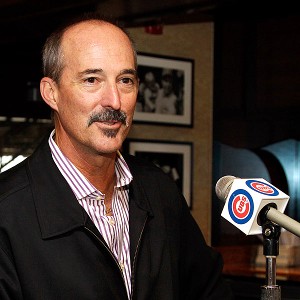 AP Photo/Nam Y. HuhMike Maddux was a hit in his interview session with Chicago media on Wednesday.
The 50-year-old
Texas Rangers
pitching coach, spent four hours on Tuesday and the entire morning on Wednesday interviewing with Theo Epstein, Jed Hoyer, Jason McLeod and Randy Bush, might be the only candidate for the Cubs job who could turn down the opportunity to manage the historic team if given the chance.
Maddux cited family responsibility as the No. 1 priority that might keep him in Texas.
"We have a lot of things to think about and a lot of things to weigh," Maddux said. "Family is very important. I played for a long time and when I finished playing my kids were 10 years old and 8 years old. I said what happened? So I got into coaching right away, and we moved the family to Wisconsin. At least we were together.
"Then I went to Texas. For the first two years my wife and youngest daughter stayed in Wisconsin. My oldest daughter was with me in college in Texas. As of June my family resides together. That had not happened in three years, and that's pretty special. There does come a time when you have to stop and smell the roses. There are a lot of tough decisions that would have to be made."
After that Maddux didn't sound like a man who had his mind made up on taking one of baseball's most prestigious jobs. He impressed the media with his savvy answers and quick one-liners that had the small audience rolling with laughter.
Asked how he would handle troubled pitcher
Carlos Zambrano
: "How would I handle him? I don't know. The first thing I would do is get to meet him. I heard he's a big teddy bear. I might just pick him up and burp him. I saw Carlos Zambrano from across the field seven or eight years ago ... he was the best thing since sliced bread. He beat you on the mound, he beat you at the plate, he beat you on the field. He could even steal bases. He was the total package. He's a great competitor, was the best pitcher in the National League."
Having brother
Greg Maddux
join him is a longshot at best due to Greg Maddux's concern with his own family matters, according to a source.
Maddux said he enjoyed the interview process with Epstein and Co. Asked his impression of Epstein: "I can't do an impression of him. But they are young. I guess they're bright folks like what I deal with in my current position [with 34-year-old GM Jon Daniels]. The new age GM front office guys are highly educated, very motivated but very true and very honest. And that's about all you can really ask from people. That they are honest and share your passion."
November, 9, 2011
11/09/11
1:55
PM CT
By ESPNChicago.com
ESPNChicago.com

November, 8, 2011
11/08/11
12:39
PM CT
Although
Texas Rangers
pitching coach Mike Maddux turned down an interview with the
Boston Red Sox
for their managerial job, he will drop in on Theo Epstein and Co. on Wednesday at Wrigley Field as he goes through a formal interview process.
[+] Enlarge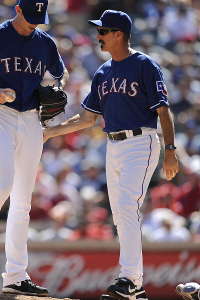 John Williamson/MLB Photos/Getty ImagesThe Rangers pitching staff has lowered its ERA in each of Mike Maddux's three seasons as pitching coach.
Maddux will become the third candidate interviewed following
Philadelphia Phillies
bench coach Pete Mackanin and
Milwaukee Brewers
hitting coach Dale Sveum.
Maddux was scheduled to interview with the Red Sox on Tuesday but he released a statement Monday night, saying the distance between Dallas and Boston was a deal breaker for him and his family. Maddux has children entrenched in school in the Dallas area.
But Chicago is a different scenario in the mind of the Maddux family, considering travel between the two cities is more feasible.
Maddux, 50, has spent the past three seasons with the Rangers after helping improve the Brewers' pitching staff for six years. Texas' team ERA has been lowered in each of his three seasons in Arlington.
Epstein and general manager Jed Hoyer have an affinity for top-flight pitching coaches and what they mean for an organization. The Cubs and Red Sox wanted to interview Toronto manager -- and former Boston pitching coach -- John Farrell for their open managerial jobs. The Blue Jays turned down Boston's request for an interview because Farrell is under contract. The word was then put out to the rest of baseball that he would not be allowed to interview.
Along with the Cardinals' Dave Duncan and the Yankees' Larry Rothschild, Maddux is one of the highest-paid pitching coaches in baseball, according to major league sources.
If Maddux gets a managerial job, the speculation is that he would bring his brother
Greg Maddux
on to the coaching staff. Greg Maddux has been special assistant to former Cubs general manager Jim Hendry the past two seasons.
In a recent conversation with Epstein, Greg Maddux related that family needs might not allow him to continue in the same role he has had with the Cubs. Sources say that would also inhibit him from taking a coaching job that he would have him committed to the team for 200 days of the year.
Mike Maddux pitched for 15 years in professional baseball and parts of 10 seasons in the majors.
During his interview with the media on Monday, Sveum said no coach in baseball works harder at his trade than Maddux, who he coached with in Milwaukee from 2006-08. Maddux has no previous managerial experience.
According to sources,
Sandy Alomar Jr.
, could be the next interview for the Cubs after Maddux. Alomar is scheduled to be interviewed by the Red Sox on Wednesday in Boston.
Information from ESPNBoston.com's Gordon Edes was used in this report.
November, 7, 2011
11/07/11
10:08
PM CT