Chicago Cubs:

Mike Matheny
July, 26, 2014
7/26/14
4:16
PM CT
By Sahadev Sharma
Special to ESPNChicago.com
Archive
CHICAGO -- A.J. Pierzynski spent eight seasons with the
Chicago White Sox
. He won a World Series in his first year with the team and made an All-Star appearance. Pierzynski, who is joining his sixth team after signing with the
St. Louis Cardinals
on Friday night, said the team he identifies with most in his career are those White Sox.
"We won a World Series, so it's hard to top that," Pierzynski said before the Cardinals played the
Chicago Cubs
on Saturday. "All the time I spent here, the people here and the fans always in Chicago have been great. Obviously the White Sox is kinda where it's at."
Pierzynski was in Cooperstown with his family to watch his former teammate Frank Thomas' be inducted into the Hall of Fame when he got the call from his agent that the deal with the Cardinals was done.
"He had a big party on Thursday night and it was kind of a surpise, he didn't know who was showing up," Pierzynski said of Thomas. "He was excited to see myself, [Aaron] Rowand, Jermaine Dye and some other guys who were there. He was really happy and excited, it was fun to see Frank like that. Usually when you see Frank, he's a little tense and uptight sometimes, so it was fun to see him happy. I mean, he's gotta be happy, he's going into the Hall of Fame."
In his time with the White Sox, Pierzynski had numerous instances where he drew the ire of Cubs fans when the intra-city rivals would face off. Having been a part of many rivalries, Pierzynski wasn't sure where Cubs-Cardinals would rank, but he did find some humor in the fact that his debut with St. Louis would come at Wrigley Field.
"If it can top the Cubs-White Sox when I was here, then it'd be pretty good," Pierzynski said of the rivalry. "It's gonna be pretty tough to top those first few years when I was here. You hear about it, obviously in the Midwest, it's a pretty big deal. But I've been a part of Yankees-Red Sox, Giants-Dodgers, White Sox-Cubs, it's pretty tough. I'm looking forward to it and hopefully Wrigley is loud and I'm sure I'll get a nice ovation today from the crowd."
Pierzynski's new manager, Mike Matheny, pointed out that it may not be all boos when Pierzynski, who started and batted sixth Saturday, steps to the plate.
"I think he anticipates that it's going to be pretty loud," Matheny said. "Actually, [Friday] there was a good portion of red in the stands. It'll be interesting to see how the fans react in a positive way from the red and from the blue. I know he's had a couple run-ins here, so one way or another, there's going to be some noise."
April, 11, 2014
4/11/14
7:41
PM CT

By Jesse Rogers
ESPNChicago.com
Archive
ST. LOUIS -- It's hard to find an opposing baseball executive that doesn't like how the
Chicago Cubs
are going about their rebuilding plan.
Maybe they like the fact that it's going to take some more time, which means their team can rack up some wins against the Cubs. Or maybe they're just jealous of the long leash the front office has from ownership.
Not many general managers get five or more years before winning becomes essential.
But one thing baseball people like about president Theo Epstein and general manager Jed Hoyer's plan is their patience. It's hard not to waver in the face of so much criticism.
[+] Enlarge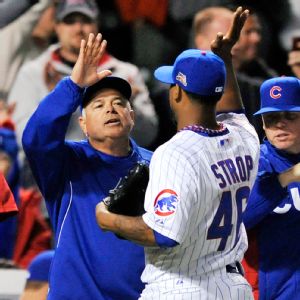 AP Photo/Paul BeatySo far this season, Cubs manager Rick Renteria has connected with his team and is doing his best to keep 25 players involved.
"It's not a quick fix,"
St. Louis Cardinals
general manager John Mozeliak said before his team played the Cubs on Friday night. "They've maintained that discipline not to try and do it just because of the pressures of winning now.
"Clearly, they have resources, but they are not going to make irrational decisions for short-term gains."
Whether "they have the resources" or not is an ongoing debate in Chicago. The question is will they have the resources when they need them. The Cardinals are well aware the Cubs could have a contending run in them.
"They have some good young talent and I don't think you want to rush them," said Cardinals outfielder
Matt Holliday
, a six-time All-Star. "Let them grow up together in the minor leagues, because once you get to the big leagues you sort of have that bond."
Unsolicited, Holliday brought up the names of Javier Baez and Kris Bryant, among others. He is well aware of their reputations to the point of reciting how they did in spring training this year. The Cubs train in Arizona, the Cardinals in Florida. Holliday might be the exception to the rule in terms of knowing other team's players, but he realizes the Cubs could be a young contender with a modest payroll.
"Then you have an advantage because then you can have a bigger payroll if they need to bring in free agents here and there," he said. "They can go in and supplement their young players with a free agent on the market.
"They're on the right track. A lot of good, young prospects will be here soon."
But will they be managed by the right guy? The Cardinals hired
Mike Matheny
when Hall of Famer Tony LaRussa stepped down. He's getting universal praise as potentially the next special guy in the dugout, as he's gone to the playoffs his first two seasons as manager.
"The guy just exudes leadership," Holliday said. "He doesn't try. I think that's the thing. He's just a natural leader of men."
It's hard to know if Cubs manager Rick Renteria will be described that way after his first two seasons, but Mozeliak reminds everyone he was hired in a different situation.
"[Renteria's] coming into an organization that has different expectations," Mozeliak stated. "I'm not sure which job is tougher."
Matheny was unproven but had a support system around him starting with better players. Renteria was hired to make the ones he has become better.
"[Matheny] walked into a good situation," Holliday said.
Matheny is described as having the "it" factor: the attributes to be a great manager that can't be defined. You just know it when you see it.
"When you're looking for that one secret sauce, it's always harder to define or even articulate," Mozeliak said.
Holliday agreed.
"There's just something about him that guys respect," he said. "Guys want to play hard for him."
Holliday said being a prominent former player helps but, as everyone knows, it isn't a prerequisite to becoming a great manager.
"It's a guy that treats people the right way," Holliday stated. "Lives what he says."
In the early going of Renteria's career, those words could apply to him. We already know he connects with his team and is doing his best to keep 25 players involved, though that can't, and won't, always be the case. He's stuck to the things he's said publicly and has certainly taken the optimistic view. We won't know if he has the "it" factor for a while, but we might know if he's headed in the right direction.
Same goes for the Cubs. The arrow looks to be pointing up as their prospects continue to progress, but we won't know for sure about them for quite some time -- just like Renteria. All that can be done is what's being done.
"From a strategic standpoint, they are doing it right," Mozeliak said.
June, 20, 2013
6/20/13
7:38
PM CT
By Rob Rains
Special to ESPNChicago.com
Archive
ST. LOUIS -- The
Chicago Cubs
were not pleased with the 7:15 p.m. CT start time for the final game of the series against the
St. Louis Cardinals
on Thursday, basically guaranteeing the team would not arrive back in Chicago until after midnight Friday.
The Cubs will have to turn around and play at 1:20 p.m. Friday against the
Houston Astros
at Wrigley Field.
"It's not our call," manager Dale Sveum said of the decision to play a night game instead of a day game. "You don't see this too often."
Traditionally, the final game of a series is a day game, especially when the traveling team is going home. The Astros played in Milwaukee on Thursday afternoon and were scheduled to arrive in Chicago before the Cubs' game even started.
One of the oddities in the major league rules is that if a team is scheduled to have a day off at home following a road trip, the final game of the road trip has to be played during the day. There is no such protection when the team is playing the next day.
"It's a strange rule," Sveum said.
The Cubs even tried to get Friday's start time pushed up to 3:05 p.m., giving them at least a little more rest, but could not get that request approved by city officials.
Cardinals manager
Mike Matheny
said he did not know why Thursday's game was not scheduled during the day.
"I just show up when they tell me to," he said.
The Cubs did send pitcher
Matt Garza
, scheduled to start Friday, back to Chicago before Thursday night's game.
Castro looking for hits
Shortstop
Starlin Castro
was in the Cubs starting lineup for the 71st consecutive game Thursday night. The only two players in the National League who have played in more games and not missed a game so far this season are the
Cincinnati Reds
'
Joey Votto
and the
Philadelphia Phillies
'
Jimmy Rollins
.
With the playing time has not come production, however. Castro had just one hit in 12 at-bats in the first three games of the series in St. Louis and was only 4-of-26 in the first six games of the road trip.
For the month of June, Castro is hitting .134 (9-of-67) with only four extra-base hits -- all doubles -- and three RBIs. His OPS for the month is only .377.
The slump has dropped his season average to .235, the lowest it has been since April 6.
Asked what he has seen lately from Castro, Sveum said, "Not too much."
Castro's offensive numbers are down in almost every category from the past two seasons, after he hit .307 in 2011 and .283 last season.
"By numbers alone, he has regressed. There's no question about it," Sveum said. "You're talking about an OPS under .600 [.596], and you have to get way, way down among all of the shortstops in baseball [to find him]."
Of the NL shortstops with more than 180 at-bats this season, Castro ranks 11th in OPS.
"He knows the formula," Sveum said. "I said a few weeks ago the rest is up to him. He knows the issues and the mechanical things that are different from when he first got to the big leagues, so it's up to him to get all of that ironed out."
Johnson promoted
The Cubs on Thursday promoted their first-round pick from the 2012 draft, right-handed pitcher Pierce Johnson, from Class A Kane County to Class A Daytona in the Florida State League.
Johnson had gone 5-5 in 13 starts at Kane County with a 3.10 ERA, recording 74 strikeouts in 69⅔ innings.
Third-round, seventh-round picks sign
The Cubs also said Thursday they have signed third-round pick Jacob Hannemann, an outfielder from Brigham Young, and seventh-round pick David Garner, a right-handed pitcher from Michigan State.