Chicago Cubs:

Minnesota Twins
November, 13, 2012
11/13/12
11:04
AM CT
June, 9, 2012
6/09/12
7:44
PM CT
MINNEAPOLIS – The Cubs' lost season dragged on Saturday with no visible prospects that things will turn around any time soon.
Just four victories in their last 24 games. One victory in their last 16 road games. A loss in 12 consecutive one-run games. A 2-13 record against left-handers and an 0-5 mark in interleague play.
Unless everybody starts getting on the Alfonso Soriano plan it's going to be an even longer summer than expected.
[+] Enlarge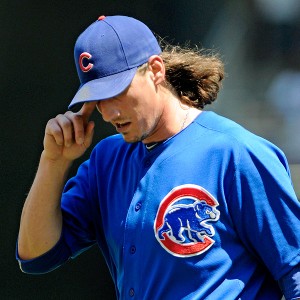 AP Photo/Jim MoneIn spite of Saturday's rough outing, Jeff Samardzija looks like a core piece of the Cubs' future rotation.
And things could get much worse before they get better as the trade deadline approaches next month. The Cubs could end up finding takers for Matt Garza, Ryan Dempster, Bryan LaHair and even Soriano as the rebuilding plan moves forward.
The idea that all four of them are sent on their way remains very remote, but there is a very realistic chance that both pitchers could go.
It's becoming a fine line for Cubs management to walk. Sure it's a rebuilding season and even getting the No. 1 pick in next year's draft by having the worst record in the game isn't the worst thing ever. But how many defeats can the Cubs really expect their fans to endure?
They are already on pace for nearly 110 losses, which would be a franchise record. How many more would they get if their few top performers were traded? And how quickly can a team realistically rebound from the scar of 110 - or more - defeats?
That the Cubs are actually underperforming after extremely reduced expectations on Opening Day is almost impossible to fathom.
The bullpen and offense were expected to be weaknesses and that has shown itself. But the starting staff hasn't been horrible, Jeff Samardzija's start Saturday notwithstanding. The defense, while not one of the best in the league, isn't as bad as might have been projected..
Soriano was able to put a finger on what has been an issue during the Cubs' recent 4-20 slide since May 15.
"We're working hard to try and get better, but I think we lost our confidence," said Soriano, who has actually been producing during the team's slide. "That's most important. We're working so hard to try to get better and have a better record and win games, but I think the confidence is down so now we have to keep working hard and work on getting the confidence back. We lost the confidence. It's more important to have confidence. I think that's the problem in this clubhouse right now, we lost the confidence."
Getting it back won't be easy, especially since now comes the distraction of the trading season in July. There is also manager Dale Sveum being asked about his anger level during the team's struggles and players sticking up for hitting coach Rudy Jaramillo, who has come under criticism.
"(Jaramillo) has put his heart and soul into this team for the last few years," said Reed Johnson, who did his part with two hits and an RBI Saturday. "He takes a lot of pride in hitting and he wants his guys to be successful and guys feel that in return. Obviously when we're not swinging the bat well we know sometimes that will reflect on him and we know that's not the case. We need to get the job done as players."
As for Sveum, he has managed to remain as even-keel as possible, but his temperament is far less patient than it was just a month ago.
"It's getting a little boring now," Sveum said of the losing. "Obviously we haven't had too many of these (runaway) losses thank goodness. Most of them have been close ballgames for the most part this year. But losing you can only take so much of it and the consistency of it has been getting a little out of hand that's for sure."
Is this want the Cubs were destined for all along or is this even worse than anybody could have imagined?
"I'm very surprised the way we are and the way we play," Soriano said. "It's not the talent it's the confidence we lost and now we have to work to get the confidence back and try to win more games. There's a lot of talent here."
June, 8, 2012
6/08/12
11:51
PM CT
MINNEAPOLIS – A role as the designated hitter agrees with Alfonso Soriano, who crushed two shots Friday in a ballpark that isn't supposed to be so power friendly.
Soriano first hit a 431-foot home run to center field off the batter's eye in an area that Twins officials say has been reached about a dozen times in the young history of Target Field. He topped that in the eighth inning when his shot into the upper deck in left field was only estimated at 440 feet.
The Twins believe it is only the third time the upper deck has been reached. The Brewers' Corey Hart and the Rangers' Nelson Cruz also did it.
In the end, though, the Twins were able to rally for an 8-7 victory, wasting Soriano's power display.
"I had a god game today but it wasn't enough," Soriano said. "We came up short to get the win so we have to come back tomorrow and keep pushing it to have a better day and get the win."
In a rare opportunity as a designated hitter, Soriano made the most of it. Without being able to play in the field, he went with a between-at-bat routine of 10-12 swings in the batting cage, some stretching and some time on the exercise bike all in an effort to stay loose.
Now comes that speculation that perhaps an American League will see some value in Soriano and take him in a deal before next month's trade deadline. The reality is that he still is set to make the rest of his $19 million this season as well as $19 million in both 2013 and 2014.
Friday's outburst was just more power from a rejuvenated Soriano, who has hit 11 home runs in his last 23 games after not hitting a home run before May 15. He has at least one home run in nine consecutive series, becoming the first Cubs player to have a run that long since Sammy Sosa hit a home run in 12 consecutive series in 2003.
His first-inning home run was also the 350th of his career. It wasn't just a milestone, it was exactly how Soriano envisions his home runs.
"I liked the first one because that's what I want to do all the time is to hit homers to center field or right-center," he said. "I don't want to pull the ball. The second one he threw me a slider a little in and I pulled it and made a good swing on it. It was exciting, but like I said, it wasn't enough. It could be a better day for me if we got the win."
Soriano is expected to be the designated hitter in the final two games of the series and then again June 18-20 at U.S. Cellular Field against the White Sox.
Maybe at some point, Soriano can hit home runs for a team that is winning. Since his run started on May 15, the Cubs are 4-19.
"I'm not happy because I hit homers but that's not enough for me," Soriano said. "I was more happy in April when we were playing good and getting some wins and I wasn't hitting homers. Now I just hit a homer and we didn't get a win. I don't just think about me, we have 25 players here. We're not having a good time. We're losing a lot of games but we have to keep pushing it and see if we can turn it around."