June, 5, 2014
6/05/14
11:31
PM CT

By Jesse Rogers
ESPNChicago.com
Archive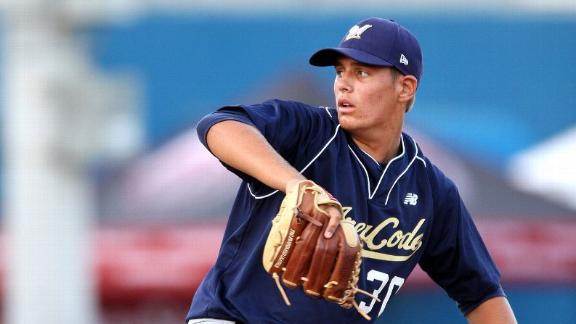 CHICAGO -- The naysayers will definitely be out when it comes to the
Chicago Cubs'
early-round draft picks. But their first-round pick, catcher Kyle Schwarber from Indiana, and second-round pick, pitcher Jake Stinnett from Maryland, might be the most easily signable top two picks for any team in baseball.
This means the Cubs can save some money and potentially use it elsewhere. And when director of scouting Jason McLeod declares Schwarber the "best hitter -- hands down -- in this year's draft," those are hard words to ignore.
Maybe the Cubs think they took the left-handed version of Kris Bryant, their up-and-coming slugger who went No. 2 overall last season. As much as pitching wins games, there's still a price for power these days.
"It lines up perfectly because he is hitting from the left side, and we don't have many of those players," McLeod said Thursday. "We feel this is an impact bat that can hit in the middle of the order."
That makes sense, but the question remains whether Schwarber is really as good as McLeod believes. McLeod flatly said his team would have taken Schwarber ahead of pitchers Carlos Rodon and Tyler Kolek. However, Rodon could be fast-tracked to the majors for the White Sox, while it's the Cubs who are desperate for pitching, which makes it hard to believe they would have bypassed Rodon for Schwarber.
[+] Enlarge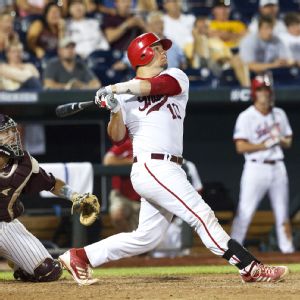 Andrew Woolley/Four Seam Images/AP ImagesIn lefty-hitting Kyle Schwarber, the Cubs get "an impact bat that can hit in the middle of the order," scouting director Jason McLeod said.
But Bryant gives the Cubs some currency: They claimed he was the best hitter in the draft, and he's proving as much in the minors this season. Gaining the two best hitters in the draft in back-to-back years can only be a good thing -- whether for production at Wrigley Field or for use in trades down the line, presumably for some pitching.
Maybe that's the way the Cubs are going about their rebuild. McLeod said that picking as high as they have lately demands taking impact players. That said, he admitted they were "enamored" with high school lefty Brady Aiken, who went No. 1 to the
Houston Astros
, so pitching was on their minds, but after Aiken it was all about Schwarber.
"Everything came back [to] just what type of person he is," McLeod said. "That's the type of people we're trying to bring into the organization."
The same could be said about other hitters in the draft, such as Oregon State outfielder Michael Conforto, on whom the Cubs passed. The bottom line is almost no one had Schwarber rated this high. He isn't the sure thing Bryant looked to be, but the Cubs get the benefit of the doubt because of their seemingly brilliant choice of Bryant over a pitcher in last year's draft.
The problem might be where Schwarber plays. More than one scouting report said first base might be his best option, as it's doubtful he'll remain at catcher. If he does stay, he becomes a valuable commodity; hitting catchers are hard to find. Otherwise, he'll move to left field, where he doesn't project to be one of the better players defensively.
But, as McLeod said, the Cubs drafted him for his bat. If he hits, they'll find a place for him and prove the naysayers wrong.
June, 4, 2012
6/04/12
11:12
PM CT
As president of baseball operations Theo Epstein said in his first press conference last October, there will be a "Cub Way" of doing things.
That process really began on Monday night when the team decided to take high school outfielder Albert Almora, a future five-tool player out of Florida. The Cubs then took two pitchers -- only one a college kid -- giving you an idea that player development will be king during Epstein and company's. reign on the North side.
Team Epstein actually got all three of the players they targeted in their first and most important moves as leaders of the "jinxed" franchise.
Historically, the Cubs have done poorly with their No. 1 draft picks. Looking back on previous selections in the first round, the Cubs have not drafted an impact position player that made it to All-Star status since choosing
Doug Glanville
in 1991. The problem with Glanville was that he was only a part-time player with the Cubs before making it big with the Phillies after he was traded for Mickey Morandini.
Missing on their own players is something the new executives must try to avoid in the future. Consider that Joe Carter,
Rafael Palmeiro
and
Jon Garland
were all former Cub No. 1 picks who were traded and went on to stardom elsewhere. Only Carter brought back any long-term talent (Rick Sutcliffe) to the Friendly Confines.
The "Cub Way" of building a future powerhouse in Chicago has been put in stone. The June draft, signing foreign players and making astute trades will be the formula that is followed to the letter by Epstein, general manager Jed Hoyer and vice president of scouting and player development Jason McLeod as they focus on building the Cubs into contenders again.
Their next big move will be to outbid the field for future star Jorge Soler, the 19-year-old Cuban outfielder who will be up for auction on Thursday when Soler's agents, Barry Praver and Scott Shapiro, take final bids for Soler's services.
June, 4, 2012
6/04/12
7:15
PM CT

By Doug Padilla
ESPNChicago.com
Archive
CHICAGO -- Despite the need for a quick influx of talent, the
Chicago Cubs
went with high school outfielder Albert Almora with their first-round selection in Monday's draft.
Almora, from Mater Academy in Hialeah Gardens, Fla., batted .603 with 13 doubles, five triples, six home runs, 34 RBIs and 24 steals. He also had a 1.164 slugging percentage and a .667 on-base percentage in 25 games.
Read the entire story.
May, 8, 2012
5/08/12
8:15
PM CT
Chicago Cubs
president of baseball operations Theo Epstein has enjoyed the progress his major league team has made on the field, however his major concentration is on the amateur draft that comes up on June 4.
"It's probably the most important thing we are doing right now, to be honest," Epstein said. "So that is what takes up the vast majority of our time. Draft day is the most important day of the year for every organization. It is a year-long process, and right now we are right in the sweet spot -- finishing evaluations, going back and getting final looks. We then will get together and dissect all the information."
Epstein, like the rest of the front offices in baseball, has to approach this year's draft differently due to the new collective bargaining rules, which apply a tax system that can be as high as 100 percent on a dollar if you exceed the salary cap.
"Every team is setting aside some time to think through how the draft may play differently now," Epstein said. "It affects how we approach signability and how we allocate our resources into who we will scout and how often. But it is the same for all 30 clubs. It is a level playing field. We will go and do our best."
August, 15, 2011
8/15/11
11:31
PM CT
HOUSTON -- The
Chicago Cubs
signed 18 of their first 20 draft picks from the June 2011 amateur draft, including their top seven picks.
Their eighth-round pick, Taylor Dugas, who played centerfield at Alabama, was not signed.
First-round pick Javier Baez, an 18-year-old position player out of Florida, signed a contract just before the 11 p.m. deadline on Monday night. Baez's deal was reportedly $2.6 million.
The Cubs also signed Shawon Dunston Jr. to a $1.1 million deal.
June, 6, 2011
6/06/11
9:36
PM CT
The
Chicago Cubs
selected 18-year-old infielder Javier Baez out of Jacksonville, Fla. with the ninth pick in the amateur draft on Monday.
Cubs scouting director Tim Wilken said Baez will provide a lot of versatility as a professional player.
[+] Enlarge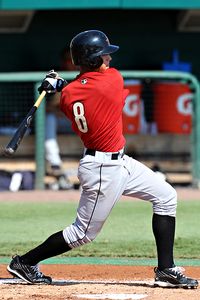 Cliff Welch/Icon SMICubs' first-round draft pick Javier Baez batted .771 for Arlington Country Day School last season.
"We think he's one of the two best hitters in the draft this year," Wilken said.
While scouting Baez, the Cubs liked the young player's overall ability and believe that he'll hit for average and for power as he advances through the minor leagues.
At this point, they're not sure what position he'll be playing.
"He projects to play wherever his bat takes him," Wilken said. "He can play shortstop. I've seen him play at third. Our scouts have seen him at third, and we've even seen him catch. I wouldn't even doubt that he could play second. He's a baseball player."
Baseball America had Baez ranked as the seventh best overall position player and the fifth best high school player in the draft. The only question mark the paper talked about was his emotional makeup. However, a Cubs source said that Baez's fiery nature on the field was more a plus to them than anything else.
Baez, a 6-1, 205-pounder, batted .771 (64-for-83) with 20 doubles, six triples, 22 homers and 52 RBIs in 115 plate appearances in leading Arlington Country Day School to the National Association of Christian Athletics championship this past season. He also scored 46 runs, stole 28 bases and drew 32 walks compared to just three strikeouts.
The Cubs' next pick comes up in the second round on Tuesday at No. 68 overall.