Chicago Cubs:

MLB trade deadline
July, 31, 2014
Jul 31
7:18
PM CT

By Jesse Rogers
ESPNChicago.com
Archive
CHICAGO – Another trade deadline has come and gone and, predictably, the
Chicago Cubs
were sellers. Their trade of reliever
James Russell
and versatile position player
Emilio Bonifacio
to the
Atlanta Braves
for Class A catcher Victor Caratini went down at about 2:45 p.m. CT -- 15 minutes before the deadline.
"In the world of trade deadlines, that's a fair amount of time," general manager Jed Hoyer joked afterward.
Here's some fallout from the move:
Schwarber effect:
Hoyer was asked if the addition of the switch-hitting Caratini to Class A Kane County meant a permanent position change for Class A Daytona catcher and 2014 first-round pick Kyle Schwarber.
"No, he's catching less, but that's more to rest him after a long season." Hoyer said. "He'll do a lot of catching in instructional league. This does not affect him."
Pitcher Felix Doubront:
The lefty starter/reliever was acquired for a player to be named later from the
Boston Red Sox
on Wednesday but is going on the disabled list with calf soreness.
"Sometimes, guys need a change of scenery," Hoyer said. "He's been struggling. That's no secret. Different ballpark, different league. Hope that clicks together."
Doubront is 2-4 with a 6.07 ERA in 17 games, including 10 starts, this season. The Cubs plan to use him as a starter once he comes off the disabled list, most likely at Triple-A Iowa.
Pitcher Dan Straily:
Acquired from the
Oakland Athletics
in the
Jeff Samardzija
deal, Straily's struggles were likened by Hoyer to Doubront's in that both have had success previously in the majors, though not this season.
"Straily not that much different than Doubront," Hoyer said of the right-hander. "He's not having as strong a year. We know he can do it in the big leagues. We just need to get him back to that point."
Straily is 0-3 with a 5.85 ERA in four starts for Triple-A Iowa.
Cespedes/Milone:
Hoyer was asked if there were any talks about outfielder
Yoenis Cespedes
or pitcher
Tommy Milone
, both of whom were traded by the Athletics on Thursday.
"[Our] deal with Oakland was pretty defined," Hoyer said.
In other words, minor league shortstop Addison Russell was the Cubs' target.
Waiver deals:
Starting Friday, teams can put players through waivers, and if they clear, they can still be traded.
"We've already started work on that," Hoyer said. "That starts up tomorrow. I don't know what's going to happen in August."
Kyuji Fujikawa:
His rehab stint is almost over, and the Cubs will soon recall the right-handed reliever, who has been recovering from Tommy John surgery.
Russell on playing in a pennant race:
"That will be exciting. Something I've never experienced," the 28-year-old lefty said of joining the Braves, who are in the thick of the National League East and wild-card chases. "I'm sure there will be a lot of adrenaline, a lot of emotion. It will be fine. I'll see what I'm made out of."
July, 26, 2013
7/26/13
1:30
AM CT

By Bruce Levine
ESPNChicago.com
Archive
PHOENIX -- Although the trade for
Alfonso Soriano
to the
New York Yankees
has not been completed, the
Chicago Cubs
outfielder was told he could fly to New York on Thursday night by all of the parties involved in the deal.
"I talked to my agent this afternoon and he told me we have to wait," Soriano said. "He called me again [during the game] and said it is 90 to 99 percent, so if you want to go to New York, you can go. Otherwise I would have to wait for tomorrow morning."
The emotion of losing the Cubs' charismatic slugger was apparent in a flat effort by his teammates in Thursday's 3-1 loss to the
Arizona Diamondbacks
.
[+] Enlarge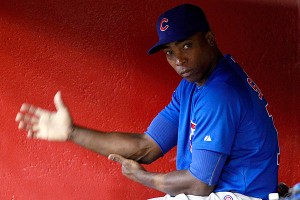 Rick Scuteri/USA TODAY Sports
With all signs pointing to New York, the Chicago Cubs and Alfonso Soriano said their good-byes after Thursday night's game in anticipation of his trade to the Yankees.
"You can't fill that kind of void as a person or the guy on the field," Cubs manager Dale Sveum said. "I know this impacted a lot of people on the field. There were some pretty emotional guys in BP and after."
Sveum said the entire team said goodbye to their veteran leader in a group send-off after the game.
"After the game we got everybody together to say our good-byes," Sveum said. "It was emotional for all of us. You don't usually gather teams together that often when people get traded to say your goodbyes. That just shows you the kind of person he is."
Soriano looks to return to the Yankees
with some mixed emotion after spending almost seven years as a Cub.
"I am happy and I think [the Cubs] are happy, too, because they are going to get something back. I am happy going back to New York where I started my career. I think both ways, [people] are happy."
The 37-year-old player was feeling some twinges of uneasiness as he packed his bags for the Big Apple.
"There is a difficult part of this," he said. "I know all these guys and have played with them for a while. This is a little uncomfortable, but this is baseball, sometimes you have to do what is best for the team, for me, and the other organization, too.
"I have been traded before, so I have to keep moving and do my job in New York."
Soriano had a roller-coaster experience in Chicago after signing the richest contract in Cubs history -- eight years, $136 million in 2006. After numerous leg injuries, the fan base was sometimes agitated during the Dominican's prolonged slumps.
"The fans were always in focus," he said. "They always wanted to win; they love when we win. They appreciate when the team wins and plays good.
"I always played hard for the fans because they love their team. I always tried to be a champion here. But it did not happen. I hope it happens in the future for them. Now I have to think about my new team."
Saying goodbye was difficult for the popular Soriano.
"It was very tough," he said. "These guys are my good friends, they are good people. It is sad. That is the difficult part of being traded.
"You can be in touch when you go to another team. It is not the same thing as seeing them face-to-face every day. I will remember all those moments we had together."
July, 25, 2012
7/25/12
3:01
PM CT

By Doug Padilla
ESPNChicago.com
Archive
PITTSBURGH -- A bizarre three-day stretch ended with Ryan Dempster remaining right in a Cubs uniform, but the reality is that much has changed.
[+] Enlarge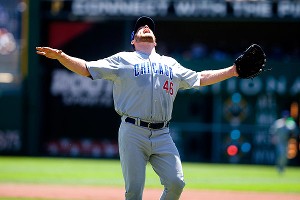 Vincent Pugliese/US PresswireRyan Dempster may spend the rest of the season in Chicago after all.
After using his veto rights to nix a deal to the Atlanta Braves, indications are now that Dempster might not be dealt at all even though there are still five days remaining before the non-waiver trade deadline.
With nothing left to do but pitch, Dempster took the mound for the Cubs and fared well, but not good enough to win. He gave up a pair of solo home runs and a two-out RBI single to the Pirates' Garrett Jones in the sixth inning that decided the 3-2 defeat.
After learning he wasn't headed back out for the seventh inning, Dempster channeled his inner Carlos Zambrano by throwing a drink cooler to the ground and throwing his own drink against the wall before heading to the clubhouse.
While still frustrated over the defeat, Dempster had cooled off considerably in the postgame clubhouse.
"I'm allowed to be upset," Dempster said. "I respect him a lot. That's (manager Dale Sveum's) decision. It doesn't mean I have to be happy about it. At the end of the day he's just trying to do what's best for the ballclub and I have nothing but respect for that. It's just the competitor in me that wants to get out there and keep trying to pitch."
Sure the outburst was the culmination of a frustrating outing, especially over the two-out Jones RBI, but the long three days had taken its toll too.
"It's been a little bit of a grind, but it's been a lot of fun too," Dempster said. "We won a couple of games here and that was exciting. We won a series after a tough series in St. Louis and came right back and played well."
The Cubs had been poised to add a much-needed pitcher for the future in the deal with the Braves, but now that pitcher might come in the compensation round of next summer's draft. Indications are that the Cubs might keep Dempster for the remainder of the season, make him a free-agent offer this winter and if he doesn't sign they will be compensated in the form of an extra draft pick.
A draft pick, though, isn't a major league ready pitcher like Randall Delgado, the pitcher the Cubs were supposed to receive in the Dempster deal that was agreed to Monday and was left waiting for Dempster's approval.
Also left to be determined is how Cubs fans react to Dempster if and when he makes his next home start. His next outing will likely take place Tuesday night at Wrigley Field, just hours after the deadline has passed.
For now, though, Dempster will remain in limbo until the deadline actually passes.
"I had a job to do today and that's really important to me," Dempster said. "I had to try and separate the two things, make sure I'm getting my rest and we had a day game today. I wanted to make sure my focus was on going out there pitching and doing my job. Now I will have tonight, obviously, and the off day tomorrow to try and look at a couple of different things and see what the possibilities are and go from there to make the best possible decision for me."