Chicago Cubs:

Neil Ramirez
June, 16, 2014
Jun 16
8:00
AM CT
The
Chicago Cubs
open a three-game series with the
Miami Marlins
on Monday night.


The series:
Monday, 6:10 p.m. CT,
Jason Hammel
(6-4, 2.81 ERA) versus
Tom Koehler
(5-5, 3.68).
Tuesday, 6:10 p.m.,
Jeff Samardzija
(2-6, 2.77) versus
Jacob Turner
(2-4, 6.38).
Wednesday, 11:40 a.m.,
Jake Arrieta
(2-1, 2.09) versus
Nathan Eovaldi
(4-2, 3.71).
Road win:
The Cubs just won their first road series of the season in Philadelphia -- a milestone that comes as they close in on the halfway point of their road schedule. After this set in Miami, the Cubs will have 40 games left on the road and 52 at home, where they are 15-14. They're just 13-25 on the road after taking two of three from the Phillies.
Scouting:
Scouts wanting to see both Samardzija and Hammel for the next few weeks will have an easy time of it as they pitch one after the other in the rotation. There might be a few less at Wednesday's matinee, with Arrieta not expected to be moved before July's trade deadline.
Who's hot/who's not:
Starlin Castro
has gotten hot again. After a 3-for-4 effort Sunday he's 10-for-25 (.400) on the current road trip, with 6 RBIs in seven games. ...
Neil Ramirez
earned saves in both wins in Philadelphia and has three on the season while sporting on 1.06 ERA. ... Without
Welington Castillo
, Cubs catchers have struggled. Combined,
John Baker
and
Eli Whiteside
are 3-for-26 (.115) on the road trip so far.
June, 9, 2014
Jun 9
1:31
PM CT
PITTSBURGH -- The
Chicago Cubs
' mini-resurgence over the past six games can be directly related to the success of their bullpen, especially at the back end. It's not exactly something they keep track of but there can't be many teams in baseball -- if any -- using a player to be named later and a Rule 5 draft pick as their setup man and closer like the Cubs.
Neil Ramirez
and
Hector Rondon
came upon the jobs out of some desperation by manager Rick Renteria after early-season failure by others. But now that they have them, Rondon and Ramirez are thriving as two of the biggest surprises of the season.
[+] Enlarge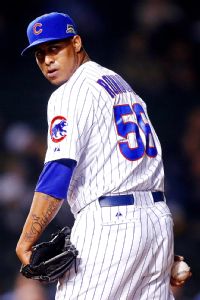 AP Photo/Andrew A. NellesHector Rondon hasn't allowed a run in eight road appearances this season.
"Up until this point I'd be hard-pressed to see any other back end of the bullpen as good as we've been throwing," Renteria said Friday.
Only the
Cincinnati Reds
' combination of
Jonathan Broxton
and
Aroldis Chapman
have better numbers in the NL Central. If Ramirez and Rondon aren't the best, they're in the team photo.
"Those guys have been doing a great job," starter
Travis Wood
said recently.
Carlos Villanueva
added: "Those guys know when they're going to be called into the game now. It's working."
How did they win their respective jobs? They don't give out many free passes. It's the first rule of a late-inning reliever, especially on the Cubs, who don't blow teams out very often. If they're going to win there's a good chance it's going to be a close game and walking the opposition is the kiss of death. It's the reason Ramirez and Rondon have become the A team for Renteria when he goes to the bullpen with a lead and players such as
Justin Grimm
and
Pedro Strop
have emerged as the B team. At the start of the season those roles were basically reversed.
According to ESPN Stats & Information, Ramirez and Rondon have five walks combined in the eighth and ninth innings this season over the course of 26 appearances. And in 25 innings combined they've struck out 34. Five walks, 34 strikeouts. Again, only Broxton and Chapman exceed that strikeout-to-walk ratio in the eighth and ninth innings within the division. But Chapman was one of the most heralded pitchers when he entered the league. Ramirez and Rondon didn't exactly get the same headlines.
The phrases "player to be named later" and "Rule 5 pick" don't exactly scream "top prospects," but that doesn't mean they can't be talented players.
Sometimes a player to be named is just a throw-in, but not so much in Ramirez's case. The Cubs wanted him when they traded
Matt Garza
to the
Texas Rangers
last July for four players including CJ Edwards,
Mike Olt
, Grimm and Ramirez. But Ramirez was injured and the Cubs wanted to make sure he was healthy before taking him. Ramirez pretty much knew all along he was going to Chicago once he recovered from a shoulder injury, and in late August he finally became a Cub.
Just less than a year later, Ramirez has become the most accomplished of the four players acquired in the trade. Third baseman Olt has nine home runs, but he's hitting .150. Edwards is recovering from shoulder soreness in Double-A and Ramirez vaulted past Grimm as the main setup man and sometimes closer.
Ramirez earned his first career save Thursday over the
New York Mets
. Overall he's 0-1 with a 0.64 ERA in 14 innings pitched and has struck out 23 while walking four. In fact, according to Stats Inc., Ramirez has the lowest ERA of any Cubs reliever in his first 16 appearances going back 100 years.
[+] Enlarge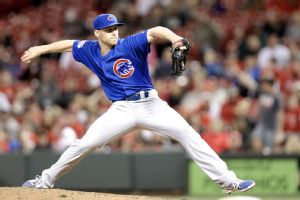 AP PhotoNeil Ramirez has allowed just one earned run in 16 appearances this season.
"The thing with Neil is he's a very emotional guy," Villanueva said recently. "Usually guys come up in the big leagues and they're a little timid, 'Oh, I'm facing
Ryan Braun
,' forget Ryan Braun. He knows he has the stuff to get anyone out."
Ramirez got Braun to whiff for his first career strikeout in late April and he hasn't looked back. A converted reliever at Cubs pitching coach Chris Bosio's suggestion, there's a good chance Ramirez tries his hand at starting again next year. His stuff, which includes a fastball, curveball, slider and yet to be seen change-up, is so good the Cubs would be missing an opportunity if they didn't try it in 2015.
Rondon's rise to closer is just as unlikely. The Rule 5 draft is almost an afterthought at the baseball winter meetings. Held on the last day as teams are scurrying out of town, there have been some notable pickups. Hall of Famer Roberto Clemente is the most famous, but there have been plenty of serviceable players languishing in the minors not protected by their team's 40-man roster.
Rondon was one for the
Cleveland Indians
when the Cubs rescued him in December 2012. General manager Jed Hoyer said at the time "we really spent a lot of time on this guy," when they chose him. They saw something in him as he was recovering from elbow issues.
Rondon came on strong toward the end of last season before Bosio declared him his "project" this spring. He'll have his hiccups -- he had a small one Friday in a blown save -- but Rondon has shown the ability and mental makeup to handle the job so far. He's 7-of-9 in save opportunities with a 2.45 ERA. The Marlins had three bloop hits en route to his missed chance Friday and considering the Cubs' recent history on the back end those numbers are more than worthy of praise.
Maybe the bullpen roller coaster has finally quieted down after several seasons of upheaval. For the moment, anyway, Rondon and Ramirez have calmed things down at the end of games, as unlikely as that scenario seemed a couple of months ago.
"No question, they're getting the job done," Renteria said.
June, 4, 2014
Jun 4
12:10
AM CT
CHICAGO – As if on cue, the
Chicago Cubs
bullpen backed up the faith their bosses had placed in them when they designated for assignment veteran
Jose Veras
and his $4 million contract on Tuesday. The Cubs are committed to finding the next crop of relievers, and they might have hit on some after another productive performance in a 2-1 win over the
New York Mets
.
Four relievers combined for 4 1/3 shutout innings while giving up just two hits and no walks.
"It's been a common theme for the bullpen to come in in big situations and do a big job for us," Tuesday's starter,
Jake Arrieta
, said after the game. "Neil [Ramirez] was great.
[Brian] Schlitter
was good there. And
[Hector] Rondon
is a tough guy to deal with there toward the latter part of the ballgame."
[+] Enlarge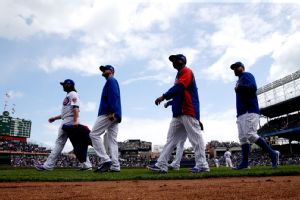 AP Photo/Nam Y. HuhThe Cubs' young bullpen staff could put an end to a seemingly annual weakness for this organization.
All of those pitchers are young enough to be part of the Cubs' core moving forward. And none were necessarily in the jobs they thought they would be in out of spring training. This crew has kind of come together out of nowhere.
"They did a nice job," manager Rick Renteria said. "They kept us in the ballgame."
They've been doing that more often than not lately. The Cubs' bullpen ranks sixth in the National League with a 3.17 ERA, but it's been even better lately. Over the past 19 games, their ERA is 1.82, enough to prompt the team to give up on Veras even though he was starting to come around. He's not part of the future. These guys are.
"I think that's how you build teams,"
Justin Grimm
said. "Coming together takes time and experience. You just can't throw a bunch of guys together and expect them to be a great team. It takes more than that. It takes knowing guys and knowing each other."
Which means sticking around for more than one season, potentially. Relievers are "volatile" by nature, as general manager Jed Hoyer said before the game, but the Cubs are young enough and possibly good enough to stabilize a seemingly annual weakness for this organization. They have some very live arms.
"We've been doing well lately," Schlitter said. "It's nice to be noticed. We're coming into every situation there is and getting out of it."
The young group gives credit to the one veteran left,
Carlos Villanueva
. He might be gone someday soon as well, but for now, he's leading the group.
"He's been the guy to show us the way," Grimm said. "When he gets on us, it's strictly love."
So a group of good arms led by a veteran might turn into a strength for the Cubs. Already it has made their offseason addition of Veras expendable and given them some hope in an area of the game that doesn't get talked about enough but is essential to winning. A young Cubs bullpen is getting experience and getting the job done.
"We think they're going after the younger crowd," Grimm joked. "We try to keep each other in check the best we can."
May, 31, 2014
May 31
2:58
PM CT
MILWAUKEE – It's only a coincidence that
Chicago Cubs
reliever
Neil Ramirez
is reading "The Closer," the book by former
New York Yankees
great
Mariano Rivera
. Ramirez is getting a trial run this weekend doing Rivera's old job for the Cubs, as regular closer
Hector Rondon
is on paternity leave.
[+] Enlarge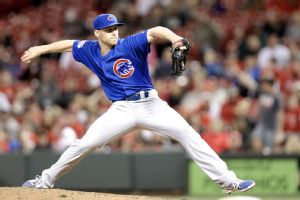 AP PhotoNeil Ramirez will fill in as the closer this weekend, but his future could be in the rotation.
"That guy has a ton of knowledge," Ramirez said Saturday morning of Rivera. "He was the best for a reason. As a reliever now, trying to pick up something from one of the best guys that's done it, it's a great book to read."
Ramirez was a starter up until the Cubs acquired him last season in the deal that sent
Matt Garza
to the
Texas Rangers
. In fact, he was the player to be named later, so he came to the organization weeks after more heralded players like C.J. Edwards and
Mike Olt
. But so far he's made a big impression on the Cubs and pitching coach Chris Bosio, who suggested he pitch out of the bullpen this year to save his arm. Ramirez battled injuries a season ago and was only part of the trade when he got healthy.
"Everybody was on board with it," Bosio said of having Ramirez pitch in relief. "He's done a great job in our bullpen. He's been real consistent. The biggest thing is his health."
Ramirez has impressed with a mid-90s fastball and a nasty slider that has had tons of movement. He's struck out 19 in 11 2/3 innings since being called up in late April and sports a 0.77 ERA in 13 appearances. And he's walked just four. That's probably the reason more than any he's been entrusted with being the closer this weekend. Cubs relievers have had their issues with walks. But not Ramirez.
"I'm the kind of guy that wants to take every situation the same no matter what," he said of being the closer now. "If you make it more than it is, then you get caught up in that."
Maybe that's why the Cubs didn't even inform him he might finish off a close game if they have a lead against the Brewers. He made his debut in April where he could pitch this weekend – and his first career strikeout came against former MVP
Ryan Braun
when he blew a fastball by him. Ramirez doesn't back down.
"It's a good feeling they would trust me going into a big situation," Ramirez said. "Part of that is me just going out there and just doing the job."
Middle relief and possibly closing are his roles this year, but could he return to starting? The Cubs are short on legitimate candidates for the rotation as they head into the next phase of their rebuilding plan. Ramirez's stuff dictates him getting a chance. He hasn't even thrown a changeup yet, instead sticking with a fastball, curve and slider so far. Bosio didn't dismiss the notion of Ramirez starting again.
"We have some options with (Justin) Grimm and Ramirez," he said. "It's going to depend on what we do in the offseason. But the biggest thing for us is it gives us options moving forward."

May, 6, 2014
May 6
11:14
PM CT
CHICAGO -- The
Chicago Cubs
lost 5-1 to the
Chicago White Sox
in Game 2 of their four-game series on Tuesday night. Here's a quick look:
How it happened:
Reliever
Neil Ramirez
gave up his first home run in the majors as
Gordon Beckham
took him deep in the eighth inning to break a 1-1 tie. The Sox got on the board first on an
Alexei Ramirez
groundout in the fourth, scoring Beckham, who had singled to open the inning. The Cubs tied it in the fifth on an
Emilio Bonifacio
single off the glove of Beckham as
Junior Lake
crossed the plate.
The Sox put the game away in the ninth, adding three runs off
Pedro Strop
before he left with an apparent injury.
Edwin Jackson
threw his best game of the year, giving up six hits over seven innings while striking out nine. He yielded all six hits to two players, so he was never in a lot of trouble.
Hector Noesi
threw well, allowing just one run over five innings. Beckham was 4-for-5, including what was to be the deciding run off his solo homer in the eighth.
What it means:
Ramirez hung a slider, but that doesn't take away from his fast start and it doesn't take away from Jackson's performance. Like
Jeff Samardzija
the night before, Jackson easily pitched well enough to win but the offense let him down. Once again, it wasn't a great hitter's night. But the Sox have pushed across enough runs to take the first two games of the series. It's a microcosm of where they are offensively as compared to the Cubs. One is closer to a finished product, while the other is still a work in progress. Strop is not having the success he had after coming over from the
Baltimore Orioles
last season. He's struggled with control and got hit hard on Tuesday.
Vizcaino promoted:
Minor league pitcher
Arodys Vizcaino
was promoted to Double-A Tennessee on Tuesday as he continues his comeback from two years of arm problems. Vizcaino had a 1.00 ERA in nine appearances in the warmer climate of Single-A Daytona. He's considered one of the Cubs' top pitching prospects out of the bullpen.
Veras throws:
Rehabbing pitcher
Jose Veras
threw an inning at Tennessee on Tuesday without giving up any runs. He's on the disabled list with an oblique strain.
What's next:
Game 3 of the crosstown series moves to U.S. Cellular Field on Wednesday, as
Travis Wood
(2-3, 3.35) takes on
John Danks
(2-2, 5.00).
April, 30, 2014
Apr 30
11:12
PM CT
CINCINNATI --
Chicago Cubs
manager Rick Renteria isn't declaring any new roles for his relievers, but there's little doubt things are changing in the bullpen. They extended a streak of scoreless innings to 14 in helping the Cubs to a 9-4 win over the
Cincinnati Reds
on Wednesday night.
[+] Enlarge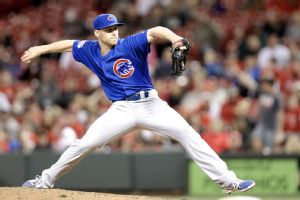 AP PhotoNeil Ramirez has impressed in his first two major league appearances.
Four relievers shut the door on the Reds over 3 1/3 innings as newcomer
Neil Ramirez
had the toughest task: pitch the eighth inning through the heart of the Reds order with the score 5-4. It was Ramirez's second career appearance.
"[Pitching coach] Chris Bosio is real comfortable with him," Renteria said after the game. "His demeanor is calm. He has good stuff."
He has more than good stuff. In two career appearances, including his major league debut last Friday, he has mowed down the middle of the
Milwaukee Brewers
lineup as well as the Reds, and he has done it with a 96 mph fastball and a nasty 87 mph slider. He used the latter to strike out
Jay Bruce
and the former to get
Todd Frazier
on Wednesday. That's after fanning
Ryan Braun
on Friday for his first career strikeout.
"I was ready for it," Ramirez said of the pressure situation. "Kind of similar to that first time out [on Friday]. You try not to put too much pressure on yourself, but you know you need to go out there and get your job done so that's what I was focusing on."
Ramirez came over last season with
Justin Grimm
in the trade that sent
Matt Garza
to Texas. He has emerged as a valuable commodity.
Hector Rondon
pitched the ninth inning again, emphasizing the upside-down nature of the bullpen only one month into the season.
Jose Veras
is out.
Pedro Strop
has had some control problems, while left-hander
James Russell
has had his issues as well.
Wesley Wright
, Ramirez, Grimm and Rondon have taken over some key roles -- or at least it looks that way.
"I don't want to define them as roles, yet I just want to define them as guys being used in certain situations to kind of help us finish a ballgame," Renteria said.
That's another way of saying there are new roles for his relievers, but the labels don't matter anyway. What matters is the youth and live arms the Cubs possess, both at the major and minor league level. It took a few weeks, but now we're seeing what that talent looks like. Maligned for a year and nearly a month, the bullpen might finally become a strength.

April, 25, 2014
Apr 25
10:29
PM CT
MILWAUKEE – The
Chicago Cubs
lost 5-2 to the
Milwaukee Brewers
on Friday night. Here's a quick look at the game:


How it happened:
Milwaukee took a 2-0 lead in the first and never looked back as the Brewers peppered Cubs starter
Carlos Villanueva
over his five innings. The first three batters reached on hits to plate the early runs. Milwaukee added single runs in the third, fourth and fifth innings, including
Lyle Overbay
's first home run of the season on the 10th pitch of his fourth-inning at-bat. The Cubs scored off of
Matt Garza
in the third as
Emilio Bonifacio
drove in
Ryan Sweeney
, who had walked. They added a run in the seventh on a Sweeney groundout, but that's as close as they came. Villanueva (1-5) gave up 11 hits and five runs.
Anthony Rizzo
was 0-for-4 with three strikeouts.
What it means:
Garza got the better of the Cubs in his first game against his former team, pitching seven innings and giving up just four hits and two runs. Villanueva, on the other hand, continued a trend -- his stuff is simply getting hit hard. It didn't help that
Junior Lake
made two mistakes in left field and was brutal at the plate, striking out twice. He broke his bat over his knee after one punchout. The Cubs will have to win the next two games to win their first series of the year. The odds don't look good.
Villanueva:
The right-hander has given up 40 hits in just 19 innings pitched, and he became the first Cub since Les Lancaster in 1988 to give up 30 or more hits over three consecutive starts, according to ESPN Stats & Information.
Jake Arrieta
is due back soon, but Villanueva actually could make one more start. It remains to be seen if he will.
Neil Ramirez debut:
One of the pitchers the Cubs got in last year's trade of Garza to Texas made his major league debut, walking one and striking out one in an inning of work. Ramirez should remember his first strikeout as he got former MVP
Ryan Braun
on a 96 mph fastball. Braun had been 3-for-3 as had
Carlos Gomez
, whom Ramirez got to fly out.
What's next:
Game 2 of the series is set for Saturday at 6:10 p.m., with
Travis Wood
(1-2, 2.52) taking on
Marco Estrada
(1-1, 2.66).
April, 24, 2014
Apr 24
1:46
PM CT
CHICAGO -- The
Chicago Cubs
made the somewhat drastic move on Thursday of going with 13 pitchers on their roster and 12 position players one day after using three pitchers in a ninth-inning blown save against the
Arizona Diamondbacks
.
Rosscup
Ramirez
Blake Parker
was sent down to Triple-A Iowa and outfielder
Justin Ruggiano
was placed on the disabled list allowing room for lefty
Zac Rosscup
and righty Neil Ramirez.
"Right now, at least for 15 days with Ruggiano down, and then we'll go from there," manager Rick Renteria said of using 13 pitchers. "We can use the pitching."
This comes on the heels of Cubs' starters going seven or more innings in the first three games of the series against Arizona but maybe Renteria was preparing for the next two days when
Edwin Jackson
(Thursday) and
Carlos Villanueva
(Friday) take the mound. Bullpens have been in use more often than not when they pitch.
But why did the Cubs choose to send down the righty Parker in favor of the lefty Rosscup? Maybe it has something to do with the lefties currently in the bullpen.
James Russell
and
Wesley Wright
have struggled, especially against left-handed hitting. Opposing lefty hitters are 5-for-10 against Wright this month and Russell has walked three and given up three hits, including a home run, in 11 at-bats against left-handed hitters.
"Rosscup has shown he's capable of relieving up here," Renteria said. "He did a nice job in New York."
Rosscup threw 1 2/3 innings of scoreless relief as the 26th man on the roster in a doubleheader against the
New York Yankees
but was sent right back to Triple-A. Wright and Russell could be showing signs of fatigue due to heavy workloads over the past two years. Both are at the top of the league in appearances over that time frame. Either way, the Cubs bullpen is a mess right now with no clear-cut closer and overuse or ineffectiveness is the common denominator.
"The reality is you win or lose ballgames in the seventh, eighth and ninth inning," Renteria said. "You have to learn from these experiences. (Wednesday's) experience hopefully gives them something to build on and work with. Both the negative and the positive. Everything has to be useful and serve some purpose."
Renteria is right about the learning experience. If
Pedro Strop
's struggles on Wednesday make him better for it than it was worth the blown save. The Cubs are playing for the future. Figuring out who fits in and where is their lone priority right now.
And finding a closer.
March, 30, 2014
Mar 30
12:00
PM CT
This is the year for the
Chicago Cubs
-- that is, if you need to believe their rebuilding strategy is taking the proper steps forward.
It is.
It's not the year if you think the team's record or a playoff berth is all that matters.
They don't.
[+] Enlarge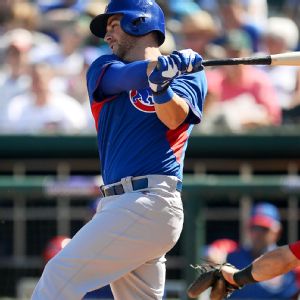 Joe Camporeale/USA TODAY SportsMike Olt's strong spring earned him a spot on the Cubs' roster for Opening Day.
For all practical purposes, the Cubs are in Phase 2 of their plan. Phase 1 involved ridding themselves of hefty contracts while replenishing their farm system. They've done that even better -- and possibly more quickly -- than the Cubs' front office envisioned. That's because the players they've acquired or drafted are moving quickly through Chicago's system -- even though it doesn't always seem that fast while the major league team is losing nearly 100 games a year. The point is those players are getting closer to the major leagues. And when a rival general manager -- the Rangers' Jon Daniels -- admits he pulled the trigger on a trade with the Cubs that might haunt him, that's a good thing for fans to savor.
Phase 1 lasted two years and Phase 2 should be about the same. It involves the transition of the prospects from the minors to the major leagues. One by one, they'll start to make their debuts.
Junior Lake
had his moment last season; come Monday it'll be
Mike Olt
's turn. He had a cup of coffee with the
Texas Rangers
in 2012, so maybe his learning curve won't be as steep. After Olt could be pitchers Kyle Hendricks or
Arodys Vizcaino
. Then, later in the summer, the mighty Javier Baez might bring his bat to town.
If things go well, C.J. Edwards, Kris Bryant, Albert Almora and others might make their way to Wrigley Field next year at one time or another. Of course, it's impossible to predict anything past tomorrow, but there continues to be a brighter and brighter light shining at the end of a long tunnel for the Cubs. We know a few of the above names are going to get their chances in 2014 and 2015. It's going to happen.
If you're looking for tangible results, there might very well be some late this summer. Phase 1's strategy allowed for some early-season "success," but with a trade deadline in the middle of the year -- a time when opposing teams get desperate -- the Cubs were doomed in the second half of the past two seasons. Gutting their starting staff and trading position players while seeing the morale of the remaining players sink also sunk them in the standings.

Over the past two seasons, the Cubs' combined winning percentage in the first half was .428. That's bad enough, but it dropped to .345 in the second half. That's downright ugly, as the Cubs combined to go 49-93 in the second halves of 2012 and 2013. But, as we know, this was all by design. The Cubs could have kept
Matt Garza
or
Ryan Dempster
and won a few more games, but then Hendricks, Edwards, Olt, Neil Ramirez and
Justin Grimm
wouldn't be on this team.
This season, the reverse could happen. Though the Cubs' roster looks a lot better with
Emilio Bonifacio
,
Ryan Kalish
and Olt winning jobs, Chicago is still behind other teams in terms of pure talent and experience. The Cubs won't get first halves of
Alfonso Soriano
, Garza or players like that anymore.
They're going to take some lumps, but just when morale might sink again with a possible trade of
Jeff Samardzija
, some energy should emerge with a few prospects being called up. It's reasonable to assume players like Olt and Lake will be better later in the year, and it's not out of the realm of possibility the buzz that a guy like Baez or a pitcher like Hendricks can create will have a positive effect in the win/loss column. In the short term, at least, while the adrenaline of their arrival is fresh.
So maybe the Cubs win more in the second half over the next two years even though remnants of Phase 1 will still be evident in eventual trades of
Nate Schierholtz
,
Jose Veras
and possibly
Jason Hammel
.
No offense to those players, but the difference now is that there are potentially better players waiting in the wings. The only question is: How soon and how much are they going to take their lumps in the major leagues? Or will they have immediate success? No one can predict that.
The Samardzija saga is the one negative in this whole equation, because the aforementioned morale drop will be evident if he's traded. The Cubs need Samardzija for more than innings pitched -- they need him to help get them to the next level as a team. They can do it without him, but it will take more time. Keeping Samardzija while adding some prospects throughout the season is the best recipe for a better record -- now and in the future.
One by one, they will arrive. Their skill and their mettle will undoubtedly will be tested. Lake and Olt are up first, not to mention the storylines regarding rebound years for
Starlin Castro
and
Anthony Rizzo
. All of them are under a microscope, but the more talent the Cubs surround them with, the more relaxed they can play the game.
Phase 1 will start to be a memory by the end of this year, when Phase 2 will be in full force. By 2016, Phase 3 begins: winning.
March, 24, 2014
Mar 24
2:05
PM CT

By Richard Durrett
ESPNChicago.com
Archive
Like most general managers, Jon Daniels has made some deals he wishes he hadn't made. Sure, he completed his share of blockbusters that helped the Texas Rangers vault into contention a few years back (the
Mark Teixeira
and
Cliff Lee
deals lead the list). But he also had some swings and misses (
Adrian Gonzalez
might be the biggest).
In July 2013, Daniels knew the Rangers needed some pitching help to bolster the rotation down the stretch, and he acquired
Matt Garza
from the Cubs, trading away four prospects. So what does Daniels think of that deal now?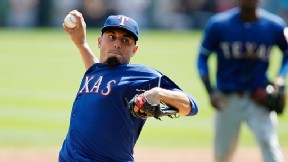 AP Photo/Andrew A. NellesIn 13 starts for the Rangers, Matt Garza was 4-5 with a 4.38 ERA in 84 1/3 innings.
"I thought way too short-term with the Garza deal last year," Daniels
told Zach Buchanan of the Arizona Republic.
"That one's got a chance to haunt us and haunt me."
To land Garza, Daniels dealt third baseman
Mike Olt
, right-handed pitcher C.J. Edwards, right-handed starter
Justin Grimm
and right-handed pitcher
Neil Ramirez
, who was the player to be named later.
As expected, Garza became a free agent after the season and signed with the Brewers.
Garza had pitched well in Chicago, and the Rangers were desperate for pitching help to make a push. But the same Garza never showed up in Texas. In 13 starts in a Rangers uniform, Garza was 4-5 with a 4.38 ERA in 84 1/3 innings, and Texas didn't make the postseason, losing to the
Tampa Bay Rays
in Game 163, the one-game playoff to determine a wild-card postseason spot.
Olt is competing for the starting third-base job with the Cubs this spring. Edwards had a terrific 2013, split between the Rangers and Cubs, and continues to progress toward the big leagues. Add in Grimm and Ramirez, and the Cubs got a nice foursome of prospects for Garza.
That's why Daniels says it could haunt him.
March, 23, 2014
Mar 23
12:30
PM CT
MESA, Ariz. --
Chicago Cubs
shortstop
Starlin Castro
had no ill effects from his at-bats in a minor league game on Saturday and will hit again on Sunday before trying to play defense.
While Castro will get another round of at-bats on Sunday, he won't play shortstop or run hard on the bases as he continues to recover from a hamstring strain that's held him out of action since March 2. Minor league games allow for a player to hit every inning but not play the field. Castro got six at-bats on Saturday and most likely will do the same on Sunday.
If Sunday goes as well as Saturday, Castro will play the field in a minor league game this week before attempting to play in a Cactus League game before camp breaks on Friday. On Saturday Castro declared he would be ready for opening day, and Cubs manager Rick Renteria hasn't wavered from that notion as well.
Fujikawa throws:
Injured reliever
Kyuji Fujikawa
threw 45 pitches on Sunday as he continues to recover from Tommy John surgery.
"He's slowly graduating to finally getting out there for live batting practice," Renteria said Sunday morning. "He's moving along. It's good. It's real good."
Roster at 35:
The Cubs optioned pitcher
Neil Ramirez
to Triple-A Iowa on Sunday. The also granted pitcher Tsuyoshi Wada his unconditional release, bringing their roster down to 35.
March, 3, 2014
Mar 3
2:50
PM CT
By ESPNChicago.com
ESPNChicago.com

The
Chicago Cubs
agreed to contract terms Monday with 19 players all with fewer than three years of experience, including catcher
Welington Castillo
, outfielder
Junior Lake
and pitcher
Jake Arrieta
.
Also signed were pitchers
Zac Rosscup
,
Chris Rusin
,
Dallas Beeler
,
Alberto Cabrera
,
Justin Grimm
,
Blake Parker
Neil Ramirez
,
Hector Rondon
and
Arodys Vizcaino
. Infielders
Arismendy Alcantara
,
Mike Olt
,
Christian Villanueva
and
Logan Watkins
as well as outfielders
Brett Jackson
,
Matt Szczur
and
Josh Vitters
were also signed to contracts.
Terms of the contracts were not disclosed.
August, 23, 2013
8/23/13
1:30
PM CT
The
Chicago Cubs
acquired right-handed pitcher Neil Ramirez from the
Texas Rangers
as the player to be named later in the deal that sent pitcher
Matt Garza
to Texas last month.
The Cubs claimed Ramirez off waivers and then the clubs decided he would be the player to finish the deal that brought pitchers
Justin Grimm
and CJ Edwards to Chicago along with infielder
Mike Olt
.
Ramirez, 24, was 9-3 with a 3.84 ERA with Double-A Frisco this season. The Cubs assigned him to Double-A Tennessee.