Chicago Cubs:

Oneri Fleita
August, 15, 2012
8/15/12
11:20
AM CT
By ESPNChicago.com
ESPNChicago.com

The Chicago Cubs fired vice president of player personnel Oneri Fleita on Wednesday, the team announced.
Read the entire story.
November, 1, 2011
11/01/11
10:39
PM CT
By Sahadev Sharma
ESPNChicago.com
Archive
CHICAGO -- As Jason McLeod said with a smile at Tuesday afternoon's press conference at Wrigley Field, the past few weeks have pretty much been Theo-mania in Chicago. McLeod, the new director of scouting and player development for the Cubs, is accurate that this city has been heaping praise on Theo Epstein for a while, but that didn't stop Epstein from doing the same for McLeod.
"Jason McLeod is the rarest commodity in the industry," Epstein said. "He's an impact evaluator of baseball talent."
[+] Enlarge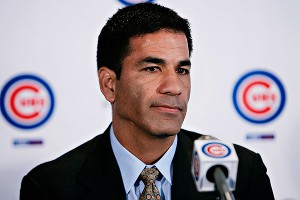 Jerry Lai/US PresswireJason McLeod will be the Cubs' draft guru moving forward.
Both Epstein and new general manager Jed Hoyer have been clear in saying that engineering a strong base to this organization is the imperative for sustained success on the North Side. And the key to that process just may be McLeod.
"The three of us believe in the same things," Hoyer said. "That's going to be the key to this whole operation, building that scouting and player development machine."
McLeod spearheaded two excellent drafts during his tenure as assistant general manager with the San Diego Padres. Those drafts helped contribute to turning a minor league system that was one of the worst in baseball to one most view as no worse than top 10 in the league.
Hoyer emphasized that the greatest part of this job for him is watching players who they drafted and develop make their debut at the big league level and eventually get a taste of real success. McLeod added that watching the Red Sox clinch the World Series in 2007 in a game that saw seven players he had a hand in drafting contribute, was the pinnacle of his career to this point.
McLeod's list of draft successes in Boston is long; it includes former MVP Dustin Pedroia and 2011 MVP candidate Jacoby Ellsbury; Daniel Bard, who is one of the top setup men in the game and a potential replacement for closer Jonathan Papelbon if he departs via free agency. The list also includes starter Clay Buchholz, who battled injuries this past season, but had an all-star season in 2010, when he posted a 2.33 ERA and finished sixth in Cy Young voting.
McLeod said Buchholz was a touchy topic at one point between he and Epstein. Epstein liked him, but wasn't convinced that he was over some off-field issues, while McLeod felt otherwise. The two apparently had an 'epic' fight, ending with Epstein throwing something at their draft board and storming out of the room.
While Epstein and McLeod are clearly very close friends, part of Epstein's strength is that he's always challenging those around him, making sure that the process they're using to get to their conclusions are sound. Of course things eventually calmed down and McLeod got his man, as the Red Sox took Buchholz with the 42nd pick in the 2005 draft.
It's the bond between McLeod, Hoyer and Epstein that's important, but also that building of trust with those who surround them, especially their scouts, that is so integral to the draft process. When McLeod went to see Ellsbury, he saw a speedy little guy with no power who was continually getting beat by the opposing pitcher. Red Sox scouts saw a different story and insisted that they select Ellsbury. While McLeod was confident in his scouts' abilities, before relenting he grilled them as to why they believed Ellsbury was the right player to pick in that spot. After hearing the right answers, McLeod went against what he saw and stuck with the men he'd surrounded himself with.
"[After the draft], we bring [Ellsbury] to Fenway, work him out, and he's way stronger," McLeod said. "He's everything our scouts saw, I just never saw it."
Of course there are times when nobody really sees the true potential in a player. The Red Sox drafted Pedroia thinking his ceiling was a Jody Reed type player, but they rationalized the choice by saying someone that can stick around in the big leagues for a decade, like Reed, was worthy of the 65th pick in the draft.
But those are the rare occurrences, as McLeod pointed out, the organization doesn't give a player the tools, he has them and it's the organization's job to harness the talent.
"You can take the fringe player and make him better," McLeod said. "The Dustin Pedroias of the world those are just outliers, we never knew he was going to be that good, ever.
"It starts on the evaluation. Draft day and the international signing day, I may be biased, but those are the two most important days of the year for an organization, because those are the days you choose who you're bringing into the organization. Everything starts with the player that you sign, the player you draft. Of course player development is in place to help that kid get the most of his ability, but there's only so much a player can or can't do."
While every other major sport's draft is in the offseason, the baseball draft is in June, smack in the middle of the MLB season as well as the college and high school seasons. Other leagues have a combine or one-on-one workouts and interviews to help them evaluate draft talent, but that part of the process doesn't exist in baseball. Baseball evaluators can view the player's physical abilities on the field, but any medical, mental, and social issues can often go overlooked. It's why McLeod believes it's the toughest draft of any sport, a virtual crap shoot.
[+] Enlarge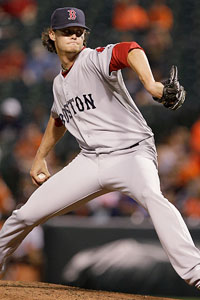 Rob Carr/Getty ImagesClay Buchholz is one of several successful draft picks Jason McLeod had a hand in with the Red Sox.
Knowing that, it's a certainty that there will be numerous failures along the way. One such miss was in 2006, when the Red Sox had back to back picks in the first round, selecting Bard with the second of those picks. The first one, however, didn't go over nearly as well. Selecting Jason Place -- a toolsy, strong, outfielder with a slight mechanical issue with his swing -- with that pick was a decision that still eats at McLeod.
"Mentally he couldn't handle failure and he was never able to correct those mechanical flaws," McLeod said. "That's a first-round pick that because of the success we've had you don't hear much about. But believe me, as a scouting director as a staff, you stay up at night saying, 'What was the process, why did this happen?'"
While Epstein, Hoyer and McLeod will be the new faces at Wrigley, implementing their 'Cubs Way', there will be a few holdovers from the previous regime. Chief among them, as far as McLeod is concerned, are vice president of player personnel Oneri Fleita and scouting director Tim Wilken. Fleita likely will have a large hand in what happens as far as the Cubs' presence in Latin America goes, but just by looking at his title, it would seem that Wilken's role may be a tad superfluous with McLeod's arrival.
However, Epstein's desire to build a large, strong front office by keeping the best and the brightest a part of this organization makes the assumption that Wilken won't be needed premature. McLeod said it was too early to define what the exact structure of the scouting department would be, but it would hardly be a leap to say that McLeod would be the man in charge on draft day, a task previously held by Wilken.
Though he's never worked directly with him, McLeod has nothing but verbal bouquets for Wilken, saying he's someone who has impacted the way McLeod runs a draft room and evaluates talent. McLeod was glad to see the Cubs aggressive approach last summer in the draft, as they selected numerous players who were widely known to be over-slot, hard signs. He added that their current system was lacking in impact stars but had some depth, putting them in the middle of the pack among other major league systems.
Of course, that's McLeod's impression from the outside looking in; he's yet to sit down with Fleita and Wilken, read the internal reports and really figure out where improvements can be made.
"It's important to note that we're not going to come in here and reinvent the wheel," McLeod said. "We have certain systems and processes that we believe in, in terms of how to reach a player and how to effectively get the most out of that player."


"The goal is not going to change, we're still going to look to draft the best players and sign the best players internationally. We're just going to sit down and see what is the best way to go about doing it."
As McLeod says, it's all about the information. The goal is to pull as much information about a player, whether it be scouting reports or statistics, and thus make the most informed decision. It's a simple plan, however it's the execution that's been lacking in the past with the Cubs. With Hoyer and Epstein in tow and McLeod as their secret weapon, the ends may not always be perfect, but the means will undoubtedly be sound.
October, 26, 2011
10/26/11
10:56
PM CT
Chicago Cubs
president of baseball operations Theo Epstein has added his No. 2 and No. 3 front office executives with former Padres general manager Jed Hoyer leaving to become the executive vice president/GM with the Cubs and scouting guru Jason McLeod assuming the role of vice president of scouting and player development.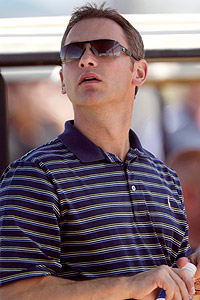 AP Photo/Lenny IgnelziNew Cubs GM Jed Hoyer will have two trusted teammates next to him in Theo Epstein and Jason McLeod.
This significant restructuring of the front office leaves the power bases of vice president of player personnel Oneri Fleita and scouting director Tim Wilken in question. McLeod, Fleita and Wilken will all report to Epstein and Hoyer. Hoyer will handle much of the day-to-day operations for the team, including initiating trade talks and dealing with player agents.
It's interesting that Epstein in his press conference used the term "us" on every occasion referring to his inner circle that had not been named until now. Sources say McLeod's title will most likely put him in charge above Fleita and Wilken in the front office food chain. Fleita has been the head of minor leagues and Latin American signing and developing since Jim Hendry was named GM in 2002.
Wilken was hired by Hendry as scouting director in 2006 and has had autonomy in the six amateur drafts he has led. That may change significantly under McLeod, who was the scouting expert for Epstein in Boston before leaving to join Hoyer and become assistant GM with the Padres in December 2009.
McLeod has been given a lot of credit for the Red Sox's scouting and development over the past seven years.
Fleita was given a four-year contract by Ricketts in September to prevent the
Detroit Tigers
from luring him away with a four-year deal to run their minor league system. Fleita is the front man, along with Cubs director Todd Ricketts, for the team's new Dominican Republic complex.
According to sources, Ricketts told Fleita that he may be re-assigned by the new GM when he signed his new contract. Wilken, who had similar positions in Toronto and Tampa, has one year left on his contract. His No. 1 draft picks since 2006 have been outfielder
Tyler Colvin
(2006), third baseman Josh Vitters (2007), pitcher
Andrew Cashner
(2008), outfielder Brett Jackson (2009), pitcher Hayden Simpson (2010) and infielder Javier Baez (2011).
September, 19, 2011
9/19/11
3:40
PM CT
Chicago Cubs
scouting director Tim Wilken met over the weekend with chairman Tom Ricketts and was reassured that his job is as secure as any in the organization, according to a major league source.
But Wilken was told an extension at this time was ruled out due to the fact Ricketts wanted to wait for a new general manager to be in place before making any executive decisions.
"I'm extremely happy with my status with the team," Wilken said. "As supportive as Tom was during the draft, he was just as supportive in our meeting [Sunday], telling me I would be back with the Cubs in 2012 and that I'm in the team's plans in the future."
There has been speculation that Wilken will receive the same four-year extension that vice president of player personnel Oneri Fleita received two weeks ago. When former general manager Jim Hendry was dismissed, Ricketts said at the news conference that he would recommend Wilken and Fleita as A-plus performers to the new GM.
Wilken, who has one year left on his contract, was told his contributions are vital to the Cubs' player development going forward, however the Fleita situation was different. The Cubs signed him to a four-year, $1 million-plus deal because of his status as the point man on the team's new Dominican Republic complex, which will be erected in 2012.
Fleita also runs two separate departments, the minor leagues as well as well as being Latin American coordinator. The Cubs had to react to Fleita due to the fact the
Detroit Tigers
offered him a four-year deal. Fleita took that offer to Cubs ownership, who tore up his 2011 contract and proceeded to give him the four-year extension.
Sources said if the new GM wants to redefine Fleita's duties, he'll be able to after the first of the year.
Wilken has done well with the Cubs' drafts since being hired before the 2006 season. Some of the players drafted under Wilken's watch were
Andrew Cashner
,
James Russell
,
Jeff Samardzija
,
Darwin Barney
,
DJ LeMahieu
,
Tyler Colvin
and
Tony Campana
. The team's top prospect, Brett Jackson, is also on the cusp of a starting job in 2012.
"[Ricketts and I] talked for an hour and a half Sunday and he told me to go ahead and get the scouts we need in the fold for next year," Wilken said. "He also gave me the autonomy to hire new guys."
September, 7, 2011
9/07/11
4:19
PM CT
CHICAGO -- Our talk shows at ESPN 1000 have been debating the logic of
Chicago Cubs
chairman Tom Ricketts extending the contract of vice president of player personnel Oneri Fleita four years before hiring a new general manager.
The reasoning behind the extension was based mostly on present need in the organization.
According to sources, this is how Fleita's extension went down:
Two weeks ago, the
Detroit Tigers
approached Fleita, who had one year remaining on his contract with the Cubs, and asked him if he would be interested in a three-year contract with the Tigers. Detroit was told that Fleita was staying put. However, Tigers team president Dave Dombrowski then called Fleita and offered him a four-year deal at a significant raise.
According to the sources, Fleita then went to Ricketts and let him know about the offer on the table. At that point, Ricketts offered a new four-year contract, tearing up the last year of Fleita's present deal.
Fleita got a significant raise in pay to go along with the four-year extension.
The reasoning behind all this is not that difficult to figure out. Simply put, Ricketts felt he couldn't let Fleita go for a number of reasons. The most important and pressing issue is the building of the Cubs' new baseball complex this offseason in the Dominican Republic. Fleita and Ricketts' brother, board member Todd, are the point men for this big undertaking. Both have spent an enormous amount of time and energy getting this facility up and running.
Ricketts has also developed a close business relationship with Fleita, having traveled to all the minor-league affiliates in 2010 and 2011 with Fleita.
Fleita's minor league and Latin American development is starting to produce, especially since scouting director Tim Wilken joined the organization in 2006. Wilken and his scouts have identified some top caliber draft picks, and Fleita and his coaching staff have taken those players and started to develop a solid group.
Other sources said Ricketts believed Fleita's job will not be a hindrance for any prospective general manager candidate that may interview. Fleita agreed to a deal that allows the new GM to eventually move Fleita to a different position in the organization after a certain period of time.
The Tigers were not the only team that wanted a shot at Fleita. A number of major league teams are in the midst of replacing their minor league directors. Fleita's impact in Latin America has been significant. Being bi-lingual is just part of what he brings to the table for the Cubs. Fleita's top assistant, Louis Eljua, is an expert in Latin American scouting and developing. He is another person Ricketts identified in his press conference, along with Fleita and Wilken, as employees he hoped would continue on.
September, 5, 2011
9/05/11
9:27
PM CT

By Jon Greenberg
ESPNChicago.com
Archive
CHICAGO -- One thing you might have noticed early about
Chicago Cubs
chairman Tom Ricketts is that he likes to wear an ID badge around Wrigley Field.
It was cute, at first, because he was the new, fresh-faced owner of this maddening team, and it showed a Midwestern humility that is part and parcel of the image he wants to exude. Wearing an ID badge when you're the owner says, "I follow the rules too. We're all pulling on the same rope here. Want a bison dog?"
Now, as his second season comes to a merciful ending, Ricketts can officially take off the badge. Everyone across baseball knows he's the boss.
Ricketts started slow, preferring to take stock of his new team before making any drastic changes. It goes against the prevailing wisdom of the crowds, but it was the right thing to do, even if it cost the team some goodwill and certainly some wins.
But he proved true ownership of the not-so-lovable losers by firing general manager Jim Hendry, the man who ran the actual team. And then again last week, when he re-upped vice president of player personnel Oneri Fleita before hiring a new GM.
Read the entire column.
September, 4, 2011
9/04/11
2:25
PM CT
By Sahadev Sharma
ESPNChicago.com
Archive
When
Chicago Cubs
chairman Tom Ricketts made the decision to give vice president of player personnel Oneri Fleita a four-year contract, it definitely came as a surprise.
Not because of the job that Fleita has done, but that Ricketts extended a key piece of the front office prior to finding a general manager. It's possible the decision could hinder Ricketts' pursuit of a well-established, top of the line GM like Theo Epstein or Andrew Friedman.
"This is more about the staff that's here and keeping some continuity," Fleita said. "Obviously when the next general manager comes in, hopefully we're gonna serve him well."
Whether keeping Fleita around prevents a big-name candidate from accepting the general manager's position won't be known until one is named later this year. Even then, we likely won't know if Fleita's presence affected the hire. However, there is no doubt that Ricketts is taking a risk by committing long term to Fleita before completing his search.
Fleita and Ricketts developed a strong connection over the past two seasons. Clearly Ricketts felt compelled to make a strong push to keep Fleita from leaving for another organization, in particular the
Detroit Tigers
, who were believed to have a serious interest in Fleita.
"At the end of the day, the truth of it is it was a match between Tom and I, the family, and something I believe in," Fleita said. "They've been giving support to sign players internationally this year that I've never had. (Cubs scouting director) Tim (Wilken) was given great support to go out and do what he did in the draft. This is an opportunity now to work for a great family, the Ricketts family. We've been given resources to go out and compete, that makes it a lot of fun for everybody involved."
Looking at both international signings and the bonuses handed out in this year's amateur draft, the Cubs spent nearly $20 million, far and away the most they've invested in such signings. When Ricketts came to the Cubs, he stressed how important building a strong farm system was to him and with the money they've spent the past few months, he's started to execute that plan.
"I think Tom and his family have made the vision," Fleita said. "They bought 50 acres of land in the Dominican Republic . . . we're gonna build a new facility in Arizona, it's exciting to be part of the design. There are a lot of great things that have happened. So the vision is very bright, it's exciting."
Fleita added that it was great to be able to tell his scouts that they could be aggressive in attempting to sign some of the players who were expected to be difficult to get in the fold. Shawon Dunston Jr. and Dillon Maples were among the surprise signings by the Cubs, as many expected both were strong college commits.
"These scouts spend a lot of time on the road, they're away from their families," Fleita said. "If they come across a player that they have a gut feel on, to tell them, 'Yeah go for it,' that was exciting. They feel like they're contributing to the organization, that's what it's all about."
August, 21, 2011
8/21/11
6:24
PM CT
By Chris Silva
ESPNChicago.com
Archive
CHICAGO -- Interim general manager Randy Bush respects the fact that
Cubs
chairman Tom Ricketts will target outside candidates for the vacant GM position, but Bush on Sunday alluded that the new regime could very well include some old blood.
While the Cubs' front office positions remain in limbo, Bush said that Ricketts has continued to speak highly of the work that vice president of player personnel Oneri Fleita and director of scouting Tim Wilken have done.
"Tom has spoken about how happy he is and impressed he is with our scouting departments and player development," Bush said before Sunday's game against St. Louis. "He's happy with Oneri's leadership and Tim Wilken and I expressed to them that he has those feelings about the job that they're doing and that certainly we could see a path we go down where you could see a lot of the things that are in place would stay in place."
Fleita has held his current post since October 2007 and oversees the organization's minor league system and international scouting operations. Wilken has been in his position since December 2005 and has helped sign and develop players such as
Darwin Barney
,
Casey Coleman
and
Andrew Cashner
. Ricketts gave Wilken the green light to sign the Cubs' recent draft class to a combined $12 million in bonuses, the most the organization has spent on any draft class.
Bush said he had a conference call the other day with Ricketts and the Cubs' scouting and player development personnel and Bush followed up today with another call to those same departments in an attempt to assure them he would do everything possible to provide a smooth transition in the interim.
Meanwhile, Bush said the team's scouts are remaining on their regular assignments and have not been taken off the road. Asked what message he would give to the next Cubs general manager, Bush gave another endorsement to the scouting and player personnel departments.
"I would tell him that I believe we have done a great job recently of acquiring talent, that Mr. Ricketts has made a commitment both domestically and internationally to pursue the top talent available," Bush said, "and that our player development people have done a great job of moving those players along at the right place to get them here where they'll be here for a long time."