Chicago Cubs:

Paul Kinzer
April, 8, 2014
Apr 8
4:03
PM CT

By Jesse Rogers
ESPNChicago.com
Archive
CHICAGO -- The
Chicago Cubs
are lucky the
Kansas City Royals
have a hard budget. That's the reason they employ
Emilio Bonifacio
, the leading hitter in the National League entering play on Tuesday.
Here's how it went down:
[+] Enlarge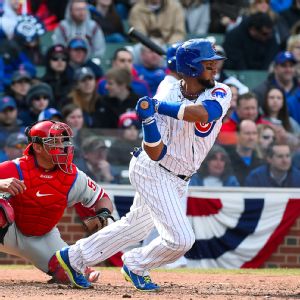 Mike DiNovo/USA TODAY SportsEmilio Bonifacio's .500 batting average is tied with the Angels' Josh Hamilton for the major league lead entering Tuesday's games.
Kansas City needed pitching after
Ervin Santana
priced himself out of the market, but they didn't have much money left in their budget. They decided to re-sign pitcher
Bruce Chen
by using Bonifacio's $3.5 million salary. So on Jan. 30 Chen agreed to a contract and the next day Bonifacio was designated for assignment. Ten days later, Bonifacio had cleared waivers and became a free agent after a season in which he hit just .243 and struck out 103 times. His on-base percentage was just .295 combined between Toronto and Kansas City in 2013.
"They thought they had a trade worked out so the timing of the release was horrible for us," Bonifacio's agent, Paul Kinzer, recalled on Tuesday. "The last thing you want is to be a free agent the week before spring training."
Bonifacio didn't know what was going on. A trade would have guaranteed him his full salary. By being released he was back to square one without a job. The Royals were only on the hook for $575,000.
"It's really hard two weeks before camp and you have no idea where you're going," Bonifacio said.
So the calls started coming in. Kinzer said up to 12 teams were interested, most with major league offers.
"The target was to get him equal [salary] to what it would have been in Kansas City," Kinzer said.
That eliminated a few teams as some were maxed out on their budget like the Royals, and if they wanted to pay him his full salary they would have just claimed him when he went through waivers. The Cubs were only offering a minor league deal.
"At that point he was a little nervous," Kinzer said.
But the Cubs said Bonifacio would have an opportunity to make the 25-man roster and earn playing time. With rosters nearly set around baseball it became very enticing, as the Cubs aren't exactly a juggernaut with entrenched starters at every position. And the versatile Bonifacio can play most of them.
"I felt like he was miscast in the American League," Cubs general manager Jed Hoyer said recently. "He's a really good National League guy."
So the sides worked out a deal. If Bonifacio made the team he would make $2.5 million with incentives that could net him $3 million from the Cubs. Adding on his $575,000 from the Royals, Bonifacio had a chance to match his original salary. At 28 years old, he's not necessarily just a guy to flip, although that's still a possibility.
"He's not a guy that's going to break the bank, and he gives you so much flexibility. I think he would be tremendously valuable to them," Kinzer said of a possible longer deal with the rebuilding Cubs.
Fast-forward to spring training when Bonifacio legged out four triples then went 14-for-28 with four stolen bases in the first week of the season. It's been only seven days of a long season, but Bonifacio's value has increased even in just a few days. He has hit in the leadoff spot every game while playing center field, shortstop and second base.
"He knows what his game is," Hoyer said. "You don't see a lot of fly balls out of him. You don't see him get big with his swing very often. He knows why he's on this team and what he's trying to do."
What he's trying to do is stick around. Right now he's joined
Anthony Rizzo
and
Starlin Castro
as mainstays in the Cubs' lineup. They're the only three players to start every game so far, including Tuesday night against the
Pittsburgh Pirates
.
"I'm glad to be here," Bonifacio said. "I'm trying to swing at strikes, and I'm having a good result."
September, 9, 2013
9/09/13
6:35
PM CT

By Jesse Rogers
ESPNChicago.com
Archive
CINCINNATI --
Chicago Cubs
shortstop
Starlin Castro
believes doing the right thing will pay off for him, both on and off the field. And doing the right thing on the field might simply mean to go back to who he really is at the plate.
Castro just completed his best homestand of the season while also entertaining a young fan from Ohio who had been severely injured after being hit in the head by a baseball in a little league game. Cameron Caldwell was airlifted to the hospital at the time in extremely serious condition. Cameron and his family got to meet Castro over the weekend at Wrigley Field, and they saw the best of him -- as a player and person.
"If you do something like that it feels good," Castro said Monday before the Cubs played the
Cincinnati Reds
. "And it feels good at the plate, too."
[+] Enlarge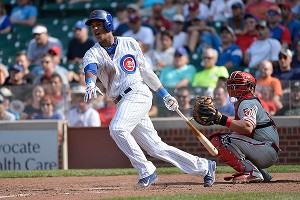 Brian D. Kersey/Getty Images
Cubs shortstop Starlin Castro was hitting .303 with two home runs and six RBI in the nine home games before Sunday's 0-for-4 performance. Six of his 10 hits went for extra bases.
That latter statement isn't something Castro has said often this year. By his own account, it's been the most frustrating year of his career. His average has hovered around .240 for most of the season, and his expected power surge hasn't materialized. But that makes a strong finish all the more important, both for his own confidence and that of a desperate fan base.
Castro was hitting .303 with two home runs and six RBI in the last nine home games before an 0-for-4 day on Sunday. Six of his 10 hits went for extra bases.
A further look inside the numbers shows an even more impressive streak, one that includes glimpses of the Castro that had 207 hits in 2011. According to ESPN Stats and Information, over the last nine games Castro's line-drive percentage was 22.9. His percentage previously hovered around 17.8 for the season.
"Leadoff is better than batting eighth," Castro said. "You see more pitches to hit. I feel pretty good hitting leadoff. Like I said two weeks ago, I'm trying to hit the ball as hard as I can. I don't care where it goes."
So he hit the ball hard more often than normal, but that's not where it ends. That's just the beginning.
"You hit three balls hard and got 0-for-4, sometimes that's frustrating," Castro said. "When I'm good, I hit the ball a lot more to right field. When I pull the ball, I make a lot of outs to third base."
Over the last nine games at home, Castro hit the ball to right field a whopping 48.6 percent when he made contact. And that was pretty often, as he missed at just seven pitches of 61 he swung at. That 11.5 percent miss percentage is way down from his 21 percent season average. The league average is 22 percent. Castro hit .375 on those balls to right field.
His one day batting eighth a few weeks ago might have been his low point. He was openly upset about it and vowed to finish strong by "not thinking as much" at the plate. Those who know him best say it's the right move.
"Obviously he was thinking too much," Castro's agent Paul Kinzer said. "When 88 mph fastballs were getting by him, something wasn't right. I think he was thinking too much instead of doing what comes natural."
Kinzer helped entertain the Caldwell family over the weekend. When Kinzer was handed an article about Caldwell that mentioned Castro was his favorite player, Castro immediately went into action. It's a positive in an otherwise strange year for the former All-Star.
Consider this statistic: According to Inside Edge scouting service, Castro is hitting .624 on hard hit balls. That's well below the league average of .707. So on one hand he's been unlucky. But on the other he hasn't hit the ball hard enough to rank among the league leaders in hard-hit outs. So there's good and bad in there to dissect.
"He swung the bat really well and ran into some bad luck, too," Cubs manager Dale Sveum said of Castro's homestand.
"That's probably the best he's swung the bat all year long in a 10-day, two-week period."
The combination of going back to leading off and back to being aggressive might have paid off. The most telling change is in the amount of pitches he's seeing. Before the homestand, it was 3.89. Over the past nine games, he's seeing only 3.24 per at-bat.
"I feel like myself again," Castro said.
There's little doubt leading off is where Castro likes to hit best. He's a .305 career hitter there with an on-base percentage of .351. The irony is batting eighth hasn't been all bad for him (.297/.392), but that success came very early in his career.
"I think he just locks in," Kinzer said of his client leading off. "Mentally, he locks in better there. That's what he does best. He sees it and hits it."
Sveum knows this, too, even if it can't be explained completely. Maybe the old Castro is back just in time for a strong finish. Cameron Caldwell isn't the only fan or observer that hopes so.
"See the ball, hit the ball," Kinzer said. "That's what he does best."