Chicago Cubs:

Phil Humber
May, 18, 2012
5/18/12
8:05
PM CT
CHICAGO --
Chicago White Sox
pitcher
Philip Humber
and
Chicago Cubs
first baseman
Bryan LaHair
disagreed Friday whether Humber intended to throw at LaHair in retaliation for White Sox first baseman
Paul Konerko
being hit by a pitch.
Konerko was hit in the head by a splitter from Cubs starter
Jeff Samardzija
in the top of the third inning. Konerko suffered a small laceration above his eye and swelling and was taken to the hospital for testing. He did not return to the game.
[+] Enlarge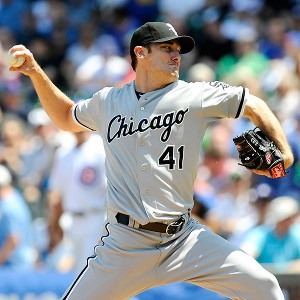 David Banks/Getty ImagesSox starter Phil Humber said he didn't throw intentionally at the Cubs' Bryan LaHair.
After pitching to Samardzija and three other Cubs hitters in the bottom of the third, Humber's first pitch to LaHair in the bottom of the fourth, a high fastball, soared behind LaHair's head. The pitch resulted in home plate umpire Tim Timmons issuing warnings to both dugouts.
"That just got away from me," Humber said. "It's one of those things that happens during the game."
LaHair didn't see the pitch the same way.
"Definitely felt like it was intentional," LaHair said. "They waited a whole inning and then the first pitch was right at my head. I'm all right with getting hit and stuff like that, I understand, but when you start getting around people's heads that can be scary. It is what it is. Nothing happened. I didn't get hurt or anything so move on from it.
April, 22, 2012
4/22/12
1:27
PM CT
CHICAGO -- Dale Sveum said he took some time away from dinner with his wife Saturday evening at a Chicago restaurant to watch the end of
Phil Humber
's perfect game for the
Chicago White Sox
against the
Seattle Mariners
.
"I just saw the score and didn't pay attention; it was late in the game," Sveum said. "Somebody next to me said, 'He has a perfect game.' I asked to put the TV on over where I can see it."
Sveum said the closest he came to perfection as a player was during the 1988 season when Odell Jones of the
Milwaukee Brewers
took one into the eighth inning against the
Cleveland Indians
, but lost it on a walk. Current
Texas Rangers
manager Ron Washington broke up the no-hitter with one out in the ninth inning.
April, 22, 2012
4/22/12
12:03
PM CT
ESPNChicago.com writer Scoop Jackson is spending this week trying to prove that when it comes to sports, there is no city like Chicago.
Saturday
The day I decide not to go to see the Cubs is the day
they
decide to ball.
But when one has choices as one has today...
Option 1:
Cubs
vs.
Reds
Option 2: Fire vs. FC (Toronto)
Option 3:
White Sox
vs.
Mariners
Option 4: Wolves vs. Rampage
Option 5: Rush vs. Mustangs
Option 6:
Bulls
vs.
Mavericks
Option 7:
Blackhawks
vs.
Coyotes
. Game 5
I don't know if any other city in America can claim days like this on the calendar when it comes to professional sports. Seven teams all in action on one day.
Options.
So try doing this:
Wake up at 5 a.m. to take youngest son to school on a Saturday because he's in the band and the band is in a competition that starts at 7 a.m. Go back home. Take other son to driver's education at another school at 10 a.m. Turn on WGN at noon to see what Cubs team is going to show up. Leave in the middle of the first inning to pick up kids. Return home, Cubs are winning 5-1. Find the Fire/Toronto match on TV. Scream "Goal!!!!!" 25 seconds into the match when the Fire score. Turn to White Sox game. Phil Humber looks good early. Go to get oil changed in the car. Come back, Humber still looks good. Leave home, head to United Center. Word is Derrick Rose might play. Get to UC, hear two words: Perfect game! Find out Rose is playing. Watch Bulls starting lineup start a game together for only the 13th time all season. Leave at halftime. Get home just in time for Game 5 puck drop. My son screams downstairs, "The Bulls are up by 10!" Go online to see Humber highlights. Text Kenny Williams. Check CN100 for Wolves update. They won. Eat dinner. Immerse myself into overtime No. 5. Goal! Text Blackhawks media relations coordinator for possible credentials to Game 6. Begin to write blog you are currently reading. Get response from Blackhawks: "See You Monday!"
The ability to watch, pay attention to or get locked into six professional games all in the same day? Unheard of. The chances of being a part of a day where the city you live in goes 7-0? Incredible. And, in the middle of it all, the 21st perfect game pitched in Major League history? Priceless.
We live for days like this. We live in Chicago
because
of days like this.