Chicago Cubs:

Pierce Johnson
January, 31, 2014
Jan 31
12:02
PM CT

By Jesse Rogers
ESPNChicago.com
Archive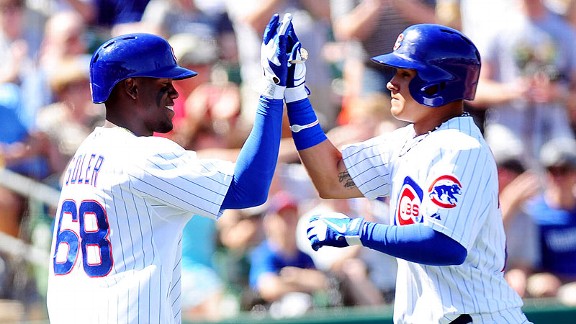 Jennifer Hilderbrand/USA TODAY SportsKeith Law ranks Javier Baez, right, as the Cubs' top prospect with Jorge Soler, left, No. 3.
This week ESPN.com Insider Keith Law released his annual prospect rankings both in terms of
players
and
organizations
. Not surprisingly, Law confirmed what we already knew about the
Chicago Cubs
: They're top heavy when it comes to potential impact bats but still could be lacking in impact pitching.
Having said that, the Cubs have improved their prospect base on the mound over the last 12 months, though it's still unclear if anyone in the system could be a clear No. 1 pitcher in the major leagues. Between that improvement and the drafting of impact bats over the last few years, Law ranks the Cubs' farm system No. 4 in all of baseball.
"It's always nice to read good things about your system," Cubs scouting director Jason McLeod said via email. "One of our goals is to acquire as many young, talented players as we can, and we feel good about where we are right now, but we also know that there is always room for improvement."
Let's start with the good news. The Cubs have four of Law's top 30 prospects in baseball. All four are position players, led by 2011 top pick Javier Baez. He checks in at No. 7 overall. Law writes:
Baez has the best bat speed of any hitter in the minors right now, and the ball explodes off his bat like he's splitting atoms with contact.
That analysis corresponds with many in the game who compare Baez's bat speed with former slugger
Gary Sheffield
, who had comparable minor league numbers at age 20 and never lost that bat speed as he came up to the majors. A little more plate discipline at Triple-A Iowa this season and Baez should be at Wrigley Field sometime this summer.
[+] Enlarge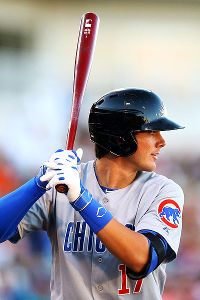 Mark J. Rebilas/USA TODAY SportsKeith Law says the Cubs can build around third baseman Kris Bryant.
Third baseman Kris Bryant is Law's No. 2 Cubs prospect and 15th overall in baseball. He's had the least time as a professional under his belt, but his prodigious size and power make him a near sure thing for the middle of any lineup. Law writes:
The kind of bat you stick in the cleanup spot so you can build your lineup around him.
Add to Bryant's resume his work ethic, intellect and a father who played professional baseball, and he has all the tools to move up quickly and be successful.
Like many observers, Law notes that
Jorge Soler
, his No. 26 overall prospect, had an incomplete 2013 season because of injury and suspension, but notes his body type and athleticism to go along with an above average understanding of the strike zone still make him a worthy prospect. Law writes:
I see explosive offensive potential, with easy plus power and enough feel for the zone to be a middle-of-the-order bat.
Albert Almora, the Cubs' first-round pick in 2012, checks in as the No. 28 overall prospect in the big leagues. Scouts agree with Law's assessment: He could play outfield in the majors right now. Law writes:
He gets some of the best reads off the bat I've ever seen from an outfield prospect, so although he's a below-average runner he still plays a plus center field.
But what about those pitchers?
Law ranks only C.J. Edwards (67) in his top 100 prospects and notes he's no sure thing as a top-of-the-rotation guy. Same goes with Pierce Johnson, who's ranked as the Cubs' seventh-best prospect in the system. And Edwards and Johnson could have size issues as they're slight of frame, listed at 155 and 170 pounds, respectively.
"Pitching is always an area of need for any organization," McLeod said. "I would say that we are still hopeful one of our guys makes that step forward in the coming year where they put themselves on the map as a potential top-of-the-rotation starter in the near future. However, we will continue our efforts in acquiring as much pitching as possible."
Law doesn't rank Cubs minor league pitcher of the year Kyle Hendricks in his top 10 in the organization despite a 13-4 season and 2.00 ERA in 2013. Law said via email he's probably no better than a fifth starter without a "high ceiling."
Hendricks might have been overlooked by Law, but McLeod says the Cubs have high hopes for him.
"Kyle doesn't get much love on the prospect lists because he doesn't have the mid-90's fb or the devastating breaking stuff," McLeod said. "However, he has advanced feel to command the zone and can get outs with multiple options. He has the attention and respect from our staff, I can tell you that."
Second baseman
Arismendy Alcantara
(No. 71) rounds out the Cubs' six prospects in Law's top 100. With Alcantara and Baez starting the season at Triple-A Iowa at second base and shortstop, and mainstays
Darwin Barney
and
Starlin Castro
playing those positions for the Cubs, it could make for a logjam later in the summer.
Too many players for too few positions is a problem the Cubs would love to have, and Law's prospect rankings show it could be a reality sooner rather than later. But top pitching still remains a mystery as the Cubs try to turn themselves into a winner in the coming years.
After striking out on Japanese star
Masahiro Tanaka
, continuing to be at a standstill in contract talks with
Jeff Samardzija
and having just one pitcher in Law's top 100 prospects in baseball, the Cubs might not have the answers they want for the most important part of the game.
September, 17, 2013
9/17/13
9:00
AM CT
By Sahadev Sharma
ESPNChicago.com
Archive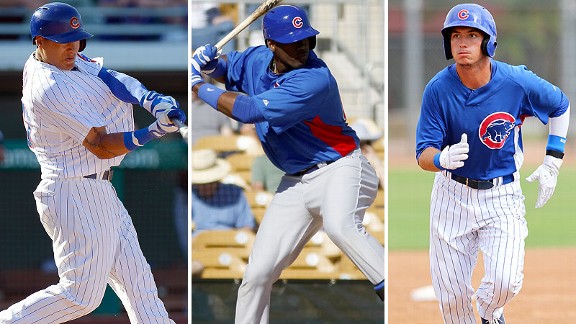 USA TODAY Sports, Icon SMIThe Cubs have plenty of promising position player talent in the minors with Javier Baez, Jorge Soler and Albert Almora.
With four players arguably among the top 30 prospects in all of baseball, the future looks bright for the
Chicago Cubs
.
Of course, it was just a decade ago that names like
Mark Prior
,
Angel Guzman
and
Juan Cruz
littered top-100 lists. But as the saying goes, there's no such thing as a pitching prospect, so it's likely a good thing the current Cubs system is heavy in high-ceiling offensive talent. They don't possess an elite, Archie Bradley-like arm, but through bulk-drafting and some shrewd trades, the Cubs have put together a solid group of pitchers, many of whom project as solid mid-rotation candidates or slightly better.
The fact is, if the topic of the Cubs system is brought up in front of opposing talent evaluators, one will quite often find oneself in a long conversation. Long gone are the days of people wondering who, beyond one or two players, has any real future impact in the Cubs system. In fact,
Brett Jackson
, who not so long ago sat atop the Cubs' prospect rankings, would find himself among the back half of a Cubs top 10, even if he were still at his peak prospect value.
A few things to remember here: This is not a top-10 list or even a ranking of any sort. It's just a quick glimpse at some players who range from superstar potential to role player. Trying to judge a minor league player on his statistics is a highly imperfect way of analyzing prospects. Minor league stats never tell the whole story. That's why, as always, much of the information provided here is gathered from discussions with scouts and front office members from around the league.
Javier Baez
Position:
SS
Age:
20
Highest level in 2013:
Double-A Tennessee
It's not often that broaching the topic of what a prospect could do at the major league level if everything goes right leads scouts to giggle with excitement, but that's what Baez's bat does to people. After struggling early at High-A Daytona, Baez quickly turned things around and forced a promotion by posting an .873 OPS with 17 home runs in 76 games in the pitcher-friendly Florida State League (FSL), then went on to terrorize opposing team's pitchers at Tennessee.
[+] Enlarge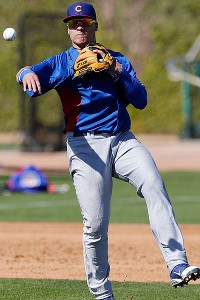 AP Photo/Morry GashJavier Baez's power is impressive but his defense is still a work in progress.
Baez has easy 70 power (on the 20-80 scouting scale) and those who are bullish on him can squint and see a future 70 hit tool (though a 55-60 rating seems to be the industry consensus). Throw in his knack for coming up big late in close games and it's easy to see why the list is short of minor leaguers who have a higher ceiling with the bat.
In 54 games at Double-A, Baez's elite bat speed continued to wow scouts, while delivering numbers to do the same. With a .294/.346/.638 line and 20 home runs and 15 doubles, it's clear why many believe Baez will be ready to send fastballs over the ivy at Wrigley Field at some point in 2014.
That's not to say that Baez is without his warts. Baez struck out 147 times with only 40 walks and committed 44 errors at two levels this season. Baez is an aggressive player who believes he can hit any pitch when he's at the plate and make any play while on defense. The defensive issues have nothing to do with fundamentals, but reining in his at times out-of-control play would do a lot in helping him reduce the errors.
As far as his aggressiveness at the plate, Baez has definitely taken some strides in 2013. The slider breaking low and away from him was quite often a bugaboo, but he's learning to stay away from the offering, forcing pitchers to come back over the plate and often making them pay for that decision. Baez also had numerous games in August in which he'd see 25 or more pitches in only four or five at-bats. Not only does seeing so many pitches wear down the opposition with a rising pitch count, but it increases the likelihood that Baez will see a pitch more to his liking. When that happens, good things usually follow.
Early in his career, there were questions about Baez's makeup, but those have quickly faded away and proven to be a non-issue. When watching Baez play, effort is never a question. In fact it's his intensity that sometimes gets the best of him.
What we saw from Baez this season was a big step forward. He still has work to do before the questions subside, but Baez has passed the biggest test a player will face at the minor league level by having a monster season at Double-A. Now it's just a matter of time before he has the opportunity to show what he can do at the big-league level.
September, 3, 2013
9/03/13
4:36
PM CT
By ESPNChicago.com
ESPNChicago.com

The
Chicago Cubs
named third baseman Kris Bryant and pitcher Pierce Johnson their minor league players of the month for August.
Bryant, the No. 2 pick in the June draft, batted .381 with seven home runs and 21 RBIs in 24 games for Single-A Boise and Double-A Daytona. His .438 on-base percentage and .762 slugging percentage was good for a 1.199 OPS, second in the minor leagues.
Johnson went 3-0 with a 1.02 ERA in four August starts.He is 11-6 with a 2.74 ERA in 21 starts between Single-A Kane County and Daytona.
June, 20, 2013
6/20/13
7:38
PM CT
By Rob Rains
Special to ESPNChicago.com
Archive
ST. LOUIS -- The
Chicago Cubs
were not pleased with the 7:15 p.m. CT start time for the final game of the series against the
St. Louis Cardinals
on Thursday, basically guaranteeing the team would not arrive back in Chicago until after midnight Friday.
The Cubs will have to turn around and play at 1:20 p.m. Friday against the
Houston Astros
at Wrigley Field.
"It's not our call," manager Dale Sveum said of the decision to play a night game instead of a day game. "You don't see this too often."
Traditionally, the final game of a series is a day game, especially when the traveling team is going home. The Astros played in Milwaukee on Thursday afternoon and were scheduled to arrive in Chicago before the Cubs' game even started.
One of the oddities in the major league rules is that if a team is scheduled to have a day off at home following a road trip, the final game of the road trip has to be played during the day. There is no such protection when the team is playing the next day.
"It's a strange rule," Sveum said.
The Cubs even tried to get Friday's start time pushed up to 3:05 p.m., giving them at least a little more rest, but could not get that request approved by city officials.
Cardinals manager
Mike Matheny
said he did not know why Thursday's game was not scheduled during the day.
"I just show up when they tell me to," he said.
The Cubs did send pitcher
Matt Garza
, scheduled to start Friday, back to Chicago before Thursday night's game.
Castro looking for hits
Shortstop
Starlin Castro
was in the Cubs starting lineup for the 71st consecutive game Thursday night. The only two players in the National League who have played in more games and not missed a game so far this season are the
Cincinnati Reds
'
Joey Votto
and the
Philadelphia Phillies
'
Jimmy Rollins
.
With the playing time has not come production, however. Castro had just one hit in 12 at-bats in the first three games of the series in St. Louis and was only 4-of-26 in the first six games of the road trip.
For the month of June, Castro is hitting .134 (9-of-67) with only four extra-base hits -- all doubles -- and three RBIs. His OPS for the month is only .377.
The slump has dropped his season average to .235, the lowest it has been since April 6.
Asked what he has seen lately from Castro, Sveum said, "Not too much."
Castro's offensive numbers are down in almost every category from the past two seasons, after he hit .307 in 2011 and .283 last season.
"By numbers alone, he has regressed. There's no question about it," Sveum said. "You're talking about an OPS under .600 [.596], and you have to get way, way down among all of the shortstops in baseball [to find him]."
Of the NL shortstops with more than 180 at-bats this season, Castro ranks 11th in OPS.
"He knows the formula," Sveum said. "I said a few weeks ago the rest is up to him. He knows the issues and the mechanical things that are different from when he first got to the big leagues, so it's up to him to get all of that ironed out."
Johnson promoted
The Cubs on Thursday promoted their first-round pick from the 2012 draft, right-handed pitcher Pierce Johnson, from Class A Kane County to Class A Daytona in the Florida State League.
Johnson had gone 5-5 in 13 starts at Kane County with a 3.10 ERA, recording 74 strikeouts in 69⅔ innings.
Third-round, seventh-round picks sign
The Cubs also said Thursday they have signed third-round pick Jacob Hannemann, an outfielder from Brigham Young, and seventh-round pick David Garner, a right-handed pitcher from Michigan State.
May, 20, 2013
5/20/13
11:19
AM CT
By Sahadev Sharma
Special to ESPNChicago.com
Archive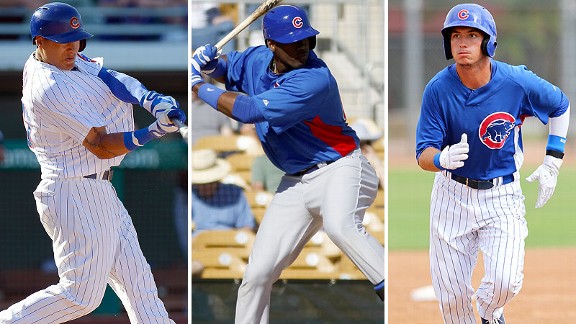 USA TODAY Sports, Icon SMIThe Cubs have plenty of promising position player talent in the minors with Javier Baez, Jorge Soler and Albert Almora.
The
Chicago Cubs
' minor league system has enjoyed a recent resurgence in the past two years. Going from an afterthought to one of the more talked-about farm systems in the game, credit goes not only to the current front office and senior vice president of scouting and player development Jason McLeod, but also to Tim Wilken, who was in charge of a very fruitful 2011 draft and is currently a special assistant to the president and general manager.

With only six weeks of results in, outside of a major injury or a complete degradation of talent, a scouting report on any minor leaguer isn't going to be much different than what it was when the season started. However, it's never too early to check in with some of the more intriguing prospects in the Cubs system and see how things have gone thus far.
A few things to remember when reading this piece: This is not a top-10 list or even a ranking of any sort. It's just a quick glimpse at some players who range from superstar potential to role player. Trying to judge a minor league player on his statistics is a highly imperfect way of analyzing prospects. Minor league stats never tell the whole story. That's why, as always, much of the information provided here is gathered from discussions with scouts and front office members from around the league.
All statistics are updated through Sunday's games.
[+] Enlarge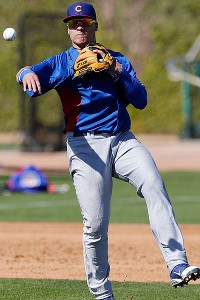 AP Photo/Morry GashJavier Baez is batting .256 with six home runs and 19 errors at Single-A Daytona.
Javier Baez
Position: SS Age: 20 Current level: High-A Daytona
Baez came into the season as arguably the Cubs' top prospect and among the 25 best prospects in all of the minors. When it comes to power, Baez is near the top, with only Twins prospect Miguel Sano clearly ahead of him on the list. Scouts have also begun to come around on Baez's defense at short. Despite the fact that Baez has 19 errors early on this season, the number of people who believe he can stick at the position in the big leagues continues to grow. There are those who feel that when it's all said and done, he'll be a better option at the position than current Cubs shortstop Starlin Castro.

However, Baez doesn't come without his issues. While a very exciting prospect, it's his aggressive, almost out-of-control style of play that is a concern. This is currently being displayed with his .256/.293/.475 line and most glaringly his 46 strikeouts and only seven walks in 174 plate appearances.

Baez has to learn how to slow the game down and develop an approach. Right now, the book on him is that a pitcher doesn't have to throw him a strike to get him out. To reach his potential, Baez must make adjustments, and the fact is that that process may take some time. The Cubs have the luxury of being able to be patient with Baez since they're not competing, and they already have an All Star-caliber player manning short on the big league roster.

The fact that Baez's early struggles were not unexpected, at 20 he's still young for the league and the Florida State League is known to be pitcher-friendly all make Baez's problems at the plate a little easier to swallow. As one AL scouting director said prior to the season, "It's OK if we see him putting up bad numbers at Daytona -- it's all part of the process." Baez's disappointing start isn't something to get riled up about, but how he reacts and adjusts to these issues in the coming months will tell us a lot about his future.


June, 20, 2012
6/20/12
11:26
PM CT

By Doug Padilla
ESPNChicago.com
Archive
CHICAGO – The Cubs said the signing of compensation-round draft pick Pierce Johnson is now official, giving the club exactly half of their 42 draft picks under contract.

As the 43rd overall pick, the right-hander Johnson, out of Missouri State, is the highest selection the Cubs have come to terms with. Baseball America reported that Johnson signed for $1.2 million, the full value of his spot in the draft.

The Cubs still have yet to sign first-round pick Albert Almora, a high-school outfielder from Florida, who was the sixth overall selection. All indications are, though, that the Cubs will come to a deal with Almora before the July 13 deadline.