July, 11, 2013
7/11/13
1:12
PM CT
By Sahadev Sharma
ESPNChicago.com
Archive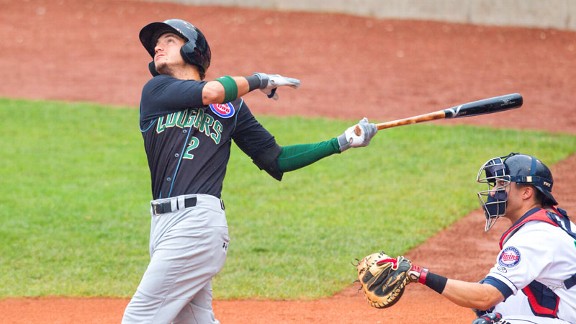 Brace Hemmelgarn/AP PhotoAlbert Almora wants Cubs fans to be patient, but there is plenty to be optimistic about.
When the
Chicago Cubs
front office took over nearly two years ago, they made it clear that much of their focus would be on rebuilding what many felt was a subpar farm system. Acquiring high-end talent is the best way to go about such a task, but senior vice president of scouting and player development, Jason McLeod, says the Cubs are always looking for that little something extra that can help put a prospect over the top.

"Obviously talent plays, that's the first thing," McLeod said. "As a scout, you go in and you look for what a player physically can and can't do on the field and project that out. I think that all of us as evaluators feel that the makeup is a separator in terms of, 'Is it going to allow this player to maximize his abilities on the field and allow him to make good decisions off the field?' "
It's that combination of talent and makeup that pushed the Cubs to draft Albert Almora with the sixth pick in the 2012 draft. Almora has otherworldly instincts at both the plate and in center field, where many scouts rate him as a top tier defender despite lacking elite speed. Though he doesn't possess that one tool that jumps out upon an initial viewing, there's no doubt that Almora's among the top prospects in all of baseball.
"You come across a player like Albert, and he's not the type of player who just looking at him in uniform, you say, 'Ok, that's the guy,' " McLeod said. "Obviously he's very fit and toned and all that, but it's not the explosiveness that's very easy to see with him. You watch this kid play the game and you understand his feel for the game, his instincts for the game, he's very talented at the plate, he can hit and hit to all fields. But it's just that innate awareness of the situation, his instincts, especially on defense, that for us is what set Albert apart."
While it became clear to McLeod and the rest of the decision makers that Almora had the talent they were looking for, it was when they met one on one with him that he really won them over. Not only was it plain to see just how passionate Almora is for the game of baseball, but in-home visits with Almora had Cubs officials coming away with glowing reports of him as a person.
June, 27, 2013
6/27/13
10:27
AM CT
By Sahadev Sharma
ESPNChicago.com
Archive
MILWAUKEE -- Chicago Cubs top prospect Jorge Soler has a stress fracture in his left tibia and will be in a walking boot 4-6 weeks, the team announced Thursday, which means Soler won't play in the Futures Game on July 14.
Read the entire story.
July, 24, 2012
7/24/12
10:06
AM CT

By Doug Padilla
ESPNChicago.com
Archive
PITTSBURGH -- Talk about setting the bar high as
Albert Almora
hit a home run in his first pro game with the Cubs.
Making his debut in the Arizona Rookie League on Monday, the Cubs' first-round selection in June's draft hit a fifth-inning home run, ending his day 1-for-3 with two RBIs. Almora started the game in center field and was later replaced when Shawon Dunston moved from left to center and Trevor Gretzky took over in left field.
If anything, the debut home run showed that Almora can rise to the occasion. Part of his appeal to the Cubs as the draft's sixth overall selection was his experience playing for USA Baseball.
Signed to a $3.9 million deal on July 9, Almora has been working out in Mesa, Ariz., ever since. By finally getting into game action, the Cubs now have two highly regarded outfield prospects playing at Mesa.
Jorge Soler, who officially signed with the Cubs at the end of June, made his pro debut in Arizona last week. Soler went 0-for-5 in Monday's game, but did hit his first home run Sunday. Soler has 12 at-bats in three games played with just two hits.