Chicago Cubs:

Rich Harden
July, 22, 2010
7/22/10
11:59
AM CT
By
Derek Czenczelewski, ESPN Stats
and
Info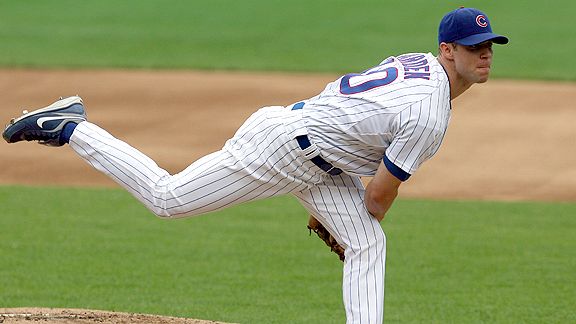 Jonathan Daniel/Getty ImagesIt turns out the price tag to acquire Rich Harden wasn't that high for the Cubs.
Hindsight is always 20-20 as they say, and that certainly holds true when wheeling and dealing. Trades excite fans, yet many times teams end up sacrificing their future for a shot at a proven commodity in hopes of a title run. Here is a look at how the Cubs fared in trades since 2005, using statistical analysis and the sabermetric WAR.
WAR stands for Wins Above Replacement and is a relatively complicated formula that in the end answers the question, "How much value would the team lose if a replacement player took his spot?" The calculation turns out an approximate win total the player holds.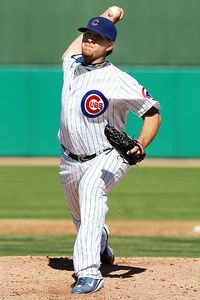 Lisa Blumenfeld/Getty ImagesAfter showing some potential with the Cubs, Sean Gallagher has bounced around the major leagues.
Best trade
July 8, 2008: Cubs trade Josh Donaldson, Sean Gallagher, Matt Murton and Eric Patterson to the Oakland Athletics for Rich Harden and Chad Gaudin. (Cubs' net WAR gain: 5.9)
This trade would have been better had the Cubs held on to Harden, who battled injuries with the Cubs as he has throughout his entire career. But when he pitched, he was electric. Harden compiled a 14-10 record and 3.31 ERA with the Cubs. He also averaged 11 strikeouts per nine innings pitched and a 4.0 WAR.
Gaudin pitched just one season for the Cubs, going 4-2 with a 6.26 ERA. Since 2008, Gaudin has pitched for four different teams. It's safe to say there were no hard feelings to see Gaudin leave town.
The Cubs lost very little in what they traded away, however. Donaldson was finally called up this season. The former first-round draft pick has 10 games under his belt, but has hit only .154. Gallagher (-1.3 WAR) has not pitched well for Oakland, San Diego or Pittsburgh while Murton is no longer in the majors.
Honorable mention: Dec. 18, 2009: Cubs trade Milton Bradley to the Seattle Mariners for Carlos Silva. (Cubs' net WAR gain: 2.5)

In his one season with the Cubs, Bradley managed to hit just .257 with 12 home runs and 40 RBIs. Silva was coming off two horrid seasons with the Mariners in which he went 5-18 with a 6.81 ERA.

In 2010, both players' careers took very different turns. Bradley is batting just .206 with a .289 OBP. Silva has performed very well for the Cubs, compiling a 9-3 record with a 3.45 ERA. He's also struck out 72 batters while walking only 19.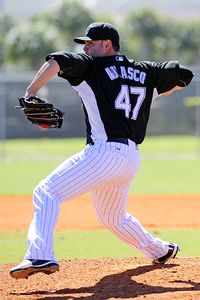 Steve Mitchell/US PresswireRicky Nolasco was the real loss for the Cubs in the Juan Pierre trade.

Worst trade
Dec. 7, 2005: Cubs trade Sergio Mitre, Ricky Nolasco, and Renyel Pinto to the Florida Marlins for Juan Pierre. (Cubs' net WAR loss: -1.3)

Mitre has battled injuries and inconsistency throughout his career. But he may have finally found his niche in the Yankees' bullpen this season with a 2.88 ERA in 25 innings. The real loss in this trade wasn't Mitre though. That honor goes to Nolasco (3.6 WAR), who has shown flashes of brilliance in his young career, compiling a 49-36 record with a 4.45 ERA. He's averaging just under eight strikeouts per nine innings and has struck out a total of 585 batters to only 158 walks. Over the past three seasons, Nolasco has averaged a 4.4:1 K:BB ratio.

Pinto (2.1 WAR) has been a solid reliever for the Marlins, throwing 231 innings while striking out 222 batters. He's also maintained a career 3.62 ERA.

Pierre, the Cubs' centerpiece of the deal, played just one season with the team in which he tallied a 3.3 WAR. And although it was a good season (Pierre hit .292 with 58 steals), it can't compare to what the Cubs could have had in Mitre, Nolasco and Pinto.
Honorable mention: Jan. 5, 2008: Cubs trade Angel Pagan to the New York Mets for Corey Coles and Ryan Meyers. (Cubs' net WAR loss: -7.4)Meyers and Coles are now out of baseball, while Pagan is a stalwart in the Mets lineup. Since being traded to the Mets, Pagan has hit .304 with a .357 OBP and has stolen 37 bases. He's also achieved a 7.4 WAR. It took Pagan until this season to establish himself as an everyday player. But at 28 years of age, Pagan has most likely reached his ceiling. Considering the return on investment the Cubs received, or lack thereof, this trade was definitely a mistake. While the Cubs "net WAR loss" was more substantial in this deal, the Nolasco deal will be more harmful long-term.

Day of Infamy
Dec. 7, 2006: Cubs draft Josh Hamilton from the Tampa Bay Rays in the Rule 5 Draft. His rights were then sold to the Cincinnati Reds. (Cubs' net WAR loss: -12.9)

Hamilton wasn't traded per se, but his rights were once held and then sold in the course of the same day by the Cubs. It's not as though Hamilton (12.9 WAR) ever played for the Cubs, and you could speculate that in theory they could have Edinson Volquez (5.1 WAR) if they made the same trade the Rangers completed with the Reds.
September, 24, 2009
9/24/09
11:05
PM CT
The Chicago Cubs shut down right-handed pitcher Rich Harden for the rest of the season after general manager Jim Hendry had a conversation with the pitcher before Thursday's game in San Francisco.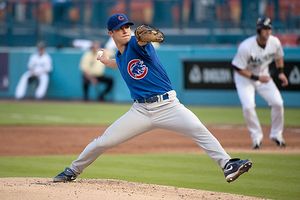 Ronald C. Modra/Sports Imagery/Getty Images
Right-hander Rich Harden could be pitching elsewhere next season.
It was left up to Harden whether he wanted to pitch or not again this season, and Hendry told me that Harden told him in their conversation that in his mind, it's best not to pitch again.
Harden made 26 starts for the Cubs, going 9-9 for the season. The right-handed pitcher will become a free agent in November. Speculation is that Harden will most likely test free agency and pitch elsewhere next season.
Harden, who was traded to the Cubs in 2008, has had numerous problems with his arm and shoulder during his career. He was relegated to being a two-pitch pitcher mostly over the last two seasons, using a fastball and changeup 90 percent of the time.
September, 17, 2009
9/17/09
8:34
PM CT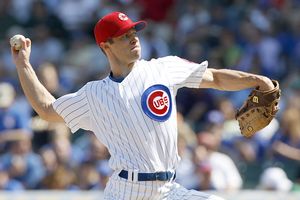 AP Photo/Jim Prisching
Lou Piniella said Rich Harden will miss a start, maybe two, but not the rest of the season.
Chicago Cubs
right-hander
Rich Harden
was surprised to hear a Tribune report stating that he's being shut down for the season.
"No, I guess that was just one person who decided to run with that," Harden said. "They're not shutting me down and I am still feeling good and looking forward to getting back out there."
The plan is for Harden to miss Monday's start in Milwaukee and then get together with manager Lou Piniella and pitching coach Larry Rothschild to decide if he'll pitch Sept. 26 in San Francisco.
"He'll miss one turn for sure, and possibly two," Piniella said. "I plan on pitching him in San Francisco or when we get back home."
Harden is a free agent after this season and will most likely be allowed by the Cubs to test the market.
September, 17, 2009
9/17/09
1:47
PM CT
Athough some media outlets have reported right-handed pitcher Rich Harden is finished for the season, the Chicago Cubs and manager Lou Piniella are on record that Harden only will miss Monday's start in Milwaukee, and possibly Saturday's outing in San Francisco.
If Harden misses the Sept. 26 start, that would leave only eight games in the season.
"We're going to skip him a turn for sure," Piniella said. "Then we'll all see where we're at with him."
Let-hander Tom Gorzelanny will pitch in Harden's spot on Monday.
Piniella said there's nothing wrong with Harden. They're just trying to freshen up his arm a bit.
August, 31, 2009
8/31/09
12:04
PM CT
The waiver period for trades before the Sept. 1 roster deadline will come and go without the Cubs having made a deal, according to Major League Baseball sources.
Both Rich Harden and Aaron Heilman, claimed on waivers, by the Twins and Giants, respectively, will continue to toil for the Cubs.
The teams were not able to work out a deal over the 72-period after a team puts in a claim on a player.
If playoff-bound teams add a player after the waiver period of Aug. 31 has passed, they are not eligible for postseason play. Harden and Heilman were just two of hundreds of players claimed and not traded during August, when the highest waiver activity takes place.
August is the month between the trading deadline and the playoff roster deadline. Therefore, you see the most activity of claims.
June, 8, 2009
6/08/09
1:28
PM CT
Right-handed pitcher Rich Harden should be over the flu-like symptoms that have had him on the shelf the past two days. He's scheduled to throw a rehab start today for Triple-A Iowa.
Harden, who has been on the disabled list since May 18 with a strained back, will attempt to throw 5-6 innings.
According to sources, Harden had an IV put in Saturday before he left for his rehab outing. The IV was put in to replenish fluids lost through dehydration during his bout with the flu.
Also on the injury front, after pinch-hitting over the weekend, Milton Bradley is penciled in to stat Tuesday night against the Houston Astros. Bradley has missed a week with a strained right calf.
May, 22, 2009
5/22/09
6:41
PM CT
The night Carlos Zambrano returns to the rotation, the Cubs will make room for him by sending Rich Harden to the disabled list.
"It's a mid-back strain," Cubs general manager Jim Hendry told ESPNChicago. "It's in the back side near his oblique. He did it in the pen the other night in his side session. Trainer Mark O'Neal told me it wasn't really bad, but we don't want to take any chances with Rich. We want to get it right for him."
The side session in question came Wednesday in St. Louis. The Cubs placed him on the 15-day DL, retroactive to Sunday, when he last started.