Chicago Cubs:

Rick Sutcliffe
November, 12, 2013
11/12/13
4:23
PM CT
ORLANDO, Fla. -- The candidates for the
Chicago Cubs
radio analyst job are starting to line up after the sudden departure of Keith Moreland from the booth after only three seasons.
WGN Sports Director Dave Eanet says it will be a collaborative effort between the station, the Cubs and play-by-play man Pat Hughes. A preliminary list includes former Cubs Rick Sutcliffe,
Kerry Wood
,
Doug Glanville
,
Ryan Theriot
,
Mark DeRosa
,
Eric Karros
, Dave Otto and
Todd Hollandsworth
. Former Cubs announcer Andy Masur is also on the preliminary list. Eanet says other names are being considered as well.
DeRosa, who played last season for the
Toronto Blue Jays
and was under contract with them for the 2014 season, told the team he is retiring, Jays general manager Alex Anthopoulos said Tuesday.
It's unknown if former Cubs first baseman
Mark Grace
is on the list. Grace was fired from the
Arizona Diamondbacks
broadcast booth in 2012 after being arrested for a second DUI. He served time in jail and the Diamondbacks hired him back to coach at the minor league level. Grace declined comment about the Cubs radio job.
Candidates have not been contacted yet. Eanet says they hope to have someone in place by the Cubs Convention in January, but there is no set timetable.
October, 17, 2012
10/17/12
6:07
PM CT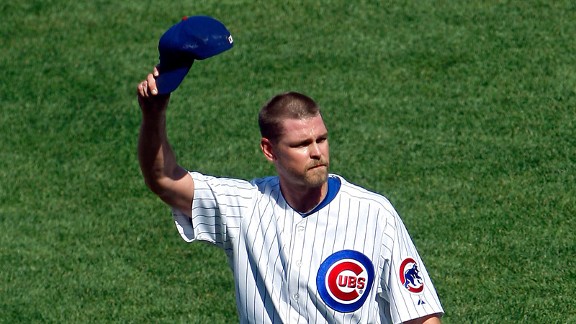 Jerry Lai/US PresswireWould Kerry Wood jump into the broadcast booth in his first full season out of baseball?
The
departure of Bob Brenly
from the
Chicago Cubs
television broadcast booth leaves a gaping hole.
Let's take a look at some possible replacements for Brenly in the Cubs booth:
1. Keith Moreland:
He has done a fine job working on the radio broadcasts since Santo's passing. He has established roots with Cub fans and has shown a penchant for telling it like it is when a Chicago player doesn't get the job done.
2. Todd Hollandsworth:
Another former Cub who has improved every season as a postgame commentator on Comcast SportsNet Cubs broadcasts. Hollandsworth filled in for Brenly on numerous occasions when Brenly had days off.
3. Steve Stone:
The White Sox color man has lots of street cred with Cubs fans having spent 22 years in the team's booth. This likely won't happen due to the fact that Stone has two years and an option year left on his deal with the
Chicago White Sox
. Stone has told Sox officials that he is happy working for them and would like to be stay for many years to come.
4. Kerry Wood:
This would seem like a no-brainer for both Wood and WGN. The problem here is that Wood told ESPNChicago on Oct. 11 that he did not want to broadcast in the near future. He said his desire was to be with his three children and wife Sara. The choice of the former pitcher would be a huge winner with the Cubs fan base.
5. Rick Sutcliffe:
The former Cubs Cy Young winner has done solid work for ESPN the past five years. Sutcliffe spent the entire spring training of 2011 with the Cubs as a coach-advisor and would be yet another opinionated popular choice for Cub Nation.
6. Dave Campbell:
The former big league player was a color commentator on ESPN Sunday night radio broadcasts for 15 years. The affable Campbell was also used on Cub broadcasts the past two years when Brenly had time off.
May, 21, 2012
5/21/12
11:19
AM CT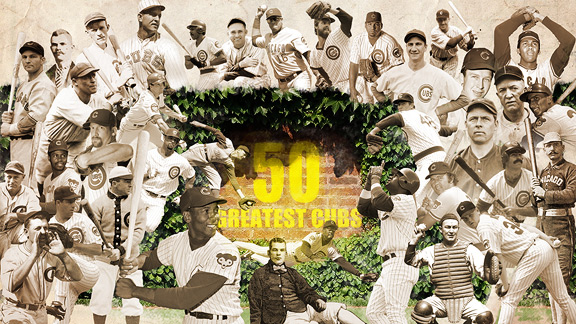 ESPN.com IllustrationIt's amazing how many Hall of Famers played for a team that has so few championships.
A panel of ESPNChicago.com experts ranked the Top 50 Cubs of all time.
Here is a gallery of our Top 50.
Who did we miss?
Did
Kerry Wood
belong? Randy Hundley?
Should
Shawon Dunston
have been left off?
For a team with so few championships, there is no shortage of Hall of Famers who have donned the Cubs jersey.
August, 13, 2011
8/13/11
5:12
PM CT
Two former All-Star pitchers shared strong opinions of
Chicago Cubs
starter
Carlos Zambrano
on ESPN 1000's "Talkin' Baseball" on Saturday.
ESPN baseball analyst and former Cub Rick Sutcliffe believes it's time for the Cubs and Zambrano to part ways.
"This is a proud man, probably too much," Sutcliffe said. "You know that he was embarrassed with what happened. You know that it was the pride that got in the way, that created that situation, but ... enough's enough. The Cubs at this point need to sit down with him and figure out a way to end this relationship because it's not working there."
Sutcliffe added that Zambrano doesn't need to hang it up for good.
"There's no doubt in my mind that he could still be a productive big league pitcher," Sutcliffe said. "He needs to get away from baseball, probably for the rest of this year," Sutcliffe said. "And then possibly come back somewhere else."
Former Braves pitcher
John Smoltz
said while Zambrano's frustration is understandable, his continued inability to control it is not.
"I don't think anyone could have predicted what he was capable of doing (to) that degree, but every pitcher who goes through something like this has a moment," Smoltz said. "You can always forgive a moment. You can understand a moment. But there's been too many moments for Carlos Zambrano. And I think now something will have to be done if you're the Cubs because you can't afford another moment."
Smoltz noted that Zambrano isn't the only major league player guilty of exhibiting inappropriate behavior.
"If ownership and teams did a better job preparing a professional to be a professional. ... Quit assuming that guys know how to be a professional, and teach them their responsibilities and demand their responsibilities," Smoltz said. "When it's going good, everyone can be a professional and a teammate. When it's not going good, that's when it's hard to do those things. This is not the only team. The Cubs are not the only ones dealing with this."
January, 6, 2011
1/06/11
6:02
PM CT
The search for a new radio commentator for Cubs baseball will not include two former North Side pitchers. Rick Sutcliffe and Dan Plesac will not be involved in the search for a replacement for the late Ron Santo.

Sutcliffe, who expressed interest in the job, is about to re-sign with ESPN to do 40 games as color commentator, according to a major league source. That TV schedule would preclude the former Cubs ace from doing a 162-schedule with play-by-play man Pat Hughes. Sutcliffe has been working for ESPN over the past few years. He pitched for the Cubs from 1984-91.

Plesac, a Northwest Indiana native, has become a star commentator on MLB television. The former Cubs reliever is going into his third year and his contract is through Aug., 2011. The always insightful Plesac would have been a popular choice with his background as a pregame and postgame analyst for Cubs baseball on Comcast SportsNet. He pitched for the Cubs in 1993-94 as part of his 20-year career.

The other names on the list that will draw strong consideration are Keith Moreland, Dave Otto and Gary Matthews. All three played for the Cubs and all three have strong following among the fan base. Moreland pinch-hit on television over the last few years when Bob Brenly was on vacation. Otto had been a regular replacement for Santo when he was scheduled for days off or sick days. Matthews has been a part of Phillies' broadcasts since leaving the Cubs as a coach in 2006.

The Cubs and WGN Radio will make a decision on Santo's replacement. Broadcaster Judd Sirott has been a part of the radio team the last two years. He should also get strong consideration for a role in the broadcast booth during 2011. Sirott is also the Blackhawks pregame and postgame host on WGN Radio.



December, 21, 2010
12/21/10
6:18
PM CT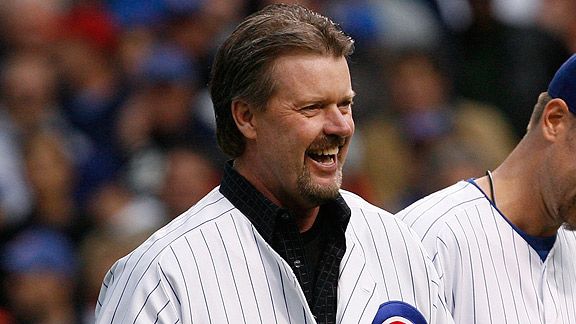 AP Photo/Nam HuhThe colorful Rick Sutcliffe would be a popular choice among Cubs fans.
Chicago Cubs
baseball on the radio may never be the same after the passing of Ron Santo. Veteran broadcaster Pat Hughes signed a five-year contract to continue his top quality play-by-play for the next five seasons. That begs the question who, if anyone, should replace Santo in the booth as color analyst.
Numerous candidates are out there looking for an opportunity in one of the higher profile radio jobs in baseball. Normally the television broadcast is the dominant element of a team's entity. Though in the case of the Cubs, they seem to be equal.
Plenty of candidates are contacting the Cubs about the open spot. Names in the mix are Dave Otto, Rick Sutcliffe, Keith Moreland, Randy Hundley and Rick Monday. Otto has done a nice job filling in for Santo over that last five years when the former Cubs icon was sick. However, Otto's style might not bring a high enough level of energy to the radio booth. Sutcliffe would be a popular choice, with his over-the-top personality and honest assessment of what's happening on the field and in the clubhouse. Sutcliffe is currently under contract as a television broadcaster for ESPN.
Monday has been a broadcaster in both San Diego and Los Angeles over the last 25 years. He is a former Cubs center fielder and may be best known for saving the American flag during a game in Los Angeles when he was a member of the Cubs. Monday stopped two protestors who were attempting to burn "Old Glory" in center field.
Moreland also has been a part-time contributor in the past when Bob Brenly had days off, and has been received well in his brief stints with Len Kasper.
Then, of course, there's Hundley, who has 45 year of Cubs history behind him and the southern charm to be accepted by Cubs fans. Hundley was part of the search that brought Santo and Brenly to the Cubs booth in 1990. The former Cubs catcher was said to have auditioned with the other two before he suddenly pulled himself out of consideration. At that time, WGN chose both Santo and Brenly to go along with new play-by-play man Thom Brennaman.
The Cubs may choose to go in another direction and hire Judd Sirott to do the middle three innings of play-by-play, while both he and Hughes contribute to the other broadcast. Sirott has broadcasted the fifth inning on radio over the last few seasons and has improved to the point that he should be in consideration for a major league broadcasting job.
If the Cubs and WGN go this direction, it would also give fans a chance to get used to the fact that the always unpredictable and loveable Santo is indeed gone. The Brewers' Bob Uecker and Cory Provus work as a tandem during their broadcast, providing some insight without employing a traditional color commentator.