Chicago Cubs:

Rick Sutcliffe
July, 27, 2014
7/27/14
7:11
PM CT

By Doug Padilla
ESPNChicago.com
Archive
COOPERSTOWN, N.Y. -- Just like he carved up opponents from 60 feet, 6 inches away, Greg Maddux moved through his Hall of Fame speech Sunday with deft precision.
There was family to thank, teammates and coaches he appreciated and a few people who were key to his development at a young age. He showed love and respect to his wife Kathy for holding down the fort at home. He explained why his Hall of Fame plaque won't have a logo on the cap since he was unable to choose between the
Chicago Cubs
and
Atlanta Braves
.
[+] Enlarge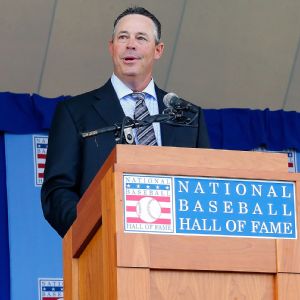 Jim McIsaac/Getty ImagesGreg Maddux's Hall of Fame speech was short and sweet, done with precision, which was similiar to his approach to pitching during his career.
He even sprinkled his own deadpan humor into the proceedings, talking about flatulence, how he was mistaken for the batboy before his first major league game, and how he spent much of his time with the Braves watching John Smoltz's hairline recede.
Appropriately at the head of the rotation among Hall of Fame inductees, it took less than five minutes for Maddux to mix in a little potty humor during what he called the first speech of his life.
"My brother, Mike, led by example," he said about his sibling who is also the pitching coach of the
Texas Rangers
. "Everything I was about to do on and off the field, he had already done. I was very fortunate to have a brother that I could learn from. He even taught me a little bit about science. It has to do with a little methane and a lighter, and I still get a huge kick out of it today. That's funny, huh? OK."
In his more serious moments, Maddux expressed appreciation to the four franchises for which he pitched, focusing most on the Cubs and Braves, obviously. He ended his career with the
San Diego Padres
and
Los Angeles Dodgers
.
"With the Cubs, I had the opportunity to play with Andre Dawson, Rick Sutcliffe, Ryne Sandberg and two fine catchers, Damon Berryhill and Joe Girardi," he said. "The city of Chicago and the Cub fans were awesome, maybe the best in baseball."
The comment managed to bring out some groans from a large contingent of Atlanta fans in the crowd estimated to be 48,000 strong. He made up for it seconds later when talking about his free-agent move from Chicago to Atlanta.
"I picked Atlanta because I finally wanted to get a World Series ring and start a family," he said. "All right, sorry, Chicago, but yeah."
Maddux eventually did get that ring in 1995, with his career bringing him back to Chicago in 2004.
"I love Chicago so much," Maddux said. "The first time I played there, that I was very grateful that Gary Hughes and Jim Hendry brought me back over to Chicago. That would give me a second chance to win there, and maybe retire where it all started, but I wouldn't be a Cub if I couldn't handle a little heartache and we missed the postseason by one game my first year back.
"I was thankful I got a chance to play for Dusty Baker and work with Larry Rothschild. I enjoyed throwing most of my games to Henry Blanco and Michael Barrett, and again, it was even funnier when they would get hit in the face [with foul tips]."
For a first speech, Maddux handled the moment with aplomb. He didn't have to explain why he will go in to the Hall of Fame without picking the Braves over the Cubs or the Cubs over the Braves. He did anyway.
"People ask me why I have no Hall of Fame plaque, no logo, or why my Hall of Fame plaque has no logo," he said. "I spent 12 years in Chicago, 11 in Atlanta and both places are very special to me. Without experiences in both cities, I would not be standing here today."
July, 22, 2014
7/22/14
10:48
AM CT
CHICAGO -- Former
Chicago Cubs
pitcher and current ESPN baseball analyst Rick Sutcliffe is a big believer in new Cubs starter
Kyle Hendricks
.
"There are so many things about Kyle that flash me back to when I first met Greg (Maddux) and when I first met Mike (Mussina)," Sutcliffe said via phone. "These guys don't lose."
[+] Enlarge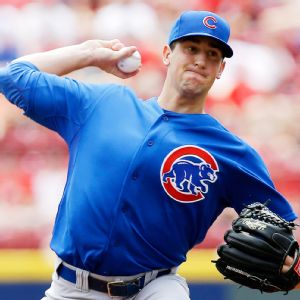 AP Photo/Al BehrmanKyle Hendricks will make his second major league start on Tuesday against the Padres.
Sutcliffe was quick to point out the similarities have more to do with their makeup than their stuff, but it's still some lofty company. One player is going into the Hall of Fame later this week and the other can state a compelling case.
"It starts with ability, of course," Sutcliffe said. "They are better prepared and they're smarter. Kyle is one of those guys."
Hendricks, 24, takes the mound Tuesday night against the
San Diego Padres
in his second career start, and first at Wrigley Field.
The Cubs named him a starter last week, giving him an opportunity to show what he can do for the rest of the season. It's exactly what could have been predicted before the season: Hendricks would finalize his training at Triple-A Iowa while the Cubs moved their pitching assets to make room for him in the second half. The trade of
Jeff Samardzija
and
Jason Hammel
to the
Oakland Athletics
on July 4 created a spot for the Dartmouth grad.
Hendricks was acquired from the
Texas Rangers
in 2012 as part of the
Ryan Dempster
trade and quickly impressed the Cubs. He was 13-4 with a 2.00 ERA in the minors last season and 10-5 with a 3.59 ERA this year at Triple-A Iowa. He last pitched in the Triple-A All-Star game on Wednesday, throwing two shutout innings. If all goes well, that might be his last appearance in the minors.
Sutcliffe believes the Cubs have a keeper.
"If I'm blessed with any strength, I would say it's being a decent judge of character," he said. "He has the same kind of makeup as those guys (Maddux and Mussina)."
Sutcliffe has a unique perspective on the Cubs. While analyzing them from the outside once the regular season starts, he has also been a spring training instructor the past few years at the behest of team president Theo Epstein. Sutcliffe worked closely with Hendricks for five weeks and came away with the same feelings he had about Maddux.
"Back in the day when I read (manager) Don Zimmer's comments in the paper that we could 'pencil in Maddux in the rotation,' I walked into his office and said, 'Forget the pencil, get out the (pen), he's going to help us.' I feel the same about Hendricks."
Hendricks' six-inning, four-run debut against the
Cincinnati Reds
earlier this month didn't dissuade Sutcliffe from his opinion but rather solidified it. Hendricks adjusted to a tight strike zone and settled in after a rough first inning in which he gave up three runs and struggled with his control. It could be a microcosm of his career. Hendricks isn't going to blow hitters away; he'll need to learn lineups and navigate through them in the same way Maddux used to.
There's no better way to do that than right now for the Cubs. They're going nowhere in the standings, but players such as Hendricks and infielder/outfielder
Arismendy Alcantara
can get through their peaks and valleys while giving more meaning to an otherwise meaningless season in the win-loss column.
Sutcliffe isn't quite sure how Hendricks' stuff will play. He says Maddux threw 94 mph when he first came up and Mussina got up to 98 mph. Hendricks hits 92-93 mph on the radar gun, a good reason he's not listed among top prospects. Yet he has kept moving up and is now in the majors.
"The guy is a winner," Sutcliffe said. "Remember the pool tournament they had in spring training? He won that. He's good at those video games like Maddux was with Game Boy 100 years ago. Some guys are just winners. Hendricks is one of them."
Sutcliffe believes Hendricks' use of his changeup will be a key. Even though he's not coming down from 98 mph to throw it at 78, Hendricks has plenty of movement, and he will have to master how and when to throw it.
"I saw two kinds of changeups," Sutcliffe said, "the swing and miss when he needs a strikeout, and I saw the one that needs to be put in play. I call it a surrender pitch. I'm not surrendering a hit, but I want this at-bat over with right now."
The most impressive aspect of Hendricks, according to Sutcliffe, is how he might handle high-leverage situations. He sees a guy who will get the out when he needs it the most, even if it isn't always pretty.
"If you watch the catcher's glove," Sutcliffe said, "the tougher the situation, the less the catcher's glove moves. He's got that. He's going to be a good pitcher in this league."
March, 30, 2014
3/30/14
10:00
AM CT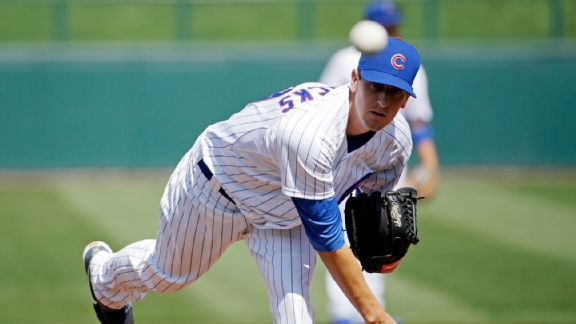 AP Photo/Morry GashCubs spring instructor Rick Sutcliffe described Kyle Hendricks as having the "it" factor.
The surprise of the 2014
Chicago Cubs
isn't even on the roster yet. And, no, it's not top prospect Javier Baez. Baez is no surprise anyway, but a player who doesn't make any of the top prospects lists does qualify.
Right-handed pitcher Kyle Hendricks flies under the radar around the baseball world but not with the Cubs. Recently, Cubs spring instructor Rick Sutcliffe described him as having the "it" factor for a pitcher. While that wasn't very specific, it said a lot. The guy knows how to pitch.
He should know a lot. He went back to school this offseason and graduated from Dartmouth where he threw from 2009-2011. He went 15-12 with a career 4.87 ERA before being drafted in the eighth round by the
Texas Rangers
. There was really nothing special about Hendricks at the time. He didn't throw particularly hard and didn't exactly have a true out pitch. But he had success anyway. The Cubs traded for him when they sent
Ryan Dempster
to the Rangers in July of 2012.
He blossomed with the Cubs last year at Double and Triple-A. His 13-4, 2.00 ERA combined at Tennessee and Iowa was impressive. He gave up just 142 hits in 166 innings pitched. He walked just 34 batters all season. But that was in the minors. Can the change-of-pace hurler do it in the majors? Even after his fantastic 2013 season, he still didn't make the top 10 of Cubs prospects heading into this year. It only put a chip on his shoulder.
He's not a perfect pitcher, but here's the thing to like about him: he learns and gets better. He's done that everywhere he's been. Even in spring training he started a little slow. He was uncharacteristically wild in his first start with nerves getting them best of him. But he learned and adjusted. By the time his spring ended with the major league team, he was gutting the mighty
Los Angeles Dodgers
regular lineup with a beauty of a three-inning stint. Three innings in the spring don't make a career but they are a sign.
It's unclear when Hendricks will make his Cubs debut, but pitching is such a wild card that a need could arise for him to be called up at any time. Even if it's for one start.
Expect Hendricks in Chicago before season's end. When he gets here, he might never leave if the Cubs allow him more than a chance token start. Then, he might finally make one of those prospects lists. But it will be too late to be called a prospect. He'll be a major league pitcher and the surprise of 2014.
March, 21, 2014
3/21/14
1:59
PM CT
MESA, Ariz. -- Soon, former
Chicago Cubs
pitcher Rick Sutcliffe will turn in his Cubs uniform for a suit to wear on ESPN as the major league regular season commences. Sutcliffe has been a spring instructor for the team he won a Cy Young award with in 1984 and his passion for the Cubs runs deep.
He's been on the backfields with minor league players and in the locker room with the major leaguers, and his eyes have been on everyone from the injured
Jake Arrieta
to the powerful Javier Baez. This has been no spring break for the "Red Baron."
"I'm not here to walk down memory lane or just sign autographs or take pictures," Sutcliffe said Thursday, one of his final days as a coach. "I've been a big believer in [Cubs president] Theo Epstein for a long time. And when he called me he said, 'I would like for you to be a part of it, whatever you can do.' I'm just an extra set of eyes here."
[+] Enlarge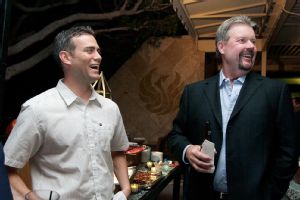 Rick Scuteri/AP Photo/WGN AmericaRick Sutcliffe, right, believes it's inevitable that Theo Epstein, left, will turn around the Cubs.
Sutcliffe is a believer because he saw what Epstein did in Boston and believes he'll do it in Chicago as well.
"When he's able to pull this off -- and notice I didn't say 'if' -- when he's able to pull this off and when you look at the history of baseball, all the big names like Ted Williams and Carl Yastrzemski couldn't do it, all the Hall of Famers that have worn this [Cubs] uniform and couldn't get it done. When you think of the one thing that the Red Sox and Cubs have in common, it's Theo Epstein. It was the challenge to begin with that excited him about that. Now, when he saw what he inherited here, he may have thought, 'Oh my goodness, what happened here,' but he's never varied from his plan.
"It was an absolute mess when Theo took it over. When you look at the history of draft choices, particularly the No. 1 picks, it's embarrassing that there has not been more production there. That's the reason for the last two years. I don't think Theo would admit it, but I think it was even worse than he would have thought. When you look at the Red Sox every year since Theo took over, there are one to three players that come through that system that helped them win."
And Sutcliffe claims that two years ago, the Cubs had no chance of building a winner with what was in the system, especially in his area of expertise, pitching.
"[Kerry] Wood and I have talked about it; our role is to help get these young pitchers to catch up with the everyday prospects," Sutcliffe said. "Then all of a sudden it becomes special and then it becomes what the Red Sox are when every year when you need help, all you have to do is call downstairs.
"Two years ago, Theo sent me down to minor league camp to take a look at all the arms, and when I came back I said, You're going to be pissed off at me. He said, 'Tell me the truth, that's why you're here.' I said I saw three guys that I think have a chance out of 65 guys. That's sad. When I go down there now, I see eight out of 10 that have a chance. You see the late movement or the velocity or the deception in the delivery. All it takes is to have one of those things to have a big league fastball. Watching C.J. Edwards, he has a chance to have all three of them."
Sutcliffe was on hand Wednesday as Edwards, the top pitcher in all of minor league baseball last season, started in a minor league game. Mike Bryant, a former player and the father of Kris Bryant, the Cubs' top pick last season, said Edwards' slight frame reminded him of his former roommate in the minors, Dennis "Oil Can" Boyd.
"This guy has a chance to be much better," Sutcliffe said. "He doesn't have half the man muscles that he's going to have at some point. But he won't be rushed. He can have some of the easiest innings you'll ever see because of the cut fastball. This guy can be special."
Sutcliffe started to invoke
Mariano Rivera
's cutter but stopped short because Edwards isn't that good, but he's got something special about him.
And speaking of special, no one is higher on right-handed pitching prospect Kyle Hendricks than Sutcliffe.
"The guy that gets me is Kyle Hendricks," Sutcliffe said. "Whatever 'it' is when you talk about pitchers, he has it. That's what I see. The tougher the situation, the better the location."
[+] Enlarge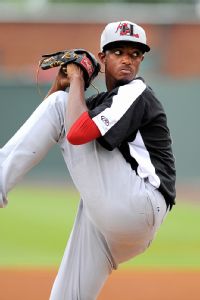 Tom Priddy/Four Seam Images/AP ImagesSutcliffe likes the potential of C.J. Edwards, the minor league pitcher of the year in 2013.
Then there's Jake Arrieta, somewhat of a project for pitching coach Chris Bosio since coming over from the
Baltimore Orioles
. He's been slowed by a stiff shoulder this spring, but Bosio and Sutcliffe hope they can unleash the pitcher with the "best stuff" on the staff.
"We form a trust in each other," Sutcliffe said of getting to know Arrieta. "There are a couple things we've addressed to stay healthy. He has to learn how to have easier innings. He has a chance to be a top-of-the-rotation guy, and when you see what Chris Bosio has done [with other pitchers], it could happen."
The player who brings the biggest smile to Sutcliffe is Baez. Even as an expert in pitching, Sutcliffe sees the great potential in the Cubs' top pick of 2011.
"The guy that keeps coming to mind for me is [Gary] Sheffield," Sutcliffe said. "The bat speed just overpowers the arm speed. I haven't seen him take one swing at a fastball and miss yet. I don't care if it's 100 mph or 88 mph with movement. His hand-eye coordination, it's just one of those special things. This guy is going to be a star. Yeah, if you're trying to win Opening Day, he's in your lineup and hits third. But six years from now, you have a chance at losing him. ... If he's down till June, he's not a Super 2. He'll be that good. They know that.
"[Former player]
Larry Walker
was over at Talking Stick against the Rockies when Baez hit that ball [on Wednesday night]. He looked at me like, Really? I said, I see it every day."
Sutcliffe has empathy for both sides of the
Jeff Samardzija
situation. He was a player in a similar position, but he never saw the kind of money the pitchers make today. How much is enough? Samardzija will be a free agent after the 2015 season, and every day he's not signed to a long-term deal makes him a day closer to free agency. And likely to be traded.
"Back in 1984, before the trade to the Cubs, [GM] Dallas Green said we have to sign you to an extension," Sutcliffe said. "When you get that close to free agency, you're crazy if you don't take a look at what's out there. The salaries have never gone down.
"In 1979 I won Rookie of the Year and Don Sutton told me, almost bitterly, 'You are so lucky, you're coming along right when the big money is going to hit.' In 1984, I thought he was right. He wasn't close to being right. They make more now in a year than I made in my whole career."
Not that Sutcliffe believes all pitchers deserve the big money.
"This quality stat thing [six innings, three runs or less], I asked Nolan Ryan about that," Sutcliffe said. "He said, 'Rick, in my day we would have called that a poor performance.' Now they get multiyear deals for a 4.05 ERA. Back in the day, we'd get released."
Sutcliffe is happy with helping out and giving his opinion to the Cubs front office, then giving it to baseball fans on ESPN once the regular season starts. He does miss the uniform and has turned down offers to manage or be a pitching coach in order to spend time with his family.
"There's nothing like having an impact on a win," Sutcliffe said. "There is no better feeling in the world."
November, 12, 2013
11/12/13
4:23
PM CT
ORLANDO, Fla. -- The candidates for the
Chicago Cubs
radio analyst job are starting to line up after the sudden departure of Keith Moreland from the booth after only three seasons.
WGN Sports Director Dave Eanet says it will be a collaborative effort between the station, the Cubs and play-by-play man Pat Hughes. A preliminary list includes former Cubs Rick Sutcliffe,
Kerry Wood
,
Doug Glanville
,
Ryan Theriot
,
Mark DeRosa
,
Eric Karros
, Dave Otto and
Todd Hollandsworth
. Former Cubs announcer Andy Masur is also on the preliminary list. Eanet says other names are being considered as well.
DeRosa, who played last season for the
Toronto Blue Jays
and was under contract with them for the 2014 season, told the team he is retiring, Jays general manager Alex Anthopoulos said Tuesday.
It's unknown if former Cubs first baseman
Mark Grace
is on the list. Grace was fired from the
Arizona Diamondbacks
broadcast booth in 2012 after being arrested for a second DUI. He served time in jail and the Diamondbacks hired him back to coach at the minor league level. Grace declined comment about the Cubs radio job.
Candidates have not been contacted yet. Eanet says they hope to have someone in place by the Cubs Convention in January, but there is no set timetable.
October, 17, 2012
10/17/12
6:07
PM CT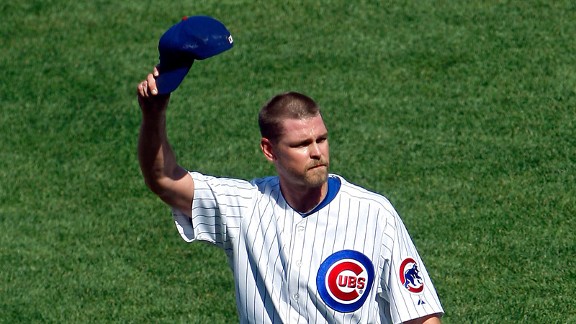 Jerry Lai/US PresswireWould Kerry Wood jump into the broadcast booth in his first full season out of baseball?
The
departure of Bob Brenly
from the
Chicago Cubs
television broadcast booth leaves a gaping hole.
Let's take a look at some possible replacements for Brenly in the Cubs booth:
1. Keith Moreland:
He has done a fine job working on the radio broadcasts since Santo's passing. He has established roots with Cub fans and has shown a penchant for telling it like it is when a Chicago player doesn't get the job done.
2. Todd Hollandsworth:
Another former Cub who has improved every season as a postgame commentator on Comcast SportsNet Cubs broadcasts. Hollandsworth filled in for Brenly on numerous occasions when Brenly had days off.
3. Steve Stone:
The White Sox color man has lots of street cred with Cubs fans having spent 22 years in the team's booth. This likely won't happen due to the fact that Stone has two years and an option year left on his deal with the
Chicago White Sox
. Stone has told Sox officials that he is happy working for them and would like to be stay for many years to come.
4. Kerry Wood:
This would seem like a no-brainer for both Wood and WGN. The problem here is that Wood told ESPNChicago on Oct. 11 that he did not want to broadcast in the near future. He said his desire was to be with his three children and wife Sara. The choice of the former pitcher would be a huge winner with the Cubs fan base.
5. Rick Sutcliffe:
The former Cubs Cy Young winner has done solid work for ESPN the past five years. Sutcliffe spent the entire spring training of 2011 with the Cubs as a coach-advisor and would be yet another opinionated popular choice for Cub Nation.
6. Dave Campbell:
The former big league player was a color commentator on ESPN Sunday night radio broadcasts for 15 years. The affable Campbell was also used on Cub broadcasts the past two years when Brenly had time off.
May, 21, 2012
5/21/12
11:19
AM CT
By ESPNChicago.com
ESPNChicago.com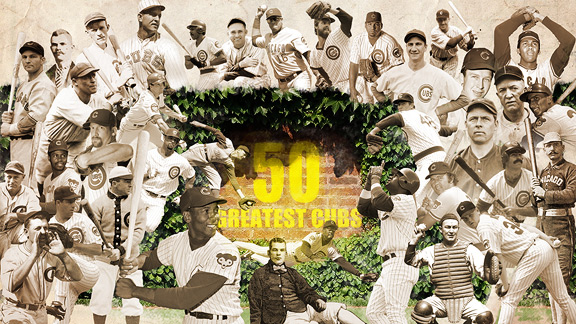 ESPN.com IllustrationIt's amazing how many Hall of Famers played for a team that has so few championships.
A panel of ESPNChicago.com experts ranked the Top 50 Cubs of all time.
Here is a gallery of our Top 50.
Who did we miss?
Did
Kerry Wood
belong? Randy Hundley?
Should
Shawon Dunston
have been left off?
For a team with so few championships, there is no shortage of Hall of Famers who have donned the Cubs jersey.
August, 13, 2011
8/13/11
5:12
PM CT
By ESPNChicago.com
ESPNChicago.com

Two former All-Star pitchers shared strong opinions of
Chicago Cubs
starter
Carlos Zambrano
on ESPN 1000's "Talkin' Baseball" on Saturday.
ESPN baseball analyst and former Cub Rick Sutcliffe believes it's time for the Cubs and Zambrano to part ways.
"This is a proud man, probably too much," Sutcliffe said. "You know that he was embarrassed with what happened. You know that it was the pride that got in the way, that created that situation, but ... enough's enough. The Cubs at this point need to sit down with him and figure out a way to end this relationship because it's not working there."
Sutcliffe added that Zambrano doesn't need to hang it up for good.
"There's no doubt in my mind that he could still be a productive big league pitcher," Sutcliffe said. "He needs to get away from baseball, probably for the rest of this year," Sutcliffe said. "And then possibly come back somewhere else."
Former Braves pitcher
John Smoltz
said while Zambrano's frustration is understandable, his continued inability to control it is not.
"I don't think anyone could have predicted what he was capable of doing (to) that degree, but every pitcher who goes through something like this has a moment," Smoltz said. "You can always forgive a moment. You can understand a moment. But there's been too many moments for Carlos Zambrano. And I think now something will have to be done if you're the Cubs because you can't afford another moment."
Smoltz noted that Zambrano isn't the only major league player guilty of exhibiting inappropriate behavior.
"If ownership and teams did a better job preparing a professional to be a professional. ... Quit assuming that guys know how to be a professional, and teach them their responsibilities and demand their responsibilities," Smoltz said. "When it's going good, everyone can be a professional and a teammate. When it's not going good, that's when it's hard to do those things. This is not the only team. The Cubs are not the only ones dealing with this."
January, 6, 2011
1/06/11
6:02
PM CT
The search for a new radio commentator for Cubs baseball will not include two former North Side pitchers. Rick Sutcliffe and Dan Plesac will not be involved in the search for a replacement for the late Ron Santo.

Sutcliffe, who expressed interest in the job, is about to re-sign with ESPN to do 40 games as color commentator, according to a major league source. That TV schedule would preclude the former Cubs ace from doing a 162-schedule with play-by-play man Pat Hughes. Sutcliffe has been working for ESPN over the past few years. He pitched for the Cubs from 1984-91.

Plesac, a Northwest Indiana native, has become a star commentator on MLB television. The former Cubs reliever is going into his third year and his contract is through Aug., 2011. The always insightful Plesac would have been a popular choice with his background as a pregame and postgame analyst for Cubs baseball on Comcast SportsNet. He pitched for the Cubs in 1993-94 as part of his 20-year career.

The other names on the list that will draw strong consideration are Keith Moreland, Dave Otto and Gary Matthews. All three played for the Cubs and all three have strong following among the fan base. Moreland pinch-hit on television over the last few years when Bob Brenly was on vacation. Otto had been a regular replacement for Santo when he was scheduled for days off or sick days. Matthews has been a part of Phillies' broadcasts since leaving the Cubs as a coach in 2006.

The Cubs and WGN Radio will make a decision on Santo's replacement. Broadcaster Judd Sirott has been a part of the radio team the last two years. He should also get strong consideration for a role in the broadcast booth during 2011. Sirott is also the Blackhawks pregame and postgame host on WGN Radio.



December, 21, 2010
12/21/10
6:18
PM CT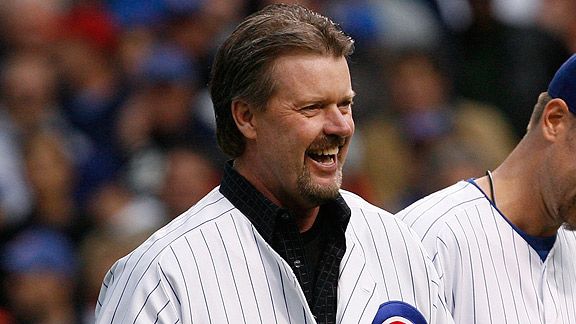 AP Photo/Nam HuhThe colorful Rick Sutcliffe would be a popular choice among Cubs fans.
Chicago Cubs
baseball on the radio may never be the same after the passing of Ron Santo. Veteran broadcaster Pat Hughes signed a five-year contract to continue his top quality play-by-play for the next five seasons. That begs the question who, if anyone, should replace Santo in the booth as color analyst.
Numerous candidates are out there looking for an opportunity in one of the higher profile radio jobs in baseball. Normally the television broadcast is the dominant element of a team's entity. Though in the case of the Cubs, they seem to be equal.
Plenty of candidates are contacting the Cubs about the open spot. Names in the mix are Dave Otto, Rick Sutcliffe, Keith Moreland, Randy Hundley and Rick Monday. Otto has done a nice job filling in for Santo over that last five years when the former Cubs icon was sick. However, Otto's style might not bring a high enough level of energy to the radio booth. Sutcliffe would be a popular choice, with his over-the-top personality and honest assessment of what's happening on the field and in the clubhouse. Sutcliffe is currently under contract as a television broadcaster for ESPN.
Monday has been a broadcaster in both San Diego and Los Angeles over the last 25 years. He is a former Cubs center fielder and may be best known for saving the American flag during a game in Los Angeles when he was a member of the Cubs. Monday stopped two protestors who were attempting to burn "Old Glory" in center field.
Moreland also has been a part-time contributor in the past when Bob Brenly had days off, and has been received well in his brief stints with Len Kasper.
Then, of course, there's Hundley, who has 45 year of Cubs history behind him and the southern charm to be accepted by Cubs fans. Hundley was part of the search that brought Santo and Brenly to the Cubs booth in 1990. The former Cubs catcher was said to have auditioned with the other two before he suddenly pulled himself out of consideration. At that time, WGN chose both Santo and Brenly to go along with new play-by-play man Thom Brennaman.
The Cubs may choose to go in another direction and hire Judd Sirott to do the middle three innings of play-by-play, while both he and Hughes contribute to the other broadcast. Sirott has broadcasted the fifth inning on radio over the last few seasons and has improved to the point that he should be in consideration for a major league broadcasting job.
If the Cubs and WGN go this direction, it would also give fans a chance to get used to the fact that the always unpredictable and loveable Santo is indeed gone. The Brewers' Bob Uecker and Cory Provus work as a tandem during their broadcast, providing some insight without employing a traditional color commentator.