Chicago Cubs:

Robin Ventura
May, 18, 2012
5/18/12
8:05
PM CT
CHICAGO --
Chicago White Sox
pitcher
Philip Humber
and
Chicago Cubs
first baseman
Bryan LaHair
disagreed Friday whether Humber intended to throw at LaHair in retaliation for White Sox first baseman
Paul Konerko
being hit by a pitch.
Konerko was hit in the head by a splitter from Cubs starter
Jeff Samardzija
in the top of the third inning. Konerko suffered a small laceration above his eye and swelling and was taken to the hospital for testing. He did not return to the game.
[+] Enlarge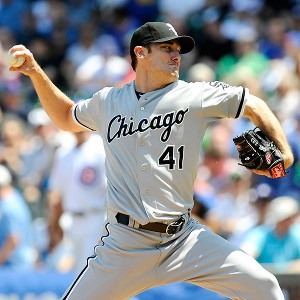 David Banks/Getty ImagesSox starter Phil Humber said he didn't throw intentionally at the Cubs' Bryan LaHair.
After pitching to Samardzija and three other Cubs hitters in the bottom of the third, Humber's first pitch to LaHair in the bottom of the fourth, a high fastball, soared behind LaHair's head. The pitch resulted in home plate umpire Tim Timmons issuing warnings to both dugouts.
"That just got away from me," Humber said. "It's one of those things that happens during the game."
LaHair didn't see the pitch the same way.
"Definitely felt like it was intentional," LaHair said. "They waited a whole inning and then the first pitch was right at my head. I'm all right with getting hit and stuff like that, I understand, but when you start getting around people's heads that can be scary. It is what it is. Nothing happened. I didn't get hurt or anything so move on from it.
April, 18, 2012
4/18/12
8:36
PM CT
CHICAGO -- Buck Showalter has seen the managing side of baseball change over the past 20 years to the point where big market clubs like the
Chicago White Sox
and
Chicago Cubs
have hired new dug-out bosses with little or no experience.
"It's still the same game between the lines," the Orioles manager said before his team took on the White Sox on Wednesday night. "As a manager it is still about us as managers adjusting to the players. It might not have been that way in the 1950s or 60s but that's the game from a coaching standpoint. With the Internet and instant reporting, a manager has to be aware of the reflection that your words carry to the media and the players."
March, 9, 2012
3/09/12
3:53
PM CT
Cubs manager Dale Sveum and White Sox skipper Robin Ventura met as first-year managers before their teams played Friday, but their relationship extended back decades.

They competed against each other in the late 1980s, and they were teammates for a short while on the White Sox in 1992.

"That's one of the most disappointing things, only playing with Robin for 40 games," Sveum said. "He is just one of those special guys, he has an incredible personality, but you would not know he is so sarcastic. He is just a guy you get around and understand how he does things, very quiet but very efficient. He is the right man for the job."

Many people consider the two cut out of the same cloth when it comes to their baseball approach.

"We have a little bit of the same personality and knowledge of the game," Sveum said. "We paid attention when we played and a lot of things like that. He has a little more hair than I have. When I was there (1992) he put a video up of my bald head (at a team party) so I will never forget that. I so owe him one."

The two managers spent time catching up before Friday's game, posing for pictures and helping kick off a charity campaign that will pay $500 to each team's charity arms when both clubs win on the same day this season.

Sveum also recollected how the White Sox were the main rivals of the Brewers when Sveum was their shortstop.

"They stopped our winning streak at 14 to start the 1987 season at old Comiskey Park," Sveum said.