Chicago Cubs:

Sandy Alomar Jr.
October, 12, 2013
10/12/13
4:54
PM CT
The
Chicago Cubs
lacked a prominent Latin American coaching presence in their dugout the past two seasons, and they will look to address the issue as they hire a new manager and coaches, according to sources familiar with the situation.
Several Latin American candidates have emerged in the Cubs' search to replace Dale Sveum. Former
Washington Nationals
and
Cleveland Indians
manager and current ESPN analyst Manny Acta interviewed with the Cubs this week.
San Diego Padres
bench coach Rick Renteria is also expected to interview, according to a source. Cleveland Indians bench coach
Sandy Alomar Jr
., who interviewed for the Cubs job before Sveum was hired in 2011, and former Cub
Dave Martinez
could be options, as well.
The Cubs' Franklin Font, a staff assistant, was the lone Latin American coach on the previous staff. In fact, the Cubs have only two Latin American rostered coaches in their minor league system.
The Cubs have several core Latin American players, including
Starlin Castro
,
Junior Lake
and
Welington Castillo
. Prominent minor leaguers Albert Almora, Jorge Soler and Javier Baez are on the way. There also is a belief in the Cubs' front office, sources said, that Castro, who had the worst season of his career, could have benefited from having a Latin American coach on staff this season.
The move to add more Latin American coaches to the system would be consistent with the team's commitment to developing talent in the region. The Cubs are constructing a training facility in the Dominican Republic.
"It's about doing everything we can to be the best organization in baseball, and you can't be the best organization in baseball unless you have a strong presence in the Dominican and a strong presence in Latin America," Cubs chairman Tom Ricketts told MLB.com when the Cubs unveiled the plans for the facility in January 2012.
Forgetting the other aspects of the job, Alomar might be the best candidate to fill this role, although he has not been contacted about the job, according to a source. He's not so far removed from playing that he can't relate to current players and he has the respect of many around the league.
October, 1, 2013
10/01/13
8:00
PM CT
CHICAGO -- As the storylines start to unfold regarding the
Chicago Cubs
' managerial position, there's at least one thing we know about free-agent-to-be manager, Joe Girardi: The
New York Yankees
want him back. And, according to Yankees general manager Brian Cashman, Girardi might feel the same.
"Yeah, I think he likes it here," Cashman said in a news conference Tuesday. "If you're good at what you do, you'll have opportunities to stay. He's definitely going to have that. We're going to give him a real good reason to stay. He's earned that."
[+] Enlarge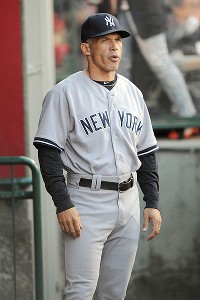 Kelvin Kuo/USA TODAY SportsJoe Girardi seems to be at the top of the Cubs' wish list for manager, but the Yankees are preparing to keep him in New York.
Cashman said he talked to Girardi on Monday over coffee and planned to meet with his agent, Chicagoan Steve Mandell, on Wednesday. Girardi is under contract with the Yankees until the end of this month, which means the Cubs would need permission from the Yankees to discuss their opening -- at least during October -- after firing Dale Sveum on Monday. Cashman was asked if the Cubs had called yet.
"Not able to say, but he is under contract and we have an interest in trying to keep him," he said. "Joe has been consistent since we've had him here."
But we've only heard from Cashman as Giardi hasn't spoken publicly since the season ended for the Yankees on Sunday. The Yankees understand their manager might be in high demand.
"I can't speak to other opportunities," Cashman said. "We can't control what other options may be out there. If you're good at what you do, people are going to have interest."
On Monday, Cubs president Theo Epstein said he would look "first and foremost" at people with managerial experience. If Girardi re-signs with the Yankees, Epstein's options turn to a manager under contract with a team -- which would take a trade to pry away -- or one who has been let go recently, like former Mariners skipper Eric Wedge. Or one who has been out of the managerial game for some time.
But Epstein didn't rule out a rookie manager again. In lieu of experience, the ideal candidate would have to show signs of being great leader, in whatever baseball capacity they've been involved. The Cubs undoubtedly gave some insight into this when they hired Sveum in the first place, before the 2012 season. They interviewed several other candidates.
Here's an update on where some of those names are now:
November, 16, 2011
11/16/11
7:42
PM CT
MILWAUKEE -- The Chicago Cubs are zeroing in on the hiring of their next manager, a major league source told ESPNChicago.com Wednesday.
Cubs executives Theo Epstein and Jed Hoyer met with Brewers hitting coach Dale Sveum on Tuesday night in Milwaukee. It's unclear if chairman Tom Ricketts attended the meeting – the team had said previously Ricketts would meet with the choice candidate before a hire was made.
The Boston Red Sox also met with Sveum on Wednesday afternoon
Sveum told Comcast SportsNet New England that he has not received an offer from either team.
"Nothing has been discussed beyond the interview process," he told CSN. "It's kind of a stalemate now. The process is finished; it's just the decision-making process now. We'll wait and see."
The Cubs made follow-up phone calls to all the candidates they interviewed on Wednesday – including Pete Mackanin, Sandy Alomar Jr., Mike Maddux and DeMarlo Hale.
In spite of perception, Sveum may not be the team's top candidate. Hoyer made a point of saying the reason the team met in person with Sveum was that he was in town to interview for the Boston job.
Former Red Sox manager Terry Fancona removed his name from consideration Wednesday after talking to Epstein.
The Cubs may pull the trigger on naming their next manager before the Red Sox. Boston GM Ben Cherington is on record as saying he is going to the Dominican Republic on Friday to scout free agent Yoennis Cespedes. He won't be returning to the country until early next week.
November, 12, 2011
11/12/11
2:57
PM CT
Cleveland Indians
bench coach Sandy Alomar Jr. doesn't know if he'll be the next manager of the
Chicago Cubs
or the
Boston Red Sox
. But he threw all of himself into both opportunities this past week.
"I felt positive about both interviews," Alomar said on ESPN 1000's 'Talkin' Baseball on Saturday. "I think that they try not to hint what are they looking for. They ask you so many different questions. All I got to do is just be myself. Regardless of what they are thinking, I'm just going to give you what I know."
Read the entire story.
November, 11, 2011
11/11/11
8:31
PM CT
If the Chicago Cubs' managerial search were a golf tournament, you'd have to say the leaders are in the clubhouse with a round to go. The team's front office – led by president of baseball operations Theo Epstein and GM Jed Hoyer – completed its fourth interview in eight days on Friday. Cleveland Indians bench Sandy Alomar Jr. was the latest candidate to get consideration.
Hoyer said Friday afternoon that he's not sure if there will be any more interviews. He characterized the process as "going into the seventh inning." That comment came a day after Epstein told season-ticket holders that the hiring process was in the "sixth inning." If you believe both executives, the team is going to need a closer soon. Hoyer said follow-up conversations with candidates – both on the phone and in person – are likely to take place over the next week. At this point, no other interviews are setup.
The wildcard in the process remains former Red Sox manager Terry Francona. Major league sources have indicated Francona is close enough with Epstein to have two or three conversations a day if necessary about where he may stand in the process. Francona is also said to be a top candidate for the St. Louis Cardinals' opening, which he interviewed for this week.
Let's take a look at my managerial leader board. Please remember, this is for amusement purposes only.
[+] Enlarge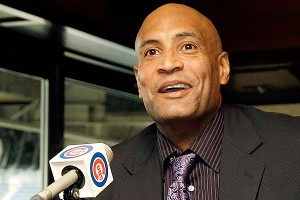 AP Photo/Nam Y. HuhSandy Alomar Jr. made a strong impression with Chicago media members on Friday.
1. Sandy Alomar Jr., Cleveland Indians bench coach:Look past his lack of experience as a bench coach or a third-base coach. A baseball lifer, Alomar has been training to be a manager since his father, Sandy Sr., began to teach him and brother Roberto the game 40 years ago. Alomar has enough coaching experience and instant credibility with players, having retired in 2007. The no-nonsense former catcher knows pitching – one of the front office's most sought-after attributes for the team's next manager. He can communicate with both American and Latin players. Alomar is a nice guy who can also be tough when he needs to get his point across.
1a. Mike Maddux, Texas Rangers pitching coach: The Cubs' front office loves the idea of a top pitching instructor managing their team. There's little question that Maddux fits that bill. Hoyer worked with manager Bud Black, a former pitching coach, in San Diego. So don't discount this type of process working with Maddux and the Cubs. The reason Maddux might be a bit behind Alomar was his heart-felt comment to the Cubs' brass, admitting he might hesitate to move his family from Texas after having uprooted them for previous jobs.
2. Pete Mackanin, Philadelphia Phillies bench coach: This outstanding baseball man has the most experience of the four baseball men the team has interviewed thus far. Mackanin has managed 100 games as an interim manager in both Pittsburgh and Cincinnati. His resume also includes the longest coaching career to offer among the group. At age 60, Mackanin is the oldest candidate, but he still could be an outstanding choice. He's also a candidate for the opening in Boston.
3. Dale Sveum, Milwaukee Brewers hitting coach: Sveum has one advantage over the other three candidates: his previous relationship with the Cubs' brass – he worked with Epstein and Hoyer for two seasons in Boston. Although it's only a small sample size, Sveum had a successful 12-game managing record in Milwaukee under extreme pressure. He came away a winner in 2008 with the Brewers. It's hard to judge his candidacy with just one news conference. However, he is highly thought of in both the Chicago and Boston camps.
If Epstein, Hoyer and team chairman Tom Ricketts can work their way through Francona's sudden departure in Boston, he may still end up being the favorite for the Cubs' opening. The GM meetings in Milwaukee this coming Monday and Tuesday will preclude either exec from doing much work on the manager search. Don't expect a conclusion to the process until the end of next week at the earliest.
November, 11, 2011
11/11/11
12:48
PM CT
November, 10, 2011
11/10/11
5:32
PM CT
The
Chicago Cubs
and Wrigley Field are no strangers to
Cleveland Indians
bench coach
Sandy Alomar Jr.
, who will be the fourth candidate interviewed for the Cubs manager job on Friday.
Alomar began his long major league career as the 1990 American League Rookie of the Year with the Indians. He made his first of six All-Star Games that season, playing the 1990 game at Wrigley Field. He had two hits, helping the AL to a rain-shortened 2-1 victory in the last All-Star Game played at Wrigley.
Alomar interviewed with the Red Sox on Wednesday in Boston and is one of five candidates Boston has contacted.
Alomar, 45, was a .272 lifetime hitter with 112 home runs. He was originally signed by the
San Diego Padres
before being traded with second baseman
Carlos Baerga
to Cleveland for Joe Carter. Alomar played for the Padres, White Sox, Rockies, Rangers, Dodgers and Indians before retiring after the 2007 season.
The Alomar family name has been a trusted brand in baseball for the past 45 years. Father Sandy played 15 seasons in the majors and then coached for another 25. His brother Roberto was inducted into the Baseball Hall of Fame in 2011 after completing an remarkable career as one of the top second baseman in the game.
Alomar Jr.'s coaching career began with the
New York Mets
in 2008 as a catching instructor before he moved back to the Indians as their first base coach in 2010 and 2011. Cleveland manager Manny Acta named Alomar his bench coach for 2012.
Most baseball people who know Alomar believed he was a managerial candidate early in his career due to his great instincts for the game and tremendous communication skills. Wherever Alomar played he seemed to bring teammates together. Being fluent in Spanish and English also gives him a leg up as a possible manager in the future considering 30 percent of players are of Latin descent.
The White Sox and GM Kenny Williams thought so much of Alomar that they obtained his services three different times in a six-year span. Alomar played for nine different managers in his career, and all of them reached the postseason at least once during their careers as manager.
Alomar lives in Chicago on the near North Side. He was a finalist for the
Toronto Blue Jays
job in 2010 before they hired John Farrell.
November, 8, 2011
11/08/11
5:43
PM CT
November, 2, 2011
11/02/11
4:19
PM CT
Now that the Chicago Cubs have parted ways with Mike Quade let's take an early look at what may be Theo Epstein's short list of managerial candidates:

Terry Francona, former Boston Red Sox manager: Coming off an eight-year run with the Red Sox, Francona's relationship with the Cubs' top three executives will definitely put him on the short list of any managerial candidates. Epstein's bond with Francona remains intact even though Red Sox ownership gave a thumbs down to a return by Francona. The only question on him is whether he is ready to manage again and whether there has been enough time between the alleged clubhouse drinking debacle in Boston for Francona to get re-energized and take on the awesome challenge of another hungry fan base looking to win a World Series after 103 years. Francona has the hardware and the moxy, having won two World Series in Boston.



Dale Sveum, Milwaukee Brewers coach: He played many years in the major leagues and has a solid reputation for handling and communicating with players during his coaching stops in Milwaukee and Boston. Sveum's previous claim to fame was managing the Brewers for the last 12 games of 2008 after the team fired Ned Yost. He interviewed with the Red Sox on Wednesday. Sveum is a known quantity to Epstein. He also coached in Boston for two seasons.



Sandy Alomar Jr., Cleveland Indians bench coach: Considered one of the best and brightest of the up-and-coming coaches, the former All-Star catcher is a baseball blue blood. He and his brother Robbie are second-generation players. Their father Sandy played in the majors for 12 years and coached for 20, including three seasons with the Cubs. Alomar was promoted to bench coach after the 2011 season after two years as the Indians' first base coach.



Pete Mackanin, Philadelphia Phillies bench coach: The Chicago native began his coaching career in the Cubs organization in the 1980s and was on a fast track to become a big league manager then when he ran afoul of then-GM Jim Frey after an infamous incident with pitcher Les Lancaster, who hung a dart board with a picture of Don Zimmer in Mackanin's Iowa Cubs clubhouse. Mackanin was the interim manager in Cincinnati and Pittsburgh and is also known to be on the short list for the Red Sox's manager job.



DeMarlo Hale, Red Sox bench coach: Hale was one of Francona's chief lieutenant's in Boston. Known for strong communication skills, Hale's interview would be much more than just a courtesy to a former Red Sox employee. Hale was thought to be a finalist for the Toronto Blue Jays' job that eventually went to John Farrell last offseason. Hale began his managerial career in the Red Sox's minor league system in 1993.




Dave Martinez, Tampa Bay Rays bench coach: The former Cubs outfielder has been Tampa Bay manager Joe Maddon's bench coach throughout his very successful run with the Rays. Martinez stock is high, and he was mentioned as a candidate for the Chicago White Sox job before Ventura was surprisingly named to the position. Martinez played for 10 teams during his lengthy big league career.


Others: San Diego Padres manager Bud Black would have been mentioned, but Jed Hoyer said Tuesday that there is a freeze on the Cubs being able to bring anyone from San Diego. For that reason, Black was not included on this list. There's an obvious connection between Hoyer, McLeod and Black, as well as Epstein, who is known to admire him. Blue Jays manager John Farrell would be at the top of the lists for the Cubs and Red Sox if not for the Blue Jays denying permission for other teams to talk to him about a manager's job.