Chicago Cubs:

Scoop Jackson
April, 22, 2012
4/22/12
12:03
PM CT

By Scoop Jackson
ESPNChicago.com
Archive
ESPNChicago.com writer Scoop Jackson is spending this week trying to prove that when it comes to sports, there is no city like Chicago.
Saturday
The day I decide not to go to see the Cubs is the day
they
decide to ball.
But when one has choices as one has today...
Option 1:
Cubs
vs.
Reds
Option 2: Fire vs. FC (Toronto)
Option 3:
White Sox
vs.
Mariners
Option 4: Wolves vs. Rampage
Option 5: Rush vs. Mustangs
Option 6:
Bulls
vs.
Mavericks
Option 7:
Blackhawks
vs.
Coyotes
. Game 5
I don't know if any other city in America can claim days like this on the calendar when it comes to professional sports. Seven teams all in action on one day.
Options.
So try doing this:
Wake up at 5 a.m. to take youngest son to school on a Saturday because he's in the band and the band is in a competition that starts at 7 a.m. Go back home. Take other son to driver's education at another school at 10 a.m. Turn on WGN at noon to see what Cubs team is going to show up. Leave in the middle of the first inning to pick up kids. Return home, Cubs are winning 5-1. Find the Fire/Toronto match on TV. Scream "Goal!!!!!" 25 seconds into the match when the Fire score. Turn to White Sox game. Phil Humber looks good early. Go to get oil changed in the car. Come back, Humber still looks good. Leave home, head to United Center. Word is Derrick Rose might play. Get to UC, hear two words: Perfect game! Find out Rose is playing. Watch Bulls starting lineup start a game together for only the 13th time all season. Leave at halftime. Get home just in time for Game 5 puck drop. My son screams downstairs, "The Bulls are up by 10!" Go online to see Humber highlights. Text Kenny Williams. Check CN100 for Wolves update. They won. Eat dinner. Immerse myself into overtime No. 5. Goal! Text Blackhawks media relations coordinator for possible credentials to Game 6. Begin to write blog you are currently reading. Get response from Blackhawks: "See You Monday!"
The ability to watch, pay attention to or get locked into six professional games all in the same day? Unheard of. The chances of being a part of a day where the city you live in goes 7-0? Incredible. And, in the middle of it all, the 21st perfect game pitched in Major League history? Priceless.
We live for days like this. We live in Chicago
because
of days like this.
April, 21, 2012
4/21/12
11:26
AM CT

By Scoop Jackson
ESPNChicago.com
Archive
ESPNChicago.com writer Scoop Jackson is spending this week trying to prove that when it comes to sports, there is no city like Chicago.
Day 5: Friday
You are not supposed to see your breath while watching a baseball game. Especially for a team that is 3-10 and down 4-0 in the first inning. I tried. I swear I did. But the sub-50 degree weather at Wrigley Field Friday (43 degrees according to my iPhone) was too much. I punked out.
[+] Enlarge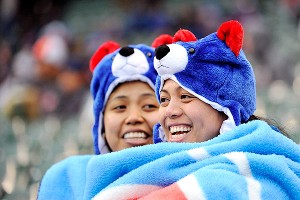 Brian Kersey/Getty ImagesCubs fans braved the cold on Friday against the Reds.
I know this is "typical" mid-April
Cubs
weather in Chicago, but no one should have to sit in this type of cold weather and watch a pitcher (
Chris Volstad
) get batted around on before the first three outs of the game on a team that is returning home from a 1-5 road trip.
The Cubs aren't worth it. Not in this type of cold. But I must be alone because it stayed packed at Wrigley. As it always does, damn near capacity. 37,000 people stayed, while I acted like I was from LA.
Why? Why does this city stand behind, care so much, care so deeply, unconditionally, obsessively for a team that year-after-year-after-year-after-decade lets them down religiously?
Thousands upon thousands of people freezing their REIs and Eddie Bauers off, drinking cold beer that's not as cold as the temperature, watching the Cubs lose to a pitcher with the first name Homer.
I've tried to understand, but don't. I tried talking to Cubs fans and have yet to hear an answer that doesn't defy logic or reason. People standing on the corner of Sheffield and Addison, already writing this season off, already talking about "wait 'til next year," but still rushing to get inside and cheer the team on. To yet another loss.
The best news that came to Wrigley Friday was the news that
Starlin Castro
's criminal case was dropped. But by the time that news broke, I was long gone.
Maybe Sunday. The series against the Reds is three games and the
St. Louis Cardinals
arrive for three after that. That gives me six days to get a Cubs game in, six days for March's mild weather to come back.
I'm not a diehard of a Cubs fan like that. If I was -- as my god brother used to tell me when we'd come out here on days like this back in the day -- then I'd be man enough to take it and the weather wouldn't bother me.
"It's all about the Cubs! It's all about Wrigley!" he used to always say.
Friday wasn't one of those days. Which is why I left and went to Ann Sather's to get a hot cinnamon roll to warm myself up. Like I said, I punked out.