Chicago Cubs:

Stan Kasten
August, 14, 2013
Aug 14
11:48
AM CT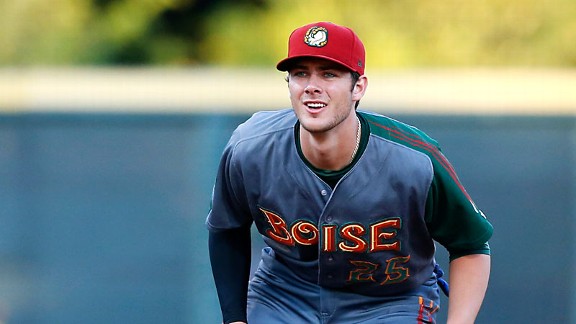 Larry Goren/Four Seam Images/AP ImagesKris Bryant made an immediate impact in his debut with Class A Daytona on Tuesday, hitting a home run.
CHICAGO -- While the
Chicago Cubs
are being patient with their highly touted group of minor league prospects, 2013 first-round draft pick Kris Bryant should not be one of them.
If he continues this development all the way through spring training, Bryant should be the Cubs' Opening Day third baseman in 2014.

He's already creating buzz after just a few weeks as a professional, dominating low-Class A ball with a .354 batting average, a .416 on-base percentage and a huge final week in the Northwest League for the Boise Hawks. He was named player of the week after batting .529 just before being promoted to high-Class A Daytona. In his first game there Tuesday -- after most certainly a busy travel day -- he homered.
Bryant doesn't have huge holes in his swing, and he'll take his walks. He proved that both in college and in the pros so far.
But hitting home runs is what he does. After leading all college players with 31 home runs -- 10 more than the runner-up -- he's brought that power to the pros. He hit four in 65 at-bats for Boise while the team leader had seven in 173 at-bats as of Wednesday. Then came his Tuesday shot in Daytona not long after getting off the plane.
August, 2, 2013
Aug 2
6:03
PM CT
CHICAGO – While the
Chicago Cubs
continue to take it slow with their prospects, the
Los Angeles Dodgers
are prospering with one of theirs. Maybe it was easier for
Yasiel Puig
to break into the big leagues on such a talented team, but who's to say he couldn't have taken the league by storm in April instead of early June when he was called up?
"We were reluctant to throw someone to the wolves," Dodgers president Stan Kasten said before his team played the Cubs on Friday. "We'd like him to have a slump and fight through it, but we don't want him to be overmatched.
"He clearly had more things he could work on. It was valuable time down there (in Triple-A)."
If it's good enough for Puig, then it's good enough for the Cubs' young prospects. Puig was sent to the minors after hitting a whopping .517 in spring training. He's off to a torrid start in the majors, with 11 home runs and a .367 batting average. There isn't a day that goes by when a fan or reporter doesn't ask general manger Jed Hoyer or president Theo Epstein when one of their phenoms will see Wrigley Field.
Kasten says there is no set formula.
"There's a fine line you need to be mindful of," Kasten stated. "In our case we didn't have an opening. The worst case would be bringing him up and having him sit on the bench."
The Cubs don't have that same problem at most positions. They're there for the taking, but Hoyer and Epstein have repeatedly said they aren't rushing anyone -– no matter if there is a Puig in waiting.
"I love what they're doing," Kasten said of Cubs' brass. "I love how they're going about it."
Kasten understands it's a math game right now. Acquire as many prospects as possible and let them fight it out for playing time and positions. He built the
Atlanta Braves
in a similar fashion.
"In the early years in Atlanta we added another minor league team," Kasten recalled. "We needed a place for 10 more pitchers to pitch. Branch Rickey said this in the '30s. It's quality out of quantity. If I have twice as many players as you, I'm going to graduate twice as many players as you."