Chicago Cubs:

Steve Stone
October, 17, 2012
10/17/12
6:07
PM CT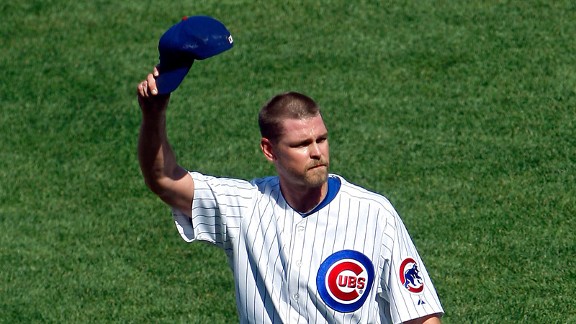 Jerry Lai/US PresswireWould Kerry Wood jump into the broadcast booth in his first full season out of baseball?
The
departure of Bob Brenly
from the
Chicago Cubs
television broadcast booth leaves a gaping hole.
Let's take a look at some possible replacements for Brenly in the Cubs booth:
1. Keith Moreland:
He has done a fine job working on the radio broadcasts since Santo's passing. He has established roots with Cub fans and has shown a penchant for telling it like it is when a Chicago player doesn't get the job done.
2. Todd Hollandsworth:
Another former Cub who has improved every season as a postgame commentator on Comcast SportsNet Cubs broadcasts. Hollandsworth filled in for Brenly on numerous occasions when Brenly had days off.
3. Steve Stone:
The White Sox color man has lots of street cred with Cubs fans having spent 22 years in the team's booth. This likely won't happen due to the fact that Stone has two years and an option year left on his deal with the
Chicago White Sox
. Stone has told Sox officials that he is happy working for them and would like to be stay for many years to come.
4. Kerry Wood:
This would seem like a no-brainer for both Wood and WGN. The problem here is that Wood told ESPNChicago on Oct. 11 that he did not want to broadcast in the near future. He said his desire was to be with his three children and wife Sara. The choice of the former pitcher would be a huge winner with the Cubs fan base.
5. Rick Sutcliffe:
The former Cubs Cy Young winner has done solid work for ESPN the past five years. Sutcliffe spent the entire spring training of 2011 with the Cubs as a coach-advisor and would be yet another opinionated popular choice for Cub Nation.
6. Dave Campbell:
The former big league player was a color commentator on ESPN Sunday night radio broadcasts for 15 years. The affable Campbell was also used on Cub broadcasts the past two years when Brenly had time off.
October, 10, 2012
10/10/12
4:21
PM CT
The icy relationship between
Chicago White Sox
broadcasters Ken "Hawk" Harrelson and color commentator Steve Stone has some believing that changes down the road are inevitable.
[+] Enlarge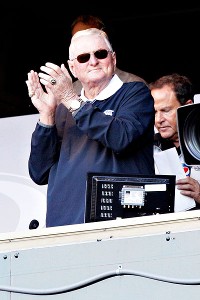 AP Photo/Nam Y. HuhKen Harrelson and Steve Stone just completed their fourth season in the booth together.
The on-air disconnect between the two partners, who have been broadcasting Sox baseball for four years, has led to some less than stellar broadcasts.
The bridge between the two veteran announcers became most apparent to viewers when Harrelson periodically shared the booth with former broadcast partner Tom Paciorek, who sat in for Stone on predetermined days off. Paciorek and Harrelson were broadcast partners from 1991-1999.
It was evident that Harrelson had more in-game discourse with Paciorek than he had most of the time with Stone during their broadcasts. At the end of the eighth telecast between the two former partners on Sept. 17, Harrelson said, "Well Wimpy, you were nothing but good luck for us this year. We were 7-1 when you were here." That comment, although innocent in nature, was a red flag to some listeners. It showed Harrelson not only enjoyed his broadcasts with Paciorek but that he was keeping track of his former broadcast partner's appearances.
Stone, who has been considered one of the top analysts in the game for the past 30 years, was matter of fact in his response to ESPNChicago.com questions about his role in the future.
June, 25, 2010
6/25/10
10:50
PM CT
The eight-round preliminary boxing match between Cubs Manager Lou Piniella and White Sox broadcaster Steve Stone has been declared a draw. Stone and Piniella had a closed-door session in Piniella's office before Friday's game.

The problems between the two came to a head on June 11, when Piniella lashed out at Stone for his comments that Piniella didn't handle outfielder Tyler Colvin's playing time properly, and adding in his radio commentary that Piniella was not very good at bringing along young players during his career as a manager.

"The whole thing was basically about that I don't know what I'm doing with young kids. We talked about the situation and it's over with," Piniella said. "I don't have any problems with Steve or anybody else. I just want to do my job and win baseball games for the Chicago Cubs. Nothing more and nothing less."

Little did Piniella know he would be a referee for Carlos Zambrano and Derrek Lee in the first inning of Friday's game.

-- Shortstop Starlin Castro, who was on the bench for the second straight game, was not being benched for any extended period of time according to Piniella.

"Just a day off," Piniella said. "Look, he's been playing every day, just about, since May 7. We gave him a day off in Seattle and we'll get him back in there this weekend."

Castro is hitting .177 in June. It's apparent Major League Baseball advance scouts have found a way to pitch to the talented young Dominican. It's up to Castro to adjust to the way he's being pitched.

-- Third baseman Aramis Ramirez returned to the lineup after 16 days on the DL with a sore left thumb.

"I'm just trying to get healthy and get my swing back," Ramirez said.

Ramirez didn't think he needed the time away to help clear his head after a disastrous slump to begin the season.

"I don't think so, Ramirez said. "I think the only way to get out of a slump is by playing. The only way you can get back on track is to play the game.

Ramirez, 0-for-3 with a walk and two strikeouts Friday, was hitting .168 with 5 HR and 22 RBIs going into the game.

-- Cubs general manager Jim Hendry was at Triple-A Iowa Tuesday-Thursday to watch some of the team's prospects. Although some of those players could be promoted before the end of the season, Hendry said he's not in a trading mode at this time.

"That really doesn't apply to us," Hendry said about making deals now. "What we always do is analyze where we're going this year, and where we are going in the future. We are certainly showing a good enough core of young people from the system now and another wave will be coming from Double- and Triple-A soon, too.

"If we find out in July that we're out of the race -- and we're certainly not thinking that's a done deal -- then if we did [make trades] then we'd have an eye for the future."

When he was asked if July was the time he'd consider some moves, Hendry said he was still focused on turning things around.

"A few weeks ago everybody was writing off both Chicago teams," Hendry said. "Credit the White Sox for getting right back into it. We need to focus on putting us on a run of our own. And playing better baseball."

June, 11, 2010
6/11/10
7:19
PM CT
The Lou Piniella I've known for the past 25 years, has surfaced and is alive and well on the North Side of Chicago.
[+] Enlarge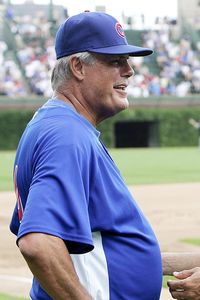 Jerry Lai/US PresswireLou Piniella still has the desire to win. He showed that on Friday.
In this day and age of athletes and managers always saying the right thing and taking the politically-correct route, Piniella has seemed downright docile at times this season.
The real Lou Piniella came out firing on Friday.
Piniella took on White Sox TV color commentator Steve Stone and WGN radio and TV personality David Kaplan. Steve and David are friends of mine, and both are intelligent sports commentators and provocative interpreters of mangers' moves.
Piniella fired on Stone for having dropped the old line that the Cubs manager doesn't like to play young players. Stone pointed that out last week by saying that the Cubs should have implemented outfielder
Tyler Colvin
into the lineup weeks ago. Kaplan's comments that Piniella's use of Colvin has been "ridiculous," was interpreted by Piniella as the commentator saying that the manager was ridiculous.
After a terse face-to-face with some expletives being exchanged, Piniella told Kaplan he'd wait until he heard the tape of the commentary, and then would apologize if he was wrong.
Piniella and Sox manger Ozzie Guillen are two of my favorite people in baseball. The main reason I feel that way is that they are both no-BS type of guys.
Piniella is a fighter, a battler and a guy who showed his true grit in Chicago in 2007 when he kicked dirt at an umpire and helped jump-start an underachieving team toward an NL Central division title. This is the same guy who put pitcher Rob Dibble in a headlock and brought down the 260-pound fireballer when Piniella thought he wasn't getting a good effort out of his pitcher in the early '90s.
The Cubs manager may be on the cusp of turning 67 years old, but he still has an edge and still capable of kicking butts and taking names.
In 1976 Piniella started a brawl between the Yankees and Red Sox when he took out catcher Carlton Fisk in a nasty home-plate collision -- even though Piniella was thrown out by 10 feet. The 2010 version of Piniella is really the same guy, with a longer, grayer beard. He may not have a great team to manage, but he's going to try every way he knows how to get better play out of the underachieving Cubs.
The fire still burns inside Lou Piniella to win. If you get too close you will get burned.
June, 11, 2010
6/11/10
11:49
AM CT

By Jon Greenberg
ESPNChicago.com
Archive
CHICAGO -- Something always happens during the Cubs-White Sox series. It didn't take long for some verbal fireworks from Lou Piniella.


Piniella unloaded on media criticism after a seemingly innocuous question about his strong rookies, and the only person he took on by name was White Sox broadcaster Steve Stone.

Read the full story.