Chicago Cubs:

Tampa Bay Rays
January, 7, 2011
1/07/11
2:22
PM CT
[+] Enlarge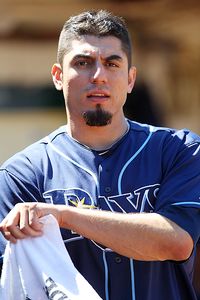 Brad Mangin/MLB Photos/Getty ImagesMatt Garza came at a steep price, but he's coming off his best season and could be worth what the Cubs gave up.
There is no doubt obtaining
Matt Garza
from the
Tampa Bay Rays
for a boatload of young talent -- Chris Archer, Robinson Chirinos, Brandon Guyer, Hak-Ju Lee and
Sam Fuld
-- was a steep price to pay, but the end result might be worth it.
Garza gives the Cubs a top-of-the-rotation pitcher to go along with
Carlos Zambrano
and
Ryan Dempster
. After finishing in fifth place last year, Cubs general manager Jim Hendry had to fortify his staff to compete with the
Cincinnati Reds
,
St. Louis Cardinals
and
Milwaukee Brewers
.
Hendry's second move of the offseason, signing
Kerry Wood
to a free-agent contract, solidified an already-solid back of the bullpen that includes
Carlos Marmol
,
Sean Marshall
and
John Grabow
.
The Garza trade will allow power-pitching right-hander
Andrew Cashner
to vie for the fourth rotation spot. Garza's contract with the Cubs runs through 2013. Physically, the Cubs are getting a player who's never had an injury problem and is coming off his best season. He was 15-10 with a 3.91 ERA. Garza, who's known as being a bit quirky, will fit into an already quirky group of pitchers with the Cubs. He'll make $5 million-$6 million in 2011 through arbitration.
The Cubs also picked up right-handed hitting outfielder
Fernando Perez
in the deal. The 27-year-old outfielder has had a dislocated wrist and shoulder surgery over the last two seasons. Perez is a speed player who may become a fourth or fifth outfielder off the bench in 2011.
The key players in the trade for the Rays were Archer and Lee. Archer is being projected into the Rays' rotation by 2012. The 22-year-old right-hander was 15-3 during two different minor-league stints last season. Archer was listed as one of the Cubs' two top minor-league pitchers, along with right-hander Trey McNutt.
Lee is considered to be a couple of years away from the majors. According to a couple of minor-league scouts, Lee will be a top-flight defender but may not hit for average in the majors. He has outstanding speed and very good range at shortstop.
Chirinos and Guyer should make it to the majors, but they weren't deal-breakers as far as the Cubs were concerned, with catchers
Geovany Soto
and Wellington Castillo ahead of Chirinos. And the Cubs have No. 1 pick Brett Jackson ahead of Guyer.
January, 7, 2011
1/07/11
9:15
AM CT
The Tampa Bay Rays and Chicago Cubs agreed to a multi-player deal that will bring right-handed pitcher Matt Garza to Chicago, according to a major league source.
Read the entire story.
January, 5, 2011
1/05/11
10:38
AM CT
There is no trade imminent between the
Chicago Cubs
and
Tampa Bay Rays
for pitcher
Matt Garza
, according to major league sources.
Although the Cubs remain interested in Garza, the team has talked to other clubs about pitching availability, including the Rays.
The Chicago Sun-Times reported Wednesday that the Cubs and Rays are close on a deal to send Garza to the Cubs. ESPN.com The Magazine's Buster Olney tweeted Wednesday morning that the Rays are more likely to trade Garza this summer, rather than right now, citing a "well-placed source."
After signing pitcher
Brandon Webb
and agreeing on a multi-year contract with third baseman
Adrian Beltre
, it appears the
Texas Rangers
are no longer involved in the Garza trade talks, according to a major league source.
The Rays have no timetable on Garza, who will make somewhere between $5-$6 million in arbitration this season. Any team that acquires Garza, 27, would have his services for three years before he becomes a free agent.
Tampa Bay is known to be asking for numerous top prospects from any team interested in Garza.
Garza, the 2008 ALCS MVP, went 15-10 with a 3.91 ERA in 204 2/3 innings last season.
December, 20, 2010
12/20/10
6:26
PM CT
By Associated Press
ESPNChicago.com
Archive
ST. PETERSBURG, Fla. -- Former Rays slugger
Carlos Pena
wants Tampa Bay fans to know how much he enjoyed his four seasons with the AL East champions.
Read the entire story
.
December, 8, 2010
12/08/10
8:53
PM CT
Officials from the Tampa Bay Rays and Chicago Cubs met for the second time during the Winter Meetings on Wednesday night to discuss the parameters of a trade that would send right-handed pitcher Matt Garza to Chicago for a number of the Cubs' top prospects, according to multiple sources.
Read the full story.
December, 8, 2010
12/08/10
3:17
PM CT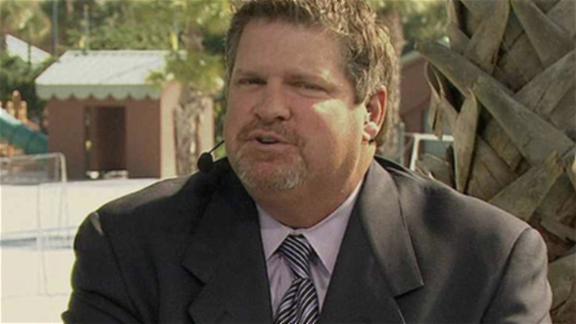 LAKE BUENA VISTA, Fla. -- Now that the
Chicago Cubs
have signed their first big free agent of the Winter Meetings, it will be interesting to see if
Carlos Pena
's old
Tampa Bay Rays
teammate -- starting pitcher
Matt Garza
-- will join him.
[+] Enlarge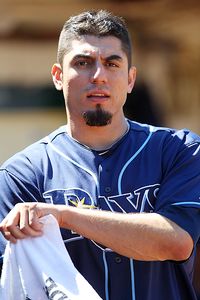 Brad Mangin/MLB Photos/Getty ImagesMatt Garza won a career-high 15 games for the Rays last season.
The Cubs are among numerous teams, including the
Milwaukee Brewers
and
Texas Rangers
, that have had meetings in Orlando about a possible Garza trade.
Pena is a big fan of his former teammate.
"Matt Garza is one of those pitchers that wherever he goes is going to be an incredible asset," Pena said. "It's no secret that he is extremely talented and the sky is the limit for a guy like him. I think he's got Cy Young potential, to be honest with you. His stuff is electrifying. I think anybody would like to have a guy like that."
Garza, 27, was 15-10 with a 3.91 ERA in 32 starts last season.
The Rays are in the mode of re-tooling their team while paring down salary for next season. One major league source said the Rays are looking for minor league talent that can be projected to be ready for the major leagues in the near future.
Pena said the plantar fasciitis problems that plagued him last season are in the past, and he is 100 percent after getting some new insoles in his shoes.
The real reason that Pena and agent Scott Boras wanted the one-year deal was to have the potential for Pena to hit the jackpot next season with a long-term deal. Milwaukee Brewers first baseman
Prince Fielder
, also a Boras client, will be a free agent next season. Boras will use Fielder's contract, which should come in somewhere between $20-$25 million, to set the bar extremely high for a left-handed-hitting first baseman.
Pena will be the only other left-handed hitting first baseman eligible for free agency, according to future projections.
The Cubs would have gone longer on the deal. However, this gives the team flexibility in 2012. Pena will be paid $5 million in 2011 and $5 million in January 2012 as part of a deferment for his one-year contract.
Meanwhile, the Cubs continue discussions with the Texas Rangers and
Detroit Tigers
on possible trade scenarios. As mentioned here on numerous occasions, the Cubs would still like to add Texas infielder
Chris Davis
as well as reliever
Darren O'Day
.
Detroit is interested in Cubs starter
Tom Gorzelanny
. They are offering starting pitcher
Armando Galarraga
in return.
December, 8, 2010
12/08/10
9:31
AM CT
LAKE BUENA VISTA, Fla. -- The
Chicago Cubs
are in the mix for
Tampa Bay Rays
right-handed pitcher
Matt Garza
. They are one of four teams talking to Tampa about a trade for the arbitration-eligible starting pitcher, according to a major league source.
Garza was 15-10 in 2010 with a 3.91 ERA in 32 starts.
Tampa Bay is interested in prospects in return, according to a source. The Cubs are known to have met with Tampa during these meetings as have numerous other teams.
The Cubs have also continued to kick the tires on a trade with the
Texas Rangers
for first baseman/third baseman
Chris Davis
. Even with the signing of Pena, Davis could be a valuable player coming off the bench for the Cubs next season. Texas is interested in 27-year-old catcher Robinson Chirinos, who played at Double-A last season.
Also said to be in the mix in a Davis deal is right-handed pitcher
Darren O'Day
, a relief specialist who was 6-2 with a 2.03 ERA in 72 games with the Rangers in 2010.
The Cubs have also had conversations with the
Detroit Tigers
about trading pitchers for pitchers. Detroit has asked for left-hander
Tom Gorzelanny
while offering right-handed pitcher
Armando Galarraga
, best know for the 2010 perfect game that wasn't after a bad call by first-base umpire Jim Joyce. Galarraga season was less than stellar, going 4-9 with a 4.49 ERA last season.
July, 22, 2010
7/22/10
11:59
AM CT
By Derek Czenczelewski, ESPN Stats and Info
ESPNChicago.com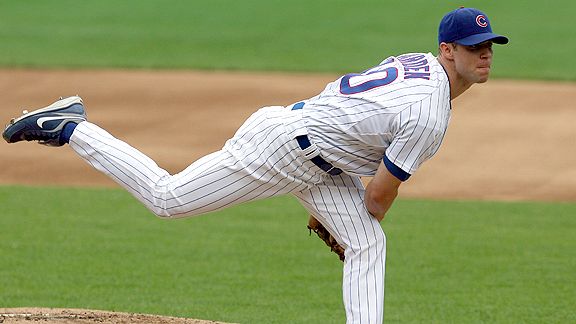 Jonathan Daniel/Getty ImagesIt turns out the price tag to acquire Rich Harden wasn't that high for the Cubs.
Hindsight is always 20-20 as they say, and that certainly holds true when wheeling and dealing. Trades excite fans, yet many times teams end up sacrificing their future for a shot at a proven commodity in hopes of a title run. Here is a look at how the Cubs fared in trades since 2005, using statistical analysis and the sabermetric WAR.
WAR stands for Wins Above Replacement and is a relatively complicated formula that in the end answers the question, "How much value would the team lose if a replacement player took his spot?" The calculation turns out an approximate win total the player holds.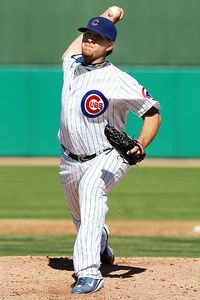 Lisa Blumenfeld/Getty ImagesAfter showing some potential with the Cubs, Sean Gallagher has bounced around the major leagues.
Best trade
July 8, 2008: Cubs trade Josh Donaldson, Sean Gallagher, Matt Murton and Eric Patterson to the Oakland Athletics for Rich Harden and Chad Gaudin. (Cubs' net WAR gain: 5.9)
This trade would have been better had the Cubs held on to Harden, who battled injuries with the Cubs as he has throughout his entire career. But when he pitched, he was electric. Harden compiled a 14-10 record and 3.31 ERA with the Cubs. He also averaged 11 strikeouts per nine innings pitched and a 4.0 WAR.
Gaudin pitched just one season for the Cubs, going 4-2 with a 6.26 ERA. Since 2008, Gaudin has pitched for four different teams. It's safe to say there were no hard feelings to see Gaudin leave town.
The Cubs lost very little in what they traded away, however. Donaldson was finally called up this season. The former first-round draft pick has 10 games under his belt, but has hit only .154. Gallagher (-1.3 WAR) has not pitched well for Oakland, San Diego or Pittsburgh while Murton is no longer in the majors.
Honorable mention: Dec. 18, 2009: Cubs trade Milton Bradley to the Seattle Mariners for Carlos Silva. (Cubs' net WAR gain: 2.5)

In his one season with the Cubs, Bradley managed to hit just .257 with 12 home runs and 40 RBIs. Silva was coming off two horrid seasons with the Mariners in which he went 5-18 with a 6.81 ERA.

In 2010, both players' careers took very different turns. Bradley is batting just .206 with a .289 OBP. Silva has performed very well for the Cubs, compiling a 9-3 record with a 3.45 ERA. He's also struck out 72 batters while walking only 19.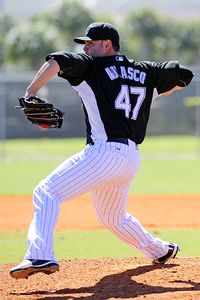 Steve Mitchell/US PresswireRicky Nolasco was the real loss for the Cubs in the Juan Pierre trade.

Worst trade
Dec. 7, 2005: Cubs trade Sergio Mitre, Ricky Nolasco, and Renyel Pinto to the Florida Marlins for Juan Pierre. (Cubs' net WAR loss: -1.3)

Mitre has battled injuries and inconsistency throughout his career. But he may have finally found his niche in the Yankees' bullpen this season with a 2.88 ERA in 25 innings. The real loss in this trade wasn't Mitre though. That honor goes to Nolasco (3.6 WAR), who has shown flashes of brilliance in his young career, compiling a 49-36 record with a 4.45 ERA. He's averaging just under eight strikeouts per nine innings and has struck out a total of 585 batters to only 158 walks. Over the past three seasons, Nolasco has averaged a 4.4:1 K:BB ratio.

Pinto (2.1 WAR) has been a solid reliever for the Marlins, throwing 231 innings while striking out 222 batters. He's also maintained a career 3.62 ERA.

Pierre, the Cubs' centerpiece of the deal, played just one season with the team in which he tallied a 3.3 WAR. And although it was a good season (Pierre hit .292 with 58 steals), it can't compare to what the Cubs could have had in Mitre, Nolasco and Pinto.
Honorable mention: Jan. 5, 2008: Cubs trade Angel Pagan to the New York Mets for Corey Coles and Ryan Meyers. (Cubs' net WAR loss: -7.4)Meyers and Coles are now out of baseball, while Pagan is a stalwart in the Mets lineup. Since being traded to the Mets, Pagan has hit .304 with a .357 OBP and has stolen 37 bases. He's also achieved a 7.4 WAR. It took Pagan until this season to establish himself as an everyday player. But at 28 years of age, Pagan has most likely reached his ceiling. Considering the return on investment the Cubs received, or lack thereof, this trade was definitely a mistake. While the Cubs "net WAR loss" was more substantial in this deal, the Nolasco deal will be more harmful long-term.

Day of Infamy
Dec. 7, 2006: Cubs draft Josh Hamilton from the Tampa Bay Rays in the Rule 5 Draft. His rights were then sold to the Cincinnati Reds. (Cubs' net WAR loss: -12.9)

Hamilton wasn't traded per se, but his rights were once held and then sold in the course of the same day by the Cubs. It's not as though Hamilton (12.9 WAR) ever played for the Cubs, and you could speculate that in theory they could have Edinson Volquez (5.1 WAR) if they made the same trade the Rangers completed with the Reds.
Sooner or later, and most likely as soon as this week, beleaguered Milton Bradley will be traded to the Tampa Bay Rays for Pat Burrell.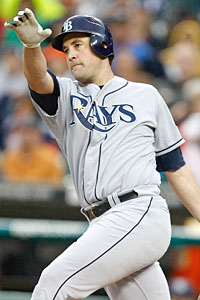 Scott Boehm/Getty Images
The long-awaited Milton Bradley-for-Pat Burrell trade may finally come to fruition this week.
However, the perception the Cubs will have more money to spend on free agents and trades by moving Bradley is false. Bradley and Burrell will make $9 million in 2010 -- that's a wash -- whatever money Jim Hendry saves on Bradley's 2011 contract will not impact $1 of his 2010 payroll. Bradley's owed $12.5 million in 2011. If Hendry can save $6.5 million by eating $6 million, that will only help the person running the 2011 team.
Unfortunately for Hendry, if he doesn't get extra money to sign a solid set-up man and a good center fielder, someone else will be running the Cubs in 2011.
The Ricketts family has targeted $15 million in new ticket revenue for 2010 which will go toward upgrades in Wrigley Field. A man of his word, Tom Ricketts said every dollar of profit in the foreseeable future will go to the team, including Wrigley and payroll.
Although the Cubs' $140 million will put them among the top five or six teams in payroll expenditures, it's the same payroll they had for 2009.
Hendry has an automatic bump of $8 million to pay Ryan Dempster, Alfonso Soriano, Carlos Zambrano and Kosuke Fukudome more cash in their escalating long-term contracts. He also has eight players eligible for arbitration this year. That list includes Ryan Theriot and Carlos Marmol, who both made around $500,000 last season and both will make around $3 million due to the arbitration system.
If the Cubs are going to compete with St. Louis next season, Hendry likely will need $7 million to $10 million to help sign the players he needs.
Every top GM in baseball has had free agents who crashed and burned on them. The Red Sox, as good as they are with arguably the top GM in the game in Theo Epstein, had to eat most of Julio Luogo's $40 million contract without getting anything out of him for four years.
Now the Red sox are faced with possibly not being able to trade third baseman Mike Lowell, who is owed $12 million in 2010. The Red Sox most likely will have to eat that contract.
The Dodgers received a total of three wins in three season for the $47 million they paid right-handed pitcher Jason Schmidt. They also got one year out of Andruw Jones before releasing him before his second season. L.A. paid Jones $36 million, and all it had to show for that was three home runs, 14 RBIs and a .158 average. L.A. GM Ned Colletti is considered one of the top executives in the game, despite the results from these two free agents that cost the Dodgers $84 million.
The only real solution for the Cubs next season is to add to the payroll. If that doesn't work out, the team's new GM in 2011 can start trimming while some of the good-looking farm-system players make their way toward Wrigley Field.
Derrek Lee, Ted Lilly and possibly Aramis Ramirez can all become free agents in 2011, when $50 million can come off the book. The problem is replacing quality players.
The right-handed pitcher for the bullpen Hendry would like to add would most likely be Matt Capps, who was released by the Pirates on Saturday. His payroll figure will be somewhere between $3 million and $4 million, something Hendry doesn't have in a drawer around his desk at Wrigley.
December, 8, 2009
12/08/09
2:52
PM CT
The Chicago Cubs may be on the verge of cutting a deal that would move Milton Bradley as soon as Tuesday.
According to sources, others teams besides the usual suspects (Tampa bay Rays, New York Mets, Texas Rangers and Los Angeles Angels) have been brought into the Bradley discussions over the past 24 hours. Trading Bradley is a multi-faceted situation. Any team that is going to trade for him is going to want to talk to Bradley and his agent about the acceptability of a new home for the veteran outfielder.
It is assumed that the Cubs will get back a contract in the trade that they may have to move as well. But if the Cubs are able to pull off a deal at this point, it would open up some other areas for Cubs general manager Jim Hendry to add some depth.
Hendry talked to the Colorado Rockies recently about some of their outfield depth. It is unknown exactly whom the Rockies would be willing to trade.
The Padres will trade closer Heath Bell, but the Cubs may not have the young prospects the Padres would want for their all-star closer. It is known however that the Cubs are looking to add a veteran pitcher to their bullpen.