May, 15, 2012
5/15/12
9:40
PM CT

By Jon Greenberg
ESPNChicago.com
Archive
CHICAGO -- It was perfect baseball weather Monday night, 70 degrees with clear skies, and the price at U.S. Cellular Field was just as welcoming: half-off.
But the announced attendance was just 23,358 for a mid-May game against division rival
Detroit Tigers
. And that's a problem. Even worse, it was the
Chicago White Sox
's fourth-best gate in 19 home games. The only three better came in the opening series of the season.
"You have to ask yourself is price the biggest factor?" Sox vice president and chief marketing officer Brooks Boyer said. "I don't think price is the biggest factor on a value Monday. If people aren't there on a day like last night, when prices are half the regular price, is it price? Maybe we need to do more to get the trust of our fans."
Read the entire story
.
February, 19, 2010
2/19/10
11:52
PM CT

By Jon Greenberg
ESPNChicago.com
Archive
[+] Enlarge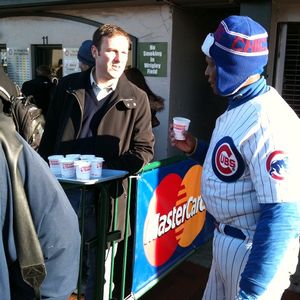 Jon Greenberg Todd Ricketts, one of the new owners of the Chicago Cubs, passes out coffee to Ronnie "Woo Woo" Wickers at Wrigley Field on Friday.
CHICAGO -- It was a deceptively cold Friday morning. The sun was out for a second straight day, mischievously, but it didn't help.
"Just pretend it's Opening Day," a man with no hat said warmly. "It's always cold on Opening Day."
The hatless man was wearing a long red scarf and a jacket down to his knees and he said over and over again that he just wants the season to start. He's heading to Mesa, Ariz., on Monday, joining snowbirds and spring breakers and Ron Santo, all excited to watch a bunch of millionaires jog and play pepper games.
The man with a hint of a bald spot and no tie was shaking the hands of Cubs fans and undercover ticket brokers who waited in a long line on the Waveland Ave. side of Wrigley Field for the right to pay the Cubs a lot of money to watch a game in the coming months.
The hatless, tieless man was Tom Ricketts, the new owner of the Cubs, the guy who went from being a rich fan to a rich owner without losing an appreciation for the common touches, like the tiny cups of Dunkin' Donuts the family was passing out.
"Owners, they're just like us!"