April, 11, 2014
Apr 11
4:19
PM CT

By Nick Friedell
ESPNChicago.com
Archive
CHICAGO -- I've learned how to deal with the frustration of being
Chicago Cubs
fan. It's something that every Cubs fans must embrace as they root for their favorite team. The losses pile up and the frustration mounts year after year, but we keep coming back because of loyalty.
For the first time in my three decades as a Cubs fan, I'm starting to question that loyalty. The frustration is building up more than ever. I'm not the 10-year-old kid who comes home from school and turns on WGN to listen to Harry Caray anymore. I'm the 30-year-old who just paid $1,500 for 20 games-worth of a season-ticket package that is split between a few buddies.
[+] Enlarge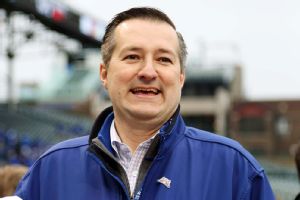 Dennis Wierzbicki/USA TODAY SportsTom Ricketts hasn't yet been able to deliver a deal with rooftop owners to allow the renovation of Wrigley Field to begin.
It's a new perspective and something that has caused me to view my experience as a fan differently. I'm no longer blindly loyal to a team I've cheered for my entire life. Like most Cubs fans, the frustration over the organization's latest woes has been boiling for a while but it was recent comments by owner Tom Ricketts that really irked me.
I laughed in February when I read that Ricketts said he believed the Cubs could be a "contender" this season, but what really got me was when Ricketts was asked to assess his team and said he thought this was going to be a "fun" year. I sat inside Wrigley for too many games than I'd like to admit last season, and I watched this winter as Theo Epstein and his group did little to improve the major league club.
I understand Ricketts is trying to put a positive spin on his product, but don't insult your fans and speak to them as if they're stupid. This team stinks. It's not built to win games this season.
"What do you want him to say?" I've already heard from some friends.
I want him to say something like: "We're going to work hard to put a product on the field that everyone can be proud of while we continue developing one of the best minor league systems in the game."
It's all PR spin, but at least there's some reality within the sentiment.
On a broader note, the deeper frustration is that Ricketts has shown little interest in making the big league club better now. I understand what the total rebuild entailed, and I knew full well that the Cubs were going to remain bad for a while, but the neglect shown toward the actual product playing at Wrigley Field is alarming.