Chicago Cubs:

Toronto Blue Jays
July, 13, 2013
7/13/13
11:15
PM CT
CHICAGO -- Many of the same teams that have had strong interest in
Chicago Cubs
right-hander
Matt Garza
were on hand to watch his outing on Saturday night at Wrigley Field.
The
Texas Rangers
and
Toronto Blue Jays
remain the front-runners for a trade with Chicago, according to industry sources. The
Boston Red Sox
,
Cleveland Indians
and
San Francisco Giants
have also expressed strong interest in the pitcher.
[+] Enlarge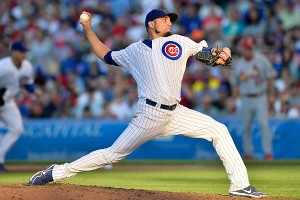 Brian Kersey/Getty ImagesMatt Garza, who has been traded twice in his career, remains high on the list of teams looking for pitching depth before the trade deadline.
Garza pitched 6⅔ innings Saturday, giving up 10 hits but only two runs. Garza, 29, won his sixth game of the season despite not having his best command against the
St. Louis Cardinals
St. Louis Cardinals in a 6-4 Cubs win.
"He is extremely impressive," Cubs manager Dale Sveum said. "Tonight, he was missing by a half a ball, and there were huge pitches in the game that cost him [extra] pitches, too. His last five or six starts have been extremely impressive."
The Cubs will have a different schedule for Garza if he is not traded during the All-Star break. The plan is for him to be passed up next weekend when play resumes for Chicago against the
Colorado Rockies
in Denver. The way it stands now, Garza will have eight days between starts. His next scheduled outing will be in Phoenix on July 22 against the
Arizona Diamondbacks
. If for some reason he has not been traded by then, his last start before the non-waiver trading deadline passes will be in San Francisco on July 27.
"I know exactly what is going to happen," Garza said after his fifth straight quality start. "I am going to come in tomorrow and get my day-after workout. I am going to enjoy the All-Star break and see if I can catch that flight on Thursday or Friday to Denver."
On Friday, Cubs president of baseball operations Theo Epstein admitted that Garza's situation is still up in the air.
"He is throwing the ball extremely well, and he is very healthy," Epstein said. "There are teams out there looking for pitching that are going to call and try and acquire him. He is helping us win games right now, and there is a chance to possibly retain him beyond this year. We will just balance it all out and do what is best for the organization."
After his last start against the
Chicago White Sox
on July 8, Garza said negotiations for an extension were ongoing between the Cubs and his agent. Garza called the final outcome of his situation 50-50 as to whether he would be traded or sign an extension. Garza did not have much to add on the contract front after his Saturday start.
August, 1, 2012
8/01/12
3:51
PM CT
CHICAGO -- The
Chicago Cubs
were dealt a serious setback when pitcher
Matt Garza
came out of a July 22 start complaining of cramps in his upper arm.
[+] Enlarge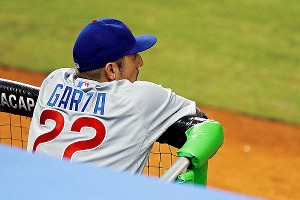 Mike Ehrmann/Getty ImagesA healthy Matt Garza likely could have fetched the Cubs three strong prospects.
Garza was the best trading chip the Cubs had to offer at the deadline, with the
Toronto Blue Jays
,
Texas Rangers
and
Cincinnati Reds
all contemplating offers for Garza before his injury.
The Cubs hoped to get back at least three upper-level prospects that they could project in 2014 and beyond. Toronto had at least three pitchers at Single-A Lansing that the Cubs like and scouted on several times.
"A healthy Matt Garza would have been a very sought-after player at this deadline," Cubs president of baseball operations Theo Epstein said Wednesday. "You never want to see your guys get hurt, but the timing was bad because we did not get a chance to fully explore that opportunity."
The Cubs tried earlier this year to sign Garza to a long-term contract without getting close to an agreement. Garza is seeking a contract in the neighborhood of a five-year, $90 million deal, according to industry sources. Garza has one more year under team control until possible free agency in 2014.
The Rangers and Blue Jays had scouts watching Garza's side session on Monday and were not impressed, according to major league sources.
"When buying teams' last data point is seeing a guy walk off a mound holding his elbow, it is not the type of thing they want to act upon," Epstein said.
The Cubs may now decide to wait until the offseason to take offers for Garza since making waiver deals this time of year is tricky at best in getting maximum talent in return for top players.
"We just did not get the opportunity to fully explore the market for him," Epstein said. "I am not saying we would have traded him."
Manager Dale Sveum is targeting Garza to return to the rotation on Tuesday against the
San Diego Padres
.
July, 18, 2012
7/18/12
9:26
PM CT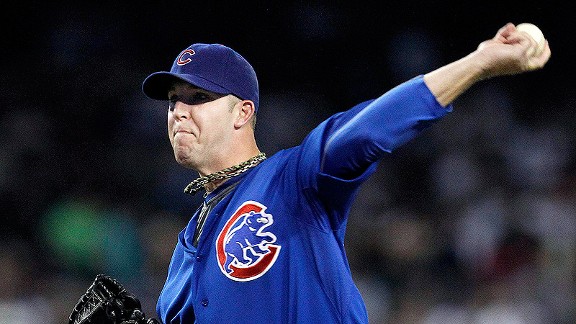 AP Photo/Ross D. FranklinIn addition to Ryan Dempster and Matt Garza, Paul Maholm is generating some interest on the trade market.
CHICAGO -- The list of scouts in attendance at Chicago Cubs games continues to grow as baseball's July 31 trade deadline approaches.
While many reports have the Los Angeles Dodgers and Atlanta Braves emerging at the leading contenders to land the services of Cubs starter Ryan Dempster, the St. Louis Cardinals, according to a major league source, have jumped into the picture in recent days. Dempster has 10-5 rights that allow him to block any trade. Dempster, that same source said, has not yet been asked if he would accept a particular deal.
President of baseball operations Theo Epstein has a very clear idea what the Cubs are looking for in exchange for any veterans they unload.
July, 15, 2012
7/15/12
6:14
PM CT
CHICAGO -- Like his teammate Ryan Dempster, Chicago Cubs starter Matt Garza saved his best outing since April for some of baseball's top talent evaluators to watch during Sunday's 3-1 win over Arizona.
[+] Enlarge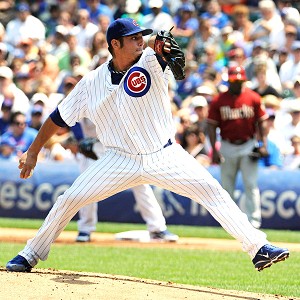 David Banks-US PresswireMatt Garza could net the Cubs a nice package of prospects through a trade.
The Cubs have talented starting pitching to trade, and Garza, who can be had for the right group of prospects, certainly increased his value by throwing seven shutout innings against the Diamondbacks. The New York Yankees, Toronto Blue Jays, Texas Rangers, Detroit Tigers, Los Angeles Dodgers and Pittsburgh Pirates all had scouts watching the righty.
What intrigues some teams about Garza is that he is under contract control through 2013. (Dempster, the team's other frontline starter, is a free agent after 2012.) The Cubs are looking for young pitching in return for Garza and would love a third baseman they can develop for the future as well.

That's not to say clubs aren't going to voice concerns about Garza, who is on the trading block for, essentially, the third time in five years. In addition to that, Garza has had some major issues fielding from the pitchers' mound.
Garza seems unfazed by the fact he has been the subject of trade talks.
"We can't control that," said Garza. "All that we can control is what we do between the lines and how we prepare. I have a wife that is due in 22 days, so the rumor mill can wait. That is the last thing on my mind, I got a wife who is ready to pop, so I really don't care about where I am going to be because when she calls, I will be right their next to her."
According to multiple major league sources, the Tigers have asked about both Garza and Dempster as well as second baseman Darwin Barney. Detroit's interest in Barney began over a month ago.
"Being a Cub since I was drafted, you don't want to hear those things," Barney said. "It is nice to know people are interested, but I want to be here. Whatever happens, happens. It is a business and that is the way it works. You don't look too deep into it until something happens and then you go from there."
Garza is no shoe-in to be moved. He has one year of arbitration left before his free agency kicks in, and the Cubs have shown interest in exploring the possibility of keeping Garza in Chicago long term. The price will be steep, however. He will be seeking a long-term deal that most likely would have to average between $15-17 million a year.
"I said it before, and I will say it again, I love it here," Garza said. "The kids love it here, so I am open to it. Like I said before, it is not my choice if stuff happens, so I will just get ready for the next (start)."
Toronto's signing of former Cubs closer
Kevin Gregg
to a $2.75 million, one-year deal might lead to more talks between the Jays and Cubs about Oak Forest native
Jason Frasor
.
The teams have had casual conversations about trades over the past two months, but now with the signing of Gregg, they may take on a more serious tone.
The Chicago Cubs continue to look for a top-flight right-handed hitting outfielder, a bullpen pitcher and a veteran starter.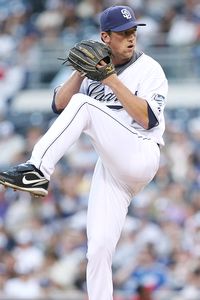 Stephen Dunn/Getty Images
Luke Gregerson is someone the Padres might be willing to trade.
Ongoing conversations continue with San Diego and Toronto. Both teams have bullpen pitchers to trade.
The Padres will talk to Cubs about Luke Gregerson and possibly closer Heath Bell. The Jays are dangling right-handed pitcher Jason Frasor, a product of the Chicago area.
Off the free agent list, the Cubs have begun to look past outfielder Jemaine Dye, who must decide whether to take a 60 percent cut in pay or retire. Dye was recently hoping to sign with the Texas Rangers before Vladimir Guerrero signed a $6 million deal.
Other free-agent outfielders the Cubs have interest in include Reed Johnson, Xavier Nady and Rick Ankiel. Nady is an intriguing possibility because of his past power numbers. The former Yankee, Padre and Pirate has had two Tommy John surgeries on his right elbow.
The Cubs also have a had a few talks with agent Jamie Torres, who represents former White Sox starter Jose Contreras. The team talked to the agent for reliever Kiko Calero, but they have no interest in him at this point.
Although the Cubs are looking for right-handed outfield help, they will keep their eye on the left-handed hitting Ankiel. The former St. Louis center fielder is coming off a season in which he hit .233, and he and his agent Scott Boras have watched his stock and asking price drop in a slow-moving free-agent market.
The Cubs have three players left to sign who have filed for an arbitration hearing: shortstop Ryan Theriot, left-handed pitcher Sean Marshall and closer Carlos Marmol. Of the three, Theriot is the most likely to go through the process without settling.
The last Cubs player to go through an arbitration hearing was former first baseman Mark Grace in 1993.
November, 21, 2009
11/21/09
4:27
PM CT
The Cubs and Toronto first talked trade in early October. Among the many names that were mentioned was star pitcher Roy Halladay. Halladay, going into the last year of his contract before becoming a free agent, will be shopped extensively by the Blue Jays during this offseason. The one caveat is that Halladay has a complete no-trade clause, which allows him to stop any type of deal unless he first approves.
Among the names that the Cubs and Blue Jays talked about was Vernon Wells in the original scuttlebutt that got out about a possible Milton Bradley-for-Wells deal. Toronto also talked to the Cubs about Lyle Overbay; another contract the Blue Jays would like to rid themselves of. Actually, Toronto has talked to many teams about the big contracts they have committed to Wells, Overbay and Halladay. Toronto is trying to go young and free themselves of the heavy payroll load that they are committed to at this point.
As far as Halladay and the Cubs, it doesn't look good for the North Siders to be able to come up with the kind of money it would take to take on his contract. The most feasible situation would be to trade Carlos Zambrano and at least one of the top young prospects in the system like Starlin Castro, or Josh Vitters, in any deal that would make sense for both sides. The problem with that type of trade is two-fold: One, Zambrano has a full no-trade clause, and two, trading the team's top future prospect at shortstop by moving Castro would be counter-productive to what the team is looking forward to in years to come.
Halladay will most likely be traded in the offseason, but trading him to the Cubs is a real long shot. First and foremost, general manager Jim Hendry has to move Milton Bradley's contract. The most logical team still remains to be the Tampa Rays, who are hoping to include Pat Burrell in the deal. For the Cubs, that would mean that they would have to complete that trade, eat some money on Bradley's contract, and then trade Burrell.

The Cubs already have a long-term commitment (five years) to a left fielder who is below average defensively and strikes out too much. Therefore, it will be imperative for Hendry to move Burrell's contract before the season begins.
October, 31, 2009
10/31/09
4:41
PM CT