Chicago Cubs:

Wellington Castillo
July, 28, 2013
Jul 28
8:18
PM CT
By
Kevin Lynch
| Special to ESPNChicago.com
SAN FRANCISCO -- The
Chicago Cubs
have a chance to finish the season with a winning road record. Their 6-4 trip against the
Arizona Diamondbacks
,
Colorado Rockies
and
San Francisco Giants
put them at 26-29 on the year.
"I can't remember ... having this kind of trip to the West Coast," Sveum said after his team's 2-1 win Sunday. "Winning six out of 10 on the West Coast is one of the hardest things to do in baseball."
The Cubs swept a series in San Francisco for the first time since September of 1993.
Overall, the trip also featured a few trades, including a deal to send team leader
Alfonso Soriano
to the
New York Yankees
. It seemed with every trade, the Cubs got better.
"We know we can do it with the young guys we have," catcher
Welington Castillo
said. "Everybody is doing their part."
Pitcher
Travis Wood
, who reclaimed his ace-of-the-staff mantel by giving up only one unearned in seven innings Sunday, says he believes trades make teams come together.
"I feel trades always make teams closer, everyone kind of pulls things together," Wood said.
Winning three consecutive close, low-scoring games can also galvanize a team filled with young players.
"Being part of something, continuing to win up to the winter time -- a lot of these guys get a feeling for that in the big leagues," Sveum said. "Get that feeling that every out and every pitch meant something. These guys multiply by 10 in a pennant race."
July, 28, 2013
Jul 28
7:52
PM CT
By
Kevin Lynch
| Special to ESPNChicago.com
SAN FRANCISCO -- As the
Chicago Cubs
were collecting themselves to return home, AT&T Park opened up the infield so kids could run the bases and touch home plate. Meanwhile, Chicago manager Dale Sveum reflected on the manner in which his Cubs completed their trip with a three-game sweep of the reeling World Series Champion
San Francisco Giants
.
The Cubs only touched the plate six times in their three games at AT&T.
"We pitched well," Sveum said. "We didn't do much offensively."
Cubs All-Star pitcher
Travis Wood
bounced back from two straight losses to dazzle. He threw seven innings of four-hit ball, yielding a single unearned run. He also hit his third home run of the year, which leads all major league pitchers.
"Pretty much won the game by himself," Sveum said.
Wood struck in the fifth, stroking his sixth career homer to left field off Giants starter
Tim Lincecum
. His blast was also a factor in catcher
Welington Castillo
's game-winning solo homer off Lincecum in the seventh. Possibly not wanting to face Wood again, Lincecum grooved a fastball on a 3-1 count.
"In the first two at-bats, he was throwing a lot of out pitches," Castillo said. "In that count with two out, I just think fastball and lay off the other pitches. He threw a fastball in there and I put my best swing on it."
July, 26, 2013
Jul 26
12:17
AM CT
Chicago Cubs
RHP
Carlos Villanueva
was looking to rebound in Phoenix from a poor start on July 20, but instead surrendered seven runs over four innings in a 3-1 loss to the
Arizona Diamondbacks
on Thursday.
The Cubs starter got off on the wrong foot against the D-backs, throwing 37 pitches in the first inning. He escaped allowing just one run. He also gave up a run in the fourth on back-to-back doubles by
Wil Nieves
and
Cliff Pennington
).
Aaron Hill
took Villanueva deep in the fifth. Villanueva got through only five innings. A taxed bullpen had to once again pitch beyond its limits. (In this four-game series, relievers pitched 12 2/3 innings.)
Welington Castillo
drove in the Cubs' sole run with an RBI double in the seventh.
Nate Schierholtz
hit what appeared to be a leadoff home run in the ninth, but it was ruled fan interference and a ground-rule double.
What it means:
The Cubs split the series with Arizona. Villanueva lost his seventh game of the season, against two victories. Everything around the team seemed up in the air with the
Alfonso Soriano
, whose trade to the New York Yankees remains in limbo. Cubs manager Dale Sveum was unsure which player would replace Soriano on the roster, should Major League Baseball approve Soriano's trade.
Jeff Samardzija
,
Darwin Barney
and
James Russell
would have the longest consecutive tenures in Chicago with Soriano moving on.
Outside of the box:
The deal with New York has to be approved by league commissioner Bud Selig. … Any salary exchange more than $1 million must get his blessing. Soriano's no-trade waiver had to be signed and notarized by MLB before the deal could be announced. …
Junior Lake
has cooled off, settling for one hit on Thursday evening. Lake is the first player to get a hit in seven straight games in a Cubs debut since Jerome Walton in 1989.
Up next:
The Cubs conclude the last leg of their 10-game road trip with three games at the
San Francisco Giants
starting Friday at 9:15 p.m. CT, with RHP
Edwin Jackson
(6-11, 5.03) vs. RHP
Matt Cain
(6-6, 5.00).
May, 26, 2013
May 26
4:59
PM CT
By
Mark Schmetzer, Special to ESPNChicago.com
CINCINNATI -- Here's a quick look at the
Chicago Cubs
' 5-4, 10-inning win over the
Cincinnati Reds
on Sunday at Great American Ball Park.
How it happened:
Unlike the first two games, in which Chicago took an early lead and at least made Cincinnati come from behind, the Cubs fell behind 4-0 before pushing across a run in the seventh and three in the eighth with two outs to tie the score before winning it in the 10th on Welington Castillo's double, which drove in
Scott Hairston
.
Anthony Rizzo
cut the Reds' lead to 4-2 with a double down the right-field line, his third double in the past two games, and
Alfonso Soriano
followed with his fifth home run of the season and first since May 13. Chicago right-hander
Matt Garza
, making his second start of the season after coming off the disabled list, pitched three shutout innings before the Reds erupted in the fourth.
Jay Bruce
hit a one-out solo homer,
Ryan Hanigan
launched a run-scoring drive to straightaway center field on which
David DeJesus
almost made a tremendous diving catch with his back to the plate, and
Zack Cozart
capped the inning with a bases-loaded, two-run double.
What it means:
The Cubs snap their season-high losing streak at six games.
Outside the box:
Soriano moved into a tie with Jeff Kent and Norm Cash for 67th place on the career home run list with his 377th. Matt Williams is next with 378.
Up next:
The Cubs open a stretch of 14 games in 16 days in Chicago with interleague "road" games Monday and Tuesday against the White Sox at U.S. Cellular Field. Right-hander
Jeff Samardzija
(2-6) is the Cubs' projected starter. He expects to face left-hander
Jose Quintana
(3-1) in the 12:10 p.m. game.
February, 25, 2013
Feb 25
7:07
PM CT
GLENDALE, Ariz. -- If there is one position the
Chicago Cubs
seemingly are always trying to find a long-term starter for it's arguably at catcher. With
Geovany Soto
long gone, this year they'll turn to 25-year-old
Welington Castillo
.
Cubs manager Dale Sveum made it clear on Monday the job is Castillo's -- as long as he performs.
"You'd like to see Welington start out his first year playing every day, catch right around 100 to 110 games," Sveum said. "But that's subject to change depending on his own production and how things are going."
Sveum made those comments before Monday's Cactus League contest between the Cubs and Dodgers, in which Castillo promptly homered in his first at-bat.
"It helps to come to spring training and know you have a job, but at the same time I don't feel comfortable, just have to keep working hard and feel like I don't have anything," Castillo said afterwards.
March, 5, 2012
3/05/12
5:35
PM CT
MESA, Ariz. -- Days after being anointed the favorite among the final 16 participants in the Cubs' bunt tournament, minor-league catcher
Steve Clevenger
was eliminated.
With guys like
Ryan Dempster
and
Kerry Wood
knocked out, both by Dale Sveum, the new Cubs manager anointed his young catcher as the guy to beat. Instead
Welington Castillo
moved into the quarterfinals Monday along with
Jeff Beliveau
,
Casey Coleman
and
Adrian Cardenas
.
Four more Sweet 16 matchups are set for Tuesday. The championship match is scheduled for March 16.
Sveum has a match upcoming against
Paul Maholm
in the pitchers' bracket, while
Jeff Samardzija
takes on
Randy Wells
. In the position players' bracket,
Joe Mather
will take on
Starlin Castro
, while
Jeff Baker
takes on
David DeJesus
.
It was Sveum himself that called Clevenger the best of the remaining bunters, while making himself a No. 2 seed. Wells and Coleman also appear to be the class of the remaining participants.
On this past weekend's edition of Talkin' Baseball on ESPN 1000, president of baseball operations Theo Epstein weighed in on the bunt tournament.
"It accomplishes a lot of different things at the same time," Epstein said of the event invented by Sveum when he was a minor-league manager in the
Pittsburgh Pirates
organization. "And it's significant that it's a bunting contest because that's about as fundamentally important and simple as you can get. That's something we need to get better at so we're practicing technique and rewarding players for doing the right thing."
September, 5, 2011
9/05/11
2:56
PM CT
CHICAGO – The Chicago Cubs on Monday activated right-handed pitcher Andrew Cashner from the 60-day disabled list.
[+] Enlarge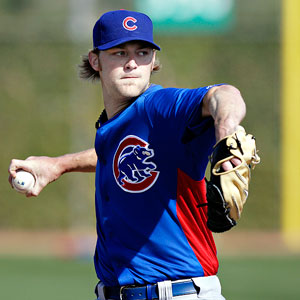 AP Photo/Paul ConnorsAndrew Cashner made just one start this season before getting injured.
Cashner is expected to be in uniform Tuesday, but he is unlikely to pitch until Wednesday at the earliest. He has been throwing every third day as part of his rehab.
Cashner was placed on the DL on April 8 (retroactive to April 6) with a right rotator cuff strain. He re-aggravated the injury while rehabbing in mid-May. He is expected to stay in the bullpen for the remainder of this season.
Cashner's activation could be one of many roster moves the team makes in the coming days.
Infielder D.J. Lemahieu and relief pitcher John Gaub are expected to be called up Tuesday from Triple-A Iowa. After that, the team likely will wait until the end of the Double-A playoffs before promoting two players on the Tennessee Smokies. Right-handed pitcher Rafael Dolis and catcher Steve Clevenger are on track to get promoted after the conclusion of those playoffs. Clevenger must be added to the roster before he is eligible to play in the major leagues.
Cashner's coming off the DL and Celvenger's eventual addition will max out the Cubs' 40-man roster. With that, the team may consider designating players currently on the 40-man roster for assignment.
One player who will not be ascending to the 40-man roster is outfielder Brett Jackson. Rated as the organization's top prospect, the Cubs have decided to keep Jackson in the minors for the remainder of this season. The team also canceled Jackson's Arizona Fall League slot. The young outfielder will instead play with Team USA in the Pan Am Games this fall.


A few other names who are unlikely to see the 40-man roster: pitcher Scott Maine, catcher Wellington Castillo and pitcher Chris Carpenter. All were candidates for call-ups, if not for injuries.
On Sunday, Sept. 11, a roster spot will have to be opened for Carlos Zambrano's return to the active roster. Zambrano will be coming off the disqualified list after 30 days. He will not re-join the team, however.
September, 3, 2010
9/03/10
10:50
AM CT
The Cubs called up catcher Wellington Castillo from Triple-A Iowa. Because of the September roster expansion, he'll be able to play this weekend against the Mets.

The Cubs' lineup vs. the Mets on Friday is:

Kosuke Fukudome, RF
Starlin Castro, SS
Marlon Byrd, CF
Aramis Ramirez, 3B
Xavier Nady, 1B
Geovany Soto, C
Alfonso Soriano, LF
Blake DeWitt, 2B
Randy Wells, P