Chicago Cubs:

Yadier Molina
February, 23, 2014
2/23/14
4:18
PM CT

By Jesse Rogers
ESPNChicago.com
Archive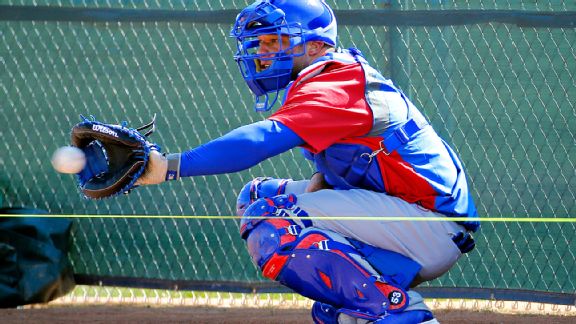 AP Photo/Matt YorkWelington Castillo hopes his offense continues to catch up to his defense this season.
MESA, Ariz. -- The
Chicago Cubs
'
Welington Castillo
figures if he wants to be one of the best catchers in the game it can't hurt to stare at some of the all-time greats every day he comes to work.
Castillo's locker is in the far corner of the new Cubs spring training facility and taped on the walls next to it are pictures of some of the best catchers who have ever played, including Gary Carter, Johnny Bench, Mickey Cochrane, Yogi Berra, Carlton Fisk and Roy Campanella.
"(Catching coach) Mike Borzello gives me a new picture every day," Castillo explained Sunday morning. "I don't know all of them but I'm learning."
June, 21, 2013
6/21/13
12:46
AM CT
By Rob Rains
Special to ESPNChicago.com
Archive
ST. LOUIS --
Scott Feldman
sat and watched the first three nights of the series between the
St. Louis Cardinals
and the
Chicago Cubs
before his turn to pitch came Thursday night.
It wasn't much fun to watch, and it wasn't much fun to pitch, either.
Feldman
"I knew going in they've got a good lineup," Feldman said of the Cardinals. "Obviously,
Yadi [Molina]
is swinging the bat about as good as anybody I have seen right now. You've got to make your pitches but at the same time be aggressive.
"The bottom line is you have to tip your cap at the end of the night. They did a great job. They beat me."
Feldman allowed only a single run in each of the second and third innings but could not get through the sixth, when the Cardinals blew the game open with a four-run inning.
"The whole game was just a grind," he said. "They had runners on a lot and were getting my pitch count up there. I wanted to get through six but it just didn't happen tonight."
Molina was not the offensive star for the Cardinals on this night but once again was in the middle of the action. He walked and scored on a double by
Matt Adams
in the second, and after walking again in the third, he doubled and scored in the sixth.
Feldman was charged with six hits and five runs, and issued four walks before he was lifted after 5 1/3 innings.
"They were trying to get into some hitter's counts and they did a good job of that," Feldman said. "I wish I would have not been in those counts as much."
June, 19, 2013
6/19/13
6:17
PM CT
By Rob Rains
Special To ESPNChicago.com
Archive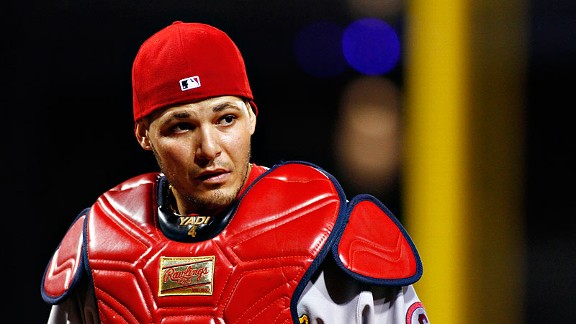 Justin K. Aller/Getty ImagesDale Sveum has admired how Yadier Molina has tweaked his approach and improved every year.
ST. LOUIS -- It likely will not come as a surprise to Cubs manager Dale Sveum that Cardinals' catcher
Yadier Molina
got credited for a base hit on Wednesday -- for a game he played eight days earlier.
The NL's leading hitter, and a major nemesis for the Cubs, Molina got the extra hit when Major League Baseball reversed a ruling on a play from a June 11 game against the Mets that had originally been ruled an error.
June, 9, 2012
6/09/12
7:48
PM CT
By Christina Kahrl, ESPN.com
ESPNChicago.com
Archive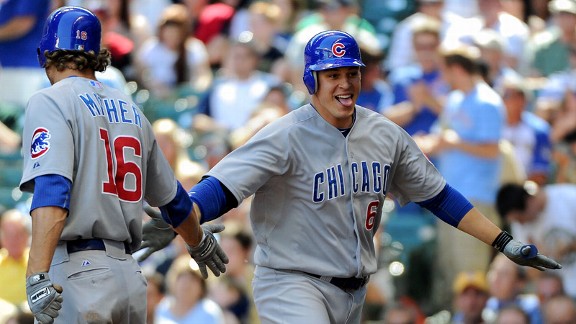 Benny Sieu/US PresswireBryan LaHair, 29, is in the top five in the National League in slugging, OBP and OPS.
At 28 years old and after spending much of the previous five seasons in Triple-A,
Bryan LaHair
was a purportedly "known" quantity -- Quadruple-A bat, perhaps a fill-in first baseman. In his one brief shot at The Show in Seattle in 2008, he split time at first base with utilityman
Miguel Cairo
and
Jose Lopez
. He didn't shine, and it was back to Tacoma the next year. In short, he seemed a man doomed to a dim star on an obscure walk of fame to be named later, perhaps in Tacoma, maybe in Iowa.
He changed that in his sixth campaign in the Pacific Coast League, changing the minds of scouts and analysts alike with 28 homers and a 1.070 OPS. And this year, taken seriously for the first time, he's a 29-year-old getting his first real shot at everyday play in the major leagues ... and blowing the league away. He's third in the National League in slugging, fourth in OBP, and fourth in OPS. And all it took to bring him to Wrigleyville was a minor-league contract, after the Mariners let him slip away as a minor league free agent.
By simultaneously shredding expectations and opposing pitchers, LaHair is providing a fine example that players' career paths aren't simply a matter of forecasting off past performance. That works on the macro level, for most players. But whether as a matter of changing their game or finally getting opportunities they'd long deserved, a few past-prime players are making the most of their opportunities this season.
You can't quite come up with a full lineup's worth of these guys, but beyond LaHair, here's my off-the-cuff list of this season's other "surprise stars," some of whom will belong in Kansas City as full-fledged All-Stars in a month's time.
C A.J. Ellis, Dodgers:
Say what you will about catching always being in short supply -- and it isn't -- Ellis had to wait until this year to get a clean shot at a catching job. Now 31, he's pretty much the perfect example of an organizational soldier: He spent his first two full seasons after getting picked in the 18th round out of Austin Peay as a backup at High-A, caddying for
Russell Martin
and then
Edwin Bellorin
(once upon a time a well-regarded Venezuelan prospect).
Ellis finally became a regular in Double-A in 2006. From the start, he showed tremendous ability to get on base, but the Dodgers kept him at the same slow pace, as he spent two years in the Southern League and two years in the PCL before graduating to two years as a big-league backup. That sort of long-form apprenticeship that seemed certain to lock him into little more than membership in the International Brotherhood of Backup Backstops.
Perhaps only taken seriously as a starter as a matter of grudging last resort this past winter, when the market offered slim pickings as far as catching help, Ellis is second only to
Yadier Molina
among NL catchers in his production at the plate while throwing out 41 percent of opponents' steal attempts. Ellis might be this group's best bet beyond LaHair to be headed to Kansas City for the All-Star Game.
SS Mike Aviles, Red Sox:
It has been a bumpy road for Aviles since his old-rookie debut as a 27-year-old with the Royals in 2008. In K.C., he had to contend with injuries and the idea that he wasn't really a shortstop. This year, shortstops are putting up the collectively lowest OPS (.678) or OPS+ (88), so Aviles' .711 OPS/90 OPS+ clip is just a wee bit above average, not shabby considering he's also doing fine at short according to advanced fielding metrics. Beyond buying time for
Jose Iglesias
, this has proven a relatively high-yield, low-expense gamble for the Sox: League-average shortstops usually cost millions on the market, but Boston got him for an organizational arm (Kendal Volz) and
Yamaico Navarro
, a utility player so interesting that K.C. flipped him to the Pirates, who have already ditched him in Indianapolis.
CF Alejandro De Aza, White Sox:
If LaHair is the slugging surprise of the season, De Aza is the out-of-nowhere leadoff solution most teams need. Back in 2007, he got an opportunity with the Marlins, leading off on Opening Day, but injuries to first one ankle and then the other derailed that season and the next. In 2009, he gave the first indication that he wasn't just going to be a speed guy, slugging .506 for New Orleans; the Marlins were so impressed they let him slip away on a waiver claim by the White Sox. Finally getting a shot at everyday play as a 28-year-old in the one-hole, he's hitting .299/.381/.425 and he's holding his own in center.
Juan Pierre
never looked this good, but a crowd of quality center fielders in the American League will keep De Aza from All-Star status.
OF Gregor Blanco, Giants:
Melky Cabrera
isn't the only Giants outfielder having a season well beyond anything he's done before. A Braves prospect they lost interest in, he was dealt to the Royals, who dealt him to D.C. before the Nationals ditched him. All he's ever done is get on base; he just needed an opportunity. He got one when general manager Brian Sabean fished him off the discard pile this past winter. Pushing his way past
Nate Schierholtz
, Blanco has hit his way into everyday play in right field and the leadoff job with a .387 OBP as a 28-year-old journeyman. Blanco may rival Sabean's "discovery" of
Andres Torres
in 2009 before all's said and done.
RF Justin Maxwell, Astros:
Nobody has doubted Maxwell's power or talent, but his ability to stay healthy has been an annual concern. The Nats decided they had better uses for his spot on the 40-man and traded him to the Yankees, but he spent more time on the disabled list in 2011 with a bum shoulder than he did in pinstripes. The talent-hungry Astros snagged the 28-year-old off waivers this spring, and he's been a free-talent find as a fourth outfielder, providing power against lefties and strong-armed defense.
SP Jerome Williams, Angels:
Back in the day, Williams was a top prospect in the Giants organization, ranking in Baseball America's top 20 for all baseball. That all seemed merited after a fine 2003 rookie season in which he drew an NL Division Series start for them against the Marlins. It was almost unrelentingly downhill from there; he needed elbow surgery in 2004, got dealt to the Cubs in 2005, and then bouncing through the Nationals, Twins, A's (twice) and Dodgers organizations, as well as a stint in the independent leagues. After making a nice impression on the Angels down the stretch last season, the 30-year-old Williams is getting regular rotation work in the majors for the first time in seven years as their fifth starter. More of a finesse righty these days, he's been an exceptional salvage-project success, putting up eight quality starts in 10 turns, far better work than most teams reasonably expect from a No. 5.
Quite simply, what these guys reflect is that not all replacements are "replacement level." Just when you think you know what a player is capable of, a happy few beyond their expected peak age of 27 have demonstrated the delightful capacity to surprise and exceed the modest expectations even their fans harbored for them. I don't know about you, but I like these kinds of surprises -- here's hoping we see more of the same from all of them.