The A's and Yoenis Cesepedes agreed to a $36 million contract.
Cespedes could head back to the Dominican Republic as early as Thursday.
1164d
ESPN.com news services
Source: Yoenis Cespedes has been granted a visitor's visa.
Cuban outfielder Yoenis Cespedes waiting for chance to talk to teams in U.S.
Kevin Goldstein asks executives how good Yoenis Cespedes can be.
Yoenis Cespedes has established legal residency in the Dominican Republic.
Cuban defector Yoenis Céspedes said the Chicago Cubs have shown the most interest in him.
Cespedes said six teams are pursuing him, including the Cubs and Sox.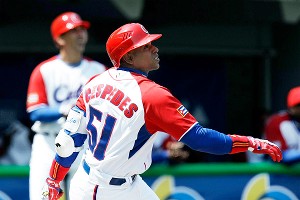 The White Sox may join the Cubs in pursuit of Cuban Yoenis Cespedes.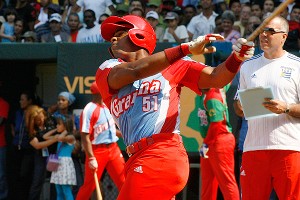 With the Cubs manager in place, it's time for the club to focus on its roster.
A's to sign Cespedes for $36 million
Cuban outfielder Yoenis Cespedes has agreed to a four-year, $36 million deal with the Oakland Athletics.