June, 13, 2012
6/13/12
10:09
AM CT
About 10 minutes from opening a comfortable lead in its semifinal group of World Cup qualifying, the United States stumbled.
Marco Pappa
scored on a free kick in the 83rd minute, giving Guatemala a 1-1 tie with the Americans on Tuesday night
Clint Dempsey
put the U.S. ahead in the 40th minute, but
Fabian Johnson
pulled down Carlos Ruiz just outside the penalty area to set up the late free kick in a dangerous position. Pappa, a Chicago Fire midfielder, froze goalkeeper
Tim Howard
with a 24-yard shot that went just under the crossbar.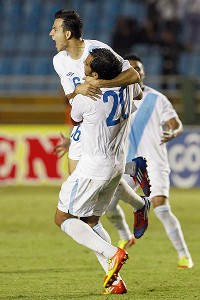 AP Photo/Moises CastilloMarco Pappa's free kick in the 83rd minute tied the game at 1-1.
"When you control the game the way we did, especially after we scored the goal and passed around the ball really well, you're a bit disappointed when something like that happens," U.S. coach Jurgen Klinsmann said. "But overall it was a good game from our end. I'm happy with the performance. I would love three points but I will take it the way it is."

The 28th-ranked Americans were outshot 13-11 by 85th-ranked Guatemala, a team that has never qualified for the World Cup.

Seeking its seventh straight appearance in soccer's showcase, the U.S. (1-0-1) tops Group A of North and Central America and the Caribbean on goal difference over Jamaica (1-0-1), which tied 0-0 tie at Antigua and Barbuda. Guatemala (0-1-1) and Antigua (0-1-1) have one point each.

The top two teams advance to next year's six-nation regional finals, which will produce three qualifiers for the 2014 tournament in Brazil.

"I think it's an open group, and it will be a competition until the very last game," Klinsmann said. "We wanted three points but we're OK with the one point that we take away leading the group."

The Americans extended their unbeaten streak against Guatemala to 18 games (12-0-6) since 1988 and improved to 6-0-5 against the Guatemalans in World Cup qualifying.

Dempsey scored his 27th international goal off a play that started with a short pass from Johnson on the left. Dempsey cut across to his right, taking two touches as he sidestepped slipping defenders Carlos Gallardo and Erwin Morales, then wrong-footed Ricardo Jerez Jr. with a right-footed shot from 16 yards to the goalkeeper's right.

It was Dempsey's 28th goal of the season for club and country, including 23 for England's Fulham.

Just before the goal, Howard made a diving save on Carlos Figueroa's open 10-yard shot from an angle. Ruiz nearly tied the score in first-half injury time, hooking just wide on a left-footed shot from the top of the arc.

Johnson returned to left back after missing Friday's game because of a strained calf muscle.

Klinsmann gave Geoff Cameron his World Cup qualifying debut, bringing him in to start the second half in place of Clarence Goodson, who had gotten a yellow card in the 23rd.

Guatemala coach Ever Hugo Almeida used all three substitutes to start the second half, just as he did Friday. Pappa, Manuel Leon and Dwight Pezzarossi replaced Figueroa, Jose Contreras and Mario Rodriguez.

When the second half started, Pezzarossi just missed with a header that went narrowly over the crossbar following a corner kick.

Guatemala argued unsuccessfully for a penalty kick after American defender Carlos Bocanegra kicked a clearance up off his own hand. Jozy Altidore entered at forward for Herculez Gomez in the 64th minute.

Howard made a diving stop on Rodriguez's 5-yard in shot in the 69th after a corner kick was headed in front of the goal. Then, with the net wide open, Ruiz skied the rebound over the crossbar.

Altidore was open and put the ball in the net in the 79th, only play had been whistled by referee Joel Aguilar of El Salvador.


Notes
The game was shown on pay-per-view in the U.S. after the Guatemalan federation, which owns the rights, sold them to Traffic Sports. ... The U.S. next plays in an exhibition on Aug. 15, most likely at Mexico. The Americans resume qualifying Sept. 7 at Jamaica, then host the Reggae Boyz four days later at Columbus, Ohio. ... Johnson received a yellow card for the foul that led to the tying goal.
Michael Bradley
and Maurice Edu also received yellow cards.
September, 9, 2010
9/09/10
10:24
PM CT
By
Charlie Corr
| ESPNChicago.com
BRIDGEVIEW, Ill. -- Familiarity of the U.S. Soccer system and the pool of American players clearly benefited former Chicago Fire and current U.S. National Team head coach Bob Bradley.

"When we started, we tried very hard at first to establish a routine," Bradley said before Wednesday's Fire-Toronto FC match. "I think the players would even say at first it was maybe more rigid than it had been in that regard. Sometimes [former U.S. head coach] Bruce [Arena] and I do things a little different. Then as we got closer to the World Cup, and now we knew each other better and things were pretty firmly established, I also think we adjusted as we got closer."

The U.S. advanced through the group stage at the 2010 FIFA World Cup, then bowed out against Ghana. It was a high-and-low moment for the man who led the Fire to an MLS Cup in the team's inaugural 1998 season.

The team's performance was enough for U.S. Soccer president Sunil Gulati to extend Bradley's contract until 2014. And now Bradley is in the early stages of a new cycle -- a four-year period where the canvas will need some alterations along the way.

"It's a balancing act," Bradley said. "It's not about bringing a whole team of players. Little by little, guys that we've seen who are doing well, we start to envision the potential to help us in this next stretch of four years."

Several years in advance of another Cup, it is far too early to know the exact pool of players, styles and intangibles that the team will bring. But in looking at the team's recent play, the Americans were direct and more likely to attack on a counter rather than possess the ball for large stretches.

Bradley went through a large pool of players heading into this year's Cup, though when all was said and done he went with a select core of guys that he also believes will be retained four years from now.

"Certainly you can look at a core of players that I thought were right in the middle of our team in this particular World Cup and believe that they're still going to be there over the next four years," Bradley said. "We felt quite good the last time that on different levels we identified players that needed to take bigger roles, and I think in many cases guys like Timmy Howard, Carlos Bocanegra, Clint Dempsey, Stevie Cherundolo and Oguchi Onyewu became leaders and took more responsibility."

The U.S. hosts Poland on Oct. 9 at Soldier Field, marking only the second match following the Americans' World Cup showing. Bradley and company will continue to tap into some of the younger talent, and quite often that large pool is generated from MLS.

"When you look at the number of players that have played this summer in South Africa for our national team, so many of them began their careers here or still play here," Bradley said. "So in those ways the work of the league and the people who have been here at all levels have directly impacted the success of the national team."

A key component for Bradley over the next several years will not only be trying to find the suitable talent, but to keep an open vision along the way.

"When you've coached for a while and you've stayed with the same team, you stay sharp by looking first at yourself and assessing things -- finding little ways to make sure that the environment stays fresh," Bradley said. "I think as a staff we've done a good job of constantly assessing how we're doing everything."
June, 26, 2010
6/26/10
12:02
AM CT
By
Charlie Corr
| ESPNChicago.com
The United States has some veteran experience and a collective group. Ghana has talented youth, some speed up front and a home-field-like advantage being the only African nation remaining in the 2010 FIFA World Cup.

However you slice and dice the elements, the possibilities are endless in the knockout round.

The U.S. faces Ghana on Saturday in the Round of 16, and U.S. head coach Bob Bradley, his staff and players think they have a good grasp of who they are facing this weekend.

"We all know the types of players that Ghana has produced, the great youth teams they've had and the fact that they've been able to, I think, do a very good job of turning very good teams at the U-17 and U-20 level into very good teams at the full national team level," Bradley said. "We know some of their guys pretty well, we've watched them a lot and we expect a really good game."

The U.S. won Group C to get to this stage, but the journey was far from picture-perfect. The Americans had a pair of draws against England and Slovenia, then capped off group play with a second-half stoppage-time goal from Landon Donovan to edge Algeria.

Ghana managed a runner-up finish in Group D behind Germany. The Black Stars topped Serbia, had a 1-1 draw against Australia, then fell to Germany, 1-0.

If you want to nitpick Ghana's group play, the Black Stars scored two goals in the three games, and neither was in the run of play.

"There's cause for a little concern," Ghana native and Chicago Fire midfielder Patrick Nyarko said earlier this week at Fire training. "I think we've created very good chances, and hopefully we can finish and our defense can hold up. The U.S. attack is very strong and very dangerous right now. Hopefully we can come out Saturday and stop them."

From an expectations standpoint, suffice it to say that the Americans have met them. Most people were hoping they would advance through the group stage and they did so at the very last minute against Algeria.

After the Americans wiped their brow and avoided a devastating early exit, a letdown in the knockout stage would be a huge disappointment from the U.S. camp. Which is why this U.S.-Ghana match carries far more importance. There also is a redemption factor heading into Saturday's match because the Americans fell to Ghana, 2-1, in the 2006 World Cup and were eliminated.

"I think there are six players on each team that were in that match, so there's some element of [avenging that loss]," Bradley said. "But nonetheless, four years later things change. In the moment and speaking for ourselves, the excitement to be at this point and the understanding that you get this opportunity to give what you have and try to continue to move along. You take nothing for granted, and get excited for putting it on the line again."

From a tactical standpoint, it will be interesting to see what Bradley decides to do with the defensive line on Saturday. Bradley decided to sit center back Oguchi Onyewu against Algeria, while teaming Carlos Bocanegra and Jay DeMerit as the center combo.

However Bradley puts together the pieces, the Americans are being watched closely, and they should be. They are the highest-ranked team in their quadrant at No. 14 in the FIFA Rankings. The U.S. is followed by Uruguay (16), Ghana (32) and South Korea (47).
June, 17, 2010
6/17/10
7:59
PM CT
By
Charlie Corr
| ESPNChicago.com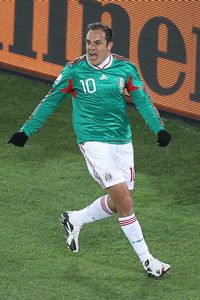 Valery Hache/Getty ImagesCuauhtemoc Blanco celebrates after scoring against France on a penalty kick, becoming the first Mexican to record a goal in three different World Cups.
Former Chicago Fire midfielder Cuauhtemoc Blanco is a soccer anomaly of sorts. The 37-year-old can't play for long stretches. He's slowed down tremendously. And he is the last person you would ask to wholeheartedly play on both sides of the ball.

But despite Blanco's shortcomings, the man can still finish. And on Thursday, Blanco did what no other Mexican soccer player has done: score in three different World Cups.

Blanco's 79th-minute penalty kick capped off a 2-0 Mexico victory over France on Thursday in the 2010 FIFA World Cup in Group A play. Mexico (1-0-1) simply needs a draw against Uruguay to assure itself of a spot in the next round.

Blanco has seen different generations of players step into the fold. But with age, there are three things that have not slowed down Blanco -- his superb finishing ability, his creativeness and his vision. As long as he has all three, does it matter if Blanco lags behind in certain sequences?

Javier Hernandez put El Tri on the board in the 64th minute. Then less than 15 minutes later, France's Eric Adibal fouled Mexico's Pablo Barrera in the box, setting up Blanco in the 79th minute. Blanco calmly placed the penalty kick into the left side netting. France goalkeeper Hugo Lloris did everything he possibly could do, diving to his right and lunging toward the low projection of the ball. But Blanco struck it perfectly, like a dart player finding the exact center of the bulls-eye.

A little to Blanco's left, the ball would have hit the woodwork. A little to the right, Lloris probably could have deflected enough of the ball with his gloves to push the strike away to the side.

Blanco netted his 39th international goal, and has tallied a goal in the 1998, 2002 and 2010 World Cups.

Last week, Clint Dempsey became just the second American to score in two World Cups -- the other being Fire target forward and Arlington Heights, Ill., native Brian McBride. Blanco's accomplishment obviously exceeds McBride's and Dempsey's feats, and who knows what would have happened in the 2006 World Cup if Blanco was on board.

Blanco feuded with former Mexican manager Ricardo La Volpe and he was left off Mexico's roster for the '06 Cup in Germany. The tone is much different under current manager Javier Aguirre, who wanted Blanco after an eight-year absence from the Cup.

Blanco remains a force as this year's oldest player in Cup competition. He is the third-oldest player to score at the Cup, behind Cameroon's Roger Milla and Sweden's Gunnar Gren.

U.S. needs smart game against Slovenia: The United States' 1-1 draw against England was an adequate result from the Americans' standpoint. But with Slovenia on the docket, the U.S. is thinking 'win' all the way. The Americans do not want to create a must-win situation to wrap up Group C play against Algeria, so they are approaching Friday's match (8:30 a.m. CT, ESPN) with balanced aggressiveness.

"It's going to be where you have to play a smart game, but get at them without opening ourselves up to be hit on the counter attack," former Fire defender Carlos Bocanegra said to ESPN.

It is no secret that stout defense has been the trademark of Slovenia, which defeated Algeria 1-0 in group play and has won seven of its last eight matches.

"They're very well organized, and tactically I think they're very smart," former Fire and current U.S. head coach Bob Bradley said at Thursday's press conference. "Their defensive record in qualification was outstanding. They have good balance in the team, good mobility and some dangerous players."
June, 13, 2010
6/13/10
6:03
PM CT
By
Charlie Corr
| ESPNChicago.com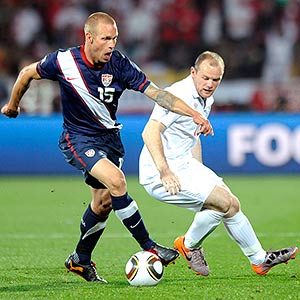 Jim Brown/US PresswireU.S. defender Jay DeMerit (15) had a solid match marking England forward Wayne Rooney (10).
Former Chicago Fire reserve and University of Illinois-Chicago alum Jay DeMerit was given the task of marking high-profile England forward Wayne Rooney on Saturday in the United States' opener in the 2010 FIFA World Cup.

Sometimes a defenseman's positive work never comes to the forefront, but in this instance it should. His effort was a bit hidden during the U.S.'s 1-1 draw against England because Clint Dempsey scored the lucky U.S. goal, goalkeeper Tim Howard came up with big-time saves, Oguchi Onyewu's recovery drew some of the defensive focus.

Rooney's lack of involvement was a big factor over the weekend. In fact, DeMerit and the American defense pretty much kept him out of the match for the first 20 minutes. Anytime you shorten the possession time of such a lethal offensive weapon, it pays big dividends.

"He's a gritty player and he makes it difficult for all the strikers," Onyewu said of DeMerit following the match. "I think he did real well to help us out when we needed it."

DeMerit regularly had good moments and confident runs to the ball. Take a sequence such as the 12th minute, where DeMerit cut off the passing lane to Rooney and headed the ball away. If DeMerit had laid back, he would have faced Rooney head-to-head on the right side, because Steve Cherundolo was pushed up toward the midfield, and Onyewu and U.S. captain Carlos Bocanegra were away from the action. In this instance, DeMerit got to the ball first, then midfielder Michael Bradley got there and he passed it all the way back to Howard.

DeMerit maintained a solid line, regularly getting into passing lanes. In the 65th minute he headed an intended pass for Rooney from the right side. DeMerit also showcased some toughness and leverage. winning the ball against Rooney in the 34th minute, then shielding him off the ball during the U.S. possession.

Though the team defense was absent during England's 4th-minute goal from Steven Gerrard, there was some improvement collectively as the game progressed. In the 24th minute, Rooney chested the ball in the center of the pitch, but DeMerit, Ricardo Clark and Bradley all were there to converge on him as the Americans gained possession, then controlled the ball for the next minute or so.

Rooney's movement stepped up a notch in the second half, but that is expected from a world-class striker.

"I thought Jay did well to follow him into the midfield," Bocanegra said. "Second half was a little bit more open and he got a few more chances to run at us, but that's going to happen when we're a bit tired and space gets more open. But I thought we did well on him."

Overall, it was a solid performance by DeMerit and the U.S. defense to hold England's offense off the scoreboard following an early mishap.

"It was a good team effort defensively," U.S. head coach Bob Bradley said. "Rooney is such a mobile player. The way he moves around takes a good level of concentration."