Chicago Fire:

Andrew Hauptman
November, 3, 2011
11/03/11
8:32
PM CT
By
Charlie Corr
| ESPNChicago.com



BRIDGEVIEW, Ill. -- The Chicago Fire have learned at times the hard way that every move has to serve a specific purpose.

Fire owner Andrew Hauptman began Thursday's introduction of now full-time head coach Frank Klopas with an initial dinner meeting the two had before the 2008 season. It ended with Hauptman expressing to Klopas that he wanted him on board that year. But Hauptman did not know right away what that specific role would be.

Following a tough stretch as the team's technical director and then producing a mostly successful interim coaching stint to close out the 2011 season, the results clearly showed that Klopas was best suited to lead the team on the sidelines.

"We made mistakes, we've had some successes, but I think we've all grown a lot along the way," Hauptman said. "This year, when they came to me and said they were going to make a change with the head coach, it made a lot of sense for me at that point for Frank to step in as head coach. I felt like the timing was right. No one really knew the club better than he did. No one knew the players better than he did. And no one understood the possibilities more than he did."

Klopas and the Fire had to mend some errors and failures on the pitch a third of the way into the 2011 campaign. The team made some strides, with Klopas' side posting an 8-5-10 record following the firing of former head coach Carlos de los Cobos.

"The passion that he comes to training with and to games with every day is contagious," Fire defender Dan Gargan said of Klopas. "I think the team is excited to see what he can offer, really in more of a comfortable position."

But it does not get any easier for Klopas as he undertakes this visible role on a permanent basis.

"At any moment you could be playing or you could be gone," Klopas said. "I know the situation, but I feel very confident. And I don't say this in a cocky way -- I can tell you I believe in myself."

As for how the Fire's technical director duties will be handled moving forward, Hauptman said "there's 100 percent likelihood" that another person will come in to fill Klopas' previous role. In the meantime, Javier Leon continues to take on the technical side of things for Hauptman out of Los Angeles. Fire director of player personnel Mike Jeffries occasionally is involved in first-team technical elements, but a bulk of his work is directed toward the Fire's academy system.

The Fire hope they have finally gotten past the massive turnover stage when it comes to both the head coaching position and the player personnel. Gargan, who joined Chicago for the final third of the team's 2011 season, is certainly familiar with experiencing a turnover-heavy environment having come from Toronto FC.

"With the turnover that they've had year after year after year, in five years they've had six coaches," Gargan said. "The number of players that have come through that place, it's mind-boggling. And I think that certain organizations and certain clubs have really seen the way you can consistently win, and that's to keep a good core together and build around that core and not change out 22 guys out of a 30-man roster every single year."

With Klopas staying on board, as long as the bulk of the roster stays intact, there is no need to go through an extensive growing period that would have come about with another coach joining the organization.

"I think with Frank remaining in place and moving forward, there's a certain idea and understanding between him and his staff, which is first and foremost," Gargan said. "Being able to get the players to buy into that and understand where they want to go, that process should be shortened. I don't think that we as a team feel that we've reached a plateau where we're good enough to stop working and stop trying to improve the product that we have. But I think that people in the locker room are excited about the direction that we can go in."
March, 29, 2011
3/29/11
8:09
AM CT
By
Charlie Corr
| ESPNChicago.com
After many weeks of speculation and floating reports across the globe, the Chicago Fire's bout against Manchester United is set in stone.
The Fire face Manchester United at 7 p.m. Saturday, July 23 at Soldier Field as part of the World Football Challenge.
"We are excited to host Manchester United, one of the world's finest clubs, at home in Chicago in front of our supporters," Fire owner Andrew Hauptman said in a statement. "Bringing United to Chicago helps the Fire continue to expand our reach in one of North America's premier soccer markets. Our participation in the World Football Challenge gives our players an opportunity to take on one of the most talented clubs on the planet, while galvanizing Chicago's vast soccer community."
The Red Devils' World Football Challenge schedule includes a match against the New England Revolution on July 13 in Foxborough, Mass.; the July 23 match against Chicago; the 2011 MLS All-Star Game against the Major League Soccer All-Stars at Red Bull Arena in Harrison, N.J., on July 27 (7:30 p.m., ESPN2); and a match against FC Barcelona on July 30 at FedEx Field in Landover, Md.
Fire face Colorado in Open Cup:
The Fire travel to Bradley University's Shea Stadium in Peoria, Ill., on Wednesday to take on the defending MLS champion Colorado Rapids in a qualifier match for the Lamar Hunt U.S. Open Cup. Kickoff is at 6:30 p.m., and a webcast will be available through the team's site,
Chicago-Fire.com
.
Chicago has garnered the Dewar Trophy on four occasions in 1998, 2000, 2003 and 2006 -- the most among MLS clubs. But the Fire have not had a successful run in the Open Cup in recent years.
The Fire most recently lost to the Charleston Battery in a shootout, 3-0, on June 29 in last year's third-round match of the Open Cup at Toyota Park. After a scoreless regulation and overtime, the Fire saw Brian McBride strike the ball over the crossbar, Krzysztof Krol take an attempt saved by Charleston goalkeeper Tim Melia, and Wilman Conde hit the crossbar during the shootout.
March, 28, 2011
3/28/11
9:07
PM CT
By
Charlie Corr
| ESPNChicago.com
A losing season changes the tone of how a team conducts its business and weighs its values when it heads into the next campaign.

That is not to say that the Chicago Fire lost sight of the ultimate goal of attempting to put together a winning club during their sub-par 2010 season. But the Fire's demeanor and the way that they have conducted business in the offseason are noticeably different.

The "attractive" and "possession" lingo of last year from head coach Carlos de los Cobos and their players is less at the forefront, and the "calculated risk" approach of bringing in expensive disappointments such as Nery Castillo and Collins John appears to be gone.

This year, the Fire have centered on words such as "cohesiveness" and "winning," and the idea that everybody has bought into one philosophy.

Now that sounds all hunky-dory, but only those in the Fire locker room and front office truly know how smoothly everything is functioning behind the scenes. On the surface, the team's demeanor has to be an improvement compared to last year's disjointed team that included personality differences, style differences, injuries and fitness issues, players on the final legs of their playing careers, numerous signings that did not pan out and a new coach who was brought in so late that he missed the 2010 MLS Combine.

For a second straight offseason, Fire owner Andrew Hauptman and company undertook a major overhaul. Now, the question is whether the Fire feel they are ahead of last year's campaign, and if they have a functioning system in place to rebound from only their second playoff-less season in team history.

Four points and a 1-0-1 start to the 2011 season have brought some early optimism for the Fire.

"I've got my fingers crossed that we've tried to do as much as we could do in a relatively short preseason," Hauptman said last Thursday.

Last year was a self-evaluation lesson for everyone involved with the Fire, which posted a 9-12-9 record. Hauptman knows mistakes were made, but he and the Fire staff hold no remorse for taking some chances. It was just the manner in how their risk-taking was drawn out.

"You can't win without taking risks, and part of the challenge here is when you're working within the parameters of a salary cap, you have to sometimes take this on in ways that seem good on paper," Hauptman said. "I think one of the lessons we learned is it might be good on paper, but what kind of process needs to be in place in order to make sure the elements that are not what's on paper get covered? How do we evaluate those intangibles?"

Case in point last year was the midseason addition of designated player Castillo. On paper, Castillo appeared to be a bargain simply based on the coin he was earning from Shakhtar Donetsk and how high his stock was only a few years earlier in his mid-20s. But on the pitch, Castillo's lack of fitness was so glaring that De los Cobos should have pulled the plug earlier than he did.

"It was a risk," Hauptman said. "[The technical staff] came to me and said it would be expensive, but not nearly as expensive as the cost to Shakhtar, who bought him for 20 million Euros and had to pay him significant dollars beyond that. Now look, it was a mistake. We shouldn't have done it. But we're always looking for that special player. Our first priority is how do we build the team that we think is built to win. That is our first priority, no matter where they come from or what their nationality is."

This year's Fire are trying to establish a new system and it is apparent that they have taken a few pages from teams that piece together winning franchises without the need of a designated player, instead using steadfast recruiting systems. Last year's MLS Cup featured the champion Colorado Rapids and runner-up FC Dallas, two franchises that did not have a DP on their roster. FCD is exemplary at recruiting south of the border, as evidenced by 2010 MLS MVP and Colombian David Ferreira.

"So far there is the negative correlation between those teams that have those iconic players and those teams that win," Hauptman said. "So far the data speaks for itself. It's not a big data set. We don't have that many years experience with it. But I don't think we look at it one way or the other. There are some clubs that look at it and say, 'We will not have a DP under any circumstances.' And there are other clubs that say 'We're all about getting the biggest DP possible, the biggest name. We don't care what the technical team says, but we're going to bring that iconic player.' I think we're kind of in the middle in the sense that if we can find the right opportunity, we'll do it."

Hauptman said that at no point in the offseason did he consider changes with his head coach De los Cobos or technical director Frank Klopas. Instead, a more rigorous approach was taken as Hauptman funded a scouting trip more expansive than in any other Fire offseason.

Now, Hauptman hopes the "stars align" in this new approach translating onto the field.

"I'm one of these guys that's very process-oriented," Hauptman said. "There's the process and there's the results. Sometimes you can have the results and the process can be pretty dysfunctional, and you're going to run into trouble at some point. Or vice versa. For me, I'm definitely the guy that would rather have the process right and feel comfortable with that process ultimately yielding results."
March, 14, 2011
3/14/11
9:59
PM CT
By
Charlie Corr
| ESPNChicago.com
There was some unfamiliarity among fans and even media attending the Chicago Fire's 2011 season kickoff luncheon on Monday at the Hyatt Regency in downtown Chicago.
Just who are some of these Men in Red? It is a natural reaction even if you have wholeheartedly attempted to keep close track of the Fire's offseason.
After missing the postseason for only the second time in the team's history in 2010, Fire technical director Frank Klopas and company went to work as half of last year's squad was not in the blueprint for this upcoming season. Klopas described on Monday how the team's retooling process spanned across "four continents and 12 countries -- more than all other offseasons combined over the club's 14-year history."
Fire fans soon will find out if Chicago's technical staff put together the right pieces when the team plays at FC Dallas on Saturday to open the 2011 MLS campaign.
"The time between our final match on Oct. 23 last year and Jan. 28 when the players reported for training camp was busier than ever for myself and the technical staff, as we took an analytical and rigorous approach in how we could change things heading into 2011," Klopas said in his address to more than 750 luncheon attendees. "The offseason work was a necessary step in improving our squad that achieved results below the standards we expect here in Chicago."
Other than the return of goalkeeper
Sean Johnson
and a fair number of returnees in the midfield, the projected starting forward and defensive lines should be completely different than 2010.
Fire owner Andrew Hauptman had a chance to drop by the Carolina Challenge Cup in Charleston, S.C., and he expressed an upbeat outlook on what he saw on the pitch.
"I'm encouraged by the work that has gone into this offseason rebuilding the club," Hauptman said. "And I'm optimistic about what lies ahead. I was able to make a recent visit to South Carolina to see the guys play, and I was impressed with the energy, and talent and commitment we are bringing to the pitch this year."
During this preseason, the Fire have taken on a new scheme with a 3-5-2 formation. Fire head coach Carlos de los Cobos has attempted to put this system in place, and he said Monday that it is possible that they could rotate between that formation and a more typical 4-4-2.
"I believe that sometimes when we are playing against a team and the other guys have control of the game, the only way that we can change this situation is we change the distribution of our players on the field and we play with a different dynamic," De los Cobos said. "For that reason we are playing like this [in a 3-5-2]. I think the guys understand the idea and they are having good moments on the field in matches. But I'm not sure I will start like this because I know the guys play 4-4-2 and know this format, because they normally play this way."
Paul introduced:
Though the team has not officially announced his signing, the Fire did introduce midfielder
Davis Paul
as part of the 2011 roster at Monday's luncheon. Paul was selected by the Fire in the third round (51st overall) of the 2011 MLS SuperDraft.
Open tryout winner Pari Pantazopoulos and forward Gabriel Ferrari were on hand, but were not introduced on the stage. Chicago plans on securing 28 players for its roster.
Commish chats expansion:
MLS commissioner Don Garber attended Monday's luncheon, and afterward the usual topic of expansion popped up. The league has risen to 18 teams this year with the additions of Vancouver and Portland, No. 19 will be Montreal in 2012, and the league is working on No. 20 in New York.
"I don't know where it goes from there," Garber said. "Clearly we'll slow down a little bit after 20, but there are so many other cities in this country that are looking for a professional soccer team, and we'll have to assess where we are after the 20th team joins the league."
Garber wants to see the league expand more in the Midwest and Southeast. Garber has been in discussions with people in Detroit, but it is unclear where the league landscape is headed beyond New York.
September, 12, 2010
9/12/10
7:15
PM CT
By
Charlie Corr
| ESPNChicago.com
As the Chicago Fire toil through a five-match winless streak and are currently on the outside of the MLS playoff picture, one thing is clear -- Fire owner Andrew Hauptman pieced together the resources to turn this season around.
From mid-July to early August, the Fire brought in designated players Nery Castillo and Freddie Ljungberg. They brought back defender Gonzalo Segares. They traded midfielder Justin Mapp who had not produced in a couple of years. They inserted rookie goalkeeper Sean Johnson into the net.
Sounds more like an offseason than a mid-season.
"It's a work in progress for sure," Hauptman said early this month. "My personality is I'm not easily satisfied. So I'd say there are certain things I'm proud of and certain less of. Our choices can always be better, and they need to be. We've made significant investments in the club, and I'm proud of the commitment we've shown."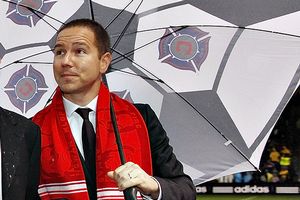 Brian Kersey/Getty ImagesAndrew Hauptman has proved to be an aggressive owner.


The Fire have had their share of highs and lows this season. The most obvious low was a stretch from June 29 to July 17 that consisted of a U.S. Open Cup loss, two league defeats and two SuperLiga losses. Hauptman and company needed to make some significant adjustments to turn the tide.

"I'm not really interested in thinking about one of our years and just writing it off as a transition year," Hauptman said. "That's not an acceptable approach to me. All I can do is provide the resources to our team and leadership and push them to make decisions -- short-term and long-term. I do believe that when you look around the clubs in the league, no one can argue that we made some of the most significant investments on and off the field."

Hauptman's passion in the club is evident. The personnel investments are obvious. But he also has improved the relationship with the Section 8 supporters. He has tried to bring in a more fan-friendly, possession-driven style, though Chicago has had its shortcomings on that front. And the Fire's youth development and growth is unparalleled, with the U-16 Academy earning the USSF Development Academy National Championship in late July.

It has been about three years since Hauptman decided to take the plunge into a Major League Soccer organization. At the start, he was not familiar with the league or the Fire.

"I didn't know MLS quite frankly, and I was that prototypical soccer fan who presumed that the quality was lacking," Hauptman said. "In that sense I was the target audience. I was a relatively young guy who loved the game and knew the game and followed the sport internationally. I didn't really know from a U.S. perspective."

Hauptman, 41, grew up in Smithtown, N.Y., on Long Island. Soccer and tennis were the two sports he played most aggressively in his younger days, but eventually he chose tennis over soccer.

The game of soccer always has been a part of Hauptman's fabric -- figuratively and literally. His mother designed soccer patches for the Smithtown Kickers, so popular in fact that fellow Long Island native and former Fire great Chris Armas knows about them.

Hauptman's first tangible interest in the club came when he attended the Fire's 1-0 exhibition victory over Cracovia Krakow. Then Hauptman attended the Gold Cup finals at Soldier Field, and between the strong attendance and the Spanish-broadcast ratings, that moment served as a "light-bulb moment" to get involved locally.

"Chicago is a soccer city," Hauptman said. "I've seen it, I've heard it and I've felt it every day."

This year has been a trying campaign for Hauptman and the Fire. Following the 2009 season, it was clear that numerous changes needed to be made. Some were necessary because of players' desires to play outside of the U.S. Other changes included the vision of a more possession-driven style of play. Hauptman admits that has not come to fruition just yet during head coach Carlos de los Cobos' first season at the helm, but he wants to see that carried out onto the pitch.

"I do believe in going to a stadium to see high-quality football, entertaining football," Hauptman said. "If I had to define a style, it's sort of wanting to play on one hand a creative style, but on the other hand it's also combined with a physical, aggressive, organized and direct style. It's a lot easier said than done."

The Fire were hoping that a mid-season flurry of significant personnel moves would serve as a springboard. Castillo's arrival was a two-year project for technical director Frank Klopas. Ljungberg's arrival stemmed from Hauptman's discussions with Seattle Sounders FC general manager Adrian Hanauer.

"I was able to express directly to [Hanauer] my interest in having a player like Freddie," Hauptman said. "He's a guy who has a huge amount of experience. He knows MLS and knows what it takes here, knows how difficult and physical it is. He's a warrior and he's got high integrity. He's a leader, and he is a guy that I saw as someone who could help architect our offense and could be a general in the middle of the field, where we were lacking."

Despite the investments, the Fire's transformation from the offseason to mid-season has them on the brink of potentially missing the playoffs for only the second time in the organization's 13-season history. It is a harsh reality unless Chicago can string together a bunch of wins over its remaining eight regular-season games.

"When we don't perform on the field, we are often devastated by it in all seriousness," Hauptman said. "We take it personally.

"We've taken some steps forward and we've had some setbacks," he said. "That hasn't distracted me from the positives. Hopefully we'll look back many years down the line and say, 'OK, we really built something special.'"
August, 4, 2010
8/04/10
8:15
PM CT
By
Charlie Corr
| ESPNChicago.com
BRIDGEVIEW, Ill. -- Chicago Fire midfielder and designated player Freddie Ljungberg typically has not moved around too much throughout his professional soccer career.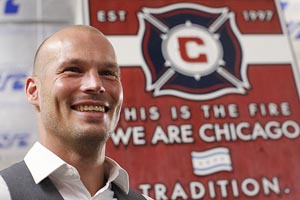 Courtesy of Chicago FireFreddie Ljungberg could stay in Chicago for quite a while.
So while the recent acquisition of Ljungberg appears to be quick fix to mold a championship-caliber season, Ljungberg said Wednesday that Chicago could also turn into a long-term option down the line.

"I definitely hope so," Ljungberg said. "When I went to America I really wanted to try to make a difference and see if soccer can establish itself as a big sport. And here, I think this is a perfect opportunity to do that. I'm going to try to do as well as I can and try to be a good ambassador for the Fire."

Ljungberg made his move to MLS and debuted with then-expansion Seattle Sounders FC last year. Ljungberg says he has weighed many options to either stay in the U.S. or go back overseas, and the Sweden midfielder wants to finish his task here in MLS.

"When I came to America, a lot of people said I was mad because I was too young to go and said I should have kept on playing and winning things in Europe," Ljungberg said. "I feel like I haven't done enough here yet and I want to do more -- win the [MLS] Cup, that would be nice.

"There was a lot of interest from Europe and in America, as well," he said. "I said I need to make a decision. I'm 33 years old and I need to make a decision with what I want to do. ... Chicago was very persistent in approaching me."

Ljungberg said that a couple weeks ago Fire owner Andrew Hauptman and technical director Frank Klopas started courting Ljungberg to make the move to Chicago. Apparently they made a successful pitch.

"Andrew said he is a winner and he wants to be in it to win things," Lungberg said of his talks with Hauptman and Klopas. "There's nothing else on his mind. We want to get winners in and go for it. They brought in [Nery] Castillo a couple days before me. [Hauptman] wants to build a great team and wants me to help them. The way he sold it, I thought, was great."

Ljungberg's tenure at Seattle ended prematurely, with his Sounders contract ending this November. Ljungberg said he did not having a falling out with the Sounders organization, but in a matter of weeks Chicago acquired Ljungberg for either a 2011 or 2012 MLS SuperDraft conditional selection.

"I always wanted to play for the team and train for the team," Ljungberg said. "That was the management, or the coaches, [who said] that I shouldn't train while that was going on [with my ankle injury]. ... No bad blood. They are still my friends."

Ljungberg only has one Fire training session and a second-half portion of a win over the Los Angeles Galaxy under his belt with Chicago. But he is eager to contribute toward a group that has needed some midfield experience and stability this season.

"I think it looks good," Ljungberg said of the Fire personnel on board in the midfield. "I think the important thing is to try and keep the ball as much as you can -- that's what the coach wants, to be a dominating team. And we have some great players that can make a difference. Like Patrick [Nyarko], [he] has a lot of speed, and I can try to play him in behind the lines, make him use his speed. [Collins] John and [Brian] McBride are big boys. They can hold up the ball and help us out. So I think it's going to be great."