September, 17, 2011
9/17/11
6:35
PM CT
By
Charlie Corr
| ESPNChicago.com
BRIDGEVIEW, Ill. -- The Chicago Fire could not have drawn up a better start. The only question was whether Chicago could finish, especially playing down a man.
In an up-and-down match that included a two-goal lead followed by a level second half, the Fire's
Dominic Oduro
came to the rescue with a shorthanded, game-winning goal in the 85th minute to lead Chicago to a 3-2 victory over Chivas USA on Saturday in front of 15,246 at Toyota Park.
"These are the kinds of games that are very exciting, for sure," Fire interim head coach Frank Klopas said. "Memorable ones, things you can build on. You kind of feel that in the past, maybe the team would not have found a way to pull this one out."
The Fire had to play much of the match down a man when defender
Cory Gibbs
was issued a red card for fouling Chivas'
Michael Lahoud
in the 37th minute.
[+] Enlarge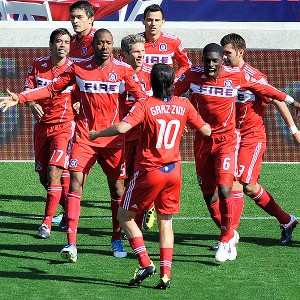 David Banks/Getty ImagesThe Fire's Cory Gibbs celebrates his goal with his teammates.
Chicago blew a two-goal lead for the first time this season. But the Fire found an opportunity to garner their third win in four league games when Oduro finished a strong buildup from Diego Chaves and
Patrick Nyarko
, who had the set-up pass from the left.
"I looked at first and saw that Dom was wide open," Nyarko said. "I had the other option of shooting, which the goal was a clear chance enough. But I made the easy play. Dom was wide open and he was onside. I laid the ball and he made it for an easy finish."
As for Gibbs' questionable red card, replays showed that the amount of contact looked like it was far less than Lahoud's body language showed during the live run of play.
"It was a hard tackle," Gibbs said. "Would I have given a red? No. Definitely, probably a yellow. But that's the referee's discretion. It was just unprofessional of me at the time, and I hold responsibility for it. The call was made and it was a red. At the end of the day, I hold responsibility for the situation we were put into."
"I know he went hard -- maybe the studs were up," Klopas said. "But I didn't see something different than the one that Patrick was down [in the seventh minute against Chivas defender Michael] Lahoud, because the studs were up on that one, too. I thought it was a little bit harsh, the red, for sure. I thought it was maybe a yellow. But I'd have to see it. I haven't seen the play."
Gibbs will now have to serve a one-game suspension when the Fire host the New England Revolution on Sept. 25 at Toyota Park. On Saturday, Gibbs' provided a strong start for Chicago, heading home a
Sebastian Grazzini
corner kick in just the second minute for an early 1-0 lead against Chivas.
The Fire then benefited from a
Juan Pablo
Angel own goal in the 26th to gain a 2-0 lead.
However, Chivas worked its way back into the match with Angel's 61st-minute tally and
Nick LaBrocca
's 63rd-minute score to tie the score at 2-2.
"I felt we gave up those two goals really easily," Nyarko said. "It was up to us to show our will there, to gut it out. We were just waiting, sitting, waiting for our opportunity to pounce. Luckily we got it toward the end of the game."
The Oduro goal gives him 10 on the season, and he is the first double-digit scorer for the Fire since Damani Ralph in 2004. The goal also gave Gibbs something to cheer about away from the pitch.
"Seeing Oduro score that goal, it almost pulled me out of the grave," Gibbs said. "I was really down on myself."
Analysis:
Anything less than a win would have further dampened the Fire's faint playoff chances, but Chicago rose to the occasion on Saturday.
Though the defense did surrender a couple of goals, the back line and, of course, goalkeeper
Sean Johnson
have to be commended on this one. The back line had to shuffle things around with Gibbs' red, and Johnson continues to impress with some huge saves. He had Angel's number on more than a few occasions en route to six saves on the night.
The loss of Gibbs for New England will be a bit of a setback, but Chicago seems to have things covered when right back
Dan Gargan
returns from his one-game suspension.
September, 17, 2011
9/17/11
5:01
PM CT
By
Charlie Corr
| ESPNChicago.com
BRIDGEVIEW, Ill. -- Here is a quick look at the Chicago Fire's 3-2 victory against Chivas USA on Saturday at Toyota Park:


How it happened:
Fire scoring leader
Dominic Oduro
came through with a shorthanded, go-ahead goal for a 3-2 lead in the 85th minute that held up. Fire defender
Cory Gibbs
provided a dream start for Chicago, heading home
Sebastian Grazzini
's corner kick in the second minute for a 1-0 lead. In the 26th minute, Chivas'
Juan Pablo
Angel was responsible for an own goal to give the Fire a 2-0 cushion. Gibbs' day was cut short in the 37th minute when he was issued a red card for fouling Chivas'
Michael Lahoud
. The Goats made full use of their one-man advantage. Chivas' Angel and
Nick LaBrocca
netted goals in the 61st and 63rd minutes, respectively, to level the score at 2-2.
What it means:
The Fire improved to 5-8-15 (30 points) and Chivas fell to 7-12-10 (31 points). Chicago has won three of its last four league games, with all three victories coming at Toyota Park.
Outside the box:
For the first time this season, the Fire surrendered a two-goal advantage, but Oduro helped Chicago overcome that setback. ... Chivas erased its three-game goal-less streak. The Goats entered the match having been shut out against the Portland Timbers, Real Salt Lake and D.C. United by a combined 5-0 margin.
Up next:
The Fire host the New England Revolution at 3 p.m. Sunday, Sept. 25, at Toyota Park.
September, 16, 2011
9/16/11
1:03
PM CT
By
Charlie Corr
| ESPNChicago.com
BRIDGEVIEW, Ill. -- From Chivas de Guadalajara to Chivas USA, the latter opponent has a bearing on the Chicago Fire's distant postseason hopes.

Chicago hosts Chivas USA this Saturday at Toyota Park, and the team is coming off a 1-0 international friendly defeat to Guadalajara on Wednesday. The Fire (4-8-15, 27 points) enter the weekend in a three-way tie for last place in the Eastern Conference alongside the New England Revolution (which plays late Friday night against the expansion Portland Timbers) and Toronto FC.

The Fire are seven points out of the final wild card spot, and narrowing that gap will take some doing. D.C. United enters the weekend in that fourth wild card slot having played only 25 games to Chicago's 27.

"It's a huge match. It's a match we feel like we have to win," Fire captain Logan Pause said. "Our backs are up against the wall, and we need wins. I'm sure it's going to be an exciting game because Chivas also needs wins. They are on the outside looking in."

Chivas (7-11-10, 31 points) is in the midst of a significant drought. Not only have the Goats lost three straight, but they also have not scored a goal during this stretch.

The Fire had found some momentum in August, earning back-to-back league wins and a Lamar Hunt U.S. Open Cup semifinal victory over the USL Pro's Richmond Kickers to close out the month. But last week's 2-0 loss to the San Jose Earthquakes was a critical blow as the Quakes moved two points ahead of Chicago in the wild card race.

"The three-game winning streak helped ease some of the tension," Pause said. "But at the end of the day we are where we are. It's not where we want to be and it's not where we think we deserve to be."

The bulk of the Fire's roster played for only one half during the midweek loss to Guadalajara. In the first half, the Fire possibly went with this Saturday's starting defensive line in anticipation of Dan Gargan's one-game suspension (yellow card accumulation). Jalil Anibaba played at Gargan's right back position, with Cory Gibbs and Josip Mikulic teaming up at center back, and Gonzalo Segares returning to left back after his one-game suspension.

"It's always tough because I think we're gelling pretty well, especially the four in the back," Segares said of the team playing without a starting back for a second straight week. "We were starting to get to know each other better and we were pretty sharp with our communication. When you're missing a key player, it's always tough to try to bring in somebody else. It definitely takes a couple of sessions or weeks to get it back together.

"It was tough for us, for me to miss [the San Jose match]. We're going to have to do the same with Dan missing."

The Fire defense should feel confident matching up against a Chivas offense that has not scored since Laurent Courtois' 86th-minute goal during a 2-2 draw against Colorado on Aug. 20. Chicago also has improved on the home front, posting a 3-2-8 record and 17 points at Toyota Park -- 10 points better than its road mark.

Still, the Fire need an enormous amount of help to go along with their own issue of stringing together several wins to get back into the race.

"We have a massively important seven games ahead and we will see what we're made of," Pause said. "We can only control things on our end."
July, 3, 2011
7/03/11
12:49
AM CT
By
Charlie Corr
| ESPNChicago.com
Two-thirds of the Chicago Fire's matches this season have resulted in a draw. So it almost comes without surprise that Chicago netted its fourth straight stalemate against Chivas USA on Saturday at The Home Depot Center in Carson, Calif.
Perhaps the only variations that the Fire are putting together this year are the types of the draws -- lost leads such as Saturday, a comeback such as the New York Red Bulls, or a scoreless draw, which has occurred on four occasions.
The Fire's 12th draw puts them two shy of tying FC Dallas' record mark of 14. If Chicago (2-4-12) had some victories to show for its efforts, the tone of this pattern might be different. As it stands, though, the draws are a continual sign of mediocrity on the scoreboard and in the Eastern Conference standings.
"Eight games without a defeat, but at the same time we're not winning," Fire forward
Dominic Oduro
said. "That's something that we have to flip over and try to win games. We're doing well, we're creating chances. But at the same time we have to finish our games."
Oduro gave Chicago a 1-0 lead in the 26th minute, posting his fifth goal of the season to tie for the team lead with
Marco Pappa
. Oduro received the ball from
Patrick Nyarko
with only a slight step against Chivas defender
Michael Umana
. But Oduro kicked his run into a higher gear to get past Umana on the left side, then shot at a difficult angle to hit the inside of the right-side netting past Chivas goalkeeper
Dan Kennedy
.
Oduro and the Fire attacked with regularity in the opening half -- a positive sign while on the road.
But Chicago's first-half efforts quickly were taken away when Chivas'
Nick LaBrocca
tied the score at 1-1 in the 47th minute. LaBrocca's left-footed strike went above Fire goalkeeper
Sean Johnson
's reach, clipped the bottom of the crossbar and went into the net. LaBrocca's shot was strong, though the Fire could have handled the setup better.
Michael Lahoud
got around Fire midfielder Patrick Nyarko to create LaBrocca's chance.
"I felt that the game should have been won in the first half," Fire interim head coach Frank Klopas said. "The second half was a different game. We came out, we gave up the fast goal. We didn't start quick enough."
Chivas could have done some further damage in the second half. Victor Estupinan had some close calls in the final 15 minutes, colliding with Johnson in the 78th minute, then forcing Johnson to dive to his right for a save in the 90th minute.
The Fire's best defensive play came from Johnson in the 32nd minute, when he stuffed
Jorge Flores
' shot attempt. Johnson stepped up way off of his line, lunged at Flores and reacted to the shot to his left, simultaneously securing the ball.
Analysis:
One point. One point. One point. One point. ... The Fire's mundane pattern has the feel of Andy Dufresne slowly digging his way out of prison in The Shawshank Redemption. But Dufresne eventually escaped. Will the Fire break out of this cycle?
Chicago created some good looks early on, but Oduro's hot start did not carry over into the second half on Saturday.
There should also be some concern over the fact that some Fire players showed a lack of involvement on the pitch. Forward Diego Chaves hardly touched the ball, and for a supposed goal scorer, that has to change dramatically. Midfielder Marco Pappa also lacked a presence out there. And defensive midfielder
Logan Pause
, who came back from his concussion injury, was not involved enough as a link between the defense and offense.
This club continually is screaming for an improved midfield presence -- a topic that has been around since the offseason.
What looked like a promising start Saturday turned into an attempt to hang on for a road point. Adding a meager point here and there without some victories is only delaying the inevitable -- that the Fire would come up short of a postseason berth.
July, 1, 2011
7/01/11
12:39
PM CT
By
Charlie Corr
| ESPNChicago.com
BRIDGEVIEW, Ill. -- The Chicago Fire open a west coast swing when they battle Chivas USA this Saturday at The Home Depot Center.

The Fire and Chivas have their share of differences, but the big similarity is that each side has 17 points and is toward the bottom of their respective conferences. Chicago is tied for seventh in the East and Chivas is eighth in the West.

Chivas (4-7-5) has lost three straight, but in two of those matches the Goats could not hang on to one-goal leads. Whether Chivas is completely at fault with defensive lapses, or its opponents are simply out-performing the Goats in these moments, this is something Chicago (2-4-11) is hoping to take advantage of.

"It's a combination of both," Fire interim head coach Frank Klopas said of Chivas' recent blunders. "They make mistakes, but they've gotten better with that. If anything, they've got new players, and it takes a while for them to jell together. It's just a matter of a mistake where we've got to be in a position where we make them pay."

While Chivas has not established consistency this year, the Goats certainly have shown that they can score some goals and possess the ball. Chivas first-year head coach Robin Fraser's side has five multi-goal games this year, whereas the Fire have not posted a multi-goal game since a 2-2 draw against the San Jose Earthquakes on May 28.

"They're a well-organized, well-coached team, and they rely more on their buildup," Klopas said. "They have some dynamic players in the final third. They're more of a possession-oriented team, and they build play through their possession. They have a big field and work well without the ball. We need to be in a position where we help out, but also commit forward and make sure we have numerical superiority."

Chivas is in the midst of its worst performance stretch this year, allowing seven goals during its three-game losing streak. The Fire's offense, however, is tied for the third-worst output of goals with 18. The Fire have scored only three goals in their past six games during Klopas' tenure. The likes of Marco Pappa, Dominic Oduro and Diego Chaves will need to pick up their game in the scoring department.

"It's not just one player -- we have guys who can play their roles," Klopas said. "The guys are confident that they will get their opportunities."

The Fire defense has been integral toward the team's 1-0-5 record under Klopas. Defensive midfielder and captain Logan Pause returns from his concussion injury, and the timing could not be better as midfielder Daniel Paladini has to miss Saturday's match because of yellow card accumulation.
May, 1, 2010
5/01/10
11:06
PM CT
By
Charlie Corr
| ESPNChicago.com
[+] Enlarge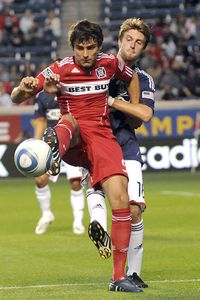 David Banks/Getty ImagesLibertyville native Baggio Husidic scored the Fire's lone goal in the 53rd minute on Saturday against Chivas.
BRIDGEVIEW, Ill. -- For the second time in as many games, Libertyville native and Chicago Fire midfielder Baggio Husidic was the beneficiary of being in the right place at the right time.
Husidic scored a goal in the 53rd minute, but the Fire could not hold onto that lead as they played to a 1-1 draw against Chivas USA on Saturday in front of 13,224 at Toyota Park.
The Fire attack built up when Marco Pappa found Patrick Nyarko on the right side. Nyarko timed his run perfectly to create a big gap away from Chivas' defense. That forced former Fire player and Chivas goalkeeper Zach Thornton to come out of the net to try and slow down Nyarko. Nyarko delivered the ball across the box, and Husidic converged for his second goal of the season as his momentum carried him into the back netting along with the ball.
"He's having a good performance throughout these two matches," Fire head coach Carlos de los Cobos said. "He's becoming one of the top members of the team."
"Carlos is pretty disciplined on defense and offense," Husidic said. "I feel I've been doing pretty well on defense, and the reward is being able to go forward. I've been rewarded with the goals. ... I think overall the team is pretty pleased with me. Hopefully Carlos is, as well."
The Fire looked well on their way to holding onto the lead. But in the 76th minute, Maicon Santos tied the score at 1-1 when he drove his header past Fire goalkeeper Andrew Dykstra, off of Sacha Kljestan's corner kick. Santos got in front of Fire defender Wilman Conde for the header, and Santos placed the ball well away from Dykstra, who dove to his right.
Before Husidic's goal, both the Fire and Chivas created minimal chances in what felt like an incredibly drawn out first half. In the first 45 minutes, Chicago's most creative opportunity came in the 24th minute when Nyarko had a back flick to Husidic, who was making a strong run toward the right side. Husidic then delivered a solid cross around a Chivas defender and nearly connected with Brian McBride. McBride tried to one-time it in the air, but could not put his foot squarely on the ball to cap off a well-orchestrated attack.
Possession-wise, Chivas held an edge for the match. But the Fire had their chances, and they could have responded immediately after Santos' goal. In the 80th minute, Nyarko worked around Chivas defender Dario Delgado, briefly putting Nyarko in a 1-on-1 situation against Thornton. But Thornton came out and kicked the ball away.
"All I saw was blue [Chivas shirts], so I just tried to go for it, but I had no angle," Nyarko said. "I just hit it and hoped I would sneak in. Zach is so huge. He had everything covered."
The Fire were dealt some significant injuries heading into the game and during the match. Forward Collins John originally was penciled in during the pregame to make the start over McBride, but a left hamstring setback kept him out of the lineup.
"I couldn't really sprint. I wanted to give it a try," John said of his pregame. "On Thursday in training, I felt something in my left leg. When I stepped out today in warm-ups, it came back. It was a bit of a shock."
A similar setback occurred for midfielder Justin Mapp, who had to leave the match in the 22nd minute with a left leg injury.
ANALYSIS
The Fire were a far cry from their previous 2-0 victory over the Houston Dynamo. But they held the lead and were in a strong position to take home another win.
The absence of Krzysztof Krol, who served his red card, did not really play a huge factor Saturday. Deris Umanzor played at left back, and while he didn't do anything significant on the positive or negative side of the scale, there was not a Chivas offensive play where he got burned.
Chivas' runs for the most part were not that threatening. They made some casual passes from a distance, but most of Dykstra's four saves were directed right toward him. The Fire had a lot of defensive maneuvering earlier this season, but the one thing you can say is that the back line has held its own. Dykstra has yet to come close to needing to put in a double-digit save effort to carry the team, and that is important in helping him progress as the No. 1 guy in the net.