Chicago Fire:

Corben Bone
January, 21, 2013
1/21/13
11:22
PM CT
The Chicago Fire re-signed Corben Bone and picked up the contract options for Alex and Michael Videira, the team announced Monday.

"It was important for us to have Corben, Alex and Michael return in 2013," said Fire President of Soccer Operations Javier Leon. "They are skillful and versatile players that provide us with depth in a variety of positions."

Per MLS policy, the terms of the three midfielders' deals were not disclosed.


Bone, the Fire's first-round selection (13th overall) in the 2010 MLS SuperDraft, has made 17 appearances in three seasons with the Fire. He was one of only four players to start all of the Fire's 2012 Reserve League matches, scoring one goal and tallying two assists in 897 minutes.

Alex joined the Fire during the 2012 summer transfer window from Swiss side FC Wohlen He scored two goals in his 17 regular season appearances.

Videira joined the Fire on March 10, 2011 from USSF Division 2 Pro side AC St. Louis. In two seasons with the Fire, Videira has started seven of the 12 matches in which he appeared, notching one assist over 900 minutes.


Fire defender Arne Friedrich received his U.S. Green Card, the team announced, granting him permanent resident status in the United States. Friedrich will no longer occupy an International Player slot on the Fire roster.


The Fire also announced Monday that they did not pick up the option for Mexican international forward Guillermo Franco.



December, 3, 2012
12/03/12
7:57
PM CT
CHICAGO -- The Chicago Fire have declined options on defender
Gonzalo Segares
, midfielder
Corben Bone
and goalie
Jay Nolly
.
Segares played in 178 games over eight seasons, scoring 11 goals and adding 13 assists.
Bone, a first-round pick in the 2010 SuperDraft, made 17 appearances in three seasons. He started all 10 of the Fire's Reserve League matches and had one goal and two assists.
Nolly did not play in a first-team match after being acquired in a trade with Vancouver Whitecaps FC last December, but made six appearances in MLS Reserve League play.
The Fire announced the moves Monday.
September, 9, 2012
9/09/12
12:49
AM CT
The Chicago Fire rallied with two second-half goals to earn a 2-2 draw against reigning Mexican league champions Santos Laguna in an international friendly Saturday night at Toyota Park.

Michael Videira tallied first for the Fire in the 48th minute, taking a corner kick from Daniel Paladini while charging through the box and scoring on Santos goalkeeper Miguel Becerra from close range.

The Fire tied the game in the 63rd minute when Dominic Oduro found Corben Bone up the right side and Bone tallied under Becerra and inside the back post.

Santos forward Benjamin Joya started the scoring in the 24th minute, dribbling to the top of the Fire box before beating Fire goalie Paolo Tornaghi and inside the right post.

Santos struck again five minutes later when Daniel Luduena forced a turnover at the back. The Argentine attacker took a deflected ball off the feet of Videira before placing his effort to the left of Tornaghi.

The Fire return to league action on the road against Toronto FC at BMO Field on Wednesday.
June, 8, 2011
6/08/11
4:19
PM CT
By
Charlie Corr
| ESPNChicago.com
BRIDGEVIEW, Ill. -- The Chicago Fire's lone victory of 2011 was during their home opener on March 26 against Sporting Kansas City.

K.C. has spent its first 10 matches on the road, but Sporting finally get to play on the home front when they open Livestrong Sporting Park on Thursday against the Fire (9 p.m. kick-off, ESPN2). The new 18,500-capacity facility and the long-awaited home opener for K.C. certainly will create a festive atmosphere.

"It's a beautiful stadium and it's exciting, with a lot of energy," Fire interim head coach Frank Klopas said Wednesday following training. "From a mental standpoint, we've got to be ready from the start."

"If we step out there and play our game and deal with the pressures in the first 15 minutes, I think we can calm the crowd down and play soccer," Fire midfielder Corben Bone said. "It's going to be a great venue and I can't wait. It's going to be exciting. But I think we can use that to our advantage and get up for it ourselves, come out with a lot of energy and hopefully play good enough soccer where the fans are not going to matter really."

Chicago (1-4-7) is four points ahead of last-place Sporting (1-6-3) in the Eastern Conference standings. The Fire start a three-game road trip that also includes the Columbus Crew on Sunday and the New England Revolution on June 18.

The Fire's ongoing winless streak has reached 10 games (0-4-6), though Chicago is coming off a strong defensive effort during a scoreless draw against Seattle Sounders FC. Fire goalkeeper Sean Johnson posted his first shutout of the season with three saves as he has reacquired the starting slot.

Defensive lapses had been a regular occurrence for much of the season, including Chicago's lone win over K.C. and especially during another stadium-opening match -- a 4-2 loss at the Portland Timbers' Jeld-Wen Field. Following that April 14 match, Johnson lost the No. 1 goalkeeper status to Jon Conway. But Johnson has reacquired the starting job for the past two matches, posting draws against the San Jose Earthquakes and Seattle.

"I can only get better and look back at that stuff and try and improve," Johnson said. "I think I'm definitely getting into a rhythm. It's important to try and find a little consistency and stay at that level. That's a challenge for myself and the team, as well, to build on the last game and make it better going forward."

The Fire have not had a moment this season where the defensive and offensive sides of the ball are clicking simultaneously. Chicago is averaging only one goal per game over the 10-game winless streak (the 4-2 loss to Portland included own-goals from each team). Forward Diego Chaves' early-season scoring surge has since been held in check, and Cristian Nazarit is just working his way into the mix.

"He's still adjusting to the league -- the physicality of the players is stronger and the pace of the game is faster," Klopas said of Nazarit. "But his game fitness has been better, and every game he's going to get better."

The Fire created a few good looks last week during the first half against Seattle, but Chicago relied on some optimistic long balls and did not pose much of a threat in the second half.

Now that Patrick Nyarko is seeing some time again on the pitch following his concussion injury, and fellow Ghanaian Dominic Oduro has provided a regular dose of energy, that speedy flank combination could generate some much-needed offense as the Fire continue to play without Guatemalan midfielder Marco Pappa (CONCACAF Gold Cup duty).

"We need to concentrate on our passes, switch the ball and not get caught on the counter," Bone said. "If we can use Dominic's speed late in the game whenever their defense is tired, we can catch them on the counter, as well."
May, 20, 2011
5/20/11
3:07
PM CT
By
Charlie Corr
| ESPNChicago.com
BRIDGEVIEW, Ill. -- Nearly two months have passed since the Chicago Fire's last victory, and it is almost a moot point that Chicago has not lost, either, in its past four matches.
Chicago travels to PPL Park in Chester, Pa., to take on the Philadelphia Union on Saturday, and the Fire are hoping to get more than a point against the second-place team in the Eastern Conference.
"We are close to winning," Fire head coach Carlos de los Cobos said. "I believe in this. We are close to winning."
Close is an accurate description for a team that is tied for the league lead with five draws. But Chicago also is one of only three teams with just one victory on the season (Sporting Kansas City and the Vancouver Whitecaps being the other two).
The Fire (1-3-5) have yet to win on the road this season and have not won since a 3-2 home opener victory over Kansas City on March 26.
"Them playing at home, we know it's going to be a tough game," Fire defensive midfielder and team captain
Logan Pause
said of the Union. "In-conference, they're higher up the table than we are, so it is a challenge. The results really haven't been going our way."
The Fire likely will continue with their 4-1-4-1 formation, where Chicago has heavily possessed the ball in recent games. But against Toronto FC last week, the Fire produced a better attack in the final third when they switched to two men up top in salvaging a 2-2 road draw.
"I agree, when we played with two forwards and we put another guy in front, we had more presence in the attacking zone," De los Cobos said. "But in the first half I think we had some good moments, too. The most important thing for me is playing with order. The systems are only our guides to follow."
The Fire will not make a whole lot of tweaks to the starting lineup -- if any -- following the Toronto match. Center back
Josip Mikulic
continues to nurse a shoulder injury, so the center back duo of
Cory Gibbs
and
Yamith Cuesta
will stay the same. Goalkeeper
Jon Conway
is maintaining his starting role, even with backup
Sean Johnson
participating in full training again following a quad injury.
Pause is working his way back to full health from a hamstring injury, but De los Cobos said Thursday that he will continue with the same central midfield of
Daniel Paladini
and
Corben Bone
, who is coming off his first complete match of the season against Toronto.
"We can see that he has great qualities," De los Cobos said of Bone. "He's very good with the ball -- a good distributor with the ball."
Former Fire player and Union head coach Peter Nowak has seen his squad struggle in recent weeks, in the midst of a 0-2-1 stretch. But Philadelphia (4-3-2) has thrived at home with a 3-0-2 mark. The Union has scored a league-low six goals, but it also has allowed only six goals, which ties for second-lowest in MLS.
"With a guy like Peter, they're going to be a well organized team, and a team that fights," Pause said. "Outside of the last couple of games, they haven't allowed many goals this year. They're a hard team to play against."
Only five players have scored a goal for the Union this season, with
Carlos Ruiz
leading the club with two.
Sebastien Le Toux
, who posted a stellar 14 goals and 11 assists last season, is sitting on just one goal and one assist this year.
Momentum has been hard to come by for Chicago, but the Fire have a little bit of steam following a second-half run last week against Toronto. Chicago overcame a poor hour-long stretch as late goals from
Marco Pappa
and
Orr Barouch
helped garner a draw at BMO Field.
"In the first half of the Toronto game, we struggled as a team," Pause said. "The last half of the second half, all of a sudden there's a sense of urgency, and we're like a different team. We're trying to keep that. We're trying to put a 90-minute, complete game together."
In other Fire personnel news, forward
Diego Chaves
was limited a bit in training this week with a foot contusion, but he is expected to be ready. De los Cobos also said this week that forward Cristian Nazarit should be available for selection.
May, 17, 2011
5/17/11
5:40
PM CT
By
Charlie Corr
| ESPNChicago.com
Chicago Fire midfielder and 2010 first-round draft pick Corben Bone spent all of last season waiting for a moment to prove his worth.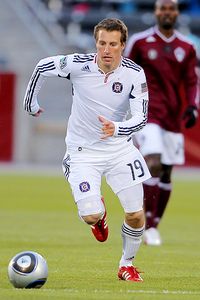 Doug Pensinger/Getty ImagesCorben Bone was the Fire's first-round pick in 2010.
Bone saw his fellow draft teammates getting significant playing time, as goalkeeper Sean Johnson and defenders Steven Kinney and Kwame Watson-Siriboe each logged 10 or more games last season. Bone, however, logged only 114 minutes in five league games.
But last year's 13th overall selection out of Wake Forest is finally getting his chance this year, and he is coming off his most impressive performance during the Fire's recent 2-2 draw against Toronto FC.
"I haven't had too much success in the past year, but I'm starting to get some games now, and it's been the best game for me so far," said Bone, who assisted Orr Barouch's game-tying goal on Saturday. "I was pleased with my performance and I was pretty good in spots, got to go 1-on-1 a couple times when I got the ball in the box and was able to make some good passes. Overall, I found the ball a lot."
Bone has made three straight starts, and the Toronto match was his first game from start to finish. Central midfield play has been an ongoing topic for the Fire (1-3-5), and Bone was brought into the mix when midfielders
Michael Videira
(concussion) and
Logan Pause
(hamstring) went on the injury list.
Fire head coach Carlos de los Cobos looked to Bone and
Daniel Paladini
to step in.
"I wanted to start helping the team right away, but that didn't happen. I had to settle in," Bone said. "The big thing for me is the mental challenge, and it has helped me out now, growing as a person. I'm more mature, more stable, and I understand that things don't happen your way all the time. It was a tough time, but I don't regret it though. It helped me as a player, and things have come together."
The Fire got off on the wrong footing against Toronto, but Bone had a strong second half to coincide with Chicago's eventual offensive push to overcome a two-goal deficit.
Bone's passing and movement were strong. He had a knack for getting to the ball, and if not for Toronto goalkeeper
Stefan Frei
, he would have assisted a Paladini game-winner.
"I think so far the new look that Carlos is trying has worked well," Bone said. "Danny and I are similar players and we connect with each other. What we're doing seems to get better with each game, and we complement with each other."
There were moments last year when De los Cobos could have given Bone some additional minutes. The Fire had plenty of non-league matches with SuperLiga, the Sister Cities Cup and a Lamar Hunt U.S. Open Cup match. And during the final matches of the regular season, Chicago already was out of the playoff picture.
Yet Bone was seeing little of the pitch last year. He was surprisingly taken out of a match against Kansas City in the 38th minute, when the season did not matter. And he had a long line of veterans ahead of him on the depth chart.
Circumstances have changed quite a bit since then.
"It's the coach's decision, and it was hard," Bone said. "I think it was a team last year that had a lot of superstars on it, and those guys get to play before me. Last year, it didn't work. I tried, but that's all in the past."
May, 14, 2011
5/14/11
9:09
PM CT
By
Charlie Corr
| ESPNChicago.com
The Chicago Fire have been kings of the draw of late, posting their fourth straight stalemate on Saturday with a 2-2 decision against Toronto FC at BMO Field.
While the Fire (1-3-5) are in the midst of a seven-game winless streak, Chicago had to feel positive with coming away with a point on the road. The Fire overcame a 2-0 deficit against the Reds (2-4-5).
Orr Barouch
's first goal in the 76th minute gave Chicago the eventual draw, and
Marco Pappa
's free kick strike in the 64th minute swung the momentum in the Fire's favor.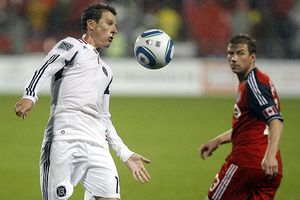 Abelimages/Getty ImagesThe Fire's Corben Bone gets the ball against Toronto FC in Saturday's 2-2 draw.
Despite the big deficit, the Fire had a great chance to take the lead in the 83rd minute. Daniel Paladini tried to chip the ball over Toronto goalkeeper Stefan Frei, but Frei came up with a huge save with his left glove to preserve the draw.

Frei and Fire goalkeeper Jon Conway each had six saves on the night.

The Reds got on the scoreboard first in the ninth minute with Joao Plata's second goal of the season for a 1-0 lead. The Fire defense was soft during Toronto's attack as Plata cut inside to his right past Fire defender Jalil Anibaba. Chicago defender Yamith Cuesta was late to step up above the box, and by then, Plata drove a low strike to the right side of the frame past Conway.

In the 47th minute, the Reds boosted their lead to 2-0 on a deep strike from Maicon Santos that trickled past Conway. The Fire gave the ball away in the midfield, and Santos decided to take a left-footed strike toward the near left post. Conway appeared to be on top of the shot, but he could not corral the ball and it bounced into the net.

"It was moving and I tried to do a good job of getting my body behind it," Conway said. "The ball dropped and it got through me, and the way these balls move nowadays, it is going to happen. But, I did my best to get behind it, the ball dropped and it went in."

The Fire had not pressured the Toronto defense effectively for much of the match, but that all changed in the 63rd minute when Barouch drew a foul against Jacob Peterson a few feet above the box. In the 64th, Pappa's free kick goal cut Toronto's lead to 2-1.

Pappa's strike went over Toronto's wall, clipped the crossbar and went into the back of the net. Frei did not really move much to his left as the ball was driven past him.

The Fire then found the equalizer in the 76th minute. Midfielder Corben Bone showed some confidence when he beat Toronto midfielder Dan Gargan to the right, opening up enough space to send in a cross toward the goal box. Frei got a glove on the ball, and it bounced toward Barouch who was running toward the left side of the goal. Barouch slipped a bit, but stayed composed enough to get his leg on the ball and direct it into the goal to tie the match at 2-2.

"I saw Corben isolated on the right side, he took his man and I was hoping he would get the ball across, and he did," Barouch said. "I was ready for it, I slipped and it came off my thigh and went in."

Analysis: The extent of the Fire's contributors during the second-half comeback probably was the most positive element for Chicago.

Bone's involvement in the match was a positive sign, not only because he had the game-winning assist, but because of his increasing activity in the offensive third. Fire head coach Carlos de los Cobos had been taking Bone out of the second half of previous matches, but Bone was instrumental in the second half at Toronto.

Barouch's goal was not the prettiest, but his involvement off the bench kept the pressure on against the Reds' defense.

You have to wonder what could have been, though, if Conway handled Santos' shot cleanly at the start of the second half. Not only was that a difference in preventing Chicago from a earning three-point road effort, but it also could change the line of thinking entering next Saturday's match at the Philadelphia Union.

Will Conway still be the first option in the net?

Fire goalkeeper Sean Johnson is nursing a quad injury, so the discussion of the team's starting goalkeeper went away. That topic could pick up some steam following Conway's mishap that gave Toronto a 2-0 cushion. Conway took over for Johnson starting with a 2-1 loss to the Los Angeles Galaxy on April 17.

Conway did have some slick conditions to deal with on Saturday, and he did make a couple of noteworthy saves, such as a 62nd-minute diving stop against Dicoy Williams' header off of a corner kick. But perhaps that one mistake has opened the door for Johnson to return to the starting gig.
May, 3, 2011
5/03/11
8:22
PM CT
By
Charlie Corr
| ESPNChicago.com
BRIDGEVIEW, Ill. -- When Chicago Fire captain and defensive midfielder
Logan Pause
injured his hamstring on Wednesday of last week, it caused head coach Carlos de los Cobos to rethink his strategy heading into their game against the defending MLS champion Colorado Rapids.
Initially, the Fire were training to play a standard 4-4-2. But when Pause was out of the picture, De los Cobos adjusted with a 4-1-4-1.
Chicago posted a 1-1 draw on the road, and the formation switch could stay in place, especially if Pause and midfielder Mike Videira (concussion) are unable to go this Saturday when Chicago hosts the expansion Vancouver Whitecaps at Toyota Park.
Last week's match in Commerce City, Colo., opened the door for Fire midfielders
Daniel Paladini
and
Corben Bone
, who made their first starts and appearances this season. Uruguayan forward
Gaston Puerari
dropped back in the midfield as well, leaving fellow countryman Diego Chaves as the team's lone attacker.
"We came out and played our system, and went attacking with four, five guys," Paladini said. "We're losing maybe a forward, but gaining an extra guy in the middle. We didn't go to Colorado to back up and play defense."
That was a big problem the previous week on April 23, when the Fire dropped back and settled for a 1-1 draw against the Houston Dynamo at Toyota Park.
While there are still plenty of wrinkles in the system, Chicago did demonstrate at times a more aggressive game, especially compared to the Houston match. Much of that has to do with the attacking demeanor of the Fire's midfielders against the Rapids. Paladini, who is used to being on the attacking side, played last week's match as a holding midfielder.
"I've talked to my dad and he doesn't like me there. I've played an attacking role all my life," Paladini said. "But I like it. I feel like I can control the game there and spray the ball out wide."
Paladini and Bone had not seen the pitch in regular-season play heading into the game, but Paladini said there was a comfort factor as they were thrown into the mix.
"We're similar players, but we didn't get to play too much together because we were in a different system," Paladini said. "In the reserve games, we've been playing together and connecting. So to us, it was no surprise in the game what we were going to do. Throwing Gaston in there, who has a great first-touch, we know what each other wants."
If Pause and Videira are not ready this weekend, the Fire in all likelihood would tout a similar lineup against Vancouver.
"With Logan and Mike Videira, they are more of defensive midfielders, and we were going with a different style," Paladini said. "Our outside midfielders were being the creators [beforehand]. Now with me and Corben, we grew up as attacking midfielders and have always been more on the creative side. There are just certain balls that Corben and I play than what Mike or Logan would play, and that's nothing against them. Obviously Logan's been very successful in this league."
Last week's game represented the Fire debut of the 26-year-old Paladini, who is in the midst of his second MLS stint. He spent some minimal time with Chivas USA in 2008 before he decided to join the lower-tier Carolina RailHawks in 2009 and 2010 to get some needed playing time.
"It was hard to practice and be a backup to Jesse Marsch and
Paulo Nagamura
-- these guys are good," Paladini said of his time with Chivas. "So I had to wait, and I didn't want to do that again. I talked to my dad and agent, and came to the conclusion that I should go to Carolina. You hear of some players who get blacklisted from MLS. I had a chance in Carolina to play 30 games [a season], but I knew I had to play really well in those 30 games. It couldn't be a two-goal, two-assist year. Thankfully my name got out there."
April, 30, 2011
4/30/11
11:19
PM CT
By
Charlie Corr
| ESPNChicago.com
Two struggling teams in need of a victory each wound up with a draw as the Chicago Fire and Colorado Rapids played to a 1-1 stalemate Saturday at Dick's Sporting Goods Park in Commerce City, Colo.
Fire midfielder
Marco Pappa
tallied his third goal of the season, but Chicago once again could not hang onto a lead. The Rapids'
Andre Akpan
netted the equalizer in the 49th minute and each team wound up with a point.
The Fire (1-3-3, 6 points) capped off a winless April, going 0-3-2 while getting off to its worst start in team history. This year marks the first time that the Fire have posted only one victory through their first seven games of the season.
Chicago sported a 4-1-4-1 formation in an attempt to emphasize a strong possession game, but it was Colorado (3-3-1, 10 points) that ended up holding a roughly 2-to-1 edge in the possession department.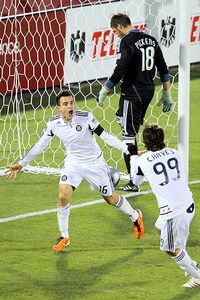 Doug Pensinger/Getty ImagesMarco Pappa's goal in the 43rd minute was the only goal for the Fire in Saturday's draw with the Rapids.
Nevertheless, the Fire got on the scoreboard first in the waning minutes of the first half. Gaston Puerari provided a precision pass toward the right corner of the pitch to Dominic Oduro, who then found Pappa in the box to garner the 1-0 lead in the 43rd.

The Rapids, in the midst of a three-game losing and scoreless streak, tied things up with Akpan's goal in the 49th minute. For the past two games, Fire defender Yamith Cuesta has replaced the injured Cory Gibbs (hamstring). Until this moment, Cuesta had provided some stout defense in the back. But he allowed too much room for Akpan to work with, and Akpan took advantage, shooting to the far left of the goal past Fire goalkeeper Jon Conway to tie things up at 1-1.

"To give up the goal after coming out flying high, this did not work out the way that we wanted it to," Oduro said. "At the end of the day, I think that our game plan worked out a little bit. But if we would have won this game, we could have taken some pressure off of ourselves."

Conway made his third straight start and he came up with six saves for the Fire. Former Fire goalkeeper Matt Pickens had two saves for Colorado.

The Fire offense did not put too much on frame during the game, but Chicago had some spells where the team could have put a dent on the scoreboard.

Puerari's free kick strike from the left side was punched over the crossbar by Pickens in the 78th minute. Another strong chance came in the 14th minute when Gonzalo Segares missed just wide left and hit the outside netting of the goal. Puerari had the dish from the center of the pitch as Segares made a decisive run down the left side to open up some space. But Segares' strike went wide of Pickens and the goal frame.

Chicago played without defensive midfielder Logan Pause, who was out with a hamstring injury. Pappa wore the captain's arm band.

The Rapids were without striker Conor Casey and midfielder Brian Mullan, who was issued a 10-game suspension for a vicious tackle against Seattle Sounders FC's Steve Zakuani.

Analysis: Fire head coach Carlos de los Cobos went with some new pieces in the middle of the pitch with midfielder Daniel Paladini making his MLS debut and Corben Bone also getting the start. Oduro played on the right flank instead of up top.

But when all was said and done, the Fire's central midfield did not accomplish what De los Cobos wanted in the possession game. Offensively, the Fire could have had a greater impact. Bone had some decent chances if he pulled the trigger earlier. The Fire's lone striker, Diego Chaves, resorted to a couple of long strikes that didn't pan out. Oduro had a decent first half, but his game tapered off. The Patrick Nyarko substitution for Oduro in the game's final minutes was almost pointless by that stage.

A key moment for the Fire came in the 37th minute when defender Josip Mikulic had to leave the game because of a shoulder injury he sustained in the 27th minute. Mikulic attempted to tough it out, but eventually Dasan Robinson entered the match. The absence of Mikulic was a huge loss, and the back line as a whole was shaky coming out of halftime.

So this puts Chicago in the midst of its worst start in team history -- a winless April, a five-game winless streak and only one victory through seven games. Is it still too early in the season to panic?

The Fire are fortunate to be playing in the Eastern Conference and in a league where a meager two-game winning streak can begin to turn things around. The silver lining for Chicago is that its four-game May schedule includes three franchises with losing records: the Vancouver Whitecaps, Toronto FC and the San Jose Earthquakes.

It is imperative for the Fire to make some type of move during that stretch. If the downward trend continues, who knows what types of shakeups are in store for this franchise.
October, 12, 2010
10/12/10
10:39
PM CT
By
Charlie Corr
| ESPNChicago.com
BRIDGEVIEW, Ill. -- The Chicago Fire's season of few peaks and mostly valleys took a steep dip once again as the Kansas City Wizards dominated in possession and topped Chicago, 2-0, on Tuesday in front of 12,230 at Toyota Park.
Kansas City captain Davy Arnaud and forward
Teal Bunbury
provided the offense for the Wizards (10-12-6), who kept their faint postseason hopes alive. For the Fire (8-12-8), their performance was the polar opposite of their 2-0 victory over the Columbus Crew on Friday.
"We just didn't have the right attitude coming from the win against Columbus," Fire head coach Carlos de los Cobos said. "That should have motivated us to come into this game stronger. We just didn't come into this game with the right attitude."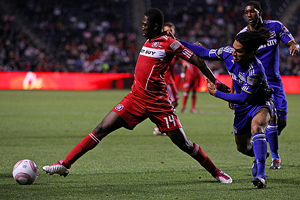 Jonathan Daniel/Getty ImagesChicago's Patrick Nyarko fights for controls of the ball as he is grabbed by Kansas City's Stephane Auvray.
Arnaud's goal came during first-half stoppage time as Bunbury had the setup pass. Arnaud found the inside of the far right post, driving the ball past Fire goalkeeper Andrew Dykstra for a 1-0 lead.

In the 80th minute, Kansas City took a two-goal lead when Bunbury shot the ball almost straight at Dykstra. The hard strike went underneath Dykstra's left glove at the near right post.

The Fire offense was in shambles, especially during the first half. Chicago did not have a single shot on goal during the first 45 minutes.

"There wasn't really any fluidity throughout that part, and they broke free and scored their goal," Fire forward Brian McBride said of the first half. "It wasn't the performance we wanted."

The Fire's best scoring opportunity came shortly after the Wizards' second goal. After the kickoff, Freddie Ljungberg provided a cross from the right side and tried to find Brian McBride. But the ball deflected into Wizards goalkeeper Jimmy Nielsen's gloves.

The post saved the Fire defense on a couple of occasions. In the 8th minute, Craig Rocastle had a deep shot that hit the right side of the frame near the corner and bounced away for a Fire goal kick. Then in the 58th minute, Bunbury took a deep strike and the ball deflected off Fire defensive midfielder Logan Pause and hit the left post. Dykstra was able to recover to take control of the ball.

Rookie midfielder Corben Bone made his first MLS start and fourth appearance of the season. But De los Cobos brought in Patrick Nyarko in the 38th minute to replace Bone.

"Corben showed very little in the time that he was on the field," De los Cobos said. "I understand that he's a young player. But when this opportunity is presented to the players, they need to understand that they need to have the right attitude to take advantage. And I just didn't see that attitude in Corben. I wish he could have played a full 90 minutes. But I just saw a very passive Corben Bone."

Among the Fire's rookie class, the first-round selection of the 2010 MLS SuperDraft has received the fewest opportunities to prove himself on the pitch.

"Take it for what it's worth," Bone said of the early substitution. "Got to keep my head up, keep doing what I've been doing and keep moving forward. It's the past now, so I can't really do anything about it."

Bone said he feels confident in the effort he has been putting in to prepare himself for matches.

"I think I've been working hard, and I think I've been training well," Bone said. "This was my first MLS start. I haven't played a game since SuperLiga, three or four months ago. So it's difficult. But I've just got to keep training well and hopefully the next time I get a start, hopefully I'll get more minutes."

Analysis: The Fire offense looked stagnant as Chicago took mediocre runs and did not look cohesive whatsoever on the pitch. Especially early on, the Fire did not create any type of constructive build-up in the offensive third, and they found themselves away from that portion of the field in many instances.

Kansas City, on the flip side, had some good room to work the ball and made regular crosses from both sides of the pitch.

De los Cobos' decision to take out Bone in the 38th minute probably would have been a proper move if this game had any significant meaning to it. But it didn't. The Fire are out of the playoff picture, and Bone has not even logged 90 minutes this year in MLS play.

The puzzling thing is, if the Fire are looking toward the future and trying new personnel, wouldn't you allow the youngster to work through a poor stretch like that? Why not, at minimum, have him finish out the first half? Saving the substitution might have been helpful, too, with center defensive back C.J. Brown hobbling throughout the final 20 minutes.

Bone was not the only Fire player who had a poor first half. You have to question De los Cobos' personnel decisions, because if he is looking to the future of this team, he has not given the Fire's top draft pick much of a chance to grind things out.
May, 22, 2010
5/22/10
10:23
PM CT
By
Charlie Corr
| ESPNChicago.com
BRIDGEVIEW, Ill. -- This was not the way the Chicago Fire wanted to draw up their first-ever Sister Cities International Cup. And now they have gone approximately a month without earning a victory.
In the tournament's finale, Red Star Belgrade prevailed,7-6, in penalty kicks for the Sister Cities crown. RSB and PSG played to a 1-1 draw in regulation, with PSG tallying a shorthanded, game-tying goal in the 90th minute to send the match to PKs.
In retrospect, the Fire's third-place match did not carry a whole lot of meaning, and Fire head coach Carlos de los Cobos decided to start the game without the likes of forwards
Brian McBride
and
Corben Bone
, midfielder
Marco Pappa
and defender
Wilman Conde
. Midfielder
Patrick Nyarko
was not even on the available roster.
By the time most of the above players made it into the match, Legia caused enough damage.
"Obviously this worries me," De los Cobos said. "We need to improve."
Sebastian Szalachowski had two goals in the 69th and 86th minutes, and Maciej Iwanski netted Legia's first goal in the 59th. In the net, Legia goalkeeper Kostyantyn Makhonovskyi made eight saves for the clean sheet before being subbed out for the final few minutes of the match. His counterpart, Fire goalkeeper
Andrew Dykstra
, made two saves.
The Fire created their chances, but the Legia defense was up to the task.
"We have to keep working -- that's the only thing a coach can do," De los Cobos said. "I'm not at ease. What keeps me a little bit at ease is that we created three or four opportunities to score, but we didn't complete those opportunities. … We have to be more efficient."
The Fire started rookie midfielder Corben Bone and fellow 2010 MLS Draft selection
Kwame Watson-Siriboe
. Midfielder
Logan Pause
was dropped to right defensive back. And midfielder
Justin Mapp
, who had been out of the lineup for several weeks because of a hamstring injury, made a return and played on the right side of the pitch.
Mapp was arguably Chicago's strongest player, especially in the first half. But the Fire's player movement had its shortcomings. As the game progressed, Mapp had a pair of sequences where he got behind the Legia defense, but Chicago could not capitalize with a tally.
"Maybe we had some tired legs," Mapp said of the team's second half. "For myself, I haven't played in a while. Maybe we fatigued a little bit, [which led to] some breakdowns. Give them credit. They finished their chances."
Chicago officially out-shot Legia, 23-10.
"We didn't put ours away, and they did," Bone said. "That's unfortunate. I think we let down a little bit in the second half. Our energy was a little bit lower than it was [in the first half]."
Of the Fire's missed chances, forward
Collins John
had back-to-back close calls. In the 74th minute, John dealt a huge strike, but Makhonovskyi made a diving save to his right. Shortly after with a free kick above the box, John's shot went just wide right of the net.
Earlier in the match in the 31st minute, Bone -- according to the sideline official -- stayed onside with a run down the right side. Bone crossed the ball in to Fire forward
Stefan Dimitrov
, but his shot went just over the crossbar.
Analysis:
For as many chances as the scoresheet clearly showed, Chicago looked disorganized simply creating its opportunities. The players' movement was out of sorts in the final third.
But in focusing on all of the Fire's missed chances, Legia had probably one of the most glaring missed chances in the 52nd minute. Bartlomiej Grzelak had the entire Fire defense and Dykstra out of position, and with a great look at the goal in front of him, his rolling shot went wide left. Grzelak was immediately taken out of the match and replaced by Maciej Gorski.
With some typical non-starters getting a rest, Bone had a respectable effort for the Fire. Marco Pappa eventually replaced him in the 57th minute, but it would have been beneficial to see Bone get some more work in. Bone expressed some disappointment afterward, and the reaction was justified.
March, 17, 2010
3/17/10
11:35
PM CT
By
Charlie Corr
| ESPNChicago.com
McCOOK, Ill. -- We have not had much of an opportunity to hear about 2010 first-round draft pick Corben Bone's field play this preseason. The Chicago Fire midfielder suffered an MCL injury immediately at the start of the team's preseason slate of matches.

But we do know one thing about him -- he is rapidly trying to fight his way back.

"I think I'm progressing pretty fast," Bone said. "An MCL injury, I haven't had one before so unfortunately I don't really know the timeline and stuff like that. I've been told it can take up to six to eight weeks. It's only been three and a half weeks and I'm already moving at full speed, cutting, with no pain. And hopefully I can get back to kicking the ball at full speed."

At this stage it would be a stretch to think he could make it back in time for the start of the regular season against the New York Red Bulls on March 27. This wasn't the way Bone envisioned his preseason panning out, that is for sure.

Bone hurt his left leg during Chicago's first exhibition match against the Vancouver Whitecaps, and his rehab prevented him from traveling with the team for its full slate of preseason games.

"It feels good to be with the guys. That was a big thing for me -- being away for so long by myself away from the team that I just got acquainted with," Bone said.

The former Wake Forest standout is now playing catchup in the hopes of making some sort of impression before the regular season gets underway.

"I thought I was doing well [before the injury]," Bone said. "I was getting a feel for the guys and I was starting to get into a groove a bit. Then the injury happened in the first game. Opportunities don't come that often, so I have to prove myself. I was planning on doing that earlier."

February, 22, 2010
2/22/10
10:45
PM CT
By
Charlie Corr
| ESPNChicago.com
The Chicago Fire reduced its roster size from 36 players to 28 on Monday as they head into the second leg of their preseason.

Most of the trial players were passed over, such as former University of Illinois-Chicago goalkeeper Jovan Bubonja and former Northwestern defender Mark Blades. The most noteworthy men waived were a pair of Fire defenders from last year's team -- Daniel Woolard and Austin Washington.

Washington and Woolard both played in eight regular-season games and both started in four of them during the 2009 season. The release of Woolard in this first roster adjustment is a bit of a surprise.

The offseason signing of Krzysztof Krol pushed Woolard down the defensive depth chart. But before Krol was on board, it was not out of the question to consider Woolard as a potential starting left back to fill the void of Gonzalo Segares. Woolard did start in the Fire's final two playoff games of the season and showed some potential.

Four trialists still remain on the Fire's preseason group -- midfielder Joao Baptista, midfielder Jaime Cuesta, defender O'Brian Woodbine and forward Collins John. John's resume in Fulham and his two-goal effort in the Fire's preseason opener against the Vancouver Whitecaps make his name eye-popping among this group.

The Fire face Chivas de Guadalajara at 12:30 p.m. Thursday and it will be the first chance to have the full roster together after splitting up the squad in the first leg of exhibition matches against Vancouver and the Arizona Sahuaros.

It will be interesting to see how deep into the bench Fire head coach Carlos de los Cobos goes on Thursday. Heading into this match, 2010 draftee Sean Johnson represents the No. 2 goalkeeper behind Jon Busch. Trialist Bubonja no longer is on board and Andrew Dykstra is staying in Chicago to take care of an injury to his left rotator cuff.

In the midfield, first-round draft pick Corben Bone is not with the team in Guadalajara. Bone is recovering from a left knee injury he suffered during the Fire's match against the Whitecaps.