Chicago Fire:

Deris Umanzor
February, 10, 2011
2/10/11
11:19
AM CT
By
Charlie Corr
| ESPNChicago.com
BRIDGEVIEW, Ill. -- Second-year goalkeeper Sean Johnson's rise has had a feel-good aura to it. For Chicago Fire players, fans and supporters, there were not a whole lot of high points to the 2010 campaign, so Johnson's showcase in the net naturally has stood out.

The 2010 fourth-round draft pick opened last preseason as the projected third-string option, earned the starting job by July, regularly garnered MLS Save of the Week nominations, helped the Generation adidas team post an unbeaten run during its trip to Spain in December, and then earned his first international cap during the U.S.'s 1-1 draw against Chile in January.

"He's only in his second year, but he's a winner," Fire captain and defensive midfielder Logan Pause said. "He just has the charisma and he has the personality to help lead."

Johnson's role with Chicago will be more magnified this year now that he has established himself as the team's No. 1 goalkeeper.

"Even though I gained experience last season, it definitely didn't end up the way I wanted it to end," Johnson said. "I think we got off to a bit of a slow start, and this year it's important to come out of the gates to set ourselves up to have a good season. More than anything, we just have to put it all together and develop some consistency."

Johnson will have a different defensive group in front of him -- one that lost its two central backs in C.J. Brown and Wilman Conde. And the team will need to have some personnel step into more of a leadership role, having lost veteran Brian McBride to retirement.

"I think they've done a great job of scouting talent and bringing talent in," Johnson said. "There are always going to be offseasons where you're looking at your team in different areas, especially losing guys like C.J. and Brian. But we gained experience from those guys, and now we've got to take that and pass that to the new guys coming in."

Earning the opportunity to play for the American squad obviously was a high moment for Johnson this winter.

"That has always been a dream to play at the highest level for my country," Johnson said. "Playing with them will do wonders for my game. Working with Nick Rimando, Matt Pickens and those guys was a great experience. I learned a few things from guys who have been around a lot longer than I have, and I'll try to apply it to this season."

Johnson's quick rise will be a season-long focal point for this Fire squad as the 21-year-old has plugged away with a non-stop offseason on the pitch.

"I'm going to have to balance it out and give my body a rest every now and then," Johnson said. "It's been a long offseason for me as far as playing. I haven't had much of a break. I just need to make sure that my body is set to go. When the season comes, I'll be fine. I'm young."

Umanzor released: The Fire officially parted ways with defender Deris Umanzor on Wednesday. Umanzor played in 10 games for Chicago during the 2010 season. The Fire already are set at left defensive back with Gonzalo Segares, and it is expected that Umanzor is looking to return to Salvadoran club Aguila.
January, 31, 2011
1/31/11
9:23
PM CT
By
Charlie Corr
| ESPNChicago.com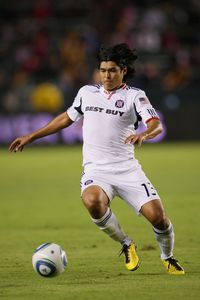 Victor Decolongon/Getty ImagesDeris Umanzor could return to his previous Salvadoran club, Aguila, where he played from 2005 to 2010.
The Chicago Fire are "exploring" the possibility of sending defender Deris Umanzor to a team in El Salvador, according to an ESPNChicago.com source with knowledge of the situation.

The source said that the move had not been finalized as of Monday afternoon. But if things progress -- and there's a possibility of a move being finalized as early as Tuesday -- it would provide Umanzor a regular starting job, the source said.

Several outside reports have stated that Umanzor could return to his previous Salvadoran club, Aguila, where he played from 2005 to 2010.

The Fire brought in Umanzor in March of last year, and his role has been limited. He started in five of 10 games, logging 502 minutes in regular-season play in 2010. He has seen some time at left back and in the midfield.

Earlier this year, Umanzor scored a goal and had an assist to help El Salvador defeat Belize, 5-2, to earn a berth in the 2011 CONCACAF Gold Cup.

Preseason trialists in town: The Fire's preseason training kicked off Monday, and over the coming days more will be known about the players on trial in Bridgeview. The Fire provided a few names publicly on its site, and ESPNChicago.com learned of a few others through a source.

On the defensive side, the Fire are taking a look at a number of players, such as 23-year-old Nate Weiss, who recently played for Latvian side FK Jelgava; Colombian 18-year-old Yoximar Granados, who primarily is a right back; and 24-year-old Graham Dugoni, who played second-division ball in Norway and was injured during his senior season at Duke. With Steven Kinney missing several months recovering from a ruptured Achilles tendon, and the absences of retired defender C.J. Brown and Atlas-bound Wilman Conde, Chicago is exploring all of its options in the back.

In the midfield, the Fire are taking a look at 25-year-old Michael Videira, a 2008 draft pick out of Duke who played briefly with the New England Revolution; 19-year-old Martin Rivas out of Argentina; and 19-year-old Amadou Sanyang, a Gambian midfielder who played for Toronto FC.

At forward, 19-year-old Fabian Burbano, a Colombian U-20 international from Envigado FC, was given high praises by U.S. U-20 coach Thomas Rongen, who alerted the Fire about his potential. Chicago also is taking a look at Scottish forward Ashley McInnes out of Tulsa.

Two forwards on the horizon: The Fire are coy about the addition of two new forwards that they are hoping to officially sign sometime this week. The agents, players and MLS have agreed to financial terms, a source said, but an International Transfer Certificate delay has prevented the Fire and league from officially announcing the signings.
April, 8, 2010
4/08/10
4:50
PM CT
By
Charlie Corr
| ESPNChicago.com
The Chicago Fire announced on Thursday that Salvadoran defender Deris Umanzor signed with the team.

Umanzor spent the past five seasons with Club Deportivo Aguila in El Salvador, and was a regular starter for El Salvador's national team when Fire head coach Carlos de los Cobos headed the squad from 2007 to 2009.

"We are excited to have Deris Umanzor join the Chicago Fire," Fire technical director Frank Klopas said in a statement. "Umanzor will provide depth in the Fire defense. He brings additional experience to our back line."

As of Thursday afternoon, Umanzor will not be available for Saturday's home opener, when Chicago hosts the San Jose Earthquakes at 7:30 p.m. at Toyota Park in Bridgeview. The team is awaiting his International Transfer Certificate.

Sueno heads to Montrose Park: Sueno MLS, a national soccer player search, is coming to Chicago's Montrose Park, 600 W. Montrose Ave., on Saturday and Sunday. Pre-registration is full, but interested players can still sign up in person to be included on a walk-up list, starting at 8 a.m. Saturday. Sueno MLS participants must be between the ages of 14 and 18. There is no cost to participate. For more information, visit www.SuenoMLS.com. Last year's Sueno MLS winner was midfielder Alberto Lopez of Aurora, Ill.
April, 7, 2010
4/07/10
10:44
AM CT
By
Charlie Corr
| ESPNChicago.com
BRIDGEVIEW, Ill. -- Salvadoran defender Deris Umanzor's name has been linked to the Chicago Fire for the past month or so. Now that Umanzor is training with the team this week, he is one step away from signing with Chicago.


A source with knowledge of the situation confirmed to ESPNChicago.com that the Fire are simply waiting for Umanzor's paperwork to clear with the league before he is officially named to the team. He trained with the Fire during the preseason.