October, 30, 2012
10/30/12
8:40
PM CT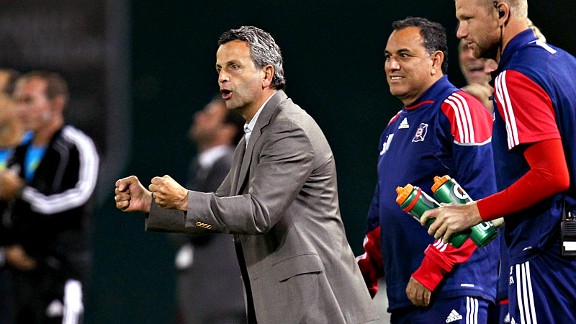 Ned Dishman/Getty ImagesBefore Frank Klopas took over as coach, he put this Fire squad together.


BRIDGEVILLE, Ill. -- Frank Klopas had two options when the Chicago Fire began the 2011 season with a 1-4-6 record.

One, Klopas could have resigned. The team was coached by Carlos de los Cobos, but a bulk of the roster was assembled by Klopas, who was hired as the team's technical director in January of 2008. He also bore responsibility for the Fire's lack of success.

The other option was for him to fire de los Cobos and take over the coaching duties himself. If he truly believed in the players, Klopas would prove the Fire were better than what they had proven under de los Cobos.

Staying true to his personality, Klopas chose the latter. He's never shied away from a soccer challenge.

"Some guys really don't want to step up and take (penalty kicks,)" Klopas said after practice on Tuesday. "I always wanted to take them. Every situation is an opportunity. You can't look at the worst-case scenario. You won't go anywhere like that. I'd rather attempt it and miss than never go out there and never take the chance."

When it came to coaching, Klopas took the chance and the Fire have been rewarded for it. In 2011, Klopas became the interim head coach, and the Fire just missed the playoffs by three points. In 2012 as the permanent coach, Klopas directed the Fire to the playoffs for the first time since 2009 and they will host the Houston Dynamo at Toyota Park on Wednesday.