Chicago Fire:

Houston Dynamo
November, 1, 2012
11/01/12
1:52
AM CT
By
ESPN.com news services
BRIDGEVIEW, Ill. -- Postseason experience meant more than home-field advantage in the opening round of the MLS Eastern Conference playoffs Wednesday night.
Will Bruin
scored twice and the Houston Dynamo beat the Chicago Fire 2-1 to advance to the Eastern Conference semifinals.
The Dynamo reached the MLS Cup final last year and won the league championship in 2006 and 2007. The Fire, who hosted the knockout-round match, hadn't been to the playoffs since 2009. The difference showed.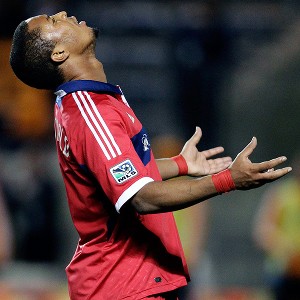 AP Photo/Nam Y. HuhThe Fire's 2-1 loss Wednesday was just their second in 21 home playoff games.
"After the first goal, we kind of had that feeling it was our game," Bruin said. "We were putting them under pressure, and got the goal as a reward for our play."

The Dynamo, who hadn't beaten the Fire since 2010, will host top-seeded Kansas City in Sunday's first leg of the Eastern Conference semifinals.

"We didn't think about getting another home game," Houston coach Dominic Kinnear said. "We give ourselves a chance to move on farther, which is nice."

Bruin's first goal, a header off Brad Davis' corner-kick cross from the left side, came in the 12th minute. From that point until the 82nd minute, when Brazilian veteran Alex beat goalkeeper Tally Hall to cut Houston's lead to 2-1, the Dynamo had Chicago off balance.

"We were able to impose our will," forward Calen Carr said. "We pressed them and kept them from getting comfortable. And a lot of our guys have been there (in the playoffs). That helped us today."

Houston took advantage of a Chicago mistake at the start of the second half for its second goal. Fire defender Gonzalo Segares' clearing pass was deflected, and Oscar Boniek Garcia led Bruin. Chicago goalkeeper Sean Johnson got his right hand on Bruin's 10-yard shot, but couldn't stop it 19 seconds into the second half.

The goal stunned the Fire, and squelched coach Frank Klopas' plan to attack relentlessly with Alex, who replaced Logan Pause at halftime. It took another 35 minutes for Chicago to get untracked.

"I thought we had the energy," Klopas said. "We had opportunities and didn't take advantage of them. What are you going to do?"

Houston controlled the ball more effectively for the first 75 minutes, giving Hall an easy night until Alex's goal. He finished with six saves.

Chicago's best chance before Alex's goal, a point-blank drive by forward Sherjill MacDonald, was kicked aside by midfielder Adam Moffat in the 71st minute.

Game notes: The Dynamo put six shots on goal. ... Houston is 1-0-2 against Kansas City this season. ... The second leg of the semifinals is Nov. 7 in Kansas City. ... Houston was undefeated (11-0-6) at home this season and has a 29-game unbeaten streak dating to July 9, 2011, including last year's playoff matches en route to the Eastern Conference title. ... The Dynamo last beat the Fire on Aug. 21, 2010, in a regular-season match.
April, 15, 2012
4/15/12
10:29
PM CT
BRIDGEVIEW, Ill. --
Logan Pause
scored in the 27th minute to lifted the Chicago Fire to a 1-1 draw with the Houston Dynamo on on Sunday night in a match shortened to 66 minutes due to lightning.
Will Bruin
opened the scoring for Houston (2-1-1) in the 24th minute with a low shot from 14 yards out after taking a pass from
Brian Ching
. Bruin's shot whistled low and to the right of Fire goalkeeper
Sean Johnson
, making his first start of the season following his stint with the U.S. Olympic team.
The advantage lasted only three minutes before Pause, diving out of the way of teammate
Pavel Pardo
's free kick, deflected the shot off the crossbar and into the net for Chicago (1-1-2).
The second lightning delay of the match resulted in the decision to end it 24 minutes early.
The first delay, in the 13th minute, was triggered by two lightning strikes near Toyota Park. Those prompted referee Geoff Gamble to rush the teams off the field. The delay lasted 1 hour, 8 minutes before the match was resumed, but another cell stopped play in the 66th minute. After a 40 minute wait, the match was called.
Chicago defender
Arne Friedrich
, a veteran of two World Cups for Germany, made his regular season debut for the Fire.
Houston was without three midfield regulars, including
Brad Davis
, runner-up for MLS MVP in 2011. Adam Moffet was serving a one-game suspension, while
Colin Clark
was out for the first of three games for verbal abuse of a ball boy in Houston's last match.
November, 20, 2011
11/20/11
10:35
PM CT
By
Charlie Corr
| ESPNChicago.com
Landon Donovan netted a 72nd-minute goal and the Los Angeles Galaxy defeated the Houston Dynamo, 1-0, on Sunday to win the MLS Cup at The Home Depot Center in Carson, Calif. The Galaxy earned its third MLS Cup, previously winning in 2002 and 2005.
The Galaxy, which dominated in possession for much of the night, finally broke the stalemate as Donovan's shot actually deflected off of Houston goalkeeper Tally Hall's left glove. But the deflection was not enough to push the ball away from the frame as it rolled inside the right post for the one-goal lead. David Beckham -- perhaps playing in his final MLS match -- and then Robbie Keane set up Donovan's tally.
"Whether I stay or not, I've had an amazing five years," Beckham said to ESPN's Rob Stone following the match. "The fans have been unbelievable. The owners have been unbelievable. The players, every one of them are heroes tonight. We've been incredible all season, and this capped it off."
Los Angeles had more than its share of scoring chances, especially in the first half. Much of the focus in the first 45 minutes was on Galaxy forward Adam Cristman's opportunities.
Cristman, who filled in for former Chicago Fire forward Chad Barrett (dislocated his ankle in training), had three strong chances, starting with a 12th-minute header off of a Beckham corner kick. Cristman was unmarked in the middle of the box, but his header went wide right. In the 27th minute, Cristman's header went over the goal as Beckham set him up. And in the 28th, the Galaxy tried to take advantage of a Dynamo turnover, but Cristman lost his footing on another potential scoring chance. Chris Birchall replaced Cristman early in the second half.
The only first-half strike that went on goal came from the Dynamo's Danny Cruz, whose 44th-minute shot went directly to Galaxy goalkeeper Josh Saunders.
In the 57th minute, Keane thought he had the game's first goal. But he was ruled offside, even though replays showed that he was level with the Dynamo's Geoff Cameron.
Former Fire forward and Dynamo starter Calen Carr did not show up much in the final third. But he did help in the Houston buildup that eventually led to an Adam Moffat header that went wide right of the goal in the 66th minute. Carr was replaced by Carlos Costly after that sequence.
In the waning moments of the match, Beckham took a free kick about two minutes into second-half stoppage time. Beckham's strike went toward the upper right corner of the frame, but Hall batted the ball aside.
2012 schedule changes benefit Fire:
The Fire struggled mightily against Western Conference teams this past season with a 3-8-7 record, compared to a very respectable 6-1-9 mark against their fellow Eastern Conference sides.
The days of a balanced schedule will come to a close with the Montreal Impact joining MLS as the league's 19th team next year. There will be some significant changes within the league in both the regular season and postseason.
The Impact, coached by former Fire midfielder Jesse Marsch, will become the 10th Eastern Conference team. Next year
during the regular season
, each Eastern Conference side will play a total of 25 conference matches and nine matches against West teams within the 34-game schedule.
Next year's playoffs
also will no longer include a neutral championship site, though this year worked out completely in the Galaxy's favor at The Home Depot Center. Moving forward, the championship match will be played at the home venue of the participating team with a higher regular-season points total. Another big playoff change will feature a two-leg series in the Eastern and Western Conference Championships instead of a single match, a format that has been in place for the past nine seasons.
Carolina Challenge Cup schedule set:
Recently the Charleston Battery announced the
2012 Carolina Challenge Cup tournament schedule
in which the Fire, Columbus Crew, D.C. United and host Charleston are participating.
The Fire open the tournament against D.C. on Feb. 25 (4 p.m. CT kickoff), followed by a match against the Crew on Feb. 29 (4 p.m.) and the Batter on March 3 (6:15 p.m.).
November, 2, 2011
11/02/11
11:30
PM CT
By
Charlie Corr
| ESPNChicago.com
Former Chicago Fire and current Houston Dynamo forward Calen Carr has had his share of injury spells over the past several years. This year it was a concussion that he suffered during the Fire's preseason in February when the team was training in Ave Maria, Fla.

Shortly into this year's regular season, the injured Carr found himself headed to Houston as the Dynamo swapped forwards with the Fire, sending Dominic Oduro to Chicago shortly after Houston's regular-season opener.

Oduro found his shooting touch with the Fire en route to 12 goals in MLS play. Carr needed several more months of healing time before he even had a chance to prove his worth for the Dynamo.

"It's been really frustrating not being able to have a run of games where I can put together a full, healthy season," Carr said. "The concussion, some injuries have been freak injuries -- the knee injury was a freak play. The concussion was a freak injury that I felt it would just take a couple weeks but it took longer than I was expecting. I think I've done a good job of coming back from injuries and putting them behind me. I haven't had as much work this season as I would like, but I'm looking to make the most of it."

Despite missing more than two-thirds of the regular season, Carr stepped up at the right moment on Sunday, netting the Dynamo's second goal in the 30th minute to top the host Philadelphia Union, 2-1, in the first leg of its Eastern Conference Semifinal match at PPL Park. It was Houston's first playoff road victory in the team's history, and now the Dynamo hosts the Union for the second leg on Thursday at Robertson Stadium (7:30 p.m., ESPN2).

Dynamo head coach Dominic Kinnear has turned to Carr for valuable minutes down the stretch. Along with the Game 1 start against Philadelphia, Carr started in four of the Dynamo's final five regular-season matches.

"I'm just trying to stay active," Carr said. "We've got great players who can draw attention. Playing up front with Brian Ching, Brad Davis, they find space and you can stretch the field."

Carr admits the early-season trade out of Chicago was a difficult situation to face, especially having been with the Fire organization from the start of his MLS career in 2006. But there was some sense of familiarity in going into Houston.

"There was a level of comfort coming to the team because I've known Dominic Kinnear," Carr said. "But it was difficult because I was injured and trying to figure out how to get healthy. You want to get acclimated to the team, train and play to get to know the team, and I wasn't able to do that.

"I had a lot of great memories in Chicago -- loved the team, the organization and the city," Carr said. "It was difficult to leave after being there for so long. I felt like this was a great opportunity to come to Houston, another great organization, with a great coach and players. Like any player you also want a chance at competing for an MLS Cup. That's important."

Kinnear has certainly brought that championship-caliber track record, either at the helm or while he was assisting Frank Yallop during the San Jose Earthquakes' 2001 and 2003 title-winning seasons.

"He's a guy that I always admired from watching him when I was in the Bay Area," Carr said of Kinnear. "The success he had with San Jose, winning championships, in my first two years in the league Houston won back-to-back championships. He's been a part of some successful teams and has a great track record of success."

Carr is healthy again and is in the heart of this year's postseason as Houston currently has the upper hand over Philadelphia in trying to advance to the Eastern Conference Final stage.

"The concussion is behind me and I'm feeling really good," Carr said. "The protective headgear is precautionary, more than anything. I feel like my old self."

GK Johnson earns U-23 call-up: Fire goalkeeper Sean Johnson was one of 31 players called in to the U.S. U-23 National team's Nov. 7-16 training camp at the Sportschule Wedau in Duisburg, Germany. U-23 head coach Caleb Porter could add more players to the roster based on upcoming MLS playoff matches. Johnson, 22, is coming off his second season with the Fire. He posted seven shutouts and a 9-7-12 record this past season.
October, 1, 2011
10/01/11
6:25
PM CT
By
Charlie Corr
| ESPNChicago.com
Fire interim head coach Frank Klopas certainly was not conceding Saturday's game against the Houston Dynamo. But with Tuesday's Lamar Hunt U.S. Open Cup at Seattle Sounders FC and a recent 3-0 win at Real Salt Lake three days prior, Klopas decided to put several of Chicago's key cogs on the bench to start out.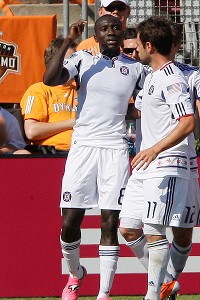 Thomas B. Shea/Getty ImagesDominic Oduro netted the Fire's lone goal on Saturday.
One regular starter who got the call to start Saturday was Fire forward Dominic Oduro. Oduro netted a first-half goal against his former Dynamo team as Chicago rallied from a deficit to draw Houston, 1-1, at Robertson Stadium.
Oduro was traded to Chicago for
Calen Carr
at the start of the season after missing a sitter during the Dynamo's opening match. Now, Oduro is leading the Fire with 12 goals and is in the running for the league's Golden Boot.
"It was good to be back in Houston," Oduro said. "Playing on the other side was a little bit different. At the end of the day, I think the fans appreciated me playing for them and I thank them."
Oduro's day was cut short as he limped off the field with an ankle injury and was replaced by
Patrick Nyarko
in the 51st minute for precautionary reasons.
"It was just a little bit sore when I made contact in the box," Oduro said. "I should be OK for Tuesday."
Typical starters Nyarko, midfielder
Marco Pappa
and midfielder
Pavel Pardo
all played for a portion of the second half. Normal right back
Dan Gargan
got the night off as
Michael Videira
filled in.
The big question is what Saturday meant for the Fire's playoff chances. Chicago (7-8-16, 37 points) basically needed to win out in order to keep making a push. With only three regular-season games remaining and multiple teams ahead of Chicago in the wild card standings, the playoff odds took a hit on Saturday.
"We knew we needed the three points to help our chances in making the playoffs," Oduro said. "We've just got to be grateful that we didn't lose the game. At this point, one point is better than no points."
The New York Red Bulls (40 points) maintained their final wild card position with a come-from-behind 1-1 draw against Toronto FC on Saturday night at BMO Field.
Neither the Fire nor Dynamo created a whole lot of scoring opportunities through the first 30 minutes. But in the 33rd, the Dynamo struck first with a
Colin Clark
goal for a 1-0 lead. Houston took a corner kick from the left side and the ball was headed in the path of
Brian Ching
. Fire defender
Jalil Anibaba
broke it up but was unable to clear the ball. Instead, the ball bounced off of Anibaba and went toward Clark, who used his left foot to net the goal.
Chicago responded in the 43rd minute when Fire midfielder
Baggio Husidic
played a through ball to Oduro, who then proceeded to beat Dynamo defender
Bobby Boswell
toward the goal. Oduro pushed the ball underneath Dynamo goalkeeper
Tally Hall
to tie the score at 1-1.
"It was a good combination and through ball from Baggio," Oduro said. "It was just a good goal. When it was me and Bobby, I knew I had the speed to get past him and I pushed it across."
Analysis:
The Fire could have rolled out with their usual lineup, but that would be a weary midfield and front line heading into Tuesday's Open Cup. You can't fault Klopas for juggling the lineup a bit, though perhaps it was the difference between Chicago walking away from Houston with three points instead of just the one.
Several weeks back, when the Fire's playoff chances looked bleak, the Open Cup represented the primary goal of a struggling campaign. Saturday's draw pushed the pendulum slightly toward this sentiment once again as Chicago only has three regular-season games left to make up more ground.
Some MLS teams don't take the Open Cup as seriously as others, but it is refreshing to see two organizations gearing up for this final with vigor. After Tuesday's Open Cup, no matter which team emerges with the win, the Fire and Sounders will have a combined seven crowns over a 14-year stretch.
September, 30, 2011
9/30/11
5:01
PM CT
By
Charlie Corr
| ESPNChicago.com
The Chicago Fire do not have any time to savor one of their biggest victories of the season at Real Salt Lake on Wednesday.

Chicago heads into Saturday three points behind the New York Red Bulls, who currently hold the final wild card spot with 39 points. With only four regular-season games remaining, the Fire can potentially eliminate the gap behind New York when they face the Houston Dynamo at Robertson Stadium.

Chicago interim head coach Frank Klopas's squad is in the midst of a three-game stretch in seven days. On Tuesday, the Fire head to CenturyLink Field to take on the Seattle Sounders in the Lamar Hunt U.S. Open Cup final.

"Unfortunately we don't have the luxury of games that aren't important," Fire defender Dan Gargan said. "All of these games are massive for us. Frank knows that, and he's doing the best to put out a good side each time we're out there."

"We're talking in the locker with our teammates that each game is a playoff for us right now," Fire midfielder Marco Pappa said. "We're still alive and we need to get points, and we know the next game is going to be hard in Houston."

The Fire (7-8-15, 36 points) are in the midst of five wins in their past six matches, the most recent a 3-0 win over RSL, led by Pappa's hat trick. Houston (10-9-12, 42 points) has posted back-to-back wins and is third in the Eastern Conference.

It is a tight race for everyone, but Chicago is on the outside looking in. Even if the Fire defeat Houston and the Red Bulls lose to Toronto FC on Saturday, New York carries the playoff advantage over Chicago. New York and Chicago posted a pair of draws during the regular season, but at the moment the Red Bulls hold an advantage over the Fire in goal differential.

Fire midfielder Sebastian Grazzini is questionable for Saturday's game with a hamstring injury, but he is in Houston with the team.

Fire forward Dominic Oduro will be a focal point during the match. Oduro, who missed a sitter with Houston to open the season, was then immediately traded to Chicago for Calen Carr.

The move has been a steal from the Fire's standpoint as Oduro leads Chicago with 11 goals.

Earlier this season the Dynamo came from behind to pull off a 1-1 draw against the Fire on April 23 at Toyota Park. Diego Chaves had the game's first goal, but Bobby Boswell scored in the 83rd minute to give Houston a road point.

Houston has had the best of Chicago in the past three meetings at Robertson Stadium, winning all three games. But the Fire are playing at a different level these days. Their three-game winning streak is their first since May 16-28, 2009.

"I think that we're certainly coming together as a group," Gargan said. "We're getting better performances day in and day out. As good as the Real Salt Lake win feels, it's behind us. That is only the beginning of a tough road trip. Saturday is a crucial matchup against a tough team, in another tough place to play. We have to keep moving in the right direction."