Chicago Fire:

Jalil Anibaba
October, 22, 2011
10/22/11
10:59
PM CT
By
Charlie Corr
| ESPNChicago.com
BRIDGEVIEW, Ill. -- The Chicago Fire wanted to end their season on a high note, and they did so by reaching the .500 mark for the first time since April 9.
Fire forward Diego Chaves scored his second game-winning goal in as many games and Fire defender
Jalil Anibaba
had two goals as Chicago topped the Columbus Crew, 3-2, on Saturday in front of a sellout crowd of 20,237 at Toyota Park.
The Fire completed the season with 9-9-16 mark (43 points), but Chicago missed the postseason for a second straight year and the third time in the team's 14-season history.
"Obviously we're disappointed not to be in the playoffs because that was our goal from the beginning," Klopas said. "But I feel very good at this point of the season where we are as a team. There's a lot to build from this."
As the Fire move into next season, the first major question is whether they will remove Klopas' interim tag and have him continue as the team's head coach.
"In the next couple weeks we're going to sit down as an organization and make the best decision going forward for the Fire," Klopas said. "But I've enjoyed every single second of my professional job, especially what I did now as the interim coach. I really enjoyed it with this group, because I've always believed in this group."
On Saturday, Chaves provided another game-winner following his dramatic stoppage-time goal against D.C. United the previous week. In the 81st minute against the Crew, Chaves provided a tally one minute after Columbus'
Dilly Duka
netted an equalizer on a botched defensive clearance.
Following the Crew goal, the Fire's
Dominic Oduro
was on the attack and ripped a shot from the right side, forcing Crew goalkeeper William Hesmer to dive to the right for the save. Chaves ran on in and tallied the unassisted score for the 3-2 win.
Anibaba had a solid day on the offensive side with the first two goals of his young MLS career. Anibaba gave the Fire a 1-0 lead in the 11th minute off of a
Pavel Pardo
assist, cutting in front of Crew defender
Julius James
and heading the ball past Hesmer.
Anibaba then netted his second goal in the 30th minute, coming up with a difficult header that was redirected toward the far right corner of the goal for a 2-0 lead. Fellow defender
Cory Gibbs
assisted from the left side.
"It was a good service out wide from Cory," Anibaba said. "I pointed to the spot and he literally put it right there. It was just a matter of me getting on the end of a good service."
Columbus fell to 13-13-8 (47 points), but the Crew prepares for the postseason.
The Fire put together a strong second-half run. Still, there were quite a few of those league-high 16 draws that could have turned into additional points.
"We made as hard of a push as we could have," Fire captain
Logan Pause
said. "Obviously it's a little bittersweet because we want to continue to play. You want to put yourself with a chance to make the playoffs and compete, and try to win a trophy. That was one of our goals that we didn't succeed with. But I think it is a silver lining and it feels as good as it can."
Analysis:
The Fire's playoff fate already was sealed heading into Saturday, but Chicago made a strong enough statement in improving to .500. The Fire also improved to 6-3-8 at Toyota Park this season, a home mark that is an improvement from recent years.
Going forward, there is the sentiment that Chicago has the bulk of its plan in place, which was a complete reversal from the previous offseason. The next few weeks should be interesting to see what decisions the Fire make about keeping Klopas, retaining the likes of midfielders Pardo and
Sebastian Grazzini
(who was out Saturday with his hamstring injury) and going elsewhere to find some other pieces -- perhaps another striker and more midfield depth.
The Fire progressed well during the second half of the season, but they need to establish the postseason standard that was a given year in and year out. Missing this year's playoffs certainly is a bitter pill to swallow, especially considering this year's playoffs expanded to 10 teams.
September, 7, 2011
9/07/11
2:44
PM CT
By
Charlie Corr
| ESPNChicago.com
BRIDGEVIEW, Ill. -- The Chicago Fire have found a rare winning stretch, so the team would prefer few to no changes toward its lineup now that it has a good thing going. Chicago posted back-to-back league wins, followed by a Lamar Hunt U.S. Open Cup semifinal victory over the USL Pro's Richmond Kickers on Aug. 30.
[+] Enlarge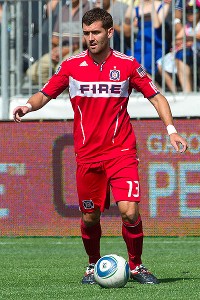 Rich Lam/Getty ImagesWith defender Gonzalo Sergares serving a one-match suspension, Frank Klopas will need to adjust his back line this Saturday.
But the Fire (4-7-15, 27 points) have no getting around a lineup adjustment this Saturday when they head out west to face the San Jose Earthquakes (5-10-11, 26 points). Left back Gonzalo Segares is not available because of yellow card accumulation.
That puts Fire interim head coach Frank Klopas on the spot as Chicago shoots for a third straight victory to continue its climb into the playoff picture. Will Klopas simply insert a bench player at Segares' left back position, or will he shift multiple players around within the defense and midfield?
"The whole thing is, who do you put there so you don't disrupt too many things?" Klopas said after Wednesday's training. "Because there's a good line of communication now with the group in the middle and stuff like that. It's just making a decision. Sometimes, that's why you sit around all night and you don't go to sleep, and you try to figure out -- is it this guy, is it this guy, is it this guy? But I have the confidence in any of the guys we put out there."
Purely based on the options that Klopas rattled off on Wednesday, it seems like he will not bring up a bench player and move him directly into Segares' spot. The team's left back options are limited, even more so now that midfielder Mike Banner -- who has some experience at left back -- suffered a right ankle sprain during the Fire's reserve game on Tuesday.
In terms of doing the least amount of lineup juggling, shifting center back Cory Gibbs to that slot would appear to be a logical move because of the team's depth at center back with rookie starter Jalil Anibaba, Josip Mikulic and Yamith Cuesta. Right back Dan Gargan also appears to be a frontrunner for Segares' spot.
"We have some different options," Klopas said. "You can put Gargan on the left side, you can put Cory, who's played with the national team on the left side when he grew up, as a left back for one game. There's no issue. I think he's more than ready. But you can put Logan [Pause] at right back and put Gargan on that side, you can put Jalil [Anibaba] at right back. So we do have options. We've been working with different scenarios throughout the week, and we've just got to see what's the best for us for that game."
The Fire have not had a match in more than a week, most recently coming off a 2-1 win over Richmond in the Open Cup semifinals on Aug. 30. Before that, Chicago posted back-to-back MLS victories against Toronto FC and the Colorado Rapids.
In the Rapids match, midfielder Pavel Pardo injured his calf and was subbed out at halftime. Pardo said Wednesday that he is 100 percent for Saturday's match against San Jose.
"I didn't play in the [Open] Cup against Richmond, but that week I rested," Pardo said. "I feel good to get in the game."
August, 30, 2011
8/30/11
10:25
PM CT
By
Charlie Corr
| ESPNChicago.com
BRIDGEVIEW, Ill. -- It was not the smoothest of performances for the Chicago Fire. But the home side did its job on Tuesday in topping the USL Pro's Richmond Kickers, 2-1, in the semifinals of the Lamar Hunt U.S. Open Cup at Toyota Park.
"It was a scrappy one, but we got it done," Fire defender
Jalil Anibaba
said.
Sebastian Grazzini
netted a first-half penalty-kick goal and
Dominic Oduro
tallied a second-half game-winner as Chicago advanced to its sixth Open Cup final appearance. The Fire have won the Open Cup four previous times (1998, 2000, 2003 and 2006) and were the runners-up in 2004.
"Opportunities like this, you can't let them slip away," Fire interim head coach Frank Klopas said. "It was a special moment for the team, for our fans obviously, to put ourselves in this situation now in the final, to have an opportunity to win something. We knew what was at stake."
Chicago faces Seattle Sounders FC in this year's title match. Seattle defeated FC Dallas, 1-0, in Tuesday's other semifinal, and the Sounders host the Fire for the championship on Oct. 4. Seattle won the 2009 and 2010 Open Cups and is vying for a three-peat.
The third-division Kickers came out with energy and moments of possession in the early going, but a defensive foul swung the match in the Fire's favor. Fire forward
Patrick Nyarko
was tripped up in the box by Richmond's David Hertel, and in the 32nd minute Grazzini capitalized with the penalty-kick goal for a 1-0 lead.
A few minutes earlier in the 28th, Nyarko fell down in the box against Henry Kalungi, but referee Jasen Anno did not feel there was enough contact to merit a penalty shot.
Oduro gave the Fire a 2-0 cushion in the 61st minute. Nyarko had the setup and Oduro did the rest to elude his defender and strike the ball toward the right side of the frame.
"I thought it was a world-class goal," Klopas said. "Just bended it up and in. Just fantastic."
But the Kickers' William Yomby responded quickly in the 68th minute as his header hit the crossbar and bounced just over the goal line to cut Chicago's lead to 2-1. Michael Callahan had the assist as the Fire defense wasn't alert on the sequence.
"They had two guys, actually, unmarked and they got the ball into the back of the net," Anibaba said. "I think we just weren't ready and we were unorganized. It was just a lack of focus on our part."
Fire goalkeeper
Sean Johnson
made one save in the ninth minute and did not face another shot on goal during the rest of the match. Richmond goalkeeper Ronnie Pascale made three saves.
Grazzini injured his hamstring in the first half and was unable to go in the second half. Klopas substituted midfielder
Baggio Husidic
into the match for the final 45 minutes.
"He tweaked his hamstring, so we have to evaluate (Wednesday)," Klopas said. "Hopefully it's not too bad."
Fire midfielder
Pavel Pardo
, who left Saturday's game against the Colorado Rapids because of a calf strain, did not suit up for Chicago on Tuesday.
Richmond's David Bulow, who entered Tuesday scoring a tournament-leading six goals in Open Cup action, was ineligible for the match because of yellow card accumulation.
During the Fire's upcoming week and a half break from action, Chicago forward
Orr Barouch
will be representing Israel's U-21 squad for a match on Monday against England. Fire midfielder
Marco Pappa
will be playing for Guatemala when his side faces St. Vincent/Grenadines on Friday and Belize next Tuesday.
August, 25, 2011
8/25/11
5:25
PM CT
By
Charlie Corr
| ESPNChicago.com
BRIDGEVIEW, Ill. -- Chicago Fire interim head coach Frank Klopas made it clear following the team's 2-0 win over Toronto FC on Sunday where he prefers to play rookie defender Jalil Anibaba.
"I like him better as a center back," Klopas said of Anibaba, who opened the season as the Fire's regular right back. "He reads the game better there. For me, I think he can play both. But I see him as a better center back than on the right."
Anibaba's move to center back has been a smooth one, and that was evident when out of the blue he had to replace an injured Cory Gibbs in the opening minutes of a 1-1 draw against the Philadelphia Union on Aug. 3.
"In college, I was able to grow in that position more," Anibaba said. "When I made the transition to center back from attacking mid (where he played in his first two games at Santa Clara), it wasn't easy for me just because it takes time to get used to a new position. It's just a matter of me having more games underneath my belt at center back, and I've been able to transfer my experiences from college at center back to this level."
Anibaba had quite a bit on his plate to open the year. The Fire (3-7-15) lost most of their back line during the offseason and Anibaba was selected as the ninth overall pick in the 2011 MLS SuperDraft. Anibaba then was thrust into a right back slot that he had not played before. Aside from a short stint in the midfield, Anibaba's entire collegiate career at Santa Clara and North Carolina was anchored at center back.
"Right back was a great experience because I got to see the game from different angles and a different perspective than I was used to," Anibaba said. "It definitely helped me grow as a player, fast. I felt like as far as catching up to the curve, it was one challenge I had to take on very seriously because I was also adjusting to the [MLS] level and adjusting to a new position. So it was a definite challenge. But I think I applied myself and did all right."
The Fire's depth at center back is extensive, especially with Gibbs healthy again from a groin injury. Yamith Cuesta was a backup during the Toronto match, and Josip Mikulic did not even make the available 18-player roster after opening the 2011 campaign as a starter.
The back four of Gonzalo Segares, Gibbs, Anibaba and Dan Gargan had a shutout against the Reds over the weekend, and it would be surprising if Klopas decided to change the back line after posting a rare victory.
"The cohesion was there, and the understanding was there from not only Cory and myself, but also Dan and Gonzalo. We definitely had a great understanding, and I think it's a good moment for us as far as getting the win and getting the shutout. But it's pretty obvious that we have a lot of work to do. We have to remain humble and remain steadfast in our endeavors to make the playoffs."
Timetable for Kinney's return unknown:
Fire defender Steven Kinney was supposed to be back by now after rupturing his right Achilles tendon on Oct. 23 last year against Chivas USA. He had a successful surgery and was showing some successful signs in training. But a groin strain has kept Kinney on the shelf all season, and he is not sure when he will return.
"I do not know, and every time I try to put a timetable on it, it seems like I get another setback," Kinney said. "I was pushing kind of hard. When you're out for seven, eight months, your body isn't really used to that. I expected injuries and I expected some setbacks along the way. This is one I've just got to take in stride."
Because of the groin strain, Kinney has been limited to riding the bike. Meanwhile, midseason acquisition Gargan has solidified the right back slot in recent weeks. For Kinney, seeing the Fire's season from a distance has been a difficult experience.
"It's tough watching all these ties and stuff, because you feel like you could be out there helping them," Kinney said. "It gives me that hunger to get back out there to help the team. I'm just waiting for that day to get back out there."
Bocanegra nets goal, joins U.S. roster:
Former Fire defender Carlos Bocanegra
tallied a goal
in his Rangers debut on Thursday en route to a 1-1 draw against Maribor. Despite Bocanegra's game-tying goal in the 75th minute, Rangers bowed out of the Europa League with a 3-2 aggregate defeat.
U.S. head coach Jurgen Klinsmann
named his 24-player roster
on Thursday ahead of the team's friendlies against Costa Rica and Belgium, and Bocanegra is part of the squad. The U.S. hosts Costa Rica at The Home Depot Center in Carson, Calif., at 10 p.m. CT on Sept. 2 (ESPN2), then faces Belgium at King Baudouin Stadium in Brussels at 1:30 p.m. CT on Sept. 6 (ESPN).
August, 21, 2011
8/21/11
9:23
PM CT
By
Charlie Corr
| ESPNChicago.com
BRIDGEVIEW, Ill. -- The Toyota Park scoreboard was not a mirage.
The Chicago Fire finally found the win column for the first time in more than two months as they defeated Toronto FC, 2-0, on Sunday in front of 12,020 at Toyota Park.
Fire forward
Dominic Oduro
netted a 16th-minute goal, and defender
Dan Gargan
headed home a goal against his former Toronto team in the 69th minute to garner a long-awaited win for Chicago.
[+] Enlarge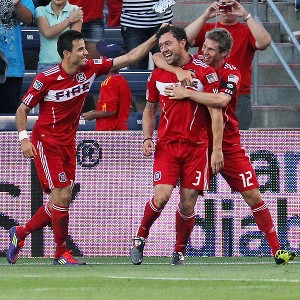 Jonathan Daniel/Getty ImagesThe Fire's Marco Pappa, Logan Pause and Dan Gargan celebrate Gargan's goal on Sunday night.
"It was huge. We needed it for team morale," Fire defender
Cory Gibbs
said. "We knew every week we've been playing well during that stretch and needed to get over that hump. Our perseverance is there. We pushed and we got the win. We needed it."
The Fire (3-7-15, 24 points) moved out of last place in the Eastern Conference, while Toronto (4-12-11, 23 points) shares last place with the New England Revolution.
Just how long had it been since a Fire victory? Chicago's previous win came on the road against the Columbus Crew on June 12. And the Fire's last home win was their home opener on March 26 against Sporting Kansas City.
"It's just great to get the win because I felt the team has played well, and sometimes things don't go your way," Fire interim head coach Frank Klopas said. "I felt in a game like today, we looked a little bit tired -- probably wasn't one of our better performances. We did create opportunities, but some things kind of went our way a little bit. They hit the post [twice]."
Oduro notched his team-leading eighth goal in the 16th minute for an early 1-0 advantage. Defender
Gonzalo Segares
had the assist from the left side. Segares' first cross attempt was blocked by Toronto captain
Torsten Frings
, but the ball went right back to Segares. He tried again and the ball went through and Oduro capitalized.
It was an important moment for Oduro, who missed a flurry of chances during the Fire's 1-1 draw against D.C. United on Thursday.
"He told me he was going to score three -- he only scored one, but that's OK," Klopas said, drawing some laughs in the press conference. "The thing with forwards, you've got to have that mentality. It's so much of a confidence thing."
Gargan stepped up from his defensive position to head in the Fire's second goal in the 69th.
Pavel Pardo
took the corner kick from the left side. The ball bounced in the box, and Gargan was there near the far right post to cash in with the goal.
The Fire traded
Dasan Robinson
to Toronto for Gargan and a 2012 MLS SuperDraft second-round selection, and Gargan's addition has paid off.
"[He's] just a solid guy that's got experience in the league that gives us depth and can step in and start," Klopas said. "He's a competitor and has got a great attitude every day and can play different positions on the field."
Fire goalkeeper
Sean Johnson
made three saves for the clean sheet. And the defense had some luck on its side.
Toronto had its chances on the offensive end, and the Fire caught a break in the 51st minute. The Reds'
Julian de Guzman
hit the right post and the ball bounced out to Joao Plata, whose shot went just wide right of the frame. Toronto's
Ryan Johnson
also hit the right post in the 77th minute.
Gibbs made his first start since a groin injury in the opening minutes of the Fire's 1-1 draw against the Philadelphia Union on Aug. 3. Gibbs paired up with
Jalil Anibaba
at center back.
"There have been moments in previous games where second halves we've dropped off a little bit," Klopas said. "And I think [Gibbs] was able to pull the line closer and keep our team short, especially when we have pace on top. That gives us the ability to counter."
Analysis:
The Fire have had so many matches this season where they have been close, and Chicago was deserving of this one to earn the three points.
Having Gibbs back in the fold was incredibly important, especially after the Fire have had some shaky defensive efforts during his absence. The Gibbs-Anibaba pairing looked good on the pitch, and Klopas said following the match that he definitely prefers having Anibaba in a central role instead of at right back.
It will be interesting to see how the team moves forward working Gibbs, Anibaba,
Yamith Cuesta
and
Josip Mikulic
into the center back pairing. Sunday's group certainly worked against Toronto.
The Fire still have a long way to go in order to work back into any type of postseason conversation with nine matches remaining. Earning something more than a draw was a much-needed psychological boost.
August, 6, 2011
8/06/11
5:25
PM CT
By
Charlie Corr
| ESPNChicago.com
BRIDGEVIEW, Ill. -- The theme around the Chicago Fire locker room during the midweek was toward forging ahead in the midst of a disappointing outcome.

The players certainly have had to cope with quite a few, and their most recent effort was out-playing the Philadelphia Union on Wednesday, only to manage a 1-1 draw.

Now the Fire hit the road to take on the expansion Vancouver Whitecaps on Sunday at Empire Field.

"We cannot dwell on it," Fire midfielder Patrick Nyarko said. "We've got to look forward. Every point dropped hurts, but we've got to move on."

"It seems like it's been a little bit of a recurring theme this year," Fire captain Logan Pause said. "We don't have enough time to hang our heads and get upset and worry. ... At this stage, ties aren't really helping. We know we need to get three points."

The Fire have not fared well against MLS's two expansion sides this year. Chicago's best result was a scoreless draw against Vancouver on May 7. The Fire dropped both matches against the Portland Timbers -- a 4-2 loss at Portland on April 14, and a 1-0 home defeat on July 16.

The Fire (2-6-13, 19 points) are in the midst of a seven-game winless streak (0-2-5) and in last place in the Eastern Conference. The Whitecaps (2-11-9, 15 points) are in last place in the West. Both of Vancouver's victories have come at home.

Vancouver is in the midst of a six-game winless streak (0-5-1) and is coming off its worst defeat of the season -- a 4-0 loss to the Los Angeles Galaxy last Saturday.

The Fire defense has represented one of the few bright spots on the team this season, and the match against Philadelphia represented Chicago's depth in the back.

Pause dropped to right back with the debut of Pavel Pardo at defensive midfield. Typical right back, rookie defender Jalil Anibaba, was brought into the match after center back Cory Gibbs got injured in the opening minutes. Josip Mikulic also stepped in at center back for Yamith Cuesta, who had to sit out Wednesday's match for a red card suspension.

Mikulic and Anibaba both had solid efforts teaming up at center back.

"We've got a deep team," Pause said. "Josip is more than capable and played a fantastic game. You see a young and up-and-coming player who's hopefully here for a long time in Jalil step in and do a great job. You just hope that Cory has a quick recovery. That's one of the reasons why you have to count on all 30 players."

Cuesta returns, but Gibbs will miss Sunday's game with a left groin strain. As for Pause, he has adjusted to his new defensive duties.

"It's just a completely different role," Pause said. "Playing holding mid, you're kind of just the anchor. Right back allows me to get up and down a little bit."

The ongoing problem for Chicago is the inability to finish chances this year. The Fire have netted only six goals in their past 10 matches. Chicago's leading goal scorers Marco Pappa and Dominic Oduro have been sitting on five tallies apiece for more than a month.

The Whitecaps' offense clearly rests with Frenchman Eric Hassli, Vancouver's first designated player. Hassli leads the Whitecaps with eight goals this season. He has three multi-goal games, and his most memorable performance was a two-goal effort against Seattle Sounders FC on June 11. His second tally was a superb right-footed strike from the right side that was driven past Sounders goalkeeper Kasey Keller and just inside the left post to salvage a 2-2 draw.
June, 24, 2011
6/24/11
3:24
PM CT
By
Charlie Corr
| ESPNChicago.com
BRIDGEVIEW, Ill. -- The Chicago Fire offense has not regularly produced over the past month, but the team's defense has turned into a saving grace for points.

Fire interim head coach Frank Klopas has been at the helm for five matches. Chicago has allowed only one goal and has garnered at least a point per game and a 1-0-4 record since the firing of Carlos de los Cobos.

One of the most apparent adjustments that Klopas made was moving to man marking versus zonal marking on set pieces. The Fire have yet to allow a set piece goal under Klopas.

"Set pieces have been a key," Fire defender Gonzalo Segares said. "Since we changed to man marking, that is one of the big reasons why we're doing better."

"That's just one area where we had given up goals, and we needed a change," Klopas said. "Obviously it was something that wasn't working. We changed it. We put guys on the post and stuff like that to make it comfortable for our goalkeeper when he comes out. Man marking suits us better."

The Fire (2-4-10) are preparing for a home match against the New York Red Bulls (5-3-8) on Sunday at Toyota Park. New York is coming off a 4-2 loss to Seattle Sounders FC. Of the four goals the Red Bulls allowed, one was directly off of a set piece and two were generated shortly after a set piece clearance.

"In set pieces, man marking is crucial," former Fire defender and current Real Salt Lake assistant coach C.J. Brown said last week. "You need a body on people, and unless you have 11 guys who are fully focused and good in the air and good at attacking the ball, it is hard to play zonal on set pieces."

The Fire's defensive numbers have certainly changed since De los Cobos' departure. The Fire gave up 19 goals in their first 11 games, and in seven of those matches they allowed two or more goals.

Defending on set pieces is just one element. In the first third of the season, the Fire briefly tried a three-man back line, they switched goalkeepers, and injuries also played a part in the everyday defensive lineup.

Now, sophomore goalkeeper Sean Johnson has been back at the helm, and his form continues to improve. The combination of Yamith Cuesta and Cory Gibbs at center back has been steady enough that a healthier Josip Mikulic could have a difficult time getting back into the starting role. Right back Jalil Anibaba has endured some early pushes from opposing offenses in the past couple matches. Segares has had some ups and downs, but he's certainly improved from last year. Segares had a difficult game against New England's Sainey Nyassi, but rebounded well in this past match against Real Salt Lake.

"I think the product overall has improved," Klopas said. "We have urgency when we lose the ball and we stay compact and put pressure and close things down to win the ball back."

The defense has kept opposing teams to a limited goal output, but the front line and midfield have regularly come up short in the offensive third. Wednesday's match against Salt Lake has turned into the norm for Chicago over the past several weeks. Three of the Fire's past five matches have resulted in scoreless draws.

"We were sluggish, not very good with the ball, especially in the middle of the field," Klopas said after the Salt Lake match. "We need to be quicker because they are a team that overplays the ball, and the minute they lose it they put tremendous pressure on to win it back.

"I felt the second half was better for us," Klopas said. "We moved the ball better, we were looking to switch the point of attack, to attack the ball from wide spots. Gonzalo made a lot of runs forward to help [Patrick] Nyarko on that side and create some 2-vs.-1 situations. We pushed the game, and unfortunately in the end we only got one point. We've got to keep working and building."
April, 22, 2011
4/22/11
3:44
PM CT
By
Charlie Corr
| ESPNChicago.com
BRIDGEVIEW, Ill. -- The Chicago Fire's current three-game losing streak is creeping into the realm of historic proportions if the team cannot turn things around Saturday when it hosts the Houston Dynamo at Toyota Park.
One more loss would put this stretch among only a handful of four-game Fire droughts, the most recent being a four-game skid in May of 2007.
"The mentality's always strong, but the confidence, we've lost a little bit of," Fire head coach Carlos de los Cobos said Friday following training.
The Fire (1-3-1, four points) have had to rely on some of their younger personnel to shoulder the load this season. Second-year goalkeeper
Sean Johnson
and 2011 first-round draft pick and defender
Jalil Anibaba
thrust themselves into starting roles. But both have been prone to some big mistakes in recent matches.
De los Cobos decided before last week's 2-1 loss to the Los Angeles Galaxy to turn to 33-year-old goalkeeper
Jon Conway
, who will return to the starting lineup Saturday against Houston. De los Cobos said that Anibaba continues to maintain his starting right back role.
"I think patience is the key, for everybody," 12-year veteran Conway said. "A lot's expected of these young guys, but they are young guys. You've got to realize that being thrown into this sort of environment, this quick and as tough as it may be, sometimes it takes a little bit longer. For me, all I do is show up and train like I have for my whole career and just train hard, and maybe that translates over to them and they can take that from me. I have had a long run of things, fortunately, and maybe that helps them out with getting over what they have to get over."
The mentality within the Fire camp is that in most games this season, the team could have turned around its fate with more consistent play and eliminate some lapses on both ends of the pitch. In Chicago's losses to L.A. and Seattle Sounders FC, the Fire certainly had their moments to change the tone of both games and potentially garner some points.
"I think we're close," Conway said. "I think we're doing a lot of things well in spells and then showing a bit of our youth and not concentrating. We can get better all the way around, fine tune things and we'll be OK."
The Fire are at the bottom of the Eastern Conference table. Houston moved over to the East this season as the West brought in the expansion Portland Timbers and Vancouver Whitecaps. The Dynamo sits in the upper third of the East with a 2-1-2 record and eight points.
Fire defender
Cory Gibbs
missed training this week and will not play because of a hamstring injury he suffered in the second half of Chicago's loss to L.A. Colombian
Yamith Cuesta
, who was acquired from Chivas USA, will get the start in Gibbs' place, playing to the left of
Josip Mikulic
.
De los Cobos also is pondering a change within the midfield, and Libertyville native
Baggio Husidic
's name has come to the forefront. De los Cobos said "it's possible" for Husidic to see an increased role. Husidic has seen limited action this year after scoring five goals last season.
"I might make some changes in the middle, because one part of the midfield I think we need to improve is the creation," De los Cobos said.
Houston enters Toyota Park having won its past two matches -- a 3-1 decision over Vancouver on April 10, followed by a 1-0 win against the New England Revolution last Sunday. The Dynamo defense has allowed only four goals in five games this season.
Dynamo midfielder
Brad Davis
is among the league leaders with three assists this season, and goalkeeper
Tally Hall
enters the weekend third in saves with 19.
Chicago acquired
Dominic Oduro
from Houston in exchange for
Calen Carr
earlier this season. Carr still is out with a concussion injury and has not played this year. Oduro tallied the Fire's lone goal during their loss to the Galaxy last week.
March, 30, 2011
3/30/11
9:08
PM CT
By
Charlie Corr
| ESPNChicago.com
In soccer circles, the home fans represent the 12th man on the pitch. From the Chicago Fire's standpoint, they had a partially direct impact toward the Fire's game-winning goal.

With the smoke still clearing from some previously lit flares close to the Colorado Rapids goal, Fire right defensive back Jalil Anibaba cracked a shot from more than 40 yards out, finding the back netting during Chicago's 2-1 victory over Colorado in a Lamar Hunt U.S. Open Cup qualifying match on Wednesday at Bradley University's Shea Stadium in Peoria, Ill.

Anibaba's game-winning strike came in the 61st minute, giving the Fire a 2-1 advantage that held up over the final half hour. Anibaba's deep shot through the smoke appeared to cause a delayed reaction from Colorado goalkeeper Ian Joyce, who then scrambled to his left but could not get to the ball in time.

From Anibaba's view, though, the smokey environment was not taken into account on his decision to shoot from deep.

"To be honest, no, I wasn't thinking about that," Anibaba said. "I was just thinking about how much time and space I had. I got the ball played out wide, and I had a lot of time. My initial thought was to take the defender one-on-one, but I just focused on my strike and getting that on frame."

With the win, the Fire will face either the San Jose Earthquakes or Portland Timbers in the qualification finals.

Gaston Puerari netted the Fire's other goal on Wednesday, and Andre Akpan scored for the defending MLS Cup champion Rapids.

Heading into the match, the Fire had the bulk of their first team available. The only major absences were Marco Pappa (international duty with Guatemala) and regular starting defender Josip Mikulic (quad injury). Davis Paul earned the start in the midfield and Yamith Cuesta got his first start at right-center back as Chicago went with a 4-4-2 formation. Anibaba played to the right of Cuesta and gave high marks toward the Fire defender.

"He was very aggressive, has good instincts and plays well out of the back," Anibaba said. "He's smart and I definitely liked playing with him."

The Rapids missed their highly touted scoring duo of Omar Cummings (international duty) and Conor Casey (stayed in Colorado), and were without midfielders Jeff Larentowicz and Pablo Mastroeni, as well as several other absences.

Chicago held the possession advantage in the first half, and it wasn't until the 45th minute when the Fire finally broke through on the scoreboard. Puerari, who received the ball from fellow Uruguayan Diego Chaves, made a swift run from the left side toward the box. He took a low strike past Joyce and toward the inside of the left post for the 1-0 halftime lead.

The Rapids came out of the halftime break with high energy and an immediate result as Akpan's tally tied the score at 1-1 in the 47th minute. Quincy Amarikwa put together a couple of crossover moves during the attack, found Akpan to his right, and Akpan's low shot went underneath Fire goalkeeper Sean Johnson and into the far left-side netting.

"Overall, I was definitely happy with the result," Anibaba said. "When you give up a goal, you have to go back to the drawing board to see how we can improve. It was a humbling game."

Johnson saved four of five shots for the Fire, and his counterpart Joyce saved three of five shots on frame.
March, 27, 2011
3/27/11
6:41
PM CT
By
Charlie Corr
| ESPNChicago.com
BRIDGEVIEW, Ill. -- When the Chicago Fire sought out new pieces in building their 2011 squad, they brought in a group that had a combination of athleticism, youth and experience.
That might not be the easiest combination to find, but a fitting example is the addition of center defensive back
Josip Mikulic
. The 24-year-old Mikulic, a native of Ljubuski, Bosnia and Herzegovina, spent his previous five years with Croatian side NK Zagreb, and his game has stood out in the early going.
While Uruguayan forwards Diego Chaves and
Gaston Puerari
will grab the spotlight if they produce a regular scoring punch, it will be Mikulic's role in the back that turns out to be just as important.
Chicago has started its season with a 1-0-1 mark, and the Fire defense held most teams at bay during the preseason. The solid start has been anchored by a brand-new back line of Mikulic at center back, rookie
Jalil Anibaba
at right back and
Cory Gibbs
on the left when the Fire go with their 3-5-2 system.
"I played five years in Europe, and in my country, when you switch one guy, it's a problem," Mikulic said. "[The Fire] switched the whole defense, and it's been very good."
Fire coach Carlos de los Cobos accompanied technical director Frank Klopas in scouting Mikulic this offseason, and De los Cobos has been impressed with what Mikulic has brought to the table.
"He has a strong personality and he's very strong on the field," De los Cobos said. "He's playing very well together with Cory and Jalil. The most important thing is he's very honest on the field. I think we are lucky to have this guy with us."
The Fire defense gave up goals during critical stages of their matches last year. Former center back and 2009 and 2010 MLS All-Star Wilman Conde coughed up the ball at several key moments last season. Retired center back C.J. Brown (now an assistant coach at Real Salt Lake) noticeably lost a step and took a physical beating near the end of an illustrious 13-year Fire career. And the Fire spent all of 2010 rotating a large group of players at left back.
Through only two games, it still is too early to pinpoint how well this year's back line will anchor the team. Both of Kansas City's goals during Saturday's 3-2 Fire win were the result of major defensive lapses. Goalkeeper
Sean Johnson
should have held onto the ball in the first instance that led to
Matt Besler
's goal, and
Gonzalo Segares
' bad touch led to Mikulic trying to chase down
Teal Bunbury
.
Other than Bunbury's goal, where Mikulic could have done a better job despite Segares' error, the center back had a steady game against Sporting Kansas City. In the first half, Mikulic marked up against rookie forward C.J. Sapong, the 10th overall selection of this year's draft who scored the fastest rookie goal in MLS history with his second-minute tally against Chivas USA.
Mikulic had some composed 50-50 breakups against Sapong in the fourth and 29th minutes, back-to-back clearances in the 24th minute when Sporting K.C. was attacking from the left side and his most crucial play was in the 78th minute, when he disrupted a potential game-tying Kansas City attack from the left. On that play, Mikulic flicked the ball just enough to put it out of harm's way.
"He's a beast. He's solid," Gibbs said. "He's a big body in the central defense who can read the game well. His distribution is simple, and it's effective. What more do you want from a center back? I think Mikulic is going to be a mainstay in terms of holding this position."
Mikulic rotates between center back for the three-man defense and right-center for the Fire's four-man back line. Mikulic played in a three-man back line when former Croatia national team head coach Miro Blazevic was heading Zagreb. But in Mikulic's eyes, the formation shape is not a large priority.
"Three on the line, four on the line ... that's only tactical before a match," Mikulic said. "When you go on the field, no tactics my friend. Everybody plays. Every player plays defense. You must talk with Cory and Jalil and when you're switching. It's easy."
Gibbs will be the source of experience that most Fire players turn toward this season. But with Mikulic consistently playing in the middle of the Fire's back line, he will have to handle much of the dirty work in the heart of Chicago's defense.
"Josip is young, but you wouldn't know it," Anibaba said. "He's very mature and very knowledgeable about the game. He's been helping me, to pass that knowledge on to me. So I've been grateful to play next to him."
March, 25, 2011
3/25/11
3:47
PM CT
By
Charlie Corr
| ESPNChicago.com
BRIDGEVIEW, Ill. -- The two MLS teams that were atop last year's playoff-less panel square off this Saturday as the Chicago Fire host Sporting Kansas City at Toyota Park. Sporting K.C., previously known as the Wizards, ranked ninth last season with 39 points, and the Fire had the 10th-best points total last season with 36.
Not only did the postseason evade the Fire last season, but Chicago also hopes to turn around 2010's lackluster 4-4-7 regular-season record at Toyota Park.
Sporting K.C. (1-0-0) presents another strong offensive challenge for the Fire (0-0-1), who were able to fend off 2010 MLS runner-up FC Dallas last week with a 1-1 draw on the road. Kansas City sports an attack that features
Omar Bravo
,
Kei Kamara
and C.J. Sapong, a tandem that had some part of every goal during its 3-2 road win over Chivas USA to open the season. Bravo had two of the three goals.
"These guys are very similar [to Dallas]," Fire head coach Carlos de los Cobos said. "Bravo is more of a forward and he doesn't drop too much. Kamara is very fast. And Sapong is a strong guy -- very young, but very strong."
"It's going to be a bit similar in terms of Dallas attacking with so many numbers," Fire defender
Cory Gibbs
said. "But the thing is Dallas attacked way more than what I think Kansas City will. They're going to be a threat still. So I think if we stay positive and stay organized defensively, we'll have our chances countering against that."
In the first regular-season game and throughout the preseason, the Fire defense has been the featured focal point. In the opener, Chicago held an aggressive Dallas team off the board in the second half, and it was only one defensive lapse on
Milton Rodriguez
's goal from
Zach Loyd
in the first half that prevented the Fire from securing three points instead of one.
"You've got to give credit where credit is due," Fire defender
Jalil Anibaba
said. "Zach Loyd did a very good job in getting in between me and Bratislav [Ristic] and then slipping the ball in to the back post."
Last week at Dallas, Fire midfielder and 2010 assists leader
Patrick Nyarko
came off the bench late in the first half for Ristic. Earlier this week, it was unclear from De los Cobos if he would again utilize Nyarko off the bench or start him. But with Ristic nursing a hip injury and Uruguayan forward
Gaston Puerari
missing out on some training this week, the odds of Nyarko getting into the starting 11 appear promising.
"I need to make some decisions with some of the guys, and maybe they don't start the match," De los Cobos said. "But everybody needs to stay ready to play because we are a team. These are the kinds of players that we need -- team players. Patrick is a very good guy. I love Patrick, and he's a very good player. Right now, I don't know our lineup. Normally we try to keep it very close to the same lineup when the match was good."
Chicago had a winless campaign against Kansas City last season that included a 2-2 draw on May 15 at CommunityAmerica Ballpark, and a 2-0 loss on Oct. 12 at Toyota Park.
What to look forward to at Toyota Park:
New intro:
The Fire had a difficult task of producing a strong follow-up to
last year's introduction video
, which was driven by Hans Zimmer's "The Dark Knight" score. But the Fire pulled off another pumped-up piece with this
2011 intro video
, capped off by the Clint Mansell-composed "Requiem for a Dream."
New eats:
Levy Restaurants has a few menu additions this year at Toyota Park, including Jake Melnick's Wings with Red Savina and Bhut Jolokia hot peppers; Fire Hat Nachos served in a fireman's hat; and a new creation called the Walking Taco, made with corn chips topped with ground beef taco meat, nacho cheese sauce and more, served in a corn chip bag. Sounds interesting.
New attendance marks:
It is difficult to say how many people will brave the low-30s weather for Saturday's game, but one thing is clear -- Fire season ticket levels are at an all-time high. Section 8 Chicago, the independent supporters' association for the Fire, surpassed 800 season ticket holders, which is more than double last year's figure (389) and nine times more than its 2006 figure (89). Fire owner Andrew Hauptman said Thursday that the team has about 5,000 season ticket holders in the books.
New lineup:
Last season's home opener Fire roster was almost entirely different than this Saturday's potential starting lineup. In the 2010 home opener, a forgettable 2-1 loss to the San Jose Earthquakes on April 10 that included multiple defensive lapses, there were eight Fire starters who are no longer with the team: Andrew Dykstra, Deris Umanzor, Tim Ward, Wilman Conde, C.J. Brown, Peter Lowry, Collins John and Brian McBride. The returning three players who started in this match were Nyarko,
Baggio Husidic
and
Marco Pappa
. This year's captain, defensive midfielder
Logan Pause
, did not play in last year's home opener as a left knee sprain kept him out of the lineup for four straight matches.
March, 16, 2011
3/16/11
10:21
PM CT
By
Charlie Corr
| ESPNChicago.com
The Chicago Fire defense went through a complete makeover following last season, with a new scheme and a new cast of characters.

Veteran Cory Gibbs, Josip Mikulic and rookie Jalil Anibaba are the projected defensive starters from left to right within this year's new three-back system. And considering the lack of goals Chicago allowed during the preseason (the Fire allowed only one goal in three games at the recent Carolina Challenge Cup), it appears that things have meshed quickly within the back line.

"No one would have expected, the way it's been so far," Gibbs said. "But then again, this is preseason. The numbers that have happened aren't going to count for anything, and we just have to translate into the regular season."

Last year's rookie class eventually played some important roles for the Fire on the defensive side, with Sean Johnson earning the No. 1 goalkeeper spot and defender Steven Kinney establishing himself at right back.

But as Kinney recovers from an Achilles injury he suffered at the end of last season, 2011 first-round selection and University of North Carolina product Anibaba is quickly cementing his presence in the lineup.

"You never know what you're going to expect when a rookie comes in," Gibbs said. "College is a completely different game. But Jalil is an exception. He's a talented athlete, a talented figure on the field. And what makes him exceptionally great is that he wants to learn. Day-by-day he's progressing and he'll shoot right in. It's not something with him that's going to take time. It seems natural."

Anibaba has had some useful tests in preseason to get ready for Saturday's first regular-season match at FC Dallas, particularly having to mark the New York Red Bulls' Thierry Henry in one game.

"That's what you expect as a rookie coming in," Anibaba said. "You're playing against guys you've had on your walls in the past as far as idols. It's just a dream come true and an honor to play against people like that."

Gibbs has taken Anibaba under his wing from the get-go, helping the right back adjust to the professional ranks.

"It's been just a natural thing," Anibaba said. "Sometimes you just feel comfortable taking serious advice from certain people. Cory's one of them. He's been in my ear since day one. He's provided the minor details that you don't really think about that go a long way in games. Cory's really caught my attention to that, and I think those details will really help us, especially in the last minutes."

Now the challenge is putting everything in place within a 3-5-2 system that isn't the most typical among MLS squads.

"The whole premise behind the formation is order," Anibaba said. "Coach [Carlos de los Cobos] preaches order to us all the time. It's just more about everyone being on the same page. The midfielders really have to be on the same page with us backs, and I think they have been. It's a very demanding position as far as the amount of work they have to do defensively and offensively. We require a lot from them, and they've been doing a phenomenal job."

"It's a formation that's going to make [opponents] think twice in terms of when we're attacking, because we have so many numbers," Gibbs said. "And defensively for us, we're confident knowing that we're solid enough in the back. We're not overly cocky at all, but we know we have the personnel to work for that three-back system. It's just about organizing everything at the same time to make it work."

Fire defender Dasan Robinson, who is coming back from a hip flexor injury earlier in the preseason, said the three-back approach fits with the character of this team's collection of midfielders. It also is a scheme that Robinson is familiar with.

"I've played it before in my first two years with [former Fire head coaches Dave] Sarachan and Juan Carlos Osorio, so I'm fairly used to it," Robinson said. "It's a little bit more organization and communication than normal. It's a good format, and I think you have to play to your personnel, the type of players you have. I think it complements us pretty well."
January, 13, 2011
1/13/11
12:25
PM CT
By
Charlie Corr
| ESPNChicago.com
The Chicago Fire selected North Carolina defender Jalil Anibaba with the ninth overall pick at the 2011 MLS SuperDraft on Thursday at the Baltimore Convention Center.

Chicago also chose forward and Elmhurst native Jason Herrick (Maryland, 45th overall) and forward Davis Paul (California, 51st overall) in the third round. The Fire traded their 49th overall pick to Toronto FC in exchange for goalkeeper Jon Conway.

Anibaba joins a vastly changed Fire defense, so the opportunity is there for the 22-year-old native of Davis, Calif., to step up into an immediate role on the back line. During the offseason, Chicago acquired Cory Gibbs in the re-entry draft and signed Josip Mikulic earlier in the week as the Fire try to overcome the losses of C.J. Brown to retirement and Wilman Conde who signed with Atlas.

"Ultimately, that's the coach's decision," Anibaba said of whether he would get the opportunity to start right away. "I'm going in with an open mind and will contribute in any way possible. I hope I can fit in well. That's the hope for all players. I'm just excited to get started, and if I have the opportunity to step in, it will be an honor."

"He can play center back, right back ... he's a good athlete, a good technical player," Fire technical director Frank Klopas said. "He's got a lot of upside. I think he can have an impact right away. We expect him to be able to compete for a starting spot."

Anibaba started in 84 of 85 games during his collegiate career at North Carolina and previously at Santa Clara. Anibaba contributed three goals and five assists. In 2010, Anibaba was named NSCAA Second Team All-America, NSCAA First Team All-Region, First Team All-ACC and ACC All-Tournament Team.

In addition to his collegiate accolades, the central defender impressed at this year's MLS Combine and was awarded the 2011 Tom Fitzgerald MVP.

"I definitely took a bit of confidence out of the combine. It went well," Anibaba said. "But it's not something I was stressing about after the fact. It's one of those things where it's just the combine. It's just another step to being a professional. By no means was it playing professional soccer, playing in professional matches. You have to come down from cloud nine and realize it's the combine. It's time for the big-time."

Anibaba briefly played in the midfield when he first joined Santa Clara, but he has been on the defensive side of the ball ever since.

"Growing up I was an attacking player and rarely ever played defense," Anibaba said. "I'm a full-fledged defender now. But as far as other positions, I'm open to anything."

Herrick, 23, played club soccer with the Chicago Sockers and helped them to four Illinois State Cup titles. At Maryland, Herrick started in 80 of 81 games, scored 29 goals and contributed 13 assists. He was named to the 2009 and 2010 First Team All-ACC.

"We needed someone who's around the box and a good player," Klopas said of Herrick. "He has very good feet, he's smart, intelligent with the line he makes. We were surprised that he fell that low, but that was good for us. We had him pretty high."

Paul, 22, a native of Upland, Calif., started in 54 of 78 games for California, posting 21 assists and 15 goals. In 2010, Paul was an NSCAA Third-Team All-American, NSCAA First Team Far West Region and First Team All-Pac-10.

Thursday's draft started with a surprise selection for most analysts as the Vancouver Whitecaps chose 17-year-old Omar Salgado (U.S. U-20s) with the top pick. The projected top selections, Akron forward/midfielder Darlington Nagbe and Akron midfielder Perry Kitchen, went to the Portland Timbers and D.C. United with the respective second and third picks. Five Akron players were selected among the draft's first eight picks.

Also during the draft, former Fire forward Chad Barrett was traded from Toronto FC to the Los Angeles Galaxy for future considerations.

2011 MLS SuperDraft first-round selections
1. Vancouver Whitecaps: Omar Salgado, F (U.S. U-20s)
2. Portland Timbers: Darlington Nagbe, F/M (Akron)
3. D.C. United: Perry Kitchen, M (Akron)
4. Chivas USA: Zarek Valentin, D (Akron)
5. Philadelphia Union: Zac MacMath, GK (Maryland)
6. New England Revolution: A.J. Soares, D (California)
7. Houston Dynamo: Kofi Sarkodie, D (Akron)
8. Vancouver Whitecaps (from Toronto FC): Michael Nanchoff, M (Akron)
9. Chicago Fire: Jalil Anibaba, D (North Carolina)
10. Sporting Kansas City: C.J. Sapong, F (James Madison)
11. Houston Dynamo (from Portland Timbers, from Seattle Sounders FC): Will Bruin, F (Indiana)
12. Columbus Crew: Rich Balchan, D (Indiana)
13. New York Red Bulls: Corey Hertzog, F (Penn State)
14. Chivas USA (from Real Salt Lake): Victor Estupinan, F (LDU Quito, Ecuador)
15. Columbus Crew (from San Jose Earthquakes): Justin Meram, F (Michigan)
16. Los Angeles Galaxy: Paolo Cardozo, M (Quilmes, Argentina)
17. FC Dallas: Bobby Warshaw, D (Stanford)
18. Colorado Rapids: Eddie Ababio, D (North Carolina)

Chicago Fire's other selections
Third round
45. Jason Herrick, F (Maryland)
51. Davis Paul, F (California)

Analysis: From a talent standpoint, it appears that the Fire maximized as best as they could without having a second-round selection. Some folks were touting Anibaba as a top-five pick, so to get some added depth and strength in the back always is a plus.

The Fire also added some much-needed front-line players in Herrick and Paul. But clearly Chicago is lacking proven forwards up front. That will happen when you lose a U.S. soccer legend in Brian McBride to retirement.

Anyone who thought the draft would be the remedy for Chicago's roster gaps is sorely mistaken. Even if the Fire passed up on Anibaba and went with a Will Bruin or Corey Hertzog, Chicago still would have this dilemma.

The Fire's priority between now and preseason is getting some proven leadership in the midfield and up front. They have some strong creative talent with the likes of Patrick Nyarko and Marco Pappa, and the defensive side will look stable once Gonzalo Segares' fitness level returns. But Chicago has a long way to go -- obviously this is not the team from a couple seasons ago.