Chicago Fire:

John Thorrington
November, 24, 2010
11/24/10
2:51
PM CT
By
Charlie Corr
| ESPNChicago.com
The Chicago Fire parted ways with a pair of central midfielders during Wednesday's MLS Expansion Draft.

The Portland Timbers selected Peter Lowry and the Vancouver Whitecaps chose John Thorrington with their final pick.

The 25-year-old Lowry posted two goals in 12 starts and 15 games during the 2010 season. He had a three-goal season in 2009 with the Fire and posted five goals and three assists on the Fire's reserve team in 2008.

In the expansion draft process, once a player is selected, the organization that lost the player is then allowed to protect another on the list. In the Fire's case, defender Dasan Robinson -- highly considered a potential selection in this draft -- was protected following the Lowry pick.

Thorrington had a five-year run with the Fire, but there were plenty of hiccups along the way. Whether it was his two-month-long hamstring injury in 2005 or his lingering quad injury this past year, Thorrington's health always was a concern.

When he was healthy, Thorrington brought some much-needed energy to the pitch. In 2010, Lowry logged only 397 minutes and tallied a goal. During his Fire career, he posted nine goals and two assists in 59 matches. Thorrington had a career-high five goals in 2008.

Portland chose FC Dallas midfielder Dax McCarty with the first overall pick, followed by Vancouver's selection of Seattle midfielder Sanna Nyassi.
November, 22, 2010
11/22/10
8:40
PM CT
By
Charlie Corr
| ESPNChicago.com
The Portland Timbers and Vancouver Whitecaps have some interesting Fire players to choose from in this year's expansion draft, especially if they are willing to open up their checkbook.
The Chicago Fire and other league squads submitted their 11-player protected lists Monday in preparation for this Wednesday's expansion draft. And Chicago left its two designated players Freddie Ljungberg and Nery Castillo unprotected, as well as forward Collins John.
Chicago protected the following players:
Forward --
Calen Carr
Midfield --
Mike Banner, Baggio Husidic, Patrick Nyarko, Marco Pappa, Logan Pause and Bratislav Ristic
Defense --
Wilman Conde, Steven Kinney, Gonzalo Segares and Kwame Watson-Siriboe
Goalkeeper Sean Johnson and midfielders Corben Bone and Victor Pineda are automatically protected with Generation adidas or home grown status. Husidic recently graduated from Generation adidas, so the Fire protected the University of Illinois-Chicago product.
Recently retired C.J. Brown and Brian McBride were obviously left unprotected, as well as defender Krzysztof Krol who wants to play in Europe.
The Fire's decision to leave some of their priciest players available appears to be by design, with some hope that Portland and Vancouver are not interested in shelling out big bucks for key personnel.
Nevertheless, it is surprising that Ljungberg is not secured for next season. Heading into the offseason, Ljungberg's return for 2011 should top Chicago's priority list.
Of the Fire's 11 protected players, the most questionable was midfielder Mike Banner. While his willingness to play multiple positions is commendable, Banner is a specialized option that typically should be utilized off the bench.
No more than two players can be claimed from a team's unprotected roster. So who will actually be taken off the Fire's group?
Defender Dasan Robinson and midfielder John Thorrington appear to be two potential selections for Portland and Vancouver to pursue. Both players have had their share of injuries. But if -- and it's a big if -- they stay healthy for a whole season, Robinson and Thorrington are very useful options for an expansion side.
August, 29, 2010
8/29/10
12:33
AM CT
By
Charlie Corr
| ESPNChicago.com
Instead of escaping Seattle's Qwest Field with a respectable point, the Chicago Fire once again allowed a late goal.
Seattle Sounders FC's Fredy Montero tallied two goals, including the game-winner in second-half stoppage time, as Seattle topped Chicago, 2-1, in front of a crowd of 36,386.
Montero was unmarked at the far left post for the game-winning header, while Chicago's defense was drawn toward the middle of the box. The Sounders' Nathan Sturgis delivered a crisp cross from the right side of the pitch and Montero headed the ball down by Fire goalkeeper Sean Johnson's feet and into the net for the winner.
For a second straight match, the Fire (6-7-6) saw a potential road draw evaporate late. The Fire lost 4-3 to the Houston Dynamo on Aug. 21. Seattle (9-8-5) extended its unbeaten streak to seven matches.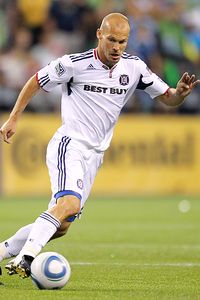 Otto Greule Jr/Getty ImagesFreddie Ljungberg got a yellow card in Seattle Saturday night, and must sit out the Fire's next game.
Fire designated player Freddie Ljungberg returned to Seattle for the first time since his trade to Chicago. But Ljungberg left without a win and also departed knowing that he will miss the Fire's next match Saturday against the Los Angeles Galaxy.

With an 83rd-minute yellow card for bumping into Seattle defender Jeff Parke, Ljungberg will miss the upcoming match due to yellow-card accumulation. Fire defender Wilman Conde missed the Seattle match because of the same infraction.

The Fire defense had some positive moments without Conde in the mix, but both goals allowed Saturday consisted of failing to tightly mark Seattle's best goal scorer.

Montero's first goal tied the score at 1-1 in the 36th minute. Tyson Wahl delivered the ball in from the left side, curving the ball past Fire defensive midfielder Logan Pause. Montero snuck in behind Fire defender Gonzalo Segares, who was playing as a center back in Conde's absence. As Montero tried to control the ball in the box, Fire defender Krzysztof Krol tried to help. But Montero eluded the defense and shot to the far left post for the goal.

Fire midfielder John Thorrington made his long-awaited return, starting and and netting a first-half goal. Thorrington had missed the entire season because of a left quad injury, and he made an immediate impact with a 28th-minute penalty-kick goal.

In the 27th minute, the Fire's Patrick Nyarko held the ball at the left side of box against Sounders defender James Riley. Nyarko sent the ball toward the middle of the box, and when Parke converged to try and help out Riley, Parke's arm made contact with the ball. His arm was not intentionally extended away from his body to stop the trajectory of the pass.

Nevertheless, the Fire were awarded the penalty kick, and Thorrington capitalized. Thorrington had a small hesitation that did not cause Sounders goalkeeper Kasey Keller to flinch. But Keller's guess was incorrect when he dove one way and Thorrington shot the ball to his right and into the back of the net for a 1-0 lead.

Analysis: Montero is an incredibly talented player and a difficult man to mark. But the Fire defense dropped the ball in its effort against the Colombian forward. Any team's leading goal scorer will welcome the type of space he was given to work with leading up to his two goals.

Chicago's defense did have a different look with Steven Kinney on the right side (the space where Montero got his second goal), Segares moved to left-center and Krol at left back (Montero got between Segares and Krol, leading to the first goal). That still is no excuse for the Fire's lapses against Montero.

A positive for the Fire was the return of Thorrington. As expected, a healthy Thorrington can cover a lot of ground on the pitch and bring some beneficial energy. Capitalizing on the penalty kick to get the early lead was huge. The last time Thorrington took a penalty shot, he was denied by Real Salt Lake's Nick Rimando in last year's Eastern Conference final loss to the eventual MLS champs.

There were a few times where Thorrington and Pause looked like they wanted to occupy the same space on the field, but it was nothing drastic that changed the flow or led to some sort of turnover. Thorrington looked good out there and he made some strong runs. On several occasions, Thorrington's Fire teammates should have been looking in his direction because he was finding some open spaces.

The Fire have a busy two months on the docket, and while they do have time to make up some ground in the Eastern Conference, they will look back on these back-to-back road matches as big opportunities missed to salvage points on the road.
April, 28, 2010
4/28/10
7:12
PM CT
By
Charlie Corr
| ESPNChicago.com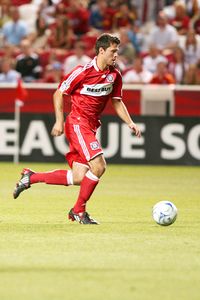 Melissa Majchrzak/Getty ImagesPeter Lowry is playing a pivotal role for the Fire midfield as a regular starter.
BRIDGEVIEW, Ill. -- Just last season, Chicago Fire midfielder Peter Lowry played in less than one third of his team's games and logged less than 700 minutes while taking in a minuscule $20,100 salary.

Through five matches, Lowry is playing a pivotal role for the Fire midfield as a regular starter. And with key components such as Cuauhtemoc Blanco and Chris Rolfe out of the Fire's picture entering this year, that opened the door for some new blood in the team's starting midfield core.

"I didn't get many opportunities the first couple of years," Lowry said. "And so when I step on the field, I want to let everyone know that I can play. The last coach [Denis Hamlett], I didn't get many chances, and so I wanted to show in preseason and this year that I'm an impact player to help the team win. It's been a different role this year."

Lowry's opportunity also arose when the midfield was struck with some key injuries to John Thorrington and Logan Pause in the early going. Combine that with Fire head coach Carlos de los Cobos going with a heavy midfield formation (4-5-1) these past two matches, and the 24-year-old is seizing the moment every time he gets the call.

Last Saturday, Lowry delivered a goal during the Fire's 2-0 victory over the Houston Dynamo. Lowry chested the ball into the net past Dynamo goalkeeper Pat Onstad, earning an MLS Goal of the Week nomination.

"I've had to work hard for my opportunities here," Lowry said. "I know that they're few and far between sometimes, and you have to make the most of your time on the field and not take it too lightly."

The Fire midfield took the spotlight in this past match with Lowry and Baggio Husidic providing the tallies. Possession-wise, it also was one of the Fire's best performances of the young season as they earned their second straight win to improve to 2-2-1.

"The first half was probably our best half that we've put together so far this year," Lowry said. "We had the wind and [Houston] had a few injuries. Not to take anything away from us. I thought it was a very good half. That's the style that we want to play, creating a lot of chances, and hopefully finishing some of those chances and winning games. It certainly is a lot of fun to play."

De los Cobos' possession-heavy style was something that Lowry latched on to. It has taken some time for all of the pieces to fall into place with the Fire's new scheme this year, but if these last two games are any indication, Chicago has turned a corner.

With the likes of Lowry taking on an increased workload and now reaping some winning benefits of late, the team has shown improved fluidity on the ball, with a confident moxie in their step.

Lowry certainly exudes that demeanor.

"I want to have the ball. I want to try to make the play that wins the game," Lowry said. "I think if you don't want that, maybe you shouldn't be playing."
April, 9, 2010
4/09/10
6:53
PM CT
By
Charlie Corr
| ESPNChicago.com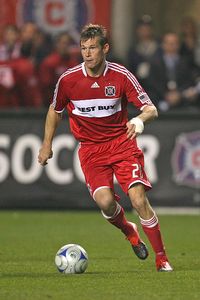 Jonathan Daniel/Getty ImagesBrian McBride will see a familiar face on Saturday at Toyota Park -- former teammate Jon Busch, now with the San Jose Earthquakes.
BRIDGEVIEW, Ill. -- The skipping record of the 2009 MLS season was the Chicago Fire's mediocre home record. The Fire managed a 5-4-6 mark at Toyota Park last season, and they would like to restore their home dominance right off the bat when they take on the San Jose Earthquakes at 7:30 p.m. Saturday.

"We're hoping this year that it will be very different," Fire midfielder Baggio Husidic said. "Last year it felt like our road games were our advantage. We were more successful on the road than at home. So I hope we can turn it around this year."

It was a frequent conversation for many reasons, but the Fire's five-win total at home -- which tied for second-lowest in the league with the New York Red Bulls -- did not sit well with the organization, the players and fans.

"A lot was made of it because we were tying a lot of games," Fire forward Brian McBride said. "The most important thing for us as players is not getting involved in the mental side of home-field advantage, and really just build off of the fans, rather than worry about what your record could or should be."

This will be the first home match for new Fire head coach Carlos de los Cobos, who led the team to a 0-1-1 start on the road this season.

"I'm very excited," De los Cobos said. "We have a very big commitment, playing in front of our fans. I know they have big expectations of the team."

One element that might not have any bearing on the game itself, but is interesting nonetheless, is the return of goalkeeper Jon Busch. San Jose signed the former Fire goalkeeper shortly after he was waived by Chicago in a surprising move less than one week before the start of the 2010 season.

Playing against a former teammate is nothing new to McBride.

"That happens all the time in soccer," McBride said. "A lot of times you get kicked by your former teammate, and you're a good buddy. But that's a part of the game. I think everybody involved understands that."

Busch is expected to back up Quakes goalkeeper Joe Cannon.

In San Jose's lone match this season, the Quakes fell to defending MLS champion Real Salt Lake, 3-0. Chris Leitch was red-carded in the second half of that game and will miss Saturday's match.

The Fire's defense should be completely healthy for this match. Wilman Conde missed last week's 2-all draw against the Colorado Rapids, but he was taken off the injury report. In the midfield, however, Chicago is stretched a little thin with John Thorrington (questionable, quad strain) and Logan Pause (questionable, knee sprain) on the injury report. De los Cobos said Thorrington would not be ready this week or next, and Pause is a question mark for Saturday's match.

The Fire are 3-0-1 in Toyota Park home openers. The team expects to maintain that trend on Saturday.

Prediction: Chicago Fire 2, San Jose Earthquakes 0
March, 30, 2010
3/30/10
11:47
PM CT
By
Charlie Corr
| ESPNChicago.com
BRIDGEVIEW, Ill. -- Chicago Fire midfielder John Thorrington just can't stay off the injury report.

Last week, an MRI revealed damage to Thorrington's left quad, and it was a lingering injury that occurred in preseason in Mexico.

"It started off as something I thought I could just play through," Thorrington said Tuesday. "And when it became clear that I couldn't just play through it, that's when we sort of took a step back and gave it some time. We ended up getting the MRI when I was back here in Chicago last week. It's just unfortunate to see that it was more extensive that we had thought."

Thorrington hopes he can make himself available for the Fire's home opener on April 10 against the San Jose Earthquakes. But that timetable could be a stretch.

"It's not an exact science with the treatment we're doing," Thorrington said. "The recovery times can vary, but it's my hope [to be back for the home opener]. I'm doing everything I possibly can do to make sure that happens. I've always taken the approach of ... don't set expectations, and you're less likely to be disappointed."

The 30-year-old midfielder was limited to 19 regular-season games last year, missing a couple matches while serving red cards and missed additional time with a groin/hip issue. In 2009 he had one assist and didn't score a goal, but he did play a big part in the playoffs. Thorrington missed roughly a two-month stretch, then helped lift the Fire past the New England Revolution and into the Eastern Conference Finals.

"I was definitely disappointed to be missing last week's game -- and any game, obviously," Thorrington said. "But having opening day, such a special game when everyone's so excited, especially the opening of a new stadium and what have you, that's been a game I was looking forward to ever since we got over last year."

February, 8, 2010
2/08/10
7:44
PM CT
By
CHARLIE CORR
| ESPNChicago.com
The Chicago Fire re-signed forward Calen Carr on Monday, and that got me to thinking about some players on the team's roster who are in need of a rebound season in 2010. Here are just a few that stand out: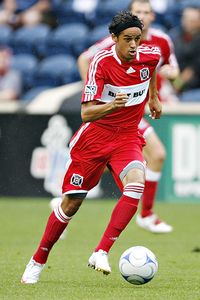 Brian Kersey/Getty ImagesCalen Carr goes for the ball during the second half against the Columbus Crew at Toyota Park on September 20, 2009. The Fire and Crew tied 2-2.
Calen Carr: Knee injuries have hampered Carr so much so that he has only played the equivalent of roughly four full games in two seasons if you roll all his minutes together. Unfortunately in his sporadic playing time in 2009, Carr came up empty. He had a wide-left attempt during the Fire's 2-2 draw against Toronto FC in late September, and the Toyota Park crowd groaned in unison as Carr missed a golden chance for the game-winner in stoppage time. It's unfair to use this moment to completely label his limited season, but those are the situations that define his role. Carr has shown in the past that he can come up with a clutch play in limited playing time, and that could lend itself to additional opportunities. He needs to make sure that the injury bug isn't the main reason for limiting his time on the pitch.

John Thorrington: Thorrington was a necessary spark for the Fire when they advanced past the New England Revolution in the Eastern Conference semifinals last year. It's just too bad we could not see a full season of that energy. Whether it was an injury or a pair of red cards shortening his stint on the field, we did not see enough of Thorrington, who only contributed one assist and did not find the back of the net during the regular season. That was his follow-up to a five-goal, two-assist 2008 campaign. Thorrington's amped-up energy is an asset when he plays the ball cleanly and he's completely healthy. Thorrington could certainly put together a solid campaign this year, and he will have to in order to compensate for the losses of Cuauhtemoc Blanco and Chris Rolfe in the midfield.

Justin Mapp: Mapp's playing time went down dramatically last year. There probably were a few other games in there where you could justify less playing time than the 1,013 minutes he saw. For Mapp himself and even the casual soccer fan, it's no mystery he didn't perform at a high level -- one goal and three assists. That followed a four-year stretch in which Mapp posted eight assists in 2005, 2006 and 2008. Chicago protected Mapp this offseason so the expansion Philadelphia Union couldn't latch onto him. The Fire obviously feel that there still is some value within that left foot of his, but the 25-year-old midfielder has a lot to prove heading into the 2010 season.