May, 23, 2011
5/23/11
6:03
PM CT
By
Charlie Corr
| ESPNChicago.com
The level of concern for the Chicago Fire grows with every week as the team continually winds up without a victory each time out.
Chicago is in the midst of an eight-game winless streak in league play, and the Fire has had ample opportunities to turn things around.
They'll have a couple more chances when they face the San Jose Earthquakes on Tuesday and Saturday. San Jose is toward the bottom of the Western Conference with a 3-4-3 record, while Chicago is second-to-last in the East with a 1-4-5 mark.
Chicago and San Jose take a break from league play on Tuesday, but they have a lot to play for as they square off in a Lamar Hunt U.S. Open Cup play-in match at Buck Shaw Stadium. The Fire have always been a part of the Open Cup, winning four times from 1998 to 2006.
"This is a big week for us," Fire goalkeeper
Jon Conway
said following Saturday's 2-1 loss to the Philadelphia Union. "We have a goal of advancing to the Open Cup and doing well in that. We need to get everything right on the field and build some momentum heading into our next match Saturday. Every match is critical toward wronging the mistakes we have made."
The Fire have not produced a win in two months, dating back to their 3-2 victory over Sporting Kansas City on March 26. They are currently in a 0-4-4 skid in league play.
Chicago is coming off a road loss to Philadelphia in a match that included reasons for optimism in a strong 15-minute start, followed by the Union dictating a bulk of the play in key stretches the rest of the way.
"We started out fresh and we were good moving the ball around," Conway said. "We started so well, maybe we were lulled to sleep and got into a funk. [The Union] didn't really change their tactics, but we lost our grip."
Following the Open Cup play-in match, the Fire and Quakes return to MLS action when Chicago plays host on Saturday at Toyota Park.
Pappa called in to Guatemalan side:
Fire midfielder
Marco Pappa
will be called in to Guatemala's club for the 2011 CONCACAF Gold Cup. He will be available for Tuesday's Open Cup match against San Jose, as well as the Fire-Quakes rematch on Saturday in league play. But with Pappa set to participate in the Gold Cup, it means he will minimally miss Chicago's June 9 match at Sporting K.C. and the Fire's June 12 match at the Columbus Crew. Guatemala is in Group B, up against Grenada, Honduras and Jamaica.
Bradley names U.S.'s Gold Cup roster:
U.S. head coach and former Fire head coach Bob Bradley
named his roster Monday
for the Gold Cup. Long-time U.S. captain and former Fire defender
Carlos Bocanegra
is on the squad, along with Downers Grove native and Leeds United defender
Eric Lichaj
. The U.S. is in Group C and faces Canada on June 7 in Detroit, Panama on June 11 in Tampa, Fla., and Guadeloupe on June 14 in Kansas City, Kan.
The Gold Cup final takes place on June 25 at the Rose Bowl in Pasadena, Calif.
May, 21, 2011
5/21/11
10:47
PM CT
By
Charlie Corr
| ESPNChicago.com
Philadelphia Union forward
Carlos Ruiz
simply had one of those goals where you just tip your cap and try to move on.
Ruiz's long-distance strike in the 75th minute was the difference in a 2-1 win over the Chicago Fire on Saturday at PPL Park in Chester, Pa.
Ruiz's game-winner came shortly after his free-kick chip was cleared out of the box by Fire second-half sub
Logan Pause
. From about 30 yards out, Ruiz took a left-footed shot that went over Fire goalkeeper
Jon Conway
, skimmed off the bottom of the crossbar and went into the goal for a 2-1 lead.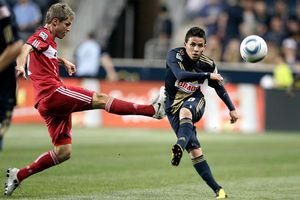 Chris Gardner/Getty ImagesPhiladelphia's Roger Torres drives the ball upfield as Chicago's Logan Pause moves in on Friday night.
The winning tally stretched Chicago's winless streak to eight games, after the Fire (1-4-5) had previously earned a draw in four consecutive matches heading into Saturday.

"He just hit it as hard as he could," Conway said of Ruiz's strike. "I'm not sure if he was even trying to get it on frame. I felt I was in a good spot, but it just dropped into the goal."

Michael Farfan had a 64th-minute goal for Philadelphia (5-3-2), which moved into first place in the Eastern Conference after the previously first-place New York Red Bulls played to a 2-2 draw against the Houston Dynamo. Farfan's goal took a slight deflection off of a Fire defender, and Conway could not react to the late change in trajectory.

Dominic Oduro scored the Fire's lone goal in the 67th minute to tie the score at 1-1. Oduro got past Farfan and slotted the ball just inside the near right post past Union goalkeeper Faryd Mondragon.

Ruiz's game-winning goal came only a few minutes after Gaston Puerari nearly tallied a go-ahead goal for Chicago. Puerari, who came off the bench as Baggio Husidic was given the start, stayed even with the Union's back line in the 72nd minute and found an opening as he drove toward Mondragon. Puerari's shot got past Mondragon, but Union defender Sheanon Williams bailed out his goalkeeper with a huge goal-line stop to keep the match level.

The Fire's struggles have certainly taken a toll on the team this year. Conway noted that the Fire's tendency is to play better when their backs are against the wall -- not the type of habit or situation Chicago would prefer to face.

"To be honest with you, I think we're better off playing anxiously," Conway said. "There are times when we've taken goals and been slapped in the face, and then we come back out with vigor and we're moving the ball crisper to get back into the game."

This time around, however, Ruiz's tally proved to be the final word.

Analysis: Things just can't get much worse for the Fire, who have only two points to show for their efforts in May -- a month that in retrospect should have been one of the easiest stretches in Chicago's schedule.

The Union's defense has been steady for most of the season, but its offense was lacking heavily entering Saturday's match. Now the Fire are responsible for surrendering the Union's only multi-goal game of the season.

The Union was the front-runner in high-percentage scoring opportunities. Ruiz had some strong scoring moments in the 36th and 37th minutes, and Carlos Valdes just missed the frame in the 25th as the Fire somehow escaped the first half unscathed.

Among the Fire's few accomplishments, Chicago had a patient and composed start to the match for about 15 minutes, but the Fire did not sustain that composure. Oduro's goal was a nice piece of individual work, and Puerari probably deserved a goal to his name.

A big personnel question has to be directed toward head coach Carlos de los Cobos making two substitutions in the 60th minute, when the match was still level. Pause entered for midfielder Corben Bone, and Puerari subbed for Husidic. Puerari probably should have been the starter in the first place, but the move to bring in Pause was questionable considering what De los Cobos was saying about his midfield entering the match.

De los Cobos elected to go with a defense-focused substitution with a half hour left on the clock. Was he focused on bunkering at that stage? The Pause substitution would have been more appropriate with a Fire lead or a draw with less than 10 minutes left on the clock, not 30.

De los Cobos did not stick with his attack-focused central midfield, and there were no immediate signs that called for that switch in the 60th minute.
May, 20, 2011
5/20/11
3:07
PM CT
By
Charlie Corr
| ESPNChicago.com
BRIDGEVIEW, Ill. -- Nearly two months have passed since the Chicago Fire's last victory, and it is almost a moot point that Chicago has not lost, either, in its past four matches.
Chicago travels to PPL Park in Chester, Pa., to take on the Philadelphia Union on Saturday, and the Fire are hoping to get more than a point against the second-place team in the Eastern Conference.
"We are close to winning," Fire head coach Carlos de los Cobos said. "I believe in this. We are close to winning."
Close is an accurate description for a team that is tied for the league lead with five draws. But Chicago also is one of only three teams with just one victory on the season (Sporting Kansas City and the Vancouver Whitecaps being the other two).
The Fire (1-3-5) have yet to win on the road this season and have not won since a 3-2 home opener victory over Kansas City on March 26.
"Them playing at home, we know it's going to be a tough game," Fire defensive midfielder and team captain
Logan Pause
said of the Union. "In-conference, they're higher up the table than we are, so it is a challenge. The results really haven't been going our way."
The Fire likely will continue with their 4-1-4-1 formation, where Chicago has heavily possessed the ball in recent games. But against Toronto FC last week, the Fire produced a better attack in the final third when they switched to two men up top in salvaging a 2-2 road draw.
"I agree, when we played with two forwards and we put another guy in front, we had more presence in the attacking zone," De los Cobos said. "But in the first half I think we had some good moments, too. The most important thing for me is playing with order. The systems are only our guides to follow."
The Fire will not make a whole lot of tweaks to the starting lineup -- if any -- following the Toronto match. Center back
Josip Mikulic
continues to nurse a shoulder injury, so the center back duo of
Cory Gibbs
and
Yamith Cuesta
will stay the same. Goalkeeper
Jon Conway
is maintaining his starting role, even with backup
Sean Johnson
participating in full training again following a quad injury.
Pause is working his way back to full health from a hamstring injury, but De los Cobos said Thursday that he will continue with the same central midfield of
Daniel Paladini
and
Corben Bone
, who is coming off his first complete match of the season against Toronto.
"We can see that he has great qualities," De los Cobos said of Bone. "He's very good with the ball -- a good distributor with the ball."
Former Fire player and Union head coach Peter Nowak has seen his squad struggle in recent weeks, in the midst of a 0-2-1 stretch. But Philadelphia (4-3-2) has thrived at home with a 3-0-2 mark. The Union has scored a league-low six goals, but it also has allowed only six goals, which ties for second-lowest in MLS.
"With a guy like Peter, they're going to be a well organized team, and a team that fights," Pause said. "Outside of the last couple of games, they haven't allowed many goals this year. They're a hard team to play against."
Only five players have scored a goal for the Union this season, with
Carlos Ruiz
leading the club with two.
Sebastien Le Toux
, who posted a stellar 14 goals and 11 assists last season, is sitting on just one goal and one assist this year.
Momentum has been hard to come by for Chicago, but the Fire have a little bit of steam following a second-half run last week against Toronto. Chicago overcame a poor hour-long stretch as late goals from
Marco Pappa
and
Orr Barouch
helped garner a draw at BMO Field.
"In the first half of the Toronto game, we struggled as a team," Pause said. "The last half of the second half, all of a sudden there's a sense of urgency, and we're like a different team. We're trying to keep that. We're trying to put a 90-minute, complete game together."
In other Fire personnel news, forward
Diego Chaves
was limited a bit in training this week with a foot contusion, but he is expected to be ready. De los Cobos also said this week that forward Cristian Nazarit should be available for selection.
May, 7, 2011
5/07/11
10:44
PM CT
By
Charlie Corr
| ESPNChicago.com
BRIDGEVIEW, Ill. -- Chicago Fire head coach Carlos de los Cobos stands by his approach -- possession game, attractive soccer and offensive-minded soccer.
The Fire handled the possession aspect on Saturday against the expansion Vancouver Whitecaps. The clear problem was that Chicago had no final touch and played to a scoreless draw in front of 11,680 at Toyota Park.
The Fire (1-4-4) are winless in six straight games.
"I want to play football," De los Cobos said. "For me, it's very easy to put the ball forward with long balls, but I don't like it. I'm going to die with my idea, with my philosophy to play. It's possible to happen whenever. I believe in myself. I believe in my players."
The theme on Saturday was missed chances, but they were amplified by the fact that Chicago had plenty of space to work with and high-percentage scoring chances throughout the night. The Fire's productivity, however, resulted in only a 4-2 shots on goal advantage over the Whitecaps.
In the first half when Dominic Oduro lofted a shot over the crossbar at close range in the 32nd minute, and at the time it was the best scoring chance for either side. Marco Pappa played a perfect ball to Oduro, who then attacked toward the left side of the box, cut inside to his right and lost the Whitecaps' defense. Oduro had only Whitecaps goalkeeper Jay Nolly in his way, but his shot toward the upper left of the frame sailed over the bar and into the Section 8 crowd.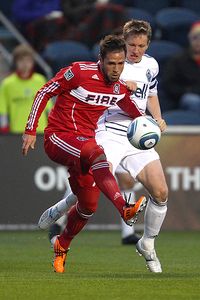 Jonathan Daniel/Getty ImagesThe Fire are winless in six straight games.
In the 44th minute, Diego Chaves hit the right post as Oduro and then Pappa worked the ball from right to left to create Chaves' scoring chance. Chaves had another close call in the 18th minute when Chaves and a pair of Whitecaps defenders converged on Oduro's send toward the box. Chaves took a spill, and whether or not there was contact, Vancouver defender Alain Rochat disrupted the play.
In the 64th minute, Corben Bone had a strike shortly after a Pappa free kick, but Bone's shot also sailed over the crossbar. Chaves and Gaston Puerari also had some second-half strikes that reached the fans and did not go on frame.
"I think we had control of the game, maybe 70, 75 minutes, but at the end of the game we had some problems," De los Cobos said. "We feel some frustration because we had opportunities to win this match. We lost some order, and we have all the time in the game."
The Whitecaps (1-3-4) rarely got into the offensive third with a dangerous threat, but in the 75th minute, Eric Hassli had an opportunity that might have been better than Oduro's. Hassli received the ball from Davide Chiumiento as he stayed even with the Fire's back line and found himself with plenty of space against Fire goalkeeper Joe Conway. Hassli attempted to fake out Conway and attack to the left, but his maneuver -- if it even qualifies as a maneuver -- was ineffective and Conway snagged the ball.
Fire goalkeeper Sean Johnson was not part of the bench roster because of a right quad injury, so Alec Dufty was the backup to Conway. Midfielder Patrick Nyarko also was missing because of an undisclosed illness that has lingered for the past several days. Fire defender Cory Gibbs, who rejoined the team in full training on Thursday following a hamstring injury, did not dress Saturday.
Analysis: The Fire went with the same starting lineup in back-to-back games for the first time this season. So the combination of playing a poor Whitecaps side and the Fire having some continuity on their own side had to play a big factor in their possession game.
But Chicago wasted plenty of key scoring chances, taking 12 shots in all, but only putting four on frame. The Fire had more than enough room to work with as the Whitecaps defense sagged back on a regular basis.

Oduro's finishing has been brought into question before his Fire tenure, but his first-half chance with only Nolly in his way was a chance that needed to be a goal. Chaves' chance at least hit the frame, but that too would have changed the game. Minimally, the Fire should have produced a 2-0 halftime lead, but the Whitecaps escaped with a point on the road.

The Fire's lack of productivity with their final touch or two created a match that was painstaking to watch. And the brand of ball that De los Cobos wants to play has not come to fruition.

While possession and build-up are keys toward an attractive brand of soccer, the team's lack of offense Saturday was not attractive soccer. Only four shots on goal while the team has the ball at its feet for most of the game was not attractive soccer. Botching fantastic scoring opportunities against an expansion side that was ineffective was not attractive soccer.

Chicago was the better side against Vancouver. But considering the Fire's profound absence of finishing, their scoreless draw was a just result.
April, 30, 2011
4/30/11
11:19
PM CT
By
Charlie Corr
| ESPNChicago.com
Two struggling teams in need of a victory each wound up with a draw as the Chicago Fire and Colorado Rapids played to a 1-1 stalemate Saturday at Dick's Sporting Goods Park in Commerce City, Colo.
Fire midfielder
Marco Pappa
tallied his third goal of the season, but Chicago once again could not hang onto a lead. The Rapids'
Andre Akpan
netted the equalizer in the 49th minute and each team wound up with a point.
The Fire (1-3-3, 6 points) capped off a winless April, going 0-3-2 while getting off to its worst start in team history. This year marks the first time that the Fire have posted only one victory through their first seven games of the season.
Chicago sported a 4-1-4-1 formation in an attempt to emphasize a strong possession game, but it was Colorado (3-3-1, 10 points) that ended up holding a roughly 2-to-1 edge in the possession department.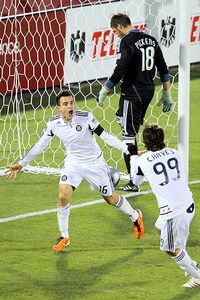 Doug Pensinger/Getty ImagesMarco Pappa's goal in the 43rd minute was the only goal for the Fire in Saturday's draw with the Rapids.
Nevertheless, the Fire got on the scoreboard first in the waning minutes of the first half. Gaston Puerari provided a precision pass toward the right corner of the pitch to Dominic Oduro, who then found Pappa in the box to garner the 1-0 lead in the 43rd.

The Rapids, in the midst of a three-game losing and scoreless streak, tied things up with Akpan's goal in the 49th minute. For the past two games, Fire defender Yamith Cuesta has replaced the injured Cory Gibbs (hamstring). Until this moment, Cuesta had provided some stout defense in the back. But he allowed too much room for Akpan to work with, and Akpan took advantage, shooting to the far left of the goal past Fire goalkeeper Jon Conway to tie things up at 1-1.

"To give up the goal after coming out flying high, this did not work out the way that we wanted it to," Oduro said. "At the end of the day, I think that our game plan worked out a little bit. But if we would have won this game, we could have taken some pressure off of ourselves."

Conway made his third straight start and he came up with six saves for the Fire. Former Fire goalkeeper Matt Pickens had two saves for Colorado.

The Fire offense did not put too much on frame during the game, but Chicago had some spells where the team could have put a dent on the scoreboard.

Puerari's free kick strike from the left side was punched over the crossbar by Pickens in the 78th minute. Another strong chance came in the 14th minute when Gonzalo Segares missed just wide left and hit the outside netting of the goal. Puerari had the dish from the center of the pitch as Segares made a decisive run down the left side to open up some space. But Segares' strike went wide of Pickens and the goal frame.

Chicago played without defensive midfielder Logan Pause, who was out with a hamstring injury. Pappa wore the captain's arm band.

The Rapids were without striker Conor Casey and midfielder Brian Mullan, who was issued a 10-game suspension for a vicious tackle against Seattle Sounders FC's Steve Zakuani.

Analysis: Fire head coach Carlos de los Cobos went with some new pieces in the middle of the pitch with midfielder Daniel Paladini making his MLS debut and Corben Bone also getting the start. Oduro played on the right flank instead of up top.

But when all was said and done, the Fire's central midfield did not accomplish what De los Cobos wanted in the possession game. Offensively, the Fire could have had a greater impact. Bone had some decent chances if he pulled the trigger earlier. The Fire's lone striker, Diego Chaves, resorted to a couple of long strikes that didn't pan out. Oduro had a decent first half, but his game tapered off. The Patrick Nyarko substitution for Oduro in the game's final minutes was almost pointless by that stage.

A key moment for the Fire came in the 37th minute when defender Josip Mikulic had to leave the game because of a shoulder injury he sustained in the 27th minute. Mikulic attempted to tough it out, but eventually Dasan Robinson entered the match. The absence of Mikulic was a huge loss, and the back line as a whole was shaky coming out of halftime.

So this puts Chicago in the midst of its worst start in team history -- a winless April, a five-game winless streak and only one victory through seven games. Is it still too early in the season to panic?

The Fire are fortunate to be playing in the Eastern Conference and in a league where a meager two-game winning streak can begin to turn things around. The silver lining for Chicago is that its four-game May schedule includes three franchises with losing records: the Vancouver Whitecaps, Toronto FC and the San Jose Earthquakes.

It is imperative for the Fire to make some type of move during that stretch. If the downward trend continues, who knows what types of shakeups are in store for this franchise.
April, 23, 2011
4/23/11
10:47
PM CT
By
Charlie Corr
| ESPNChicago.com
BRIDGEVIEW, Ill. -- With the pressure mounting on the Chicago Fire to produce a positive result following three straight defeats, the home side held a late lead but could not hang on en route to a 1-1 draw against the Houston Dynamo on Saturday in front of 12,473 at Toyota Park.

Dynamo defender Bobby Boswell scored in the 83rd minute off of a corner kick to tie the score late at 1-1. Chicago did end its losing streak, but the Fire (1-3-2) missed out on a good opportunity to grab three points against a fellow Eastern Conference side that is known for capitalizing on its set pieces.

"We knew that one of the things that makes that team successful is set pieces," Fire captain Logan Pause said. "Giving up a goal on a set piece, it's just a bummer. We worked on it. It was actually my man who scored."

"They have big guys, big players," Fire head coach Carlos de los Cobos said of Houston (2-1-3). "It's a shame, because it was one of the last minutes of the game again."

Diego Chaves tallied his team-leading fourth goal for the Fire for a 1-0 lead in the 18th minute. The Fire took advantage of Houston defender Corey Ashe coughing up the ball to Chicago midfielder Marco Pappa. Pappa took the Fire the other way and found Chaves inside the box, as Chaves slotted the ball past Dynamo goalkeeper Tally Hall.

De los Cobos made some significant roster adjustments, whether it was by choice or because of injury. As expected, Yamith Cuesta took the place of the injured Cory Gibbs (hamstring). Midfielder Baggio Husidic started instead of Michael Videira. And forward Dominic Oduro started against his former Dynamo squad, replacing Uruguayan Gaston Puerari.

Of that grouping, Cuesta had the most notable performance. He had the defensive stop of the match in the 23rd minute when he cleared a likely Will Bruin goal near the goal line. Fire defender Josip Mikulic was out-muscled by Bruin, and Bruin shot the ball over Fire goalkeeper Jon Conway and toward the goal. But Cuesta converged and cleared the ball away for a Dynamo corner kick.

The Fire defense held the Dynamo offense at bay until the 83rd, when Boswell rose up above a flurry of players and headed the ball toward the inside of the right frame past Conway to salvage a road point.

"We had that 1-0 lead, and we just kind of played not to give away a goal instead of just continuing to play the way we did," Husidic said. "Unfortunately that's what happens. They got a goal late off of a corner kick. We are very disappointed that we didn't get three points today."

For the most part, the Fire produced better scoring opportunities than the Dynamo. One of the most glaring was in the 66th minute, when Oduro was one-on-one against Hall and hit the crossbar. Patrick Nyarko had a stellar pass from the left side, stretching for the ball to beat his defender on the left side to get the ball to Oduro. A few minutes earlier in the 62nd, Husidic missed a great chance in the middle of the box as his shot sailed well over the crossbar.

"My options opened up, and I think I just got too excited," Husidic said. "I couldn't believe it and whiffed on it. I wish I could have it back again."

Analysis: It was not a pretty game for either side on Saturday. The Fire and Dynamo both lacked fluidity in their passing and movement. Chicago escaping with only one point when the team had a lead and potentially three points for most of the match completely soured the opportunity.

Cuesta had a positive match, whether it was the clutch first-half clearance on Bruin or a multitude of other clearances in the box. But as far as De los Cobos' lineup changes, he really was the only addition who had an impact on the pitch.

Giving the nod to Oduro over Gaston Puerari was a surprising move. Oduro did have the lone goal in the Fire's 2-1 loss to the Los Angeles Galaxy the previous week, while Puerari missed a big scoring chance in that match. But the Puerari and Chaves pairing felt much more in sync. Nyarko, on the other hand, seemed to mesh with Oduro's movement, but the finishing has been an issue for Oduro.

A point is better than nothing, and the Fire climbed out of the cellar and moved into eighth place in the East. But the Fire's choppy play on the pitch will not cut it next week against the defending MLS champion Colorado Rapids.
April, 22, 2011
4/22/11
3:44
PM CT
By
Charlie Corr
| ESPNChicago.com
BRIDGEVIEW, Ill. -- The Chicago Fire's current three-game losing streak is creeping into the realm of historic proportions if the team cannot turn things around Saturday when it hosts the Houston Dynamo at Toyota Park.
One more loss would put this stretch among only a handful of four-game Fire droughts, the most recent being a four-game skid in May of 2007.
"The mentality's always strong, but the confidence, we've lost a little bit of," Fire head coach Carlos de los Cobos said Friday following training.
The Fire (1-3-1, four points) have had to rely on some of their younger personnel to shoulder the load this season. Second-year goalkeeper
Sean Johnson
and 2011 first-round draft pick and defender
Jalil Anibaba
thrust themselves into starting roles. But both have been prone to some big mistakes in recent matches.
De los Cobos decided before last week's 2-1 loss to the Los Angeles Galaxy to turn to 33-year-old goalkeeper
Jon Conway
, who will return to the starting lineup Saturday against Houston. De los Cobos said that Anibaba continues to maintain his starting right back role.
"I think patience is the key, for everybody," 12-year veteran Conway said. "A lot's expected of these young guys, but they are young guys. You've got to realize that being thrown into this sort of environment, this quick and as tough as it may be, sometimes it takes a little bit longer. For me, all I do is show up and train like I have for my whole career and just train hard, and maybe that translates over to them and they can take that from me. I have had a long run of things, fortunately, and maybe that helps them out with getting over what they have to get over."
The mentality within the Fire camp is that in most games this season, the team could have turned around its fate with more consistent play and eliminate some lapses on both ends of the pitch. In Chicago's losses to L.A. and Seattle Sounders FC, the Fire certainly had their moments to change the tone of both games and potentially garner some points.
"I think we're close," Conway said. "I think we're doing a lot of things well in spells and then showing a bit of our youth and not concentrating. We can get better all the way around, fine tune things and we'll be OK."
The Fire are at the bottom of the Eastern Conference table. Houston moved over to the East this season as the West brought in the expansion Portland Timbers and Vancouver Whitecaps. The Dynamo sits in the upper third of the East with a 2-1-2 record and eight points.
Fire defender
Cory Gibbs
missed training this week and will not play because of a hamstring injury he suffered in the second half of Chicago's loss to L.A. Colombian
Yamith Cuesta
, who was acquired from Chivas USA, will get the start in Gibbs' place, playing to the left of
Josip Mikulic
.
De los Cobos also is pondering a change within the midfield, and Libertyville native
Baggio Husidic
's name has come to the forefront. De los Cobos said "it's possible" for Husidic to see an increased role. Husidic has seen limited action this year after scoring five goals last season.
"I might make some changes in the middle, because one part of the midfield I think we need to improve is the creation," De los Cobos said.
Houston enters Toyota Park having won its past two matches -- a 3-1 decision over Vancouver on April 10, followed by a 1-0 win against the New England Revolution last Sunday. The Dynamo defense has allowed only four goals in five games this season.
Dynamo midfielder
Brad Davis
is among the league leaders with three assists this season, and goalkeeper
Tally Hall
enters the weekend third in saves with 19.
Chicago acquired
Dominic Oduro
from Houston in exchange for
Calen Carr
earlier this season. Carr still is out with a concussion injury and has not played this year. Oduro tallied the Fire's lone goal during their loss to the Galaxy last week.