Chicago Fire:

Justin Mapp
November, 23, 2011
11/23/11
4:13
PM CT
By
Charlie Corr
| ESPNChicago.com
Any concerns over losing a portion of the Chicago Fire's roster were put to rest as the Montreal Impact made 10 selections outside of the Fire's unprotected player pool during Wednesday's MLS Expansion Draft.
Former Fire midfielder and Impact head coach Jesse Marsch inherits a franchise that selected former Houston Dynamo forward
Brian Ching
with the top pick in the draft. Despite reports that Ching said he would retire if selected in the expansion draft, the Impact took him No. 1 anyway.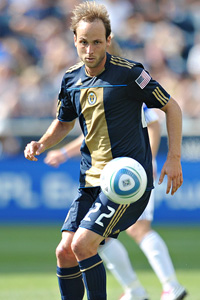 Drew Hallowell/Getty ImagesFormer Fire midfielder Justin Mapp played in 29 games this season for the Philadelphia Union.
The Impact's third selection was former Fire midfielder Justin Mapp out of the Philadelphia Union. Mapp started in 24 of 29 games this past season, tallying three goals and four assists.

Chicago entered the expansion draft with a trio of defenders who had nine or more starts during the 2011 season -- right back Dan Gargan and center backs Josip Mikulic and Yamith Cuesta. But the Impact focused elsewhere and the Fire's roster stays intact heading into the offseason.

Last year the Fire lost midfielders John Thorrington and Peter Lowry in the expansion draft to the Vancouver Whitecaps and Portland Timbers, respectively. They played a combined 14 games and did not log a goal or an assist during the 2011 season.

The Impact brings the league to 19 franchises for the 2012 campaign. On Wednesday, Montreal selected seven-year veteran defender/midfielder James Riley with its ninth pick, but then traded Riley to Chivas USA for forward Justin Braun and midfielder Gerson Mayen. The Impact took 20-year-old Chivas defender and 2011 first-round draft pick Zarek Valentin with its second selection in the expansion draft.

Impact's 2011 MLS Expansion Draft selections: 1. Brian Ching (F, Houston Dynamo); 2. Zarek Valentin (D, Chivas USA); 3. Justin Mapp (M, Philadelphia Union); 4. Bobby Burling (D, San Jose Earthquakes); 5. Jeb Brovsky (M, Vancouver Whitecaps); 6. Collen Warner (M, Real Salt Lake); 7. Josh Gardner (D, Columbus Crew); 8. Sanna Nyassi (M, Colorado Rapids); 9. James Riley* (D, Seattle Sounders); 10. Seth Sinovic (D, Sporting Kansas City)

* Traded to Chivas USA for Justin Braun and Gerson Mayen
July, 26, 2010
7/26/10
5:27
PM CT
By
Charlie Corr
| ESPNChicago.com
BRIDGEVIEW, Ill. -- If the Chicago Fire are putting themselves into a stronger position for another key signing, they have additional finances to make the move.
On Monday, the Fire traded midfielder Justin Mapp to the expansion Philadelphia Union in exchange for allocation money.
"We would like to thank Justin for his contributions to the Chicago Fire and wish him the best of luck in his future endeavors," Fire technical director Frank Klopas said in a statement.
According to figures released by the MLS Players Union in June, Mapp has a base salary of $245,000 in 2010. The combined salaries of Fire starting defenders C.J. Brown and Krzysztof Krol and starting goalkeeper Andrew Dykstra are less than Mapp's base salary.
In addition to the freed-up finances, Chicago is parting ways with a midfielder whose playing time and contributions diminished considerably over the past season and a half.
In 2009, Mapp started in only 11 of 21 matches and had a goal and three assists. This year, he has started in six of 10 games and has one assist and no goals.
These subpar seasons followed up a stretch that included eight-assist efforts in 2005, 2006 and 2008.
Former Fire player and current Union head coach Peter Nowak potentially could insert Mapp as a starter right away. The 25-year-old Mapp might make his Union debut Saturday against the New England Revolution.
Mapp played in Chicago for eight seasons, from 2003 to 2010. During that stretch, Mapp tallied 14 goals and 36 assists in regular-season play.
The Fire's decision to trade Mapp follows the team's recent signing of designated player Nery Castillo about a week ago.
May, 22, 2010
5/22/10
10:23
PM CT
By
Charlie Corr
| ESPNChicago.com
BRIDGEVIEW, Ill. -- This was not the way the Chicago Fire wanted to draw up their first-ever Sister Cities International Cup. And now they have gone approximately a month without earning a victory.
In the tournament's finale, Red Star Belgrade prevailed,7-6, in penalty kicks for the Sister Cities crown. RSB and PSG played to a 1-1 draw in regulation, with PSG tallying a shorthanded, game-tying goal in the 90th minute to send the match to PKs.
In retrospect, the Fire's third-place match did not carry a whole lot of meaning, and Fire head coach Carlos de los Cobos decided to start the game without the likes of forwards
Brian McBride
and
Corben Bone
, midfielder
Marco Pappa
and defender
Wilman Conde
. Midfielder
Patrick Nyarko
was not even on the available roster.
By the time most of the above players made it into the match, Legia caused enough damage.
"Obviously this worries me," De los Cobos said. "We need to improve."
Sebastian Szalachowski had two goals in the 69th and 86th minutes, and Maciej Iwanski netted Legia's first goal in the 59th. In the net, Legia goalkeeper Kostyantyn Makhonovskyi made eight saves for the clean sheet before being subbed out for the final few minutes of the match. His counterpart, Fire goalkeeper
Andrew Dykstra
, made two saves.
The Fire created their chances, but the Legia defense was up to the task.
"We have to keep working -- that's the only thing a coach can do," De los Cobos said. "I'm not at ease. What keeps me a little bit at ease is that we created three or four opportunities to score, but we didn't complete those opportunities. … We have to be more efficient."
The Fire started rookie midfielder Corben Bone and fellow 2010 MLS Draft selection
Kwame Watson-Siriboe
. Midfielder
Logan Pause
was dropped to right defensive back. And midfielder
Justin Mapp
, who had been out of the lineup for several weeks because of a hamstring injury, made a return and played on the right side of the pitch.
Mapp was arguably Chicago's strongest player, especially in the first half. But the Fire's player movement had its shortcomings. As the game progressed, Mapp had a pair of sequences where he got behind the Legia defense, but Chicago could not capitalize with a tally.
"Maybe we had some tired legs," Mapp said of the team's second half. "For myself, I haven't played in a while. Maybe we fatigued a little bit, [which led to] some breakdowns. Give them credit. They finished their chances."
Chicago officially out-shot Legia, 23-10.
"We didn't put ours away, and they did," Bone said. "That's unfortunate. I think we let down a little bit in the second half. Our energy was a little bit lower than it was [in the first half]."
Of the Fire's missed chances, forward
Collins John
had back-to-back close calls. In the 74th minute, John dealt a huge strike, but Makhonovskyi made a diving save to his right. Shortly after with a free kick above the box, John's shot went just wide right of the net.
Earlier in the match in the 31st minute, Bone -- according to the sideline official -- stayed onside with a run down the right side. Bone crossed the ball in to Fire forward
Stefan Dimitrov
, but his shot went just over the crossbar.
Analysis:
For as many chances as the scoresheet clearly showed, Chicago looked disorganized simply creating its opportunities. The players' movement was out of sorts in the final third.
But in focusing on all of the Fire's missed chances, Legia had probably one of the most glaring missed chances in the 52nd minute. Bartlomiej Grzelak had the entire Fire defense and Dykstra out of position, and with a great look at the goal in front of him, his rolling shot went wide left. Grzelak was immediately taken out of the match and replaced by Maciej Gorski.
With some typical non-starters getting a rest, Bone had a respectable effort for the Fire. Marco Pappa eventually replaced him in the 57th minute, but it would have been beneficial to see Bone get some more work in. Bone expressed some disappointment afterward, and the reaction was justified.
April, 18, 2010
4/18/10
3:10
PM CT
By
Charlie Corr
| ESPNChicago.com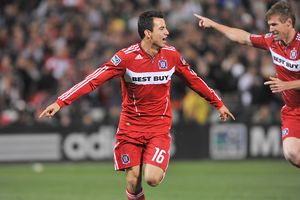 Larry French/Getty ImagesBrian McBride didn't enter until the 75th minute, but set up Marco Pappa's goal just minutes later.
CHICAGO -- For nearly 80 minutes, Saturday looked like a typical Chicago Fire match day with potential offensive chances sprouting up, but no goal to show for their work. But against winless D.C. United, the Fire eventually capitalized with goals from Marco Pappa and Brian McBride for a 2-0 victory at RFK Stadium.
It was the first win of the season for the Fire (1-2-1), while D.C. (0-4-0) continues to search for its first victory.
McBride did not get the start as Fire head coach Carlos de los Cobos elected to go with a one-attacker set with Collins John up front. But McBride entered the match in the 75th minute for John, and McBride immediately had a part in each goal.
In the 80th, midfielder Patrick Nyarko found McBride in the box, and McBride had a perfect back heel pass to set things up for Marco Pappa. Pappa blasted a shot just under the crossbar for the 1-0 lead and his second goal of the season.
Then in the 89th minute he sealed the deal. Fire goalkeeper Andrew Dykstra sent a free kick deep to McBride, who battled with D.C. defender Carey Talley and redirected the ball with a header just inside the right post.
"It was a long straight ball, and I heard [D.C.] goalie [Troy Perkins] talking, so I knew where he was," McBride said. "I knew I was in the box so I wouldn't be able to flick it on to anyone. So I just tried to put it on goal. Luckily, it went right in. Nothing spectacular. I didn't pick out the corner, but I did know where the goalie was and I just made sure I didn't put it right at him."
ANALYSIS:

It is difficult to imagine that McBride will come off the bench on a regular basis, but the veteran target forward certainly maximized his presence. He's one of the best at doing so when he has limited time to produce.
Having John as the lone attacker didn't pan out with a score, but his presence produced some early chances. Within the first 10 minutes, John had two quick scoring chances. He snuck his way past the D.C. defense and nearly chipped the ball over United goalkeeper Troy Perkins, who got a glove on the ball and sent it over the crossbar in the 9th minute. Then in the 10th, John was in good position on the far right post on Pappa's cross from the left. But John's header was wide right.
Nyarko continued to be the team's ultimate creator, as he has done all season. He regularly is fending off two or three defenders and seems to have a knack for setting the table up, particularly for John.
Justin Mapp got a rare start, and for the most part he moved well out there on both sides of the midfield. There was one stretch in the 28th and 29th minutes where he earned a corner, then had a cross attempt that appeared to be a handball in the box by D.C.'s Daniel Allsopp in the 29th. But the referee kept his whistle silent.
It was a much-needed win for Fire, who were active throughout Saturday's game and now finally have a victory to show for their efforts.
February, 8, 2010
2/08/10
7:44
PM CT
By
CHARLIE CORR
| ESPNChicago.com
The Chicago Fire re-signed forward Calen Carr on Monday, and that got me to thinking about some players on the team's roster who are in need of a rebound season in 2010. Here are just a few that stand out: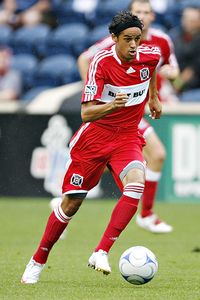 Brian Kersey/Getty ImagesCalen Carr goes for the ball during the second half against the Columbus Crew at Toyota Park on September 20, 2009. The Fire and Crew tied 2-2.
Calen Carr: Knee injuries have hampered Carr so much so that he has only played the equivalent of roughly four full games in two seasons if you roll all his minutes together. Unfortunately in his sporadic playing time in 2009, Carr came up empty. He had a wide-left attempt during the Fire's 2-2 draw against Toronto FC in late September, and the Toyota Park crowd groaned in unison as Carr missed a golden chance for the game-winner in stoppage time. It's unfair to use this moment to completely label his limited season, but those are the situations that define his role. Carr has shown in the past that he can come up with a clutch play in limited playing time, and that could lend itself to additional opportunities. He needs to make sure that the injury bug isn't the main reason for limiting his time on the pitch.

John Thorrington: Thorrington was a necessary spark for the Fire when they advanced past the New England Revolution in the Eastern Conference semifinals last year. It's just too bad we could not see a full season of that energy. Whether it was an injury or a pair of red cards shortening his stint on the field, we did not see enough of Thorrington, who only contributed one assist and did not find the back of the net during the regular season. That was his follow-up to a five-goal, two-assist 2008 campaign. Thorrington's amped-up energy is an asset when he plays the ball cleanly and he's completely healthy. Thorrington could certainly put together a solid campaign this year, and he will have to in order to compensate for the losses of Cuauhtemoc Blanco and Chris Rolfe in the midfield.

Justin Mapp: Mapp's playing time went down dramatically last year. There probably were a few other games in there where you could justify less playing time than the 1,013 minutes he saw. For Mapp himself and even the casual soccer fan, it's no mystery he didn't perform at a high level -- one goal and three assists. That followed a four-year stretch in which Mapp posted eight assists in 2005, 2006 and 2008. Chicago protected Mapp this offseason so the expansion Philadelphia Union couldn't latch onto him. The Fire obviously feel that there still is some value within that left foot of his, but the 25-year-old midfielder has a lot to prove heading into the 2010 season.