Chicago Fire:

Kwame Watson-Siriboe
June, 3, 2011
6/03/11
3:05
PM CT
By
Charlie Corr
| ESPNChicago.com
BRIDGEVIEW, Ill. -- The post-Carlos de los Cobos era begins for the Chicago Fire, and it is no secret that interim head coach Frank Klopas' squad has a deep hole to climb out of.

The Fire are 1-4-6 and have tied a franchise-worst nine-game winless streak (0-4-5). Chicago attempts to end the ongoing skid when it hosts Seattle Sounders FC on Saturday at Toyota Park.

"Everybody's definitely wanting to get back on track," said Fire goalkeeper Sean Johnson, who returned to the starting role last week for the first time since April 14. "We're always optimistic that we can progress toward getting to the playoffs. The reality is we're 1-4-6, so we've got to get out of this rut."

The Sounders (5-4-5) are coming off of one of their biggest victories, a 2-1 decision over Real Salt Lake, ending Salt Lake's dominant 29-game home winning streak at Rio Tinto Stadium. Lamar Neagle tallied the game-winner for his first MLS goal.

Seattle also has been in the driver's seat throughout its all-time series against the Fire since joining MLS in 2009. The Sounders are 3-0-2 against the Fire, defeating Chicago twice last season and posting a 2-1 victory over Chicago this year on April 9 at Qwest Field.

The April 9 match marked the start of the Fire's current nine-game winless stretch and was the team's first loss of the 2011 season. Sounders goalkeeper Kasey Keller was the difference maker with several clutch saves in the second half to preserve the one-goal advantage for Seattle.

The Fire have a jam-packed June schedule, and they start the month without midfielder Marco Pappa, who is away with the Guatemalan national team for the CONCACAF Gold Cup. Pappa is tied for the team lead with four goals.

"Marco's a very talented and important player," Klopas said. "But I believe in the other players to step in and perform because it's all about the team. When you lose one guy and you bring in someone else, it's all about the ideas and how we want to play. It's not one guy taking the ball. How we attack and defend, it puts more emphasis on the group."

There is curiosity as to how things will be different under the Klopas regime. Clearly the team did not get the game-time results under De los Cobos, and Klopas said that he will "fine tune" things in the Fire's game plan. Klopas' leadership of the team will be viewed under a microscope since the majority of the squad was assembled with him in the technical director role.

From a personnel standpoint, the Fire already made one move Friday by loaning second-year defender Kwame Watson-Siriboe to FC Tampa Bay of the second-division North American Soccer League. Watson-Siriboe had not seen a single match this season after playing in 10 matches (seven starts) during his 2010 rookie campaign.

"Sending Kwame to FC Tampa Bay for the remainder of the 2011 season allows for Kwame to play games and continue to develop as a defender," Klopas said.

The weak performances from the bulk of the Eastern Conference bring some element of optimism from the Fire's standpoint. Chicago enters the weekend second-to-last in the East and 11 points behind the first-place Philadelphia Union. Philadelphia and D.C. United are the only two East teams that have posted two victories in their past five matches.

"I guess there's always time until you're mathematically out," Fire captain and defensive midfielder Logan Pause said. "If we continue to say we've got time, we'll wake up and it'll be like, 'oh man, I wish we had more time.' We've got work to do."
February, 17, 2011
2/17/11
9:38
PM CT
By
Charlie Corr
| ESPNChicago.com
The Chicago Fire's Marco Pappa and Kwame Watson-Siriboe each netted goals, but Chicago could not hang onto a 2-0 lead and settled for a 2-2 draw in its preseason opener against Florida Gulf Coast University on Thursday at Ave Maria University in Ave Maria, Fla.

The game consisted of three 30-minute periods instead of two 45-minute halves.

"I think we were OK, but we could have done a little better," second-year defender Watson-Siriboe said. "We have trialists and new players and we're still trying to get better every day with each other and know each other's habits."

Chicago's starting lineup included Sean Johnson in the goal; Jalil Anibaba, Josip Mikulic, Cory Gibbs and Gonzalo Segares on defense; Patrick Nyarko, Baggio Husidic, Logan Pause and Daniel Paladini in the midfield; and Gaston Puerari and trialist Gabriel Ferrari at forward.

But it was the second interval of Fire players who generated the game's first two goals, starting with Pappa's 35th-minute tally for a 1-0 lead. Pappa began the attack from the left side, switched the ball to the right to Bratislav Ristic, who then crossed it back in to Pappa for the score.

Watson-Siriboe then pushed the Fire's lead to 2-0 as he headed in a Pappa corner kick from the right side in the 48th minute.

"It was an amazing corner kick from Marco, and I was just able to get away from my defender and head it in," Watson-Siriboe said.

Watson-Siriboe was part of a defensive back line that included Colombian trialist Yoximar Granados, open tryout winner Pari Pantazopoulos and Mexican trialist Michael Muniz. Following a rookie campaign that included seven starts, Watson-Siriboe is hoping to continue his progression within the Fire lineup.

"Physically I was ready -- it's more the mental aspect that I've worked on," Watson-Siriboe said. "Sometimes last year I would play well, but I also had mental lapses. Anytime you get into the pro game, overseas or MLS, you will be physically able to play, but it comes down to your mental ability for 90 minutes."

On Thursday, however, the Fire could not contain the FGCU Eagles for the full 90. FGCU cut the Fire's lead to 2-1 with a goal from sophomore midfielder Andres Navas in the 65th minute against the Fire's third goalkeeper, trialist Alec Dufty. Eagles junior forward Scott Harrison tied the match at 2-2 in the 76th minute on a penalty kick, following a foul by Fire trialist Erik Ustruck.

The Fire's best preseason tests will be the following week when Chicago takes on a pair of MLS foes. The Fire face the New York Red Bulls for a doubleheader on Feb. 23, followed by a match against Seattle Sounders FC on Feb. 26.

Armas nominated for Hall: Former Fire midfielder Chris Armas was nominated for the National Soccer Hall of Fame Class of 2011 on Thursday in his first year of eligibility.

Armas played for the Fire from 1998 to 2007 and was named to the Ring of Fire in 2009. The Brentwood, N.Y., native started in 212 of 214 games, logged 19,018 minutes, and posted 42 assists and eight goals during his 10-year Fire career.
December, 15, 2010
12/15/10
10:39
PM CT
By
Charlie Corr
| ESPNChicago.com
The Chicago Fire's starting central defense quickly evaporated following the team's 2010 season. They hope they found one answer in selecting and signing Cory Gibbs during Wednesday's second stage of Major League Soccer's re-entry draft.
The 30-year-old Gibbs played a career-high 25 games for the New England Revolution this past season. And Gibbs will be expected to shoulder a heavy load for the Fire's defense now that C.J. Brown has retired and Wilman Conde is no longer with the organization.
The X-factor for Gibbs will be maintaining a healthy stint, as he has suffered through multiple injuries during his career.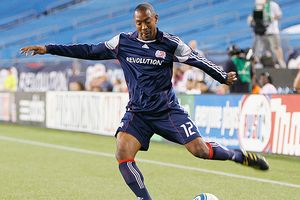 Jim Rogash/Getty ImagesThe Fire will turn to Cory Gibbs to help their depleted defense.
Gibbs has earned 19 caps for the U.S. National Team, but a knee injury prevented him from joining the Americans for the 2006 World Cup.
Following his collegiate career at Brown University, Gibbs found his way to FC St. Pauli of the German Bundesliga, where he became the second youngest American to score a goal in league play against FC Cologne on Nov. 24, 2001 (he was 21 at the time).
In MLS, Gibbs played for the Dallas Burn in 2004, Colorado Rapids in 2008 and 2009, then New England in 2010.
At this stage for the Fire, Gibbs would team up with either Dasan Robinson or Kwame Watson-Siriboe in the central defense. Watson-Siriboe is coming off his first MLS season. Robinson was briefly on the expansion draft block, but the Fire protected him after the Portland Timbers selected midfielder Peter Lowry.
Also in Wednesday's second stage of the re-entry draft, former Fire forward Josh Wolff, who tallied 32 regular-season goals for Chicago in his first five MLS seasons, was the first pick by D.C. United. Juan Pablo Angel switches coasts, going from the New York Red Bulls to the Los Angeles Galaxy. But one designated player who was not selected was four-year Columbus Crew star Guillermo Barros Schelotto, whose option was declined after the season.
October, 5, 2010
10/05/10
5:50
PM CT
By
Charlie Corr
| ESPNChicago.com
BRIDGEVIEW, Ill. -- It was not the original intention for the Chicago Fire to start their 2010 MLS SuperDraft second- through fourth-round selections in back-to-back matches with a month remaining in the regular season.

But with the Fire's playoff situation nearly in the dust, this team needs to look toward its future. There is no better place to start than the defense that anchors this squad.

Fourth-round selection Sean Johnson has become a fixture in the goal for the past 12 matches. Third-round pick and right defensive back Steven Kinney has shown some improved consistency through 10 games and seven starts, netting his first MLS goal against the San Jose Earthquakes last Wednesday. And second-rounder Kwame Watson-Siriboe has played with aggressive muscle at center back, earning five starts this year.

It wasn't the smoothest of two-game stretches as the rookie class garnered some reps, but the past week was invaluable experience. The Fire had a 3-0 win over San Jose last week, then were dealt a 3-0 loss to a strong FC Dallas side on Saturday.

"It's definitely a great learning experience," Kinney said following Tuesday's training. "In San Jose we came out with a different energy, and then the next game it was just the other end of the spectrum. You've got to take it in stride and hopefully finish the rest of the season strong."

When the Fire host the Columbus Crew on Friday, it would be surprising to see the full rookie trio back out there together. But head coach Carlos de los Cobos has thrown various lineups into the fray all season.

"It's very important to get reps going into next year," Watson-Siriboe said. "Carlos and the coaching staff have tried to get us more playing time to help us develop our game. As a rookie, you never expect to get as much playing time as the coaches have given us. It's still a learning process. There are a lot of veterans -- a lot of experienced players -- on our team helping to carry us through."

There were multiple situations throughout the Dallas match where both youth and veterans alike on the Fire side had their shortcomings. Watson-Siriboe had a moment in the first half that he would like to have back -- FC Dallas' first goal, in which his incorrect read eventually led to Milton Rodriguez's 19th-minute goal and game-winning tally.

"I actually anticipated Dasan [Robinson] getting it," Watson-Siriboe said. "I should have dropped behind him a little bit more just to give him that space. On that day it was my mistake. I should have read it a lot better. I wasn't able to react, and [Rodriguez] was able to get by."

But on the flip side, the San Jose match included a clean sheet and Kinney's first goal off of Freddie Ljungberg's corner kick from the right side. Both Kinney and Watson-Siriboe were in the heart of that attack.

"Freddie put in a perfect ball, and Kwame kind of set a little pick for me and I got to run off him," Kinney said. " Freddie put it right on the spot, and I was just fortunate to be in the right place."

"If I'm able to be used as a diversion so that Steven can get goals or other people on my team can get goals, that's amazing," Watson-Siriboe said. "Hopefully one of these days, Steven will pay me back and be used as a diversion so I can get my head on a goal, as well."

Veteran Fire center back C.J. Brown likes the potential in Kinney's and Watson-Siriboe's body of work thus far.

"I think they've done well when they've had their opportunities," Brown said. "They have a lot of potential for the next few years to be mainstays, if not starters in this group."

Brown thinks their raw talent is definitely there, and it is just a matter of Kinney and Watson-Siriboe going through the process of refining their talent with game-situational repetition.

"Kwame in the center is a beast," Brown said. "He's a good kid, he loves to win balls in the air and he's hard to beat. If he continues being a monster in the back, starts to read and communicate, he's going to be very solid. Steve, he can drive the ball well and he likes to get up and down the flanks. He's starting to get comfortable on the outside.

"There's a lot of potential," he said. "What you like about them is that they have an exciting attitude for their first year."
October, 2, 2010
10/02/10
11:46
PM CT
By
Charlie Corr
| ESPNChicago.com
The Chicago Fire and FC Dallas showcased a fitting example of two teams performing at the complete opposite ends of the spectrum this season.

Playoff-bound Dallas's movement and flow were strides ahead of Chicago's defensive gaffes and lack of scoring during FCD's 3-0 win over the Fire on Saturday at Pizza Hut Park in Frisco, Texas.

The Brimstone Cup remains with Dallas, which has held the trophy every year, with the exception of the Brimstone's inception in 2001.

Several days after posting a convincing 3-0 victory against the San Jose Earthquakes, Chicago was put in its place as Dallas orchestrated a dominating performance capped off by Jeff Cunningham's penalty kick tally in the 67th minute to tie an MLS record with his 132nd career goal.

Fire head coach Carlos de los Cobos went with the same defensive combination that ended the team's seven-match winless streak. But no matter how the back line looked during Saturday's match, the Fire (7-11-8) could not halt Dallas (12-2-13), which extended its unbeaten run to a staggering 18 matches -- tying an MLS mark set by the Columbus Crew in 2004.

Dallas forward Milton Rodriguez netted a 1-0 lead in the 19th minute. Rookie Fire defender Kwame Watson-Siriboe wanted to play Dallas goalkeeper Dario Sala's send on a hop. The ball just went over FCD midfielder David Ferreira's head and Watson-Siriboe was caught off-guard, knowing that the ball was going to sail past him. Rodriguez took advantage and snuck his shot past Fire goalkeeper Sean Johnson at the near left post.

The start of the second half went the complete opposite of how the Fire wanted to get things started. Ferreira sent the ball to Marvin Chavez who easily got behind Fire right back Steven Kinney. After tracking down the ball, Chavez cut back inside and took a shot that deflected a bit off of Kinney and got past Johnson only 20 seconds into the second half (46th minute).

Cunningham, who was a second-half substitution, was awarded a PK when Fire defender Dasan Robinson took him down in the box, trying to make up for Cunningham losing Chicago defender Wilman Conde. On the PK, Johnson guessed correctly to his right, not taken aback by Cunningham's hesitation. But the ball was just out of the rookie goalkeeper's reach.

The Fire had their usual scoring opportunities, here and there, but came up empty.

In the 14th minute, Patrick Nyarko made a run behind the defense as Freddie Ljungberg set him up. Nyarko could not finish the play, however. He tried a quick touch to his right to try to get around Dallas goalkeeper Dario Sala, but Sala converged to get his glove on the ball.

In the 33rd minute, Brazilian Dallas defender Jackson intercepted a high scoring opportunity for the Fire. Bratislav Ristic had the cross from the right side, looking for Calen Carr on the far left post. But Jackson retreated to the defensive third and slid feet first into the low cross. If he did not intercept, Carr would have had an easy chance to tap in the equalizer.

In the 85th minute, Carr sent a solid cross in from the right side to second-half substitution Brian McBride. But McBride could not handle the pass and his scoring chance went wide left.

Analysis: For the numerous personnel changes, injuries and other setbacks that have slowed down the Fire during this topsy-turvy season, those talking points are moot when facing a Dallas team that has absolutely shined despite those identical setbacks. FCD has everything put together from front to back and side to side on the pitch.

The Fire's midweek high was short-lived, and the same problems that have plagued this team were at the forefront once again.

There were some questionable personnel decisions by De los Cobos. Probably the most confusing during the match -- if Chicago truly was looking to maximize on the attack -- was leaving midfielder Logan Pause in the match while he sat on his 28th-minute yellow card.

Unlike the San Jose match, the Fire's young back line was burned by several mistakes. At this stage of the season, it's a benefit to let them work through this and look toward the future. The postseason mathematics still state that Chicago is in it, but reality is setting in that the Fire will miss the playoffs for only the second time in their 13-year history.
April, 3, 2010
4/03/10
8:32
PM CT
By
Charlie Corr
| ESPNChicago.com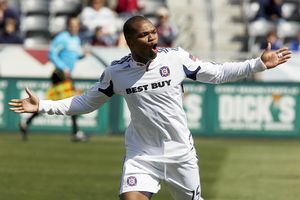 AP Photo/David ZalubowskiChicago Fire forward Collins John celebrates after scoring a goal against the Colorado Rapids on Saturday in Commerce City, Colo.
Neither goal was produced during the run of play, but the Chicago Fire will certainly take a 2-2 draw against the host Colorado Rapids on Saturday in Major League Soccer action at Dick's Sporting Goods Park in Commerce City, Colo.

The game's front line starters each had a goal -- Collins John and Brian McBride for the Fire, and Omar Cummings and Conor Casey for the Rapids. John's first goal in a Fire uniform came in the 25th minute off of Marco Pappa's corner kick, and McBride's second-half penalty kick tied the score at 2-2 in the 51st minute.

The Fire improved to 1-1-0 and now prepare for their home opener April 10 against the San Jose Earthquakes at Toyota Park in Bridgeview. Three of the Fire's next four games are at home.

On Saturday, Chicago played without defender Wilman Conde at center back, who was questionable for the game already because of a foot contusion. That meant another Fire youngster stepping into the fold early in rookie defender Kwame Watson-Siriboe.

"It's a very hard place to play," Watson-Siriboe said of the high altitude at Dick's Sporting Goods Park. "Plus they have two fantastic players in Conor Casey and Omar Cummings. Cummings is very quick and very fast, and I had to adapt to it. The first 20 minutes in the first half, it wasn't good. But the second half we did a lot better."

The Rapids had the upper hand early on when Cummings found plenty of space to hammer home a 13th-minute goal from long range past Fire goalkeeper Andrew Dykstra. Though Cummings' strike was top-notch, the Fire midfield and defense gave Cummings too much room to work with.

"I would say it was more of still learning how to play with each other, learning how to close the space and learn to push up as one," Watson-Siriboe said. "As time goes on, we will be more cohesive."

But in the 25th, the Fire responded. Pappa's corner kick was a perfect placement, with John notching the header to tie the score at 1-1. Pappa pinpointed the best part of the Fire attack because McBride was also lurking in the area, and only one Rapids defender was in the vicinity.

Colorado regained the lead when Pappa made a poor defensive decision and was called for a foul on the Rapids' Colin Clark in the box. Casey easily converted the PK when he placed the ball in the opposite direction of Dykstra's dive, giving the Rapids a 2-1 lead in the 41st minute.

The tables turned in the second half when Rapids defender Marvell Wynne fouled the Fire's Patrick Nyarko in the box. McBride netted the game-tying goal and Chicago held on the rest of the way.

ANALYSIS
Proper spacing on the field and strong run of play go hand-in-hand. The Fire looked like they fell shorter in both areas during this match compared to their 1-0 season-opening loss to the Red Bulls. The final score just didn't mirror this fact.

Chicago capitalized on its two scoring moments off of the corner and PK. But the Fire's attack was lackluster at best.

At times this looked like the Fire team of last season in that several stretches included playing some unncessary long ball, back and forth with the Rapids. Neither team appeared to be a tenacious offensive threat, and toward the end it was apparent that the Fire were willing to hold on tight for the road draw.

The Fire missed Conde in this match, both on the defensive end and in transition to muster some offense.
Next weekend's home environment will be a welcome boost to this team when it hosts San Jose. Hopefully for the Fire's sake, 2010's home slate will turn around from last year's 5-4-6 showing.
February, 13, 2010
2/13/10
10:19
AM CT
By
CHARLIE CORR
| ESPNChicago.com
Defender Kwame Watson-Siriboe has a realistic take on his preseason training with the Chicago Fire. The Fire's second-round choice in the 2010 MLS SuperDraft, the 6-foot-3 center back out of Connecticut is taking his early professional days in stride and filtering information and tactics from the likes of veteran Fire defender C.J. Brown and goalkeeper Jon Busch.

"Everyone would want to play immediately, and I'm doing something that I've [dreamed] about since I was young," Watson-Siriboe said. "I'm learning every day and I hope to make an impact. Hopefully I can be a starter some day. I'm just gathering it all in and doing my best to see if I can get an opportunity."

Many projection boards pegged Watson-Siriboe as the second-best center back in the draft and a potential pick for the Fire in the first round. He slipped to the second round where the Fire gladly chose him with the 26th overall pick.

Just within the first couple days of training, Busch already was sharing his high impressions of Watson-Siriboe's play and potential.

"Working with Mr. Busch has helped me see the game better day in and day out," Watson-Siriboe said. "He's been in the league for a while and I'm learning everything from him, C.J. Brown and all of the veteran players. They have helped with how you play against players that might be stronger or might be quicker, and how to see the whole field from the back."

Watson-Siriboe is coming off a 2009 collegiate season that included co-Big East Conference Defender of the Year honors alongside Louisville's Phil Edginton. UConn's defense as a whole posted 13 shutouts and allowed on average only one goal for every two games.

"Coach [Ray] Reid and all of the coaches stressed so much about team defense," Watson-Siriboe said. "I've played with Julius James, who's out at D.C. United. I played with Robert Brickley who's still at Connecticut. The team as a whole was dedicated to making sure we focused on team defense. Defense wins championships. It's very true."

Now he is marking up against trialist Collins John and Fire forwards Brian McBride and Patrick Nyarko.

"It's been fun playing against them," Watson-Siriboe said. "Patrick Nyarko is a quick, pacey player, very dynamic and hard to mark. Collins John is quick, strong and a good finisher with a good one-two touch. Brian McBride's touch on the ball and his moves -- you can see the European experience when you're trying to mark him."

The game obviously is faster and requires more stamina in MLS, and Watson-Siriboe thinks UConn provided a good foundation to make the transition.

"I'm coming from a very good strength and conditioning program at Connecticut," Watson-Siriboe said. "It helped give me a good base to make the jump to the pros, where the conditioning is tough and you have the have the right mind-set."